San Francisco Giants vs. Detroit Tigers: World Series Preview, Predictions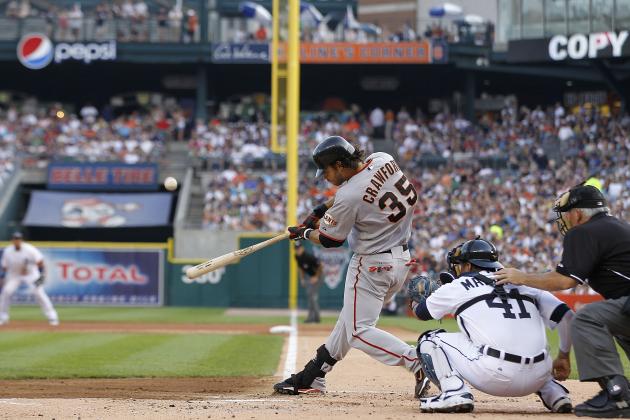 Leon Halip/Getty Images

It's been 470 days since the Detroit Tigers and San Francisco Giants last played each other in a baseball game.
And you're probably well aware that the stakes have grown considerably since Detroit's sleepy 6-3 win on July 3, 2011.
This time a world title is on the line, with four wins separating one of these two clubs from baseball nirvana.
That in mind, we're taking you through the 2012 World Series—lineups, matchups, analysis and a few predictions sprinkled in at the end.
Away we go...
Begin Slideshow

»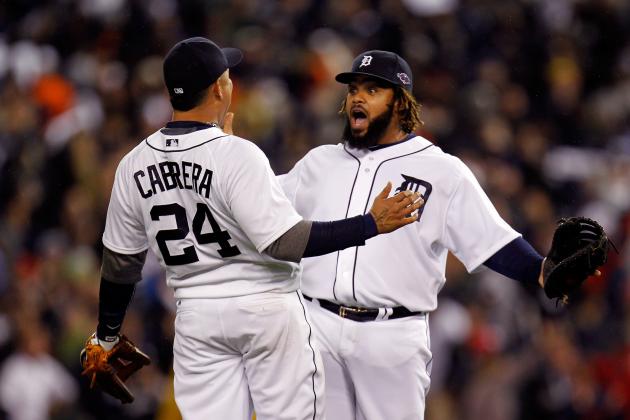 Gregory Shamus/Getty Images

1. Austin Jackson, CF
2. Andy Dirks, RF
3. Miguel Cabrera, 3B
4. Prince Fielder, 1B
5. Delmon Young, LF
6. Alex Avila, C
7. Jhonny Peralta, SS
8. Omar Infante, 2B
9. Starting Pitcher
Breakdown
The Tigers ranked fourth in wRC+ this season, a prime indicator of their offensive might. Prince Fielder and Miguel Cabrera form the best No. 3-4 punch in all of baseball, and, more than likely, its largest. Among the field players expect to start Game 1 for Detroit, Cabrera and Fielder account for 50.3% of the lineup's regular season home runs and 29.5% of its gross tonnage.
On games hosted in Detroit, expect Quintin Berry to man left field and Delmon Young to assume DH duties. Avisail Garcia (RF) and Gerald Laird (C) have also started for Jim Leyland's club during the postseason.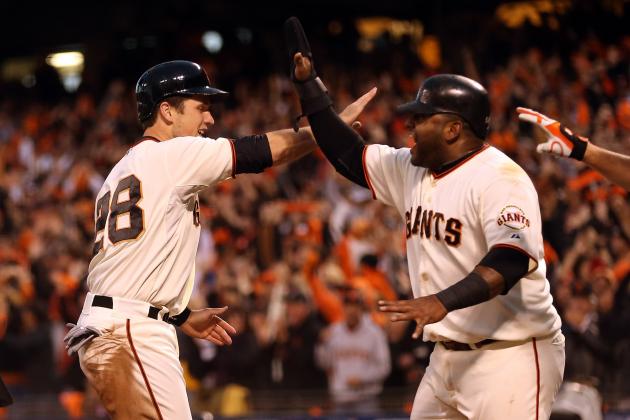 Ezra Shaw/Getty Images

1. Angel Pagan, CF
2. Marco Scutaro, 2B
3. Pablo Sandoval, 3B
4. Buster Posey, C
5. Hunter Pence, RF
6. Brandon Belt, 1B
7. Gregor Blanco, LF
8. Brandon Crawford, SS
9. Starting Pitcher
Breakdown
No one will confuse San Francisco for an offensive juggernaut, but these Giants are a much better offensive club than the one that captured the 2010 World Series. San Francisco finished sixth in the National League this year in runs scored and fourth in wRC+.
It'll be interesting to see what manager Bruce Bochy does with the DH once this series shifts to Detroit. Hector Sanchez seems like the obvious choice, but perhaps lefty veteran Aubrey Huff finds his way into the lineup card against the Tigers' cadre of hard-throwing righties. There's also the possibility that Pablo Sandoval takes over as DH, leaving Joaquin Arias to man the hot corner.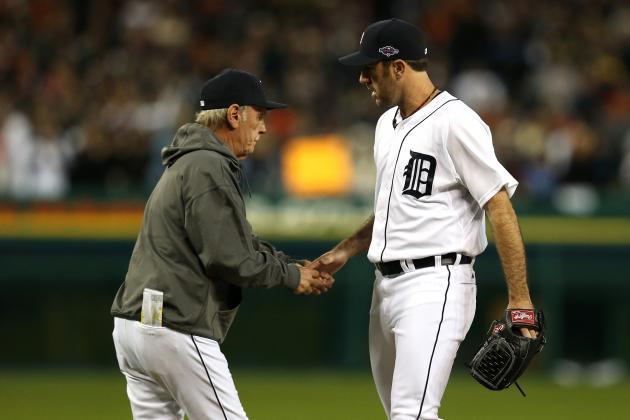 Jonathan Daniel/Getty Images

Pitching Rotation
Justin Verlander (Right)
Doug Fister (Right)
Anibal Sanchez (Right)
Max Scherzer (Right)
Breakdown
As Jim Leyland told the Detroit Free Press on Sunday, there's "no secret" to the Tigers' pitching rotation. Detroit has had a clearly defined top four since October began, and that quartet has been the unquestioned focal point of its 2012 postseason run.
Thanks to their hard-throwing, bat-missing ways, the Tigers finished fourth this season in strikeouts and their starters have posted a 1.02 ERA during the postseason. Reigning regular-season MVP Justin Verlander is a known commodity, but fellow rotation mates Max Scherzer, Doug Fister and Anibal Sanchez have been almost as impressive. Almost.
Bullpen
Al Albuquerque (Right), Joaquin Benoit (Right), Phil Coke (Left), Octavio Dotel (Right), Rick Porcello (Right), Drew Smyly (Left), Jose Valverde (Right)
Breakdown
No unit on this Tigers team makes Detroiters queasier than the relief corps. Closer Jose Valverde has become the perfect cocktail of bad stuff, bad command and diminishing returns, forcing Leyland to reconsider his end-game options. Problem is, neither Joaquin Benoit or Phil Coke have the kind of peripherals that suggest they can dominate a ninth inning.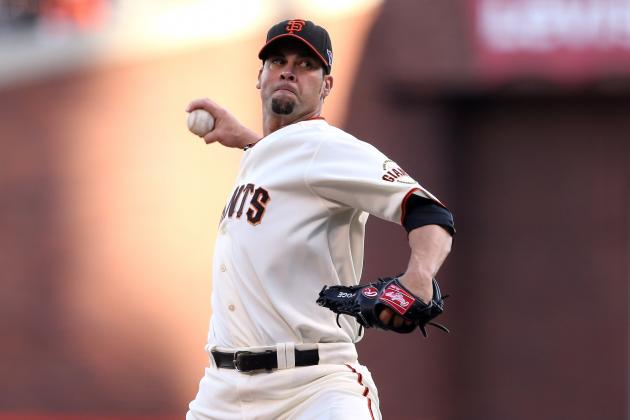 Ezra Shaw/Getty Images

Pitching Rotation
Tim Lincecum (Right)
Barry Zito (Left)
Matt Cain (Right)
Ryan Vogelsong (Right)
Breakdown
When it comes to rotation order, your guess is as good as mine. NLCS stud Ryan Vogelsong could come back on three days' rest for Game 2; otherwise Bruce Bochy will have to decide between a fully rested Matt Cain and an uber-rested Vogelsong when the series heads to Detroit for Game 3.
At this point, it's hard to see Madison Bumgarner working his way back into the starting four. The 23-year-old lefty struggled mightily in September and has carried his poor play into the postseason. Consensus around the Giants seems to be that mechanical issues have rendered his pitches flat. Regardless of cause, it's hard to rationalize handing him the ball.
Bullpen
Javier Lopez (Left), Santiago Casilla (Right), Jose Mijares (Left), Sergio Romo (Right), Jeremy Affeldt (Left), George Kontos (Right), Guillermo Mota (Right), Madison Bumgarner (Left)
Breakdown
The loss of closer/performance artist Brian Wilson hasn't done much to diminish the effectiveness of San Francisco's relief corps. Led by frisbee-slider king Sergio Romo, the Giants had Major League Baseball's seventh-best team ERA in high-leverage situations.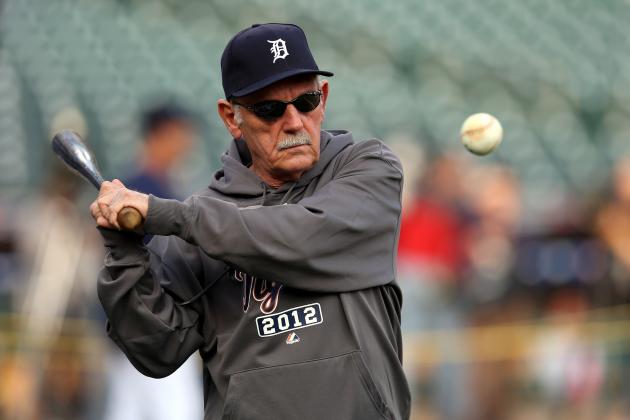 Jonathan Daniel/Getty Images

Manager: Jim Leyland
No manager projects more been-there-done-that-itude than Leyland, a veteran of four major league teams and a World Series champion with the 1997 Marlins. This chain-smoking throwback to the managers of yore may not lead his Tigers to victory, but it's almost certain he'll say something adorably gruff during a postgame presser. So there's that.
Home-Field Record
50-31
Intangibles?
Detroit just took four straight games from the New York Yankees, allowing a total of six runs. It doesn't get any hotter than that.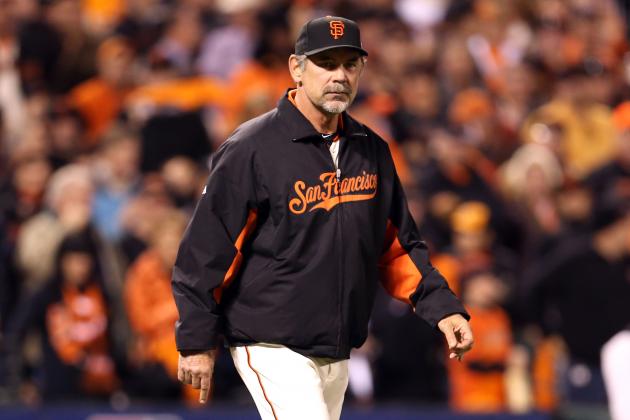 Christian Petersen/Getty Images

Manager: Bruce Bochy
Bochy has been in Major League Baseball since 1978, first as a big league catcher with the Astros, Mets and Padres, and for the last 18 seasons as a field manager. Since Bochy took over the Giants in 2007, San Francisco has finished above .500 four times and captured its only World Series since moving to the Bay Area.
Home-Field Record
48-33
Intangibles?
The Giants have faced six elimination games this postseason and won all six of them. Torture baseball at its finest.
Jonathan Daniel/Getty Images

Series MVP
Miguel Cabrera—The Triple Crown king and likely MVP caps off his season in LeBron-ian style with even more hardware.
The Goat
Barry Zito—Call me a hater, but I don't see the vibin' southpaw keeping his groove against Detroit's big bats.
Nostalgic Asides Made By Tim McCarver

183—Really, there's no number too high.
Who Wins?
Detroit 4, San Francisco 2
The Giants might have a better overall team, but Detroit gets the advantage of setting its rotation. That makes the difference in a series dominated by pitching.