How the Philadelphia 76ers Can Maximize Evan Turner's Talents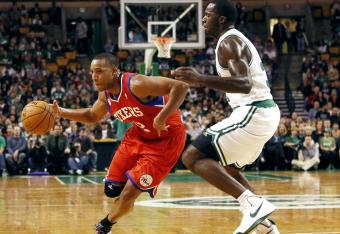 Mark L. Baer-US PRESSWIRE
Entering his first season with the Philadelphia 76ers without Andre Iguodala in the picture, Evan Turner is now fully expected to amount to his potential (or at least the belief is he has no excuses not to anymore). However, this is much easier said than done. He cannot do it alone. Instead, head coach Doug Collins and the rest of the coaching staff need to focus on one thing: Maximizing his talent.
Maximizing talent is possibly one of the most underrated principles in the coaching of sports that is forgotten behind the scenes quite often. No matter how good a player is, there is always a way to make the system work in his favor.
Being a team that has lacked star power in recent years, Philadelphia has utilized this tactic and it is easily a huge reason behind its success.
Even though the 76ers have gained some star power with Andrew Bynum, it does not mean they have to abandon the idea. In fact, so far, they have actually stuck with it.
When the organization acquired Nick Young, Dorell Wright and Jason Richardson, the obvious motive was the need for shooters. However, they also knew that these shooters would spread the floor and help certain players thrive individually, one in particular being Turner.
Turner is the type of player who gets his points from driving to the basket because he lacks a consistent jumper, but naturally he cannot get away with this every single time (at least successfully).
The shooters the Sixers provided add an option for him to kick the ball out to if he does not have an open lane. In this case, Turner can thrive on his facilitation skills or his ability to spread the ball around. This leads me to a perfect segue into another talent of his that needs to be maximized—his point guard-like skills.
Many fans argue that Turner is a point guard at heart, and Collins has said so himself. Regardless if you agree or disagree with this thought, there is no doubt Turner has elite ball-handling skills. He has the ability to bring the ball up the court and run the offense, almost similarly to the way Iguodala did.
Since this is the case, let him bring up the ball and see what he can do. This is an area of the game where he feels comfortable.
He evidently has the court vision and playmaking ability to take on the responsibility. Why not let him bring up the ball when Jrue Holiday is on the bench or even when he is in the game? There is no reason not to.
This also shows that Turner is the type of guy who needs the ball in his hands to be effective.
We know he is not the type of player who can settle for jumpers or rely on athletic explosiveness, so playing off the ball is not necessarily the best option with him.
Consequently, he does well with the ball and uses his craftiness to get his points. Collins can help him by implementing more pick-and-roll situations, which would maximize Turner's ability to finish and break to the rim.
Maximizing talent is literally getting the most out of your player. You can choose to play them as is or work on achieving their optimum potential. Turner, a versatile athlete, has many tools that can be maximized by the coaching staff.
This is an idea the Sixers have survived on for a few years now, and there is no reason to abandon it. Turner finally has the opportunity, and the Sixers should be making sure they receive the best of his ability.
This article is
What is the duplicate article?
Why is this article offensive?
Where is this article plagiarized from?
Why is this article poorly edited?

Philadelphia 76ers: Like this team?