2012 New Orleans Saints Midseason Report Cards for Every Positional Unit
Mike Ehrmann/Getty Images

Well, Who Dat Nation, we have reached the end of the Aaron Kromer era and have managed to come out the other side with no major injuries and a 2-4 record.
The New Orleans Saints are finally on a winning streak, and in comes Joe Vitt to keep the ship going in that direction and help us become only the second team (the other being the 1992 San Diego Chargers) to make the playoffs after starting a season off with four losses.
Here I will grade each positional unit based on their performance so far. Let's see how good this team has been, and what it could mean going forward.
Begin Slideshow

»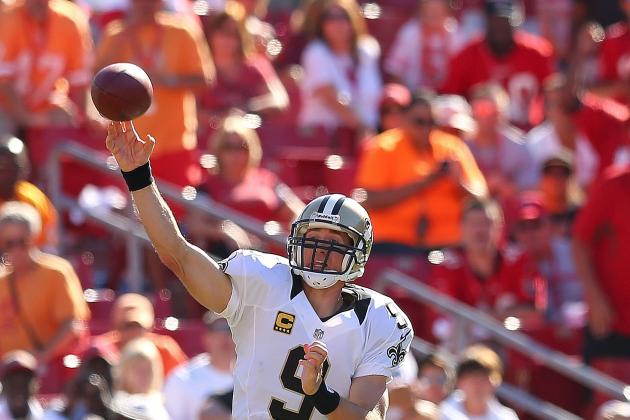 Mike Ehrmann/Getty Images

The slide might say "Quarterbacks," but this is all about Drew Brees.
When he wants to, he can be a surgeon back there for the Saints. Just ask the Tampa Bay Buccaneers. Aside from their tipped interception, Brees passed all over them in the first half. He still put the ball where he wanted in the second half, there were just more runs called. Shocking, I know.
The only statistic that says Brees is having a "down" year is completion percentage. This year it is 60.8 percent, the lowest of his career since 2003. That also could be attributed to the amount of tipped balls at the line and receiver drops. Besides that, Brees has been on his usual record-breaking pace. (His 349 yards per game have him on track to break the record he set last season.)
Add in 18 touchdowns in just six games, and you have a quarterback who is back in the groove after missing most of his offseason due to a contract dispute.
Grade: A-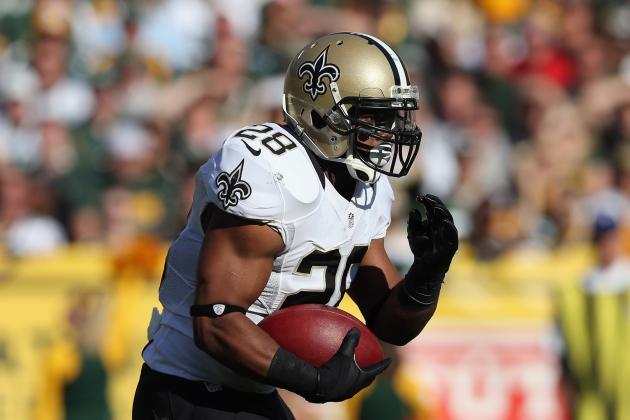 Jeff Gross/Getty Images

There are no more excuses to be made for Mark Ingram. In the Bucs game, he had seven carries for 21 yards. That's three yards per carry. He also had a 10-yard run in that same game, so if you subtract that, you get six carries for 11 yards.
That is not what you expect from a first rounder. I know that he's a rhythm runner and that the Saints don't use him correctly, but when you see Pierre Thomas and Darren Sproles have runs of at least five yards on the same drive when Ingram is getting two yards is pathetic.
It looks like the offensive line blocks just a little better when he's not in the game. (Not a fact, just an observation.)
Thomas and Sproles also add something in the passing game. They each have their signature routes; Thomas with a screen, and Sproles with his "Texas" and "whip" routes. Point is, those two also add another element out of the backfield.
Don't forget Chris Ivory. The Tiffin product has been a healthy scratch for five out of six games, and in the other one he never saw the field. I'm not saying that Ivory would be a vast improvement over Ingram, but if he's not getting traded, you might as well see what you have, right?
Jed Collins has been his usual quiet and productive self. Nothing more to report on him.
Grade: B-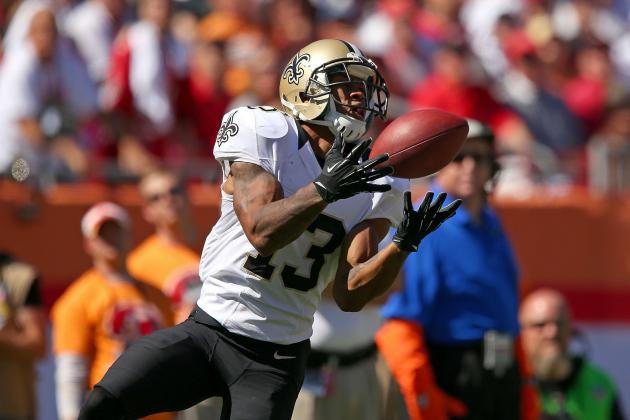 Mike Ehrmann/Getty Images

This group has been plagued with injuries and drops in the beginning of the season.
Then the Green Bay Packers game came along and snapped a lot of guys out of their funk, especially Marques Colston.
Lance Moore and Colston haven't performed this well together since the 2008 season. Since then, one or the other would be injured and the healthy one would have to pick up the slack. That's not the case this year, and that could bode well for a team that is thin at the position.
Joe Morgan and Devery Henderson have made some highlight-worthy touchdowns, whether it be Morgan flipping a guy over his head this past Sunday or Henderson helping Brees extend his touchdown streak.
Behind them, there's not much else.
Jimmy Graham has come back to Earth a little bit this season, but he is always a threat to score when he's on the field in the red zone. He sat out last week, but let's hope he shakes it off quickly because his backups leave much to be desired.
David Thomas caught a touchdown in Graham's place versus the Bucs. I wouldn't expect that out of him much, though.
Grade: B-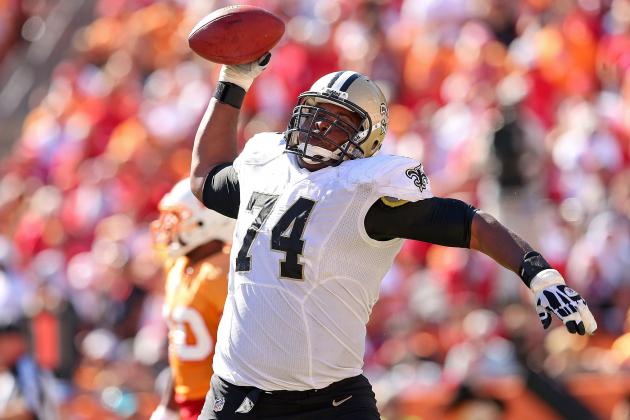 Mike Ehrmann/Getty Images

This line has started to come together a little bit in the last few weeks, but that doesn't make up for the atrocity that Saints fans had to endure during the beginning of the season.
Despite his bad preseason and slow start to the year, Jermon Bushrod has been the best of an average group. He still struggles with speed rushers, but has managed to play up to par against them lately.
Ben Grubbs and Jahri Evans don't have any problems in their technique or performance, per se, but rather with all the penalties they are committing. These penalties kill drives, and, with a very giving defense, you need all the drives you can get.
Zach Strief is Zach Strief. There's not much else to say there. When he is good he is a solid starting tackle in this league, but when he's bad he constantly watches Brees get up off the ground. More consistency is needed.
This should be Brian de la Puente's last year starting. Not just for the Saints, but in general. He is not a starting-quality center. He has been beat game-in and game-out. I expect the Saints to address this area in the draft.
Grade: C-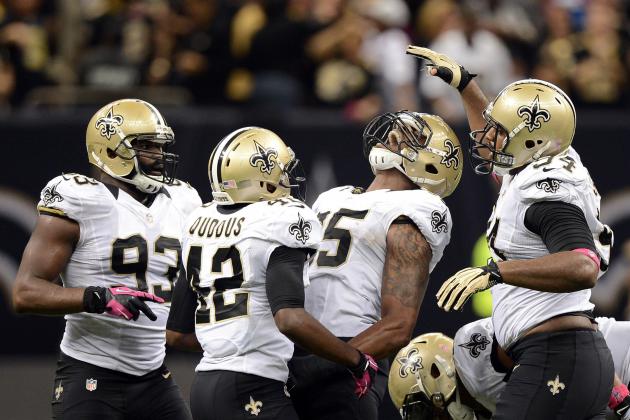 Harry How/Getty Images

This defensive end group has me pretty excited. With the addition of another pure pass-rusher this offseason in the draft and the reduction of Will Smith's outrageous contract, this unit could be pretty dangerous after having a full year under Steve Spagnuolo.
Martez Wilson, Junior Galette, and especially Cameron Jordan have been improving as the season goes on, and they could soon be a position of strength unlike years past.
Jordan might not have made the huge leap from year one to year two like J.J. Watt, but you can tell by watching him that his ceiling is getting higher and higher.
This unit has to keep the pressure on, though, to help out a secondary that hasn't been as good as it should be.
The interior part of the line is a different story. This past weekend we finally had a Brodrick Bunkley sighting, but still haven't seen Sedrick Ellis yet. That's weird considering he is in a contract year. He should be tearing it up so someone can overpay him this offseason.
The reserves for those players have actually outperformed the starters. Akiem Hicks and Tom Johnson might not have the experience of the other two, but they have shown that the defensive line just performs better when they are in. The run game shores up when Hicks is in there for sure.
Grade: C-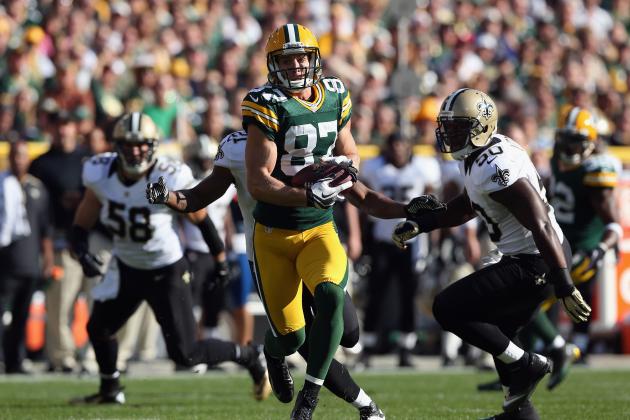 Jeff Gross/Getty Images

This unit was suppose to be upgraded with Curtis Lofton, David Hawthorne and Chris Chamberlain being added in the offseason, but that just hasn't been the case.
Chamberlain is on injured reserve, and Hawthorne has been in and out of the lineup with his own injuries.
The only one performing up to expectations is Lofton.
You want to know how bad this unit is? Lofton has been in on 59 tackles this season. The rest of the group? 45. That is combined between Hawthorne, Scott Shanle, Jonathan Casillas and Will Herring.
That is terrible. No wonder there was talk about moving Roman Harper down to linebacker a few weeks ago. At least he would tackle someone.
Getting Jonathan Vilma back was a big boost. The question now is how long he will remain "unsuspended", because he worked well on the field with Lofton.
Those two, combined with a healthy Hawthorne, would finally give the Saints a reason to leave Shanle on the bench.
Grade: D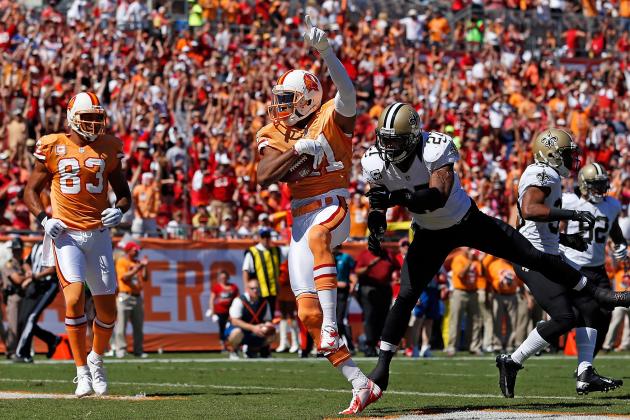 J. Meric/Getty Images

This has been another disappointing unit. And to think, I had big years pegged for Patrick Robinson and Malcolm Jenkins.
Jenkins has had a really rough start to the season, and his start to that Bucs game wasn't any better. But then came his tackle on the Vincent Jackson bomb.
After that, Jenkins started reminding people of the All-Pro talent that resides inside of him. It reminded me of the shot that Brees took in the mouth in the Chargers game. Both plays were like wake-up calls for each player.
Maybe those moments need to happen to Robinson and Jabari Greer as well, because their play has been bad. No witty comment needed for that. It seems like they are out of place in a zone. Doesn't make sense, but their performance needs to improve immediately.
The person who gets the most grief in this group is actually having the best season of the four.
Roman Harper still makes mistakes in coverage that has Who Dat Nation screaming four-letter words at the television, but he has been a playmaker all year when it counts. Hopefully that's not an aberration, but a tell of what's to come from Harper in Spagnuolo's defense.
Grade: C-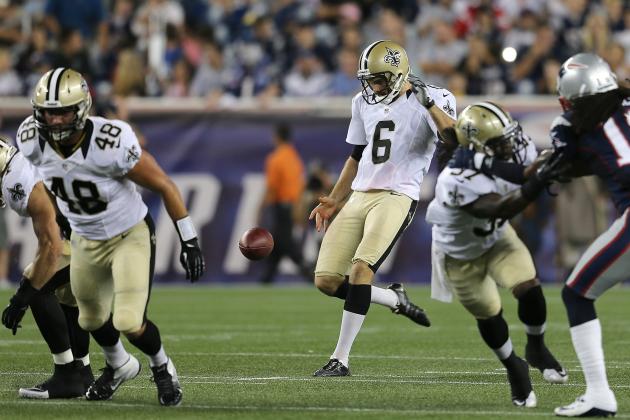 Jim Rogash/Getty Images

Thomas Morstead, aka "The Leg," has been the best punter in the NFL with a net average of 44.9 yards per punt. He has definitely earned the big contract he received this offseason and remains a weapon in Saints games with his directional punts and long hang-time.
Speaking of earning a big contract, Garrett Hartley must have thought that the big money he received was for his big kicks during the 2009 Super Bowl run, because he just isn't "clutch" anymore.
Yes, he has made seven kicks out of the nine he has attempted, but those two misses came at the worst possible times. Losing games by three and one only magnify those misses.
And it's not just this year. He missed last year with injury, and the year before I'm sure every Saints fan remembers the miss against the Falcons, among others.
Oh yeah, in the return game you have one of the most dangerous returners in the league in Sproles. He hasn't broken out yet, but just wait—he's due for a long one soon.
Grade: B+