4 Reasons Darin Ruf Could Be Philadelphia Phillies' 2013 Everyday Left Fielder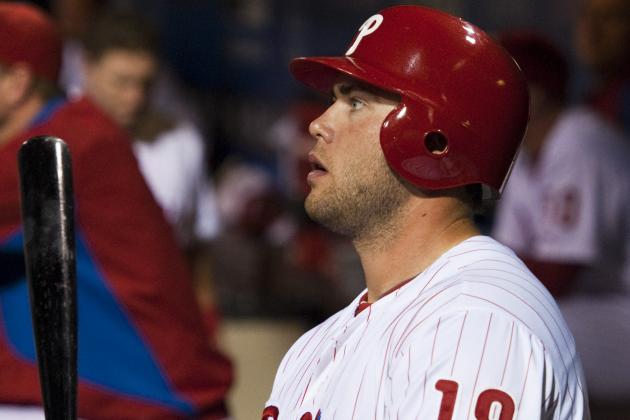 Howard Smith-US PRESSWIRE

Going into 2013, as it stands right now, the Phillies do not have one legitimate outfielder that is guaranteed a starting job next season.
MLB.com reports that the Phillies are making a strong push for center fielder B.J. Upton, but beyond that, the Phillies have a lot of questions regarding who will make up their outfield in 2013. Upton is being pursued heavily by other clubs, including the Atlanta Braves—which I did an article on yesterday.
Darin Ruf really made a name for himself in 2012, bashing home runs left and right in Double-A Reading as well as with his brief stint with the Phillies, and he has added even more homers playing fall ball in Venezuela.
The type of power numbers that he put up simply cannot be ignored, and I believe that Ruf is going to get his shot in 2013 to become an everyday player.
Here are five reasons why Darin Ruf could get the opportunity to become the everyday left fielder in 2013 for the Philadelphia Phillies.
Begin Slideshow

»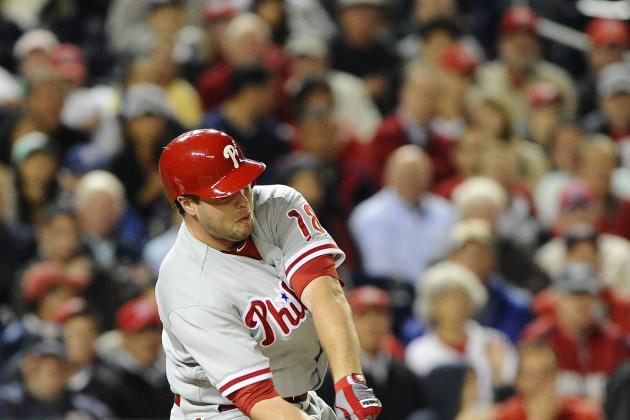 Brad Mills-US PRESSWIRE

Probably the most important thing that the Philadelphia Phillies need going into 2013 is a power-hitting bat from the right side, something that they've lacked since trading away Hunter Pence last July.
Ruf has the most power from the right side of any other outfielder in the Phillies' organization; I don't think that anyone can make a legitimate argument to prove otherwise.
In just 33 at-bats in the majors this year, he hit three home runs and had 10 RBI. That was in addition to the 38 home runs and the 104 RBI that he had with Reading earlier in the year.
If the Phillies want to interject some life into their lineup from the right side to help protect Ryan Howard and Chase Utley, Ruf may be their man.
If the Phils are able to add B.J. Upton this offseason, their lineup with Ruf will be extremely balanced. If they don't sign him, they may need Ruf's power even more.
A Phillies 2013 lineup could look like this.
1. Rollins (S)
2. Utley (L)
3. Upton (R)
4. Howard (L)
5. Ruiz (R)
6. Ruf (R)
7. Brown (L)
8. Frandsen (R) or Galvis (S)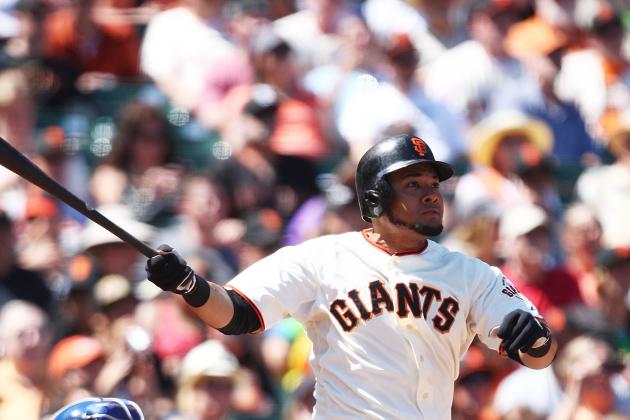 Tony Medina/Getty Images

It's only November 16, and two big free-agent corner outfielders are already off the market. Torii Hunter has signed on to play with the Tigers, and Melky Cabrera has come to an agreement with Toronto Enrique Rojas of ESPNdeportes.com reports (h/t MLB.com).
The rest of the left fielders on the free-agent market are extremely weak, leaving only Shane Victorino, Cody Ross, Ryan Ludwick and maybe a few others as legitimate upgrades from what they already have in-house.
Sure, some outfielders like Josh Hamilton can play left field, but the Phillies are looking at him more as a center field option at this point.
The longer that Ruben Amaro Jr. waits and watches free agents sign elsewhere, the more likely that Ruf will get a legitimate chance to compete for a starting job in 2013.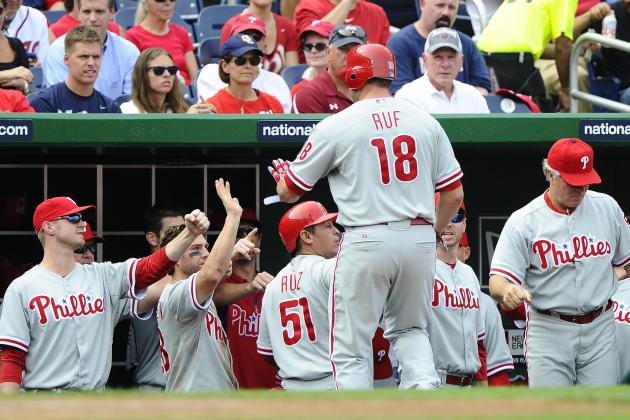 Brad Mills-US PRESSWIRE

The Phillies' core players are well into their 30s. Bringing in a fresh face who is years younger than any of the starting position players with the exception to Domonic Brown (who may not even be a starter) could benefit the Phillies more than signing another player in his 30s to a short-term deal.
Ruf is eight years younger than Ludwick (34) and six years younger than both Victorino and Ross (32). It is not a guarantee that Ruf can produce like any of those players, but it is also true that he could significantly outproduce them as well offensively.
Of course, Victorino is 10 times the defensive player that Ruf can be, but if the Phillies wanted to keep Victorino around, they would have. I only see him coming back if the Phillies swing and miss on landing a premium center fielder.
It's time for the Phillies to bring up some young talent to play with their veteran players. Ruf has the kind of power that can spark an offense to life, and I just don't see any of the other left field options that are left being able to do that in 2013.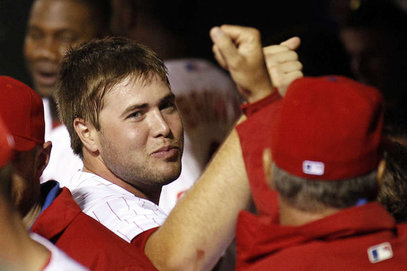 Photo Courtesy of YONG KIM / Staff Photographer Philly.com
When young players come up to the major leagues and contribute right away, it gives their teams a ton of flexibility to fix other areas of concern.
Ruf has the potential to do just that. He will play the 2013 season earning the league minimum and has the skills to drive in 80 or so runs and hit 25 to 30 home runs. A lot of potential upside for a player making a minimum salary.
If he can do that, he would save the Phillies a ton of money that they could use to fill other voids as the season goes along, especially because Vance Worley and Roy Halladay are coming off of injuries that hindered their overall performance in 2012. If they don't bounce back, the Phillies are going to need that flexibility to add another starter if they want to make a run at the playoffs or a division title.
If the Phillies go through a half of a season and don't think that Ruf is the right fit, they could always acquire someone at the trade deadline, and those options may be better than the ones currently available on the left field market. They also will not have much money invested in Ruf, so no harm, no foul.
With high risk comes the potential for great reward, If Ruf can manage to put up 75 percent of the numbers that he did this past year, it would greatly benefit the Phillies' ability to put up more runs.
Having great pitching is one thing, but you can't win games if you don't score any runs. Just ask Cliff Lee.
Ruf has the potential to make a big difference in the Phillies' offense, and Ruben Amaro and Charlie Manuel may just let him have his shot in 2013.