Big Ten Football: Power Ranking the Big Ten Teams in Week 9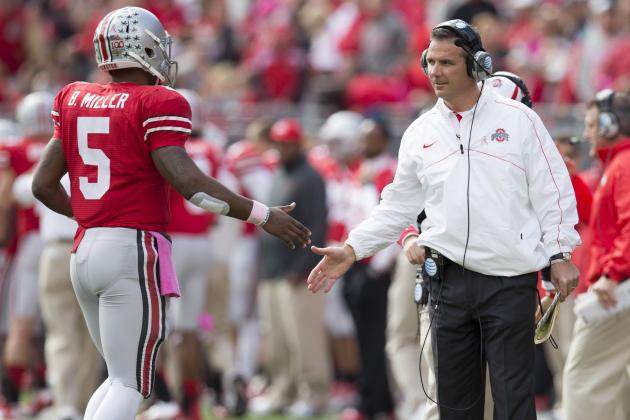 Greg Bartram-US PRESSWIRE

We're four weeks into the Big Ten slate already (even though only four teams have actually played four Big Ten games—the rest have taken byes), and we're starting to get a clearer picture of the pecking order in the conference.
So, let's update the power rankings for Week 9.
Picking a No. 1 for this week was deceptively difficult.
You could certainly say something like, "anyone who just needed a miracle to beat Purdue at home can't be No. 1." Or you could say something like "anyone who got whipped by the Ohio Bobcats can't be No. 1." Or you could say something like "anyone whose best player throws four interceptions in a row can't be No. 1."
Or you could say "anyone who's given up over 350 yards rushing twice already this year can't be No. 1." Or you could say something like "anyone who needed Utah State to miss a field goal to win at home can't be No. 1."
All of those points would make sense on their own. It's just that as long as you believe all of them, you're left with picking either 6-2 (2-2) Northwestern or a three-plus loss team to be the top squad in the Big Ten, and, well, good luck with that.
So, this power ranking is all about accepting (if not exactly embracing) each team's flaws. Click ahead to see where your favorite team ends up and if it makes the top spot! Also, spoiler alert Illinois...today is not your day.
Onward!
Begin Slideshow

»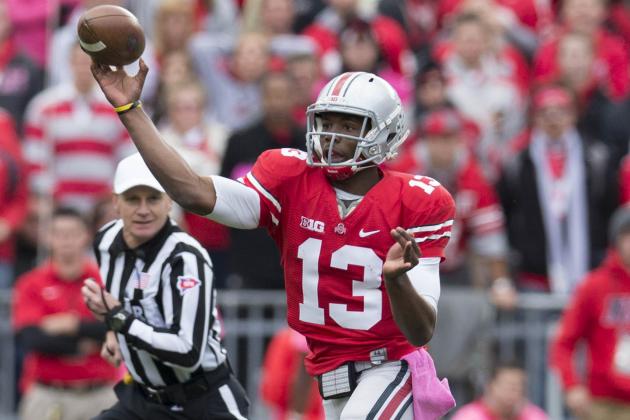 Greg Bartram-US PRESSWIRE

Yes, Ohio State pulled out a win by the skin of its teeth after backup quarterback Kenny Guiton led a 61-yard touchdown drive with 47 seconds left and no timeouts, then converted a two-point conversion before leading an easy touchdown drive in overtime for the eventual victory.
Yes, it was a home game against a Purdue team that looked about as bad as Illinois in the first two weeks of the season.
Yes, Ohio State is still ranked No. 1 in this power poll, because we still don't expect any single team to beat the Buckeyes for the rest of the year. That's not to say a loss won't happen, mind you—if there are four straight 75 percent probability events, you would expect each individual event to go the way of the 75 percent, but there's less than a 32 percent chance that all four do.
And that's about where we are with Ohio State right now. A loss is probably coming, but don't be surprised to see Ohio State be the better team on paper from here on out.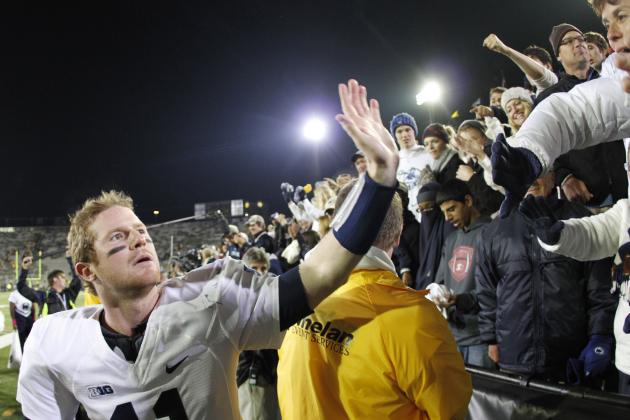 Matthew Holst/Getty Images

Was that a thrashing for the ages, or what?
Penn State put together arguably the most dominant, complete performance of the Big Ten season with a 38-14 whipping of Iowa under the lights at Kinnick Stadium on Saturday, and the game wasn't even that close.
Certainly nobody's playing better than Penn State over the last few weeks, and that's scary news for a Big Ten that probably expected years and years of futility from Happy Valley in the wake of NCAA sanctions.
Penn State has a chance to not only take the No. 1 spot in the power poll, but put a death grip on it when Ohio State comes to town this week. The winner of that game has a substantial advantage in the Leaders Division race, and only Wisconsin looks like even a halfway plausible outside contender for that crown.
That means, of course, that Wisconsin is the prohibitive favorite to actually go to Indianapolis, but you'd better believe that Penn State knows it's still playing for the official division championship.
Matt McGloin is playing at as high a level as he ever has, and the Nittany Lion defense looks well-drilled and fearless. In fact, the entire team looked as close to mistake-free as possible on Saturday, and that's as much a testament to the coaching as it is to the team leadership and everyone buying in.
It's impressive to see.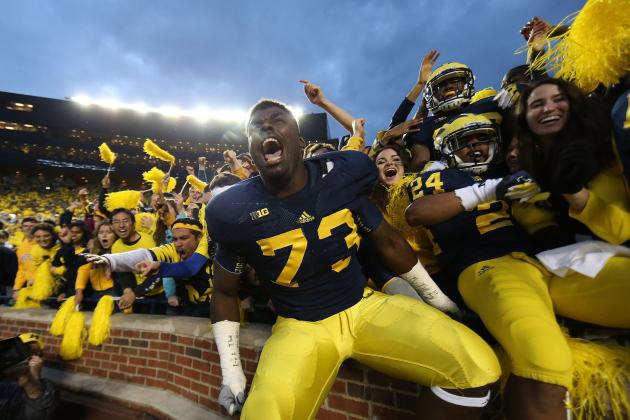 Leon Halip/Getty Images

Spirits are high in Ann Arbor as Michigan dispatched Michigan State for the first time in all of its current players' careers, taking the Paul Bunyan Trophy in the process.
The win also effectively eliminates Michigan State from Legends Division contention (more on that later), which means Michigan's path to the Big Ten championship is that much clearer.
Jake Ryan is coming on strong and dispelling any notion of a sophomore slump, and Denard Robinson is rapidly approaching the all-time FBS career record for quarterback rushing yards. He's a mortal lock for the record if Michigan gets a 14th game thanks to the Big Ten championship; he'll probably get there by the 12th game anyway.
Like Nos. 1 and 2 on this list, Nos. 3 and 4 are up for grabs as the teams face each other this weekend.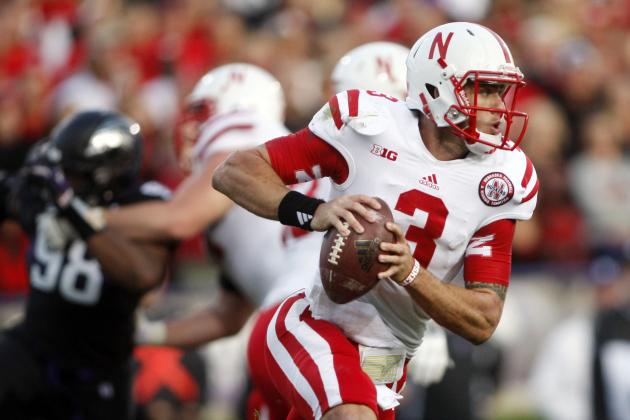 US PRESSWIRE

Nebraska hangs on to No. 4; although we're seeing a major push from the next team on this list. Suffice it to say the Cornhuskers won't be No. 4 next week, as a win pushes them up to No. 3 at a minimum and a loss allows the next team to make a better case for the spot.
Positional jockeying aside, Nebraska looked like it was going to be the latest team to fall victim to Northwestern's odd brand of defense—it hits hard, stuffs the run, is much less permissive on third down than last year, gives up almost five fewer points per game than last year...and still somehow gives up an unbelievable amount of yardage. And the Wildcats keep winning despite that.
Or at least that was the plot before the Cornhuskers turned things around with two late touchdown drives to claim the 29-28 victory.
That was largely thanks to Taylor Martinez, who logged 407 yards of total offense in the win—including all 156 yards of Nebraska's last two touchdown drives.
As noted earlier, Michigan comes to town this week. Think Nebraska players have forgotten about the 45-17 beating the Wolverines hung on them at the Big House last year? This date's probably been circled on Nebraska's calendar for a long, long time.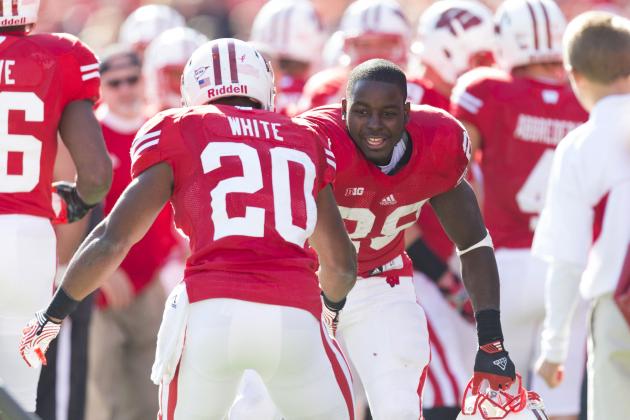 Jeff Hanisch-US PRESSWIRE

Don't look now, but Wisconsin is bowl-eligible with six wins, which one month ago seemed a little less than certain.
Montee Ball is back to rushing for over 120 yards per game and leads the Big Ten in rushing touchdowns with 13, while James White is re-emerging as a secondary force in the backfield. White's yards per carry are up by about 1.9 over last year, and if he and Ball are both rushing well, the rest of the Big Ten is in major trouble.
Of course, it should be noted that the Badgers' current three-game winning streak is over some rather putrid competition, and three of the last four games are serious challenges. A record of 7-5 (4-4) is still on the table.
But just as plausible a finish for the Badgers is 9-3 (6-2), at which point, trips to Indianapolis and potentially Pasadena await; so, we don't exactly recommend flying into a panic at Wisconsin.
The season's still in good shape.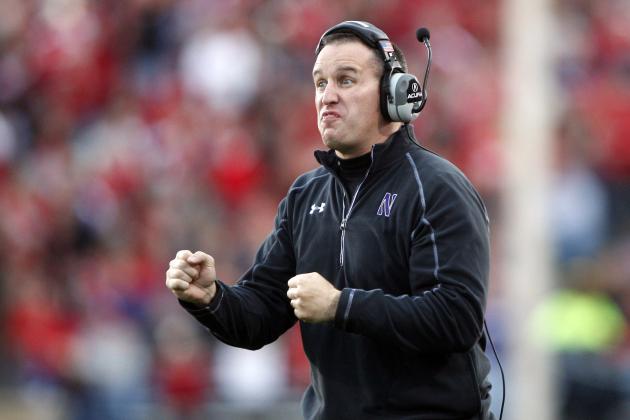 US PRESSWIRE

Nap Day could have gone better for Northwestern.
Despite getting a pregame nap scheduled by Pat Fitzgerald for the afternoon game, it looked like the Wildcats fell asleep in the fourth quarter of their 29-28 loss to Nebraska, pushing the 'Cats to 2-2 in the conference and one more loss away from division-race irrelevance.
Games against Iowa, Michigan and Michigan State loom in the next four weeks (there's also a bye week, which is like when your season takes a nap); so, it's not as if Northwestern can't make up any ground in the Legends Division, but let's be honest: Unless Northwestern runs the table from here on out, it's not a player in the Big Ten title picture.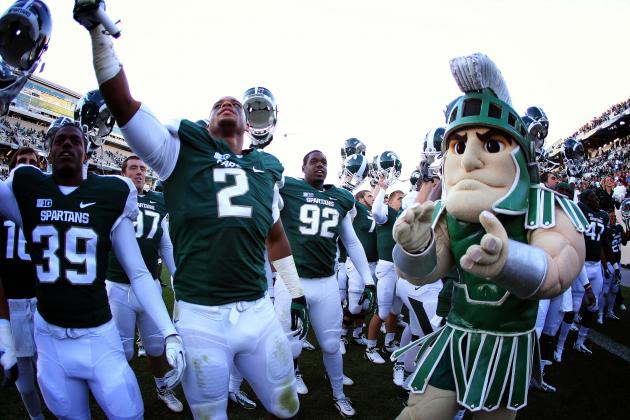 Mike Carter-US PRESSWIRE

Poor, poor Michigan State. Losers of three Big Ten games by a total of six points, the Spartans find themselves at 4-4 on the season with bowl eligibility still a question mark. Tough spot for a legitimate preseason conference-championship contender, but that's life in the Big Ten for you.
You know who Michigan State is like?
The Big Ten's version of the Jets. Green and white, yes, but there's also a beastly defense with one of the best sets of corners in the game. And then on offense, you've got a power rushing attack with pure comedy in the passing game.
"Ah, but there's no Tim Tebow equivalent in East Lansing," you're probably saying. Au contraire, mes frères et soeurs. You can see Michigan State's version of Tim Tebow right there up top, clapping on the right side of the picture, contributing on the field just about as much as Tebow does.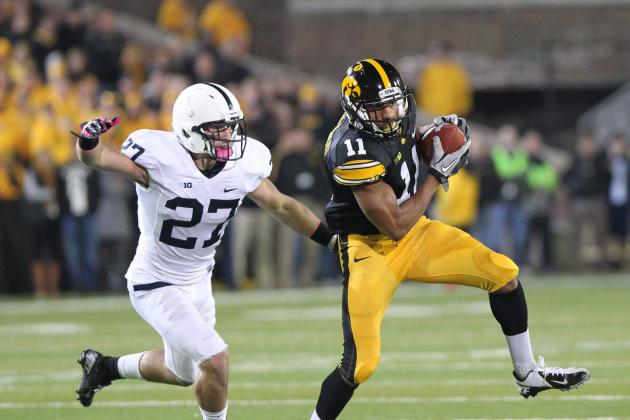 Reese Strickland-US PRESSWIRE

Iowa fans are likely wondering how their team ends up lower in the power rankings than a team it just beat in East Lansing two weeks ago. Michigan State's got a weaker record and everything!
That's fair. The answer, of course, is that football is full of contradictory data and nothing's as contradictory as comparing scores. That way lies madness, not enlightenment.
The fact is, Iowa looked like a lower-echelon team in the conference on Saturday and has looked like that lower-echelon team for a majority of its games this season—especially if you include the Michigan State game, because Iowa really had zero business winning that one.
It was, in retrospect, a pretty amazing upset.
Maybe things turn around for the Hawkeyes if Mark Weisman is healthy, but for now they're a frighteningly mediocre team with no passing game—and things aren't likely to turn around with two key linemen probably out for the season after injuries against PSU.
This might be as high as Iowa gets for the rest of the year.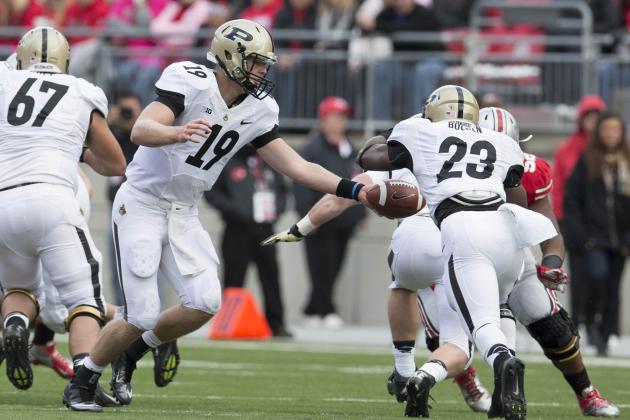 Greg Bartram-US PRESSWIRE

Finally, a pulse from a Purdue team that spent the prior two weeks going from Big Ten contender to laughingstock with two lifeless performances against Michigan and Wisconsin.
Unfortunately, that inspired performance against Ohio State only led to heartbreak as an upset bid fizzled out in overtime after Ohio State tied the game with a touchdown and two-point conversion with just seconds on the clock.
Everyone in the stadium knew that overtime victory was coming for Ohio State too.
The good news for the Boilermakers is that a late-season resurgence is definitely possible, as the schedule gets significantly easier to navigate. Yes, three road games remain, but they're against Illinois, Iowa and Minnesota—all three games are within reach for the Boilermakers.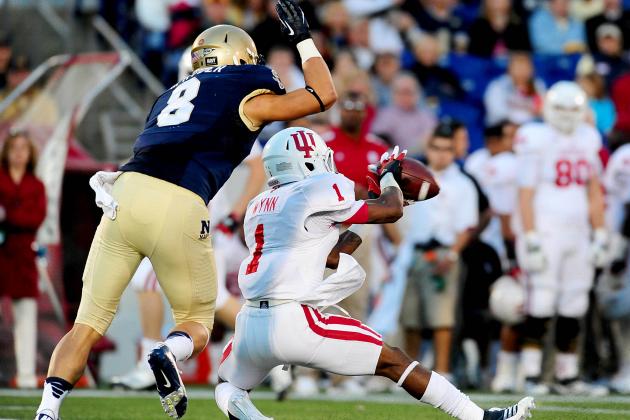 Evan Habeeb-US PRESSWIRE

It wouldn't be an Indiana season without an inexplicable lead blown against a mid-major non-conference opponent, which means the Hoosiers' 31-30 hork job at Navy last week makes this a super Indiana season—Indiana already blew one against Ball State earlier this year.
The defense desperately needs more bodies, and Cameron Coffman clearly isn't a long-term solution at quarterback (imagine if Gunner Kiel were behind center right now), but there's some life to the Hoosiers yet.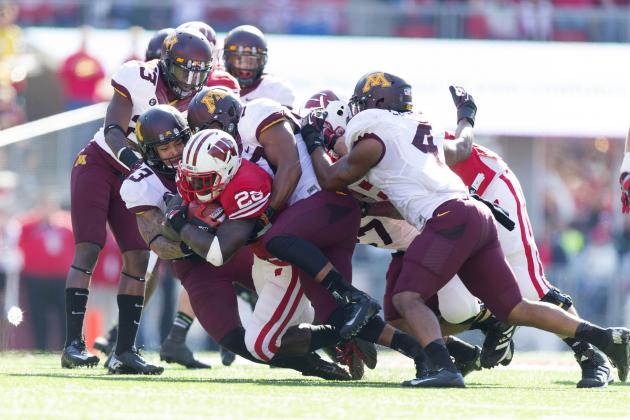 Jeff Hanisch-US PRESSWIRE

That 4-0 start seems a long way away for the Gophers, who are on a three-game losing streak and have punted on the quarterback situation by installing true freshman Phillip Nelson behind center, moving MarQueis Gray back out to wide receiver and benching Max Shortell.
Only two games look remotely winnable for Minnesota the rest of the way—a home game with Purdue coming up this week and a trip to Illinois two weeks later. Those games hold the key to bowl eligibility; though, it would be tough to imagine what bowl committee would be even remotely happy about taking this Gopher squad.
Brace Hemmelgarn-US PRESSWIRE

Illinois had a bye week on its schedule in Week 8. The bye week defeated Illinois, 45-13.
Jokes aside, this team is a giant mess and doesn't appear to be making any improvement over the course of the year. Indiana visits this week, so there is an opportunity for the Illini to climb out of the cellar, but do you trust Illinois to pick that win up? Even remotely?