Notre Dame is now 7-0 and remains a Top 5 team in the latest BCS rankings. If you haven't figured it out quite yet, the Irish are back as far as contenders are concerned and appear to be on track towards a BCS bowl and possibly a national title.
But before everybody gets ahead of themselves, this team still has a ways to go as the toughest games on the schedule remain. A trip to Oklahoma is on tap this weekend, a game that the Irish could certainly lose considering the Sooners are beginning to find themselves after a recent blowout victory over the Texas Longhorns.
And if that game wasn't much of a test for this squad, the USC Trojans are also waiting at the end of the season.
It's a possibility that the Irish could finish this successful season undefeated or could take a couple of steps back and finish the regular season with a loss or two. Regardless, here is why the season finale against the Trojans will be a bigger matchup and test for Notre Dame as we head down the home stretch of the season.
Offensive Explosion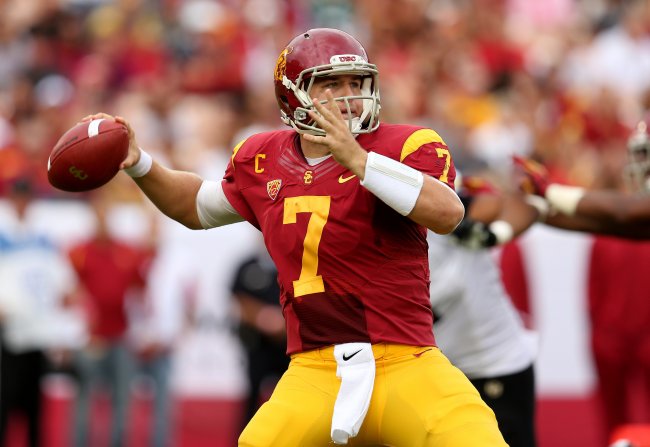 Stephen Dunn/Getty Images
One of the main reasons many like Oklahoma over Notre Dame is because of the offensive production that the Sooners are capable of producing. The Irish haven't been the most consistent football team on the offensive side of the ball, as the team has scored 20 or fewer points in five of their seven victories.
But while Landry Jones and company are more than capable of lighting up any defense in the country, the senior quarterback has also shown that he can come up small in big games.
Sure, Jones has thrown for over 14,000 yards and 105 touchdowns throughout his career, but he also finished the last four games of the 2011 season with a combined six interceptions. He is also completing less than 60 percent of his passes in the red zone and couldn't produce enough in this year's loss to Kansas State.
Simply put, if you can rattle Jones and build a quick lead, there is a great chance you have the Sooners beat. Despite him being the most experienced and accomplished quarterback in college football this season, he doesn't seem to be one of the elite quarterbacks the sport has to offer, as he hasn't taken that next step in his game.
USC on the other hand, not only has Matt Barkley, who will likely be a first-round draft pick in next year's NFL draft, but also has a ridiculous amount of weapons around him. Running back Silas Redd is averaging over five yards a carry and has scored at least one touchdown in five of the first seven games.
And then there is arguably the best wide receiver duo in all of college football in Robert Woods and Marqise Lee. Both will soon be playing on Sundays and their big-play ability has combined for 104 receptions, 1,276 yards and 17 touchdowns this year alone. The Trojans have scored over 35 points in four games this season and seem to be just getting started, as the offense is just now hitting its stride.
If Oklahoma is going to cause trouble for this Notre Dame defense, the Irish won't want to see what USC is capable of doing at the end of the season. It will be interesting to see how well a young secondary is able to withstand an offense that actually has a real quarterback throwing the football around.
Pressure, Pressure and More Pressure
Notre Dame is in the national championship conversation!
With each passing victory, the expectations are getting higher and the talks of the Irish returning to the national championship for the first time since 1988 are getting louder. The problem is that Oklahoma and USC are the only two legitimate teams that are standing in the way of a possible national championship berth.
After all, teams such as Wake Forest, Boston College and Pittsburgh shouldn't pose much of a threat this year.
Which game do you fear most as an Irish fan?
So let's say that Notre Dame is able to avoid the Sooners and win its eighth straight game, the Irish would likely then head into the USC matchup as an undefeated team and a victory away from the biggest game in Notre Dame history in over 20 years.
Despite the issues that the Irish would likely have trying to defend that USC offense, Notre Dame has lost nine of the last 10 meetings against the Trojans, including a 14-point loss last season. Notre Dame is also 2-6 in the last eight games against USC that take place on the road.
If the Irish do happen to slip up against Oklahoma this week, a BCS bowl berth is still likely guaranteed regardless of what happens against USC at the end of the season. However, a plain old BCS bowl and a national championship are two completely different worlds.
A pressure situation is good for a team and would provide a measuring stick for this program, but it would leave Irish fans on the edge of their seat and set up the possibility for a disappointing letdown.