Is Sir Alex Ferguson Being Too Cautious with Manchester United's Youth?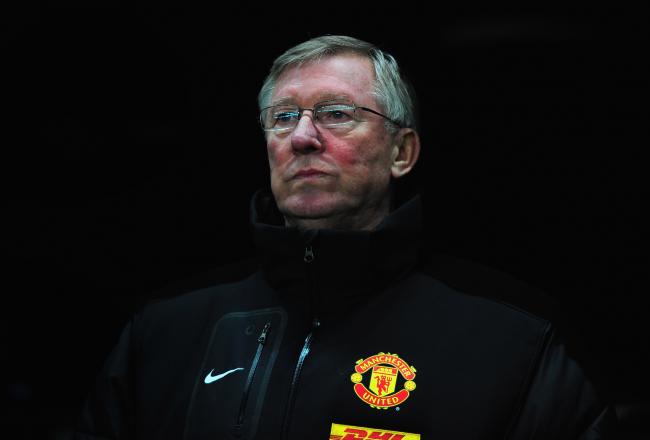 Stu Forster/Getty Images
"I never have a problem playing a young player in the first team—if he is good enough then he can play. Their real talent only shines through when they start playing against more physical players," said Sir Alex Ferguson, via BBC.
The youth teams of Manchester United have always been acknowledged as the beating heart of the club—an important staple to provide an assurance for the future that few clubs in Britain can rival.
From Busby Babes to the crop of 1991-92, the history of the Red Devils boasts many youngsters (raised in-house or swiped from elsewhere) that have stepped up and delivered when given the chance.
The current players on the production line—which includes the likes of Ryan Tunnicliffe, Scott Wootton and Jesse Lingard—have been touted as being as talented as any in recent years.
But with none of the above having been given a real chance in the first team yet, is the depth of the squad reason for this? Or is Sir Alex exhibiting a cautious approach not typical to his reputation?
Whilst the prodigious ability of Paul Scholes, David Beckham and the Nevilles of the early '90s will likely never be replicated in a youth team, they too were doubted at the time of their unprecedented rise up the ladder.
Scholes and Beckham were both 19 when they debuted for United, the current ages of Tunnicliffe and Lingard. Wootton recently turned 21.
In Sir Alex's words, "It is that period from the ages 16 to 19 that determines the future of many young players. At Old Trafford we have an academy system where we give them a scholarship between 16 to 19—and you hope by that time we would see the potential being developed and fulfilled."
"At the ages of 20 or 21 if they aren't in the first team there is a danger their progression may slow down."
None of the three seem on the verge of playing much first-team football this season, though, whilst several will most likely play out on loan next year.
This was the case for Tom Cleverley and Danny Welbeck—two United-raised players whom, having played at Wigan and Sunderland, respectively, for a year in past campaigns, are now important first-teamers featuring regularly.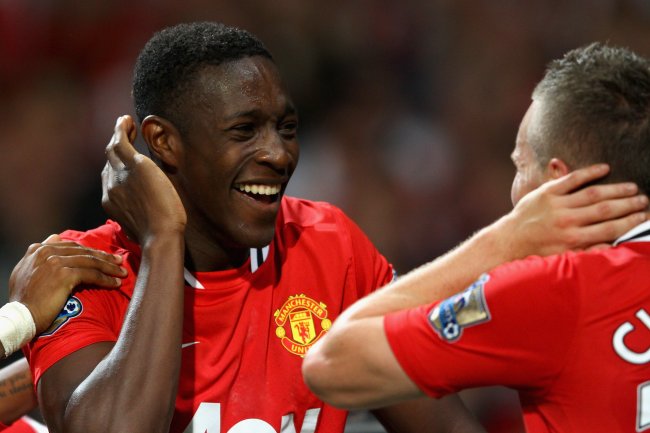 Alex Livesey/Getty Images
It is a protective mindset of Sir Alex's that saw Michael Carrick preferred at centre-back over Wootton when injuries devastated the team's defence earlier in the season.
Dutch summer recruit Alex Buttner had a barnstorming debut against Wigan a few weeks ago, scoring an Old Trafford classic in a performance that threatened greatness, even if he is still a player with more than a few rough edges.
Many claimed that left-back Patrice Evra's days as the United No. 1 in the position were numbered in the wake of the game, but Sir Alex was not one to get carried away with the hype.
If anything, the glowing reviews of Buttner's first game in a red shirt probably had an adverse effect on his standing, as the Scotsman sought to shield him to prevent the media, and the player himself, from getting carried away.
Evra's much-improved showings in the last couple of games has proven the decision justified.
The much-publicised exits of Ravel Morrison and Paul Pogba this year garnered a lot of criticism for the way two clearly talented youngsters left the club at such an early stage of their burgeoning careers.
In the case of the former, United were probably lucky to get rid of the young thug so easily, but the latter's departure had many scratching their heads.
Pogba decried a lack of playing time for his decision to flee Manchester, complaining, "It's a feeling I had with the coach. He trusted me but he didn't play me, saying I was too young. He said 'your time will come' but it didn't" (via Daily Mail).
The Frenchman had originally been poached from Le Havre when he was 16, so it shouldn't have come as much surprise when the mercenary switched his allegiance to Juventus three years later.
But will the standoff between Sir Alex and the impatient Pogba damage United more than the midfielder in the long run?
He's already made four impressive Serie A appearances for the Turin side, scoring once in a 2-0 win over a top class Napoli side.
But this is the nature of the game now. Untested teenagers can demand £20,000-a-week contracts if that's what their agents and the tabloids decide they're worth.
It is arguable that United should have paid him more, but Sir Alex should have definitely given him more of a role last season.
If the Red Devils were willing to pay over £30 million for either Eden Hazard or Lucas Moura in the summer, why would a small (in the grand scheme of things) contract extension to a prodigy already at the club have been so difficult?
United have rewarded worse attitudes than Pogba's in the past.
The "I want to play more, I want to be paid more" mindset of so many of the game's young players is indicative of the increasing awareness surrounding football's future stars.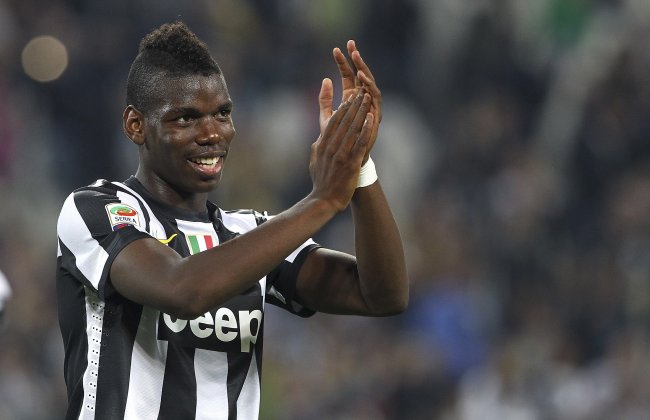 Marco Luzzani/Getty Images
If a player like Jesse Lingard isn't given a decent opportunity in the first team in the next 12 months or so, who's to say he's not going to turn around and say the same thing as Pogba?
There will always be the patient core, like Cleverley and Welbeck, in the youth teams, but then what about the others with the devil on their shoulder and the agent in their ear demanding the future right now?
Still, United are far better than say, Manchester City, who at the moment seem to only spend big on young talent rather than breed it in-house.
Though who would Lingard replace in the United first team were he to get a run? Shinji Kagawa? Tom Cleverley?
The depth and quality of the squad means that more than one heart is always going to be broken when the game's team sheets are posted on the bulletin board on Saturdays.
A team of youngsters would have little chance of winning the Premier League anyway.
But if Tunnicliffe, Wootton and Lingard are patient and can continue to strive hard to improve, their time at the Theatre of Dreams will undoubtedly come.
Sir Alex will just have to hope none of the above get itchy feet before then, because, as he says, "everybody obviously wants first team football."
"So the club and I would then make decisions to make sure that any players not achieving this would still have a career in the game."
Still, surely he'd rather the best of those youngsters go on to play their career at United?
What do you think about the United boss' current approach to youth? Is patience necessary for a player's development?
Follow @MaxTowle
This article is
What is the duplicate article?
Why is this article offensive?
Where is this article plagiarized from?
Why is this article poorly edited?

Manchester United: Like this team?