OSU Football Recruiting: Guys from SEC Territory Showing Interest in 2014 Class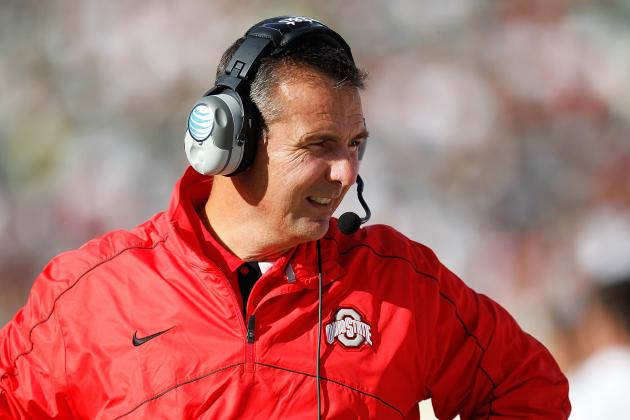 Gregory Shamus/Getty Images

One key to the success of two-time national championship-winning head coach Urban Meyer is this: wherever he has been, he has done an excellent job at bringing in big-time recruits.
In his first ever recruiting class at Ohio State (2013), Meyer is putting together what will assuredly be one of the top classes in the nation. This has fans hyped up about the future of the program as he pulled it off in less than a year at the job.
Ohio State currently has no commitments in the 2014 recruiting class. That will soon change. And while Meyer will likely bring in guys from all over the country, for now let's focus on guys he might get from a particular area of the country: the southeast.
So to get to the point of this article, here are some top notch 2014 recruits from SEC land that are showing interest in THE Ohio State University.
Begin Slideshow

»
Storyline: Even though Myles Autry has a rather small frame, he is electric with the ball in his hands and he has a great initial burst off of the line of scrimmage. He has the potential to be dangerous no matter where you line him up on offense. He reminds me of Oregon's De'Anthony Thomas.
Schools of interest: Florida State, Georgia, Georgia Tech, Miami (Fl), and Ohio State
Storyline: While he's not the biggest or the fastest guy out there, Scott has a nice blend of quickness and power. He has a rather thin build to him but nothing that a big diet and enough repetitions in the weight room can't fix. Once he thickens up he'll look somewhat like former Ohio State running back Antonio Pittman.
Schools of interest: Duke, East Carolina, Florida State, Ohio State, and South Carolina
Storyline: Wouldn't you like to have a receiver on your team who does most of his damage after he catches the ball? Having a possession receiver with good route running is great, but there's something exciting about having a guy who can pick up yards after catch. That's just what you'll get with Davidson who has a pretty good body frame to build on.
Schools of interest: Clemson, Florida State, North Carolina, Ohio State, and South Carolina
Storyline: Typically while in need of a good offensive lineman coaches look for a guy who's big, powerful, quick with his feet and smart. Florida offensive tackle K.C. McDermon has all of those attributes and then some.
Schools of interest: Auburn, FIU, Miami (Fl), Notre Dame, and Ohio State
Storyline: While Artavis Scott is only about 5'10" 170 lbs, he has a pretty big wing span, great hands, and he knows how to get open. He's definitely the type of receiver who can burn defense vertically despite a slight height deficiency.
Schools of interest: Florida, Florida State, Notre Dame, Ohio State, and South Florida
Storyline: Well you can't quite tell who Dante Sawyer is in this particular video, just look for a guy with about a 6'3" 225 lbs stature who lines up on at many places on the defensive side of the ball and makes plays. He also lines up at running back.
Schools of interest: Alabama, Florida State, Georgia, North Carolina, and Ohio State
Storyline: Orlando Brown is huge at 6'8.5" 360 lbs. Being one of the top tackle prospects in the country, he has scholarship offers from thirty-plus schools nationwide. I can see why!
Schools of interest: Alabama, Auburn, Florida, Ohio State and Tennessee
Storyline: Want a deep ball threat to play for your team at wide receiver? That's easy, just give a guy like Trevion Thompson a scholarship offer and pray that he chooses to go in your direction... particularly not from an opposing team.
Schools of interest: Clemson, Duke, Florida, NC State, and Ohio State
Storyline: This Kentucky native is a baller! Through just 9 games of his team's 2012 season, Barker (6'4" 215 lbs) has thrown for 1,492 yards, ran for 928 yards, and accounted for 27 total touchdowns. Perhaps that's why he's so highly sought after? He looks a lot like Kansas State's Collin Klein. You know, a front runner to take home the Heisman trophy?
Schools of interest: Cincinnati, Illinois, Indiana, Ohio State, and South Carolina
Storyline: At 6'3" 210 lbs Jalen Hurd is one of the top running back recruits in the country and it is rumored that he has Ohio State as his number 1 school of interest. Being just as fast as he is big and powerful, there's no denying that he could make a huge difference at the next level.
Schools of interest: Alabama, Florida, Georgia, Michigan, and Ohio State
Storyline: When a guy says that you're his favorite out of all the schools recruiting him and he has highlights like these, you have a reason to be excited. Well McMillan named Ohio State as his favorite, and as a Buckeyes fan I am extremely excited!
Schools of interest: Alabama, Clemson, Georgia, Ohio State, and USC