Kentucky Basketball: 5 Reasons Recruits Can't Say No to John Calipari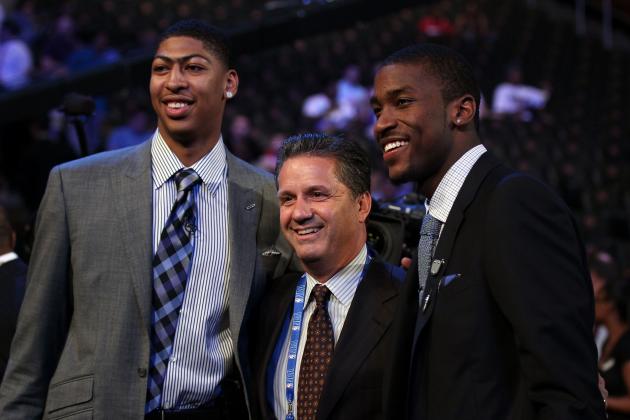 Elsa/Getty Images
The recruits keep lining up for John Calipari
Kentucky basketball head coach John Calipari has always been an elite recruiter. In fact, he has even been the nation's most successful recruiter over the past four seasons.
However, what he has done in the past few weeks is unprecedented and downright legendary. Calipari's 2013 recruiting class already has five commitments, including three players in the top five of their class according to ESPN.
Marcus Lee is a tweener 4- or 5-star who will likely rise up the rankings during his senior season. Meanwhile, Kentucky boy Derek Willis will represent the commonwealth for the next few seasons in Lexington.
As great as it already is, the class is not complete. Before all is said and done, there is a very good opportunity that the Wildcats add one or even two more 5-star players, including the possibility of signing the country's top-ranked player, Julius Randle.
How does Calipari do it? Read the next five slides to see what he has to offer recruits that no other coach in America can match.
Leave comments in the section below, or engage in a discussion with me @PaulAbles or @TheKyBlog
Begin Slideshow

»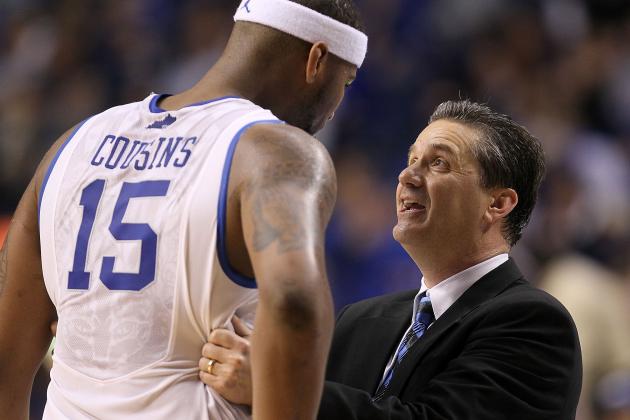 Andy Lyons/Getty Images

Any big-time recruit wants to play for a coach who is on their side. For the country's brightest prospects, there may be no other coach who stresses a "player first" philosophy more than John Calipari.
You hear the coach mention this line of thinking in most of his media interviews, including the new ESPN series All Access Kentucky. To determine exactly what he means by this, it is important to hear the words directly from the coach's mouth.
The following quotes are from an interview with Central Kentucky News:
"You are coaching at Kentucky and you understand this is life and death for some people, but it is not life and death for me. I have told you before, I want to win championships for the state and the Commonwealth, but the most important thing is helping these kids," said Calipari. "It is a players first program. If we do right by them and make decisions based on them, they will drag us to where we want to go."
This point has been proven time and time again by the coach, whether it be bringing back former players for exhibitions, hiring them as assistant coaches or by guiding them to making the best decision for them, not so much for John personally.
He continued to elaborate on his point further ahead in the same article:
I said three years ago and we had guys write stories and try to get people to comment on it. Those five guys going in the first round (of the NBA draft) were the biggest (moment in UK history), or one of the biggest...I think I said biggest and I was probably right...because now you have every player in the country wanting to play here

It started with those five going in the first round, something that had never been done and may never be done again unless it happens here. Now all of a sudden it has changed what has happened for us. We stay players first and they drag us with them. Let's see where this team can drag us.
Calipari has always been known to take pressure off of his players in regards to their NBA future. If it is the best decision for them, he will encourage it and embrace it. If not, then he lets the player know but still wants good reasons from his players why, or why not, they wish to return for another season.
The coach has also ushered in a big movement to bring back and honor former players. For example, he set up an exhibition earlier this offseason that featured players from the 1996 NCAA championship team. They squared off against current NBA players such as DeMarcus Cousins, Rajon Rondo and Tayshaun Prince in a great evening celebrating former UK greats of the past.
Speaking of Cousins, he has disproved the theory that "one-and-done" players can't truly love their school since they are only there for one year. He has been a consistent supporter of the program and even went so far as to build a custom Kentucky basketball court at his home. Check out the photo and his Twitter response here.
He has even hired former Kentucky greats such as Wayne Turner, Scott Padgett, Tony Delk and Marquis Estill to serve as assistant coaches. Turner ended up completing his college degree during his tenure with the staff, which was a goal encouraged by Calipari.
As you can see, the area of focus placed on a player at Kentucky is squarely on himself. Above all, John Calipari wants his program to be beneficial to his players and has put many practices in place to make Lexington feel like a second home for these players. Future recruits want to see that in a program and Kentucky more than fits the bill.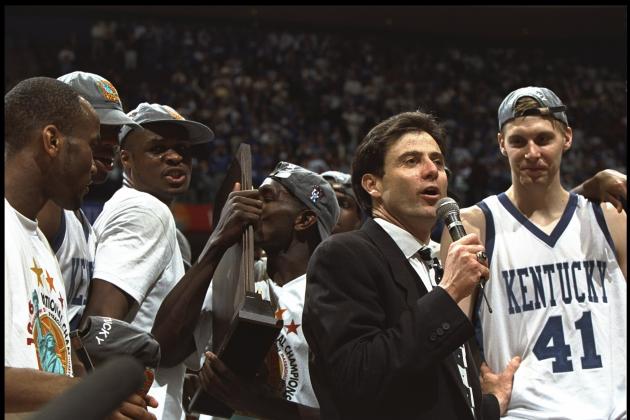 Doug Pensinger/Getty Images

As is true in all college sports, the best players want to play at the best schools. This is certainly the case in college basketball, where the country's elite talent usually choose to play for the likes of North Carolina, Duke, UCLA or Kansas before any other program.
However, the hottest program right now is Kentucky and for good reason. They are the current defending NCAA national champions and have arguably been the "Team of the Decade" this far into Calipari's tenure.
At the same time, the grandeur and tradition of the Wildcat program stretches far beyond that of Calipari or any other school for that matter. Recruits want to win more than anything else and no program has won more games in the sport's history than the University of Kentucky.
The school is the NCAA all-time leader in wins and winning percentage. Kentucky also leads the nation in NCAA tournament victories, NCAA tournament appearances, Sweet 16 appearances and Elite Eight appearances.
Meanwhile, the Wildcats are third all-time in Final Four banners and second all-time in NCAA national championships and title game appearances. At a program like Kentucky, the major banners are saved for just these occasions, as they represent excellence at the pinnacle of the sport.
Kentucky has also been the most consistently successful college basketball program in history. Since the 1930's, Kentucky is the only program to finish each decade among the top 20 in winning percentage. In fact, it isn't even close.
When you look at the facts, no school has experienced as much consistent success and excellence over the history of college basketball as Kentucky has. On top of that, the present state of the program is in fine hands with John Calipari at the helm.
With the unbeatable mixture of prior glory and current success, it is no wonder why the country's best players choose to wear "Kentucky" across their chest.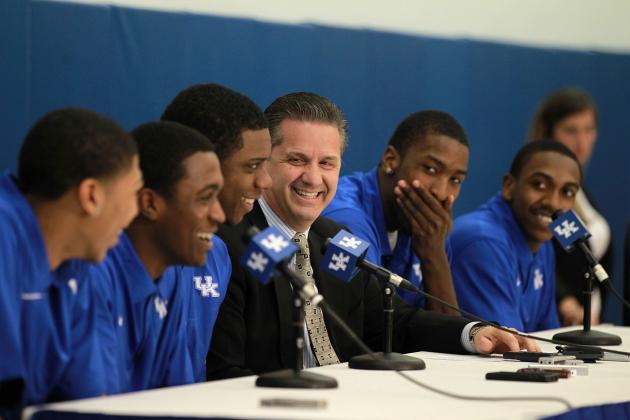 Andy Lyons/Getty Images

Over the previous three seasons, Kentucky has produced fifteen NBA draftees. Think about that for a moment and let it sink in. The Wildcats are averaging five drafted players per year.
That is certainly not the norm for any other college program, which is why John Calipari has achieved so much success with recruits. He has produced two No. 1 overall picks in Anthony Davis and John Wall. Last year's draft class included six Wildcats, the most players ever chosen from one school in a single NBA draft.
Calipari's first team at UK yielded a record five first-round selections, including Wall, DeMarcus Cousins and Eric Bledsoe. Those guys are on their way to promising professional careers, as is Houston Rockets power forward Patrick Patterson.
Even players that don't play for him are getting drafted. Center Enes Kanter committed to the Wildcats but was ruled ineligible by the NCAA. After sitting out an entire season, he entered the NBA draft and was chosen third overall by the Utah Jazz. That is mighty impressive.
In fact, Calipari recently pointed out that the top six players of all three teams have been drafted. It is pretty amazing to think about, but he is right on the money.
The 2009-10 starting lineup consisted of John Wall, Eric Bledsoe, Darius Miller, Patrick Patterson, DeMarcus Cousins and Daniel Orton. All six have been selected in the NBA draft.
The 2010-11 squad featured Brandon Knight, Doron Lamb, DeAndre Liggins, Terrence Jones, Josh Harrellson, Enes Kanter and Darius Miller again. Each of these guys made their way to the NBA.
Last year's 2011-12 team was loaded with future pros, including Marquis Teague, Lamb, Michael Kidd-Gilchrist, Jones, Anthony Davis and Miller. Yet again, the trend continues as all six players were drafted.
Therefore, when looking for a program that prepares players for the NBA and develops them quicker than others, Kentucky stands above the rest at this moment in time. This is yet another reason why recruits keep saying "yes" to play college ball in Lexington.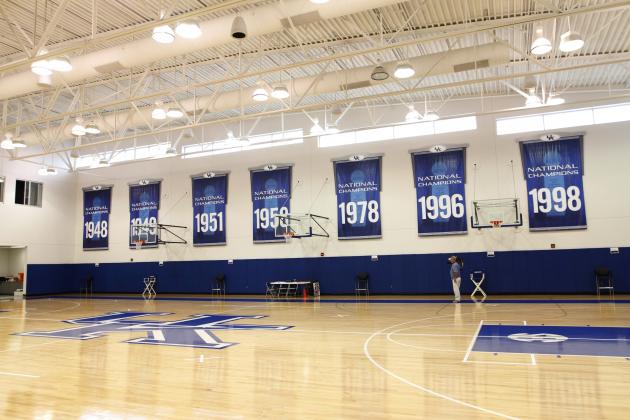 Mark Zerof-US PRESSWIRE
They can add one more banner to the ball after UK's 2012 title
Every recruit wants to play in the most storied and updated facilities in basketball. Luckily for all incoming Kentucky players, they get the best of both worlds.
When suiting up for the Wildcats, players get to play in the historic Rupp Arena and the state-of-the-art Joe Craft Center. The combination of the two means that UK players have the best available facilities in college basketball.
It all starts in Rupp Arena, which is the largest college basketball arena in the country. The school has led the nation in attendance for 16 of the past 17 seasons and 24 seasons overall. The key ingredient in the arena's attendance success comes from the sport's most passionate fanbase, who fill the rafters and support their team like no other program.
The arena also boasts an official seating capacity of 23,500, although there have been many crowds of well over 24,000 to attend a Kentucky home game. In fact, the most attended home game had an announced crowd of 24,479 who stayed to watch Kentucky play arch rival Louisville in 2010.
While Rupp Arena is certainly impressive, arguably the most important facility in terms of recruiting is the Joe Craft Center. This is the men's and women's basketball facility, which includes locker rooms, basketball courts, meeting rooms, lodges and more for the two squads.
It is a state-of-the-art facility that allows players to practice at any time of day, train with the strength and basketball coaches and improve their game. For a personal tour of the facility with current players Kyle Wiltjer and Jarrod Polson, click here.
One really neat aspect of the facility is the renovated men's locker room. The team received a piece of the basketball floor from the NCAA title game in New Orleans as a donation. They have since installed the half court logo in the locker room, which is circular in design. It will be a constant reminder of Calipari's greatest accomplishment during his tenure at UK and is something very unique.
The head coach had this to say about the floor installation:
I'm not sure I've ever heard of any other locker room doing anything like this. But then again, it seems like here at Kentucky we do a lot of things that have never been done, so it's good stuff.
With the combination of the nation's most attended venue and the nicest basketball facility around, the Kentucky program features an unbeatable pair of venues that knock it out of the park for incoming high school prospects.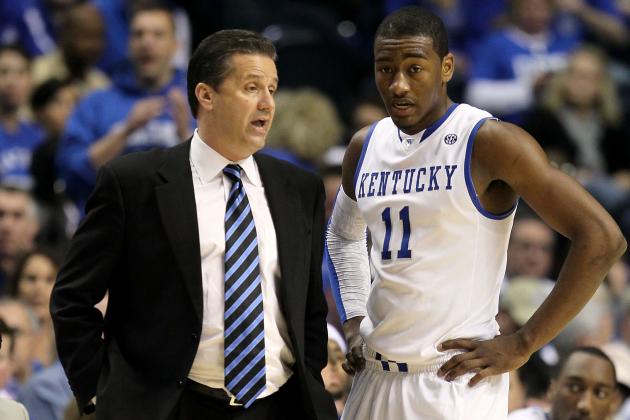 Andy Lyons/Getty Images

As important as the previous topics are to Calipari's recruiting prowess, none is more crucial than this point: the Kentucky Wildcats and John Calipari are a perfect marriage.
When the program and coach joined forces in the spring of 2009, little did fans realize how well the two worked with each other. It has resulted in a firestorm of incredible wins, amazing records and unbelievable recruiting success.
For Kentucky, the school was reeling from the negativity surrounding Billy Gillispie's tenure. The team also struggled during the end of Tubby Smith's coaching tenure and had lost its place among college basketball's elite. Programs such as Duke and North Carolina were surging forward and catching up to the Wildcats.
They needed a coach who would bring instant credibility, a load of excitement, the ability to win big and to recruit the very best in college basketball. On top of that, they needed a coach who would embrace the"salesman" role that this sort of job needs—a guy who would sell UK during every waking moment and place the program back into the national spotlight.
Once the school inserted John Calipari into the picture, all of those things began to happen. However, they occurred faster and at a higher level than ever imagined. He has now delivered a national title and two Final Fours to Big Blue Nation, is riding the nation's longest undefeated home streak and is producing NBA players at a record pace.
Meanwhile, Kentucky is now the country's most talked about team and is even being featured in ESPN's All Access Kentucky weekly series. The Wildcats have returned to the top of the mountain and appear to be in great position to hold their place there as long as Calipari stays.
Speaking of John, he could not have chosen a better program to lead. He has a huge ego that needs plenty of attention and success to keep in check. Coaching the Kentucky program does just that for him.
Calipari came to Kentucky with everything left to prove to the college basketball world. He had been successful at Memphis and UMass, but he was stripped of two Final Four appearances and had yet to coach at a true blue-blood program.
Then the Kentucky Wildcats came calling. The sport's all-time winningest school also possesses the most rabid and passionate fanbase around. If he wanted attention, he got it in spades in Lexington. He is also on a platform that will enable him to reach his wildest dreams in the coaching profession.
As great as he had been in recruiting, now he is able to haul in three players in the top ten of a recruiting class. He is able to produce five NBA first-round picks. He has the facilities and budget to go see who he wants, when he wants to.
Most importantly of all, Calipari wanted to prove beyond anything else that a team of freshmen could win a national championship. He was able to pull it off last year, in essence validating his entire coaching philosophy for the first time.
His legacy as a head coach is now transforming into something historic and perhaps legendary. All of this is available because of the benefits gained by coaching at Kentucky. No other school could offer John what Kentucky can.
In the end, a program with a perfect marriage between coach and school is free to recruit and win at a higher level than others. This is the key reason why recruits just can't seem to say "no" to John Calipari and the Kentucky Wildcats.