Georgia Football: Grading All 22 Starters from the Kentucky Game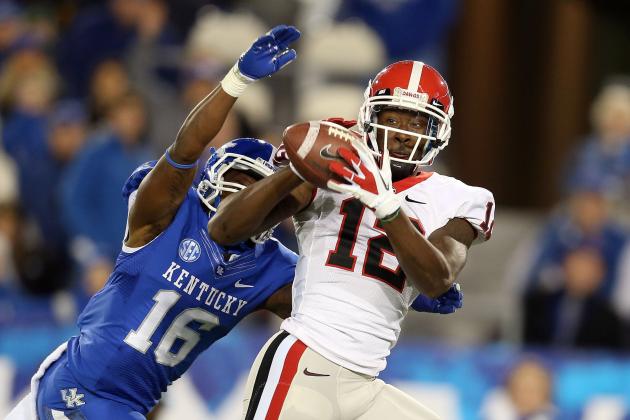 Andy Lyons/Getty Images

The wind picked up for a moment around Athens late Saturday night as Dawg Nation breathed a collective sigh of relief after watching the Georgia Bulldogs come away with a narrow, five-point victory over the now 1-7 Kentucky Wildcats.
The Dawgs came into Lexington looking to get their season back on track against Kentucky following a crushing defeat at the hands of South Carolina and a bye week. And although the Bulldogs head home with the W, this game was plenty closer than most anticipated.
Let's hand out some grades for the Bulldog starters from their win against the Wildcats.
Begin Slideshow

»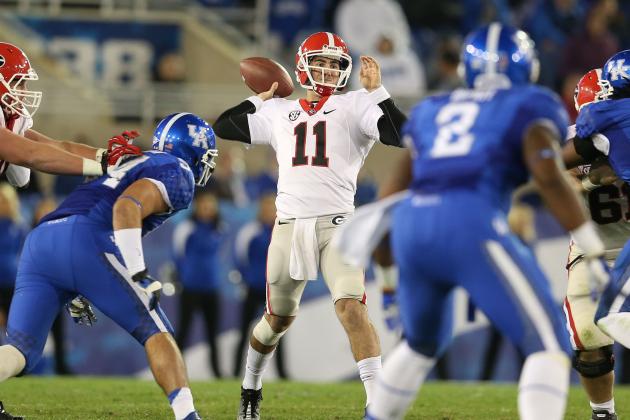 Andy Lyons/Getty Images

Grade: A
Aaron Murray missed a few open receivers against Kentucky, but not many. In fact, for every throw he missed, there were at least two or three incredible tosses where he threw into tight windows or hit receivers in stride for big runs after the catch.
Continuing his dominance against all but the elite defenses, Murray had a career night. He finished with 30 completions on 38 attempts for 427 yards, four touchdowns and no interceptions.
It's hard to ask for much more than that from your quarterback.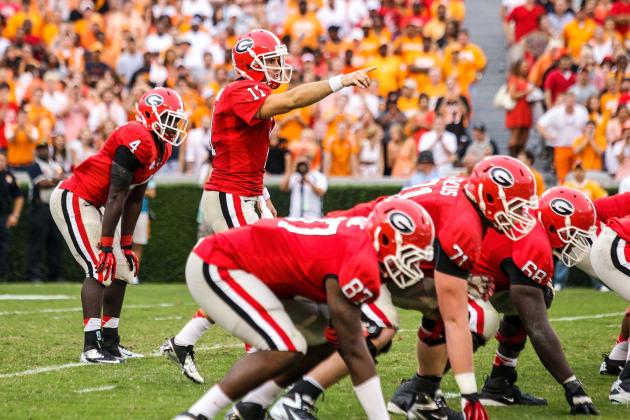 Daniel Shirey-US PRESSWIRE

Grade: B
The offensive line struggled to open up running lanes for Todd Gurley and Keith Marshall against Kentucky, as evidenced by Georgia's paltry rushing numbers.
But there was also some predictable play-calling out of certain formations that seemed to let the Wildcat defense key in on the run. Only twice did Murray use play action out of the power I formation. As a result, the run plays called out of that formation were not very effective.
The unit did do a very nice job of pass protecting Murray. A team isn't going to have over 400 yards through the air unless the quarterback has some time. Credit Murray for his quick reads and ability to get the ball out fast, but the line pass protected well enough against the Wildcats.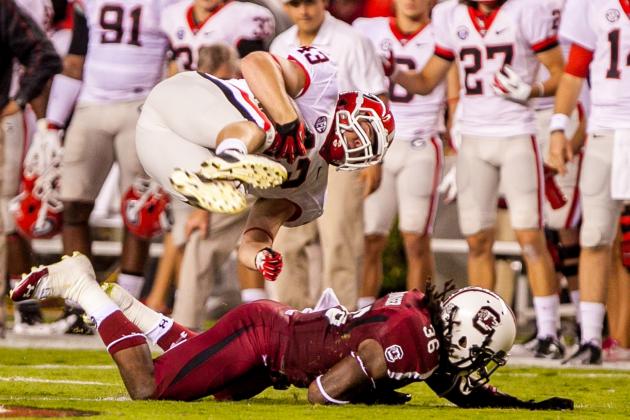 Jeff Blake-US PRESSWIRE

Grade: B
Merritt Hall didn't have any carries against Kentucky but continued to get up field and put some physical blocks on defenders when he was in the game.
It would be nice to see Hall get rewarded with a carry or two per game. But with the way Georgia was rushing the ball against Kentucky, I can see why he didn't.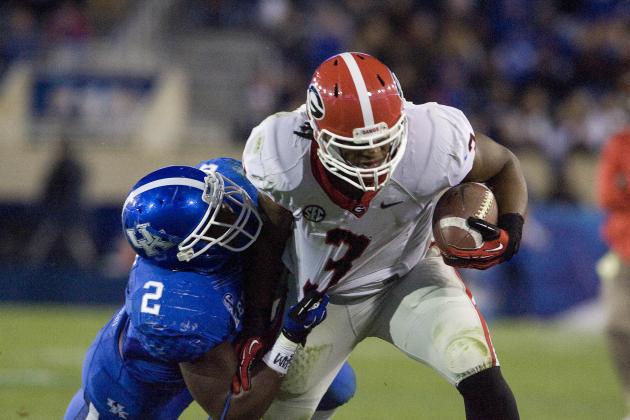 Mark Zerof-US PRESSWIRE

Grade: C-
I think everyone in the Bulldog Nation expected Todd Gurley to run wild over the Wildcats in Lexington. The Bulldog Nation was disappointed.
For the second game in a row, Gurley was held to under 50 rushing yards and no touchdowns. That wasn't a huge surprise against South Carolina's NFL-type front seven. But Kentucky has been awful against the run this season.
Still, Gurley could find no success on the ground against the Wildcats. Granted, the offensive line didn't open up much for him, but Gurley also didn't look like his usual run-you-over self in this game.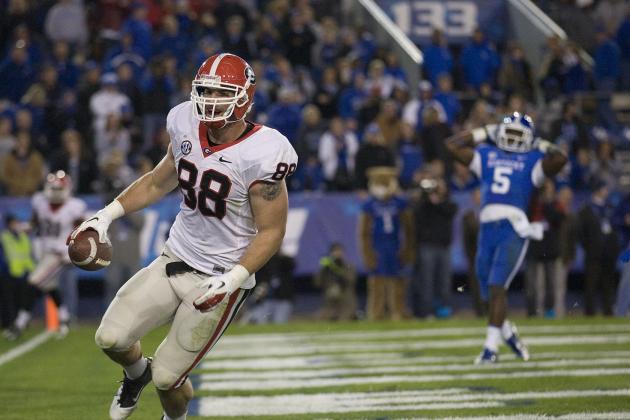 Mark Zerof-US PRESSWIRE

Grade: A
Aaron Murray is masterful at spreading the ball around, but Arthur Lynch still hasn't had the ball thrown his way much this season.
Against Kentucky, it was pretty much more of the same. However, when Murray did get around to Lynch, he certainly made the most of it.
Murray targeted Lynch twice in Georgia's first drive of the fourth quarter. The first pass resulted in a 22-yard first down and the second a 10-yard touchdown.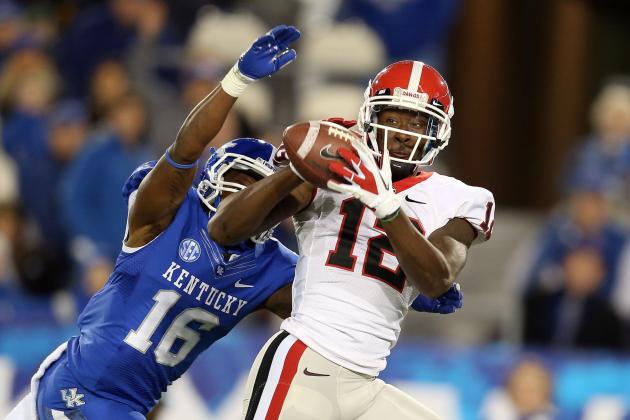 Andy Lyons/Getty Images

Grade: A
Tavarres King had a monster game against Kentucky. King was 17 yards shy of his career high in receptions yardage and tied his career high with two touchdowns against the Wildcats.
King finished with nine catches for 188 yards and the two previously mentioned touchdowns.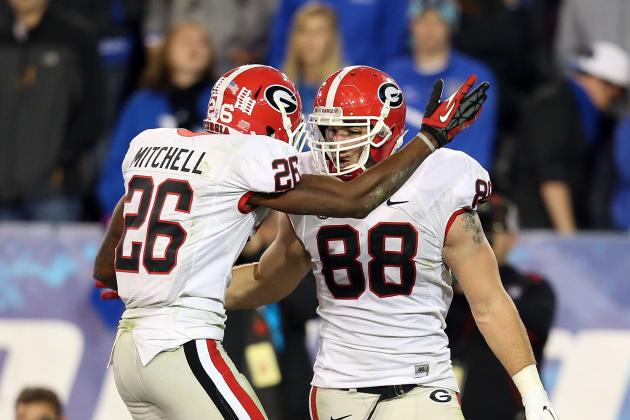 Andy Lyons/Getty Images

Grade: A
While not quite as good as King, Malcolm Mitchell also had a huge night receiving against Kentucky. Mitchell is working himself back into the offense quite nicely. He racked up 109 yards on nine catches Saturday night.
Add to that 64 yards on kickoff returns with a long of 30 and it's an easy A for Mitchell this week.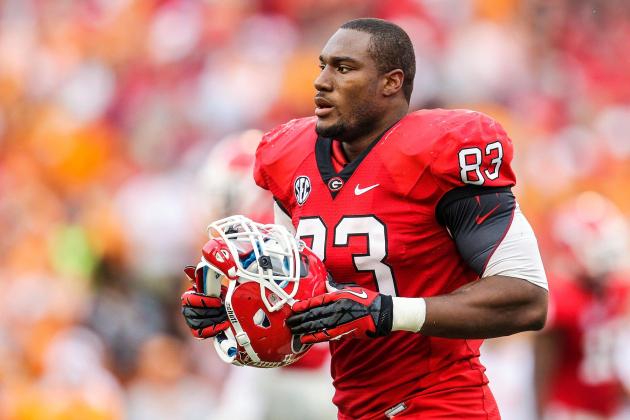 Daniel Shirey-US PRESSWIRE

Grade: C
Spoiler alert, none of the defensive linemen are going to earn higher than a C this week because of the way Kentucky gashed Georgia on the ground, especially in the first quarter.
Washington tallied only two tackles against the Wildcats, but he did have a standout moment when he was able to knock down a pass at the line of scrimmage in the third quarter.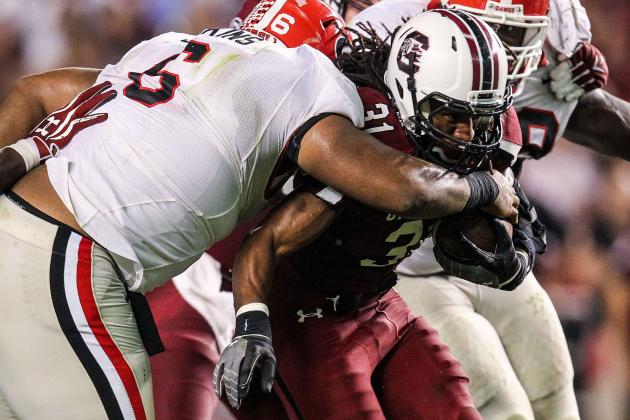 Daniel Shirey-US PRESSWIRE

Grade: C-
Like the rest of the line, John Jenkins didn't look very good at all against the Wildcats. He wasn't able to get much penetration in the backfield or clog up any running lanes against Kentucky.
As mentioned, the Wildcats were pretty much running the ball at will, especially in the first quarter, and Jenkins didn't have any answer by himself.
Most of Georgia's success stopping the run came with Jenkins and fellow nose tackle Kwame Geathers in the game at the same time. I know that's not how the 3-4 is supposed to work, but maybe defensive coordinator Todd Grantham should reflect on that headed into the big match up with Florida next week.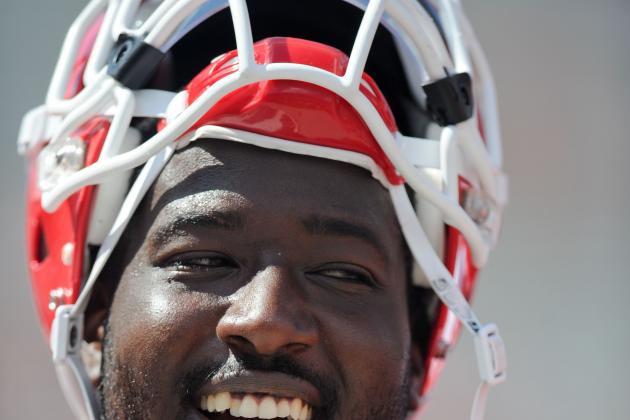 Kevin Liles-US PRESSWIRE

Grade: C
Abry Jones didn't record any tackles against Kentucky, mostly due to the fact that he left the game after re-aggravating an ankle injury in the first quarter that kept him sidelined for the rest of the contest.
It's unknown if Jones will be able to go against Florida next week, but that would be a huge loss for the Bulldogs if he's out.
Junior Garrison Smith entered the game for Jones and finished the night with three total tackles.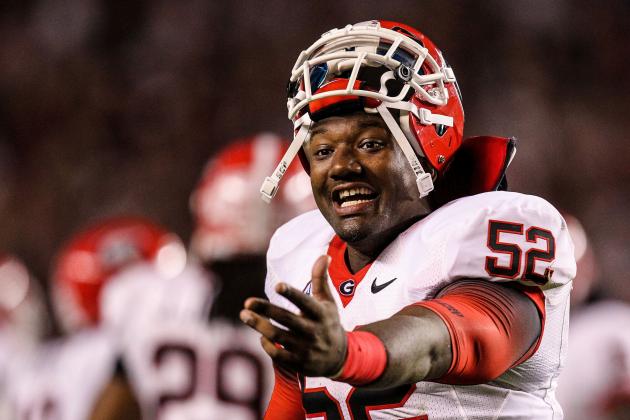 Daniel Shirey-US PRESSWIRE

Grade: C
Amarlo Herrera had three total tackles against the Wildcats but didn't have a great game overall.
Herrera, along with most of the rest of the defense, looked uninspired and a little slow pursuing the ball against the Wildcats.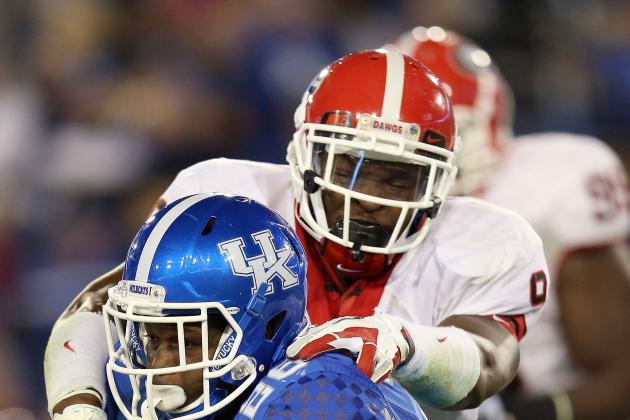 Andy Lyons/Getty Images

Grade: B
Alec Ogletree led the team with 11 total tackles and was one of the few Bulldog defenders that looked like he had his motor running in this game.
Ogletree was all over the field getting after the ball and had a couple of tackles behind the line of scrimmage.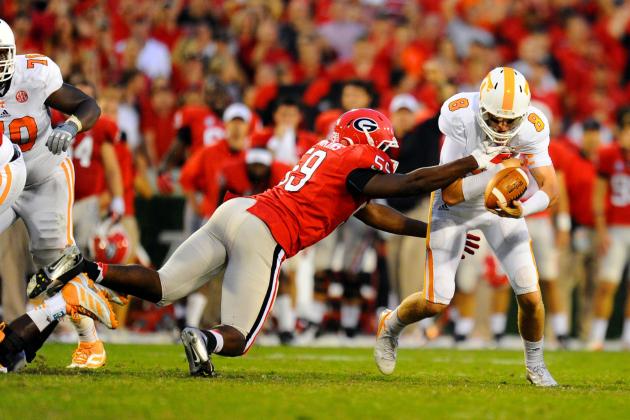 Dale Zanine-US PRESSWIRE

Grade: B-
Filling in for Jarvis Jones, Jordan Jenkins had a rough first series against the Wildcats. He had a shot at stopping some of those long runs but just couldn't get there.
Still, the true freshman did a very nice job of staying home and sniffing out a reverse late in the third quarter. He didn't get credit for the tackle but was able to hold the play up long enough for Ogletree to come in and clean it up.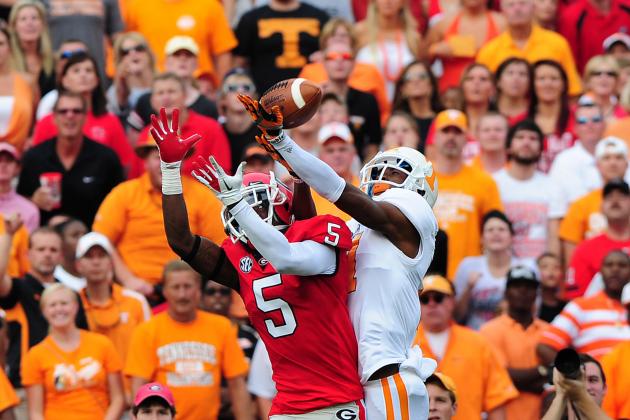 Scott Cunningham/Getty Images

Grade: B-
Damian Swann wasn't great on coverage against Kentucky. He let Demarco Robinson beat him on a go route at the start of the second quarter, but the ball was overthrown and fell harmlessly incomplete.
Swann did have a couple good stops on corner blitzes, utilizing his speed around the edge. He finished the night with seven total tackles.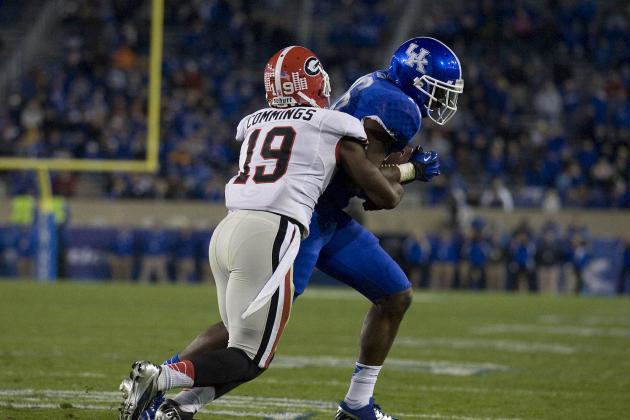 Mark Zerof-US PRESSWIRE

Grade: B
Sanders Commings racked up nine tackles against the Wildcats and looked good in coverage for the most part.
Commings also did a good job of getting into the backfield and causing disruption on some corner blitzes.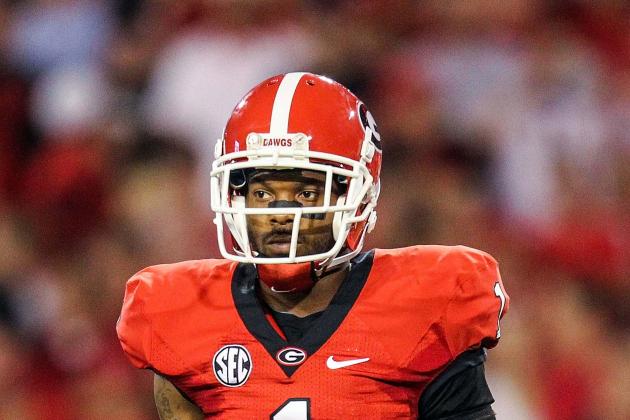 Daniel Shirey-US PRESSWIRE

Grade: B+
Although his name wasn't called really at all against the Wildcats, sometimes no news is good news for a cornerback. Smith kept his men covered all night, and I don't believe Kentucky threw the ball his way all night.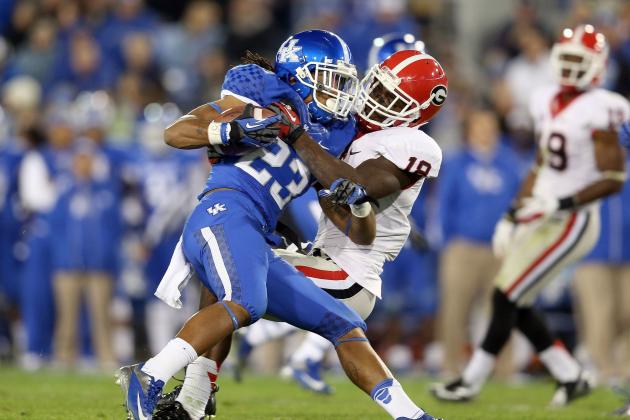 Andy Lyons/Getty Images

Grade: B-
Bacarri Rambo was tied for second on the team against the Wildcats with 10 total tackles. He looked strong coming up to stop the run, on the times when Georgia was actually able to stop it.
Still, Rambo apparently took out his frustration of the poor play by the defense by throwing a Kentucky ball-carrier to the ground about three yards past the sideline, giving the Wildcats a free 15 yards on their way to their final touchdown. That's exactly the kind of senseless mistake the Dawgs are going to have to avoid next week if they're going to have a chance against Florida.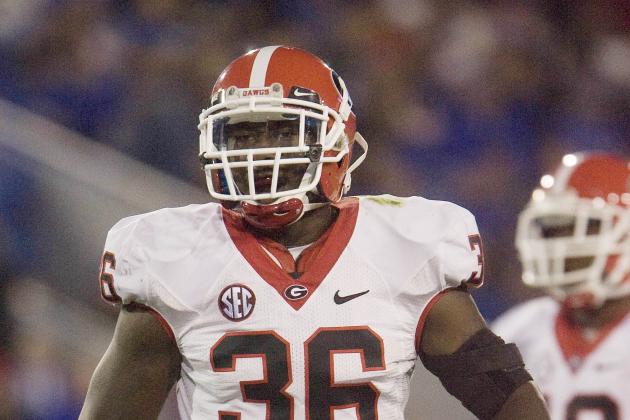 Mark Zerof-US PRESSWIRE

Grade: B
Along with fellow safety Rambo, Shawn Williams was tied for second on the team with 10 total tackles.
Williams looked good coming up from his free safety spot to stop some runs and put some hard licks on Wildcat ball-carriers.