Iowa Football: Winners and Losers from the Week 8 Game vs. Penn State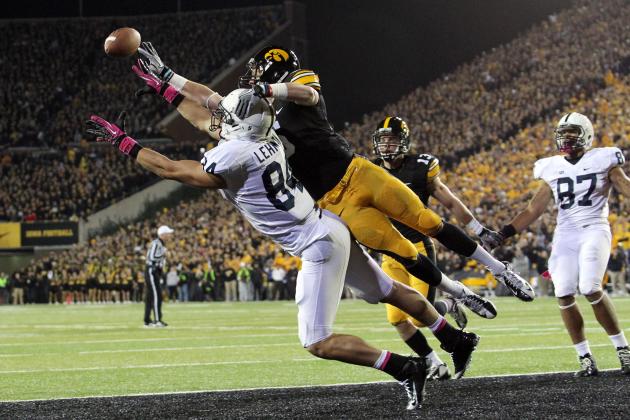 Reese Strickland-US PRESSWIRE

Will the real Iowa Hawkeyes please step forward? And if the lifeless team trounced by Penn State at home in front of an electric crowd in prime time is the real Iowa Hawkeyes, kindly step back, and we'll go about the business of preparing for the upcoming basketball season.
The truth is, Iowa is not as helpless as its performance Saturday night suggests, but it isn't good enough to harbor the optimism many were feeling after an unlikely 2-0 start in conference play, including an overtime upset on the road against Michigan State.
Now that the smoke has cleared, and we've had a chance to digest the disheartening dumpster fire of a loss the Hawkeyes suffered at the hands of the Nittany Lions, let's take a look at the winners (of which there were few) and losers (an embarrassment of riches from which to choose).
Begin Slideshow

»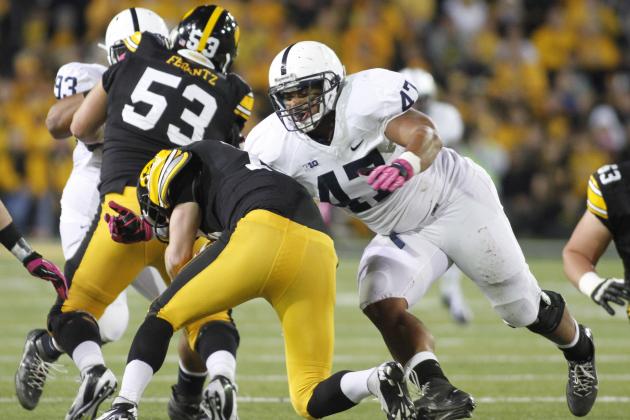 Matthew Holst/Getty Images

There is a saying in sports that many coaches invoke after an effort in which nothing goes right.
Flush it and forget it.
Sometimes a loss is so complete and disheartening that to look back on it does nothing but frustrate and further shake the confidence of the players involved. In those situations, it is best to admit you were beaten in every phase of the game and move forward.
Unfortunately for Iowa, the injury bug bit them in a big way, which will only increase the difficulty of bouncing back.
The offensive line, arguably the most dominant unit for the Hawkeyes this season, suffered two key injuries. Starting left tackle Brandon Scherff had surgery Sunday morning on his broken right leg and will likely miss the rest of the season, while fellow offensive lineman Andrew Donnal will undergo further testing on his injured knee later in the week (via HawkeyeSports.com)
For a one-dimensional offense whose success has been the result of a pleasantly surprising running game, these injuries will make a bad situation worse.
However...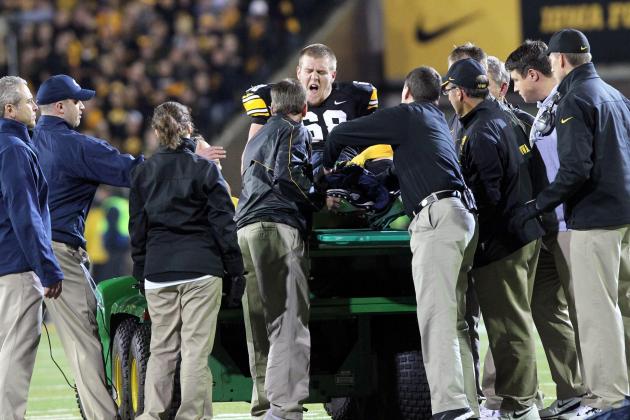 Reese Strickland-US PRESSWIRE

I prefer never to find myself laying on the ground with my foot pointing 90 degrees in the wrong direction. Should I end up in that unfortunate and painful situation, however, I hope to handle it with a fraction of the manly excellence Brandon Scherff did.
In a classic "bad just got worse" moment, the Hawkeyes fell behind early in the game and looked completely pedestrian in doing so, when Scherff remained facedown on the Kinnick Stadium turf after an otherwise unremarkable running play.
His leg was broken. It was easy to tell looking at his lower leg and foot. It would have been impossible to gather that information looking at his face.
Scherff did not appear to be in pain, just annoyed. He took his helmet off and shook his head the way one might when receiving a parking ticket three minutes after their meter expired.
With his leg immobilized, he stood and waved is arms, encouraging the crowd to rejoin the contest. It was the loudest they had cheered since kickoff and among the final times they would send positive vibes toward the field.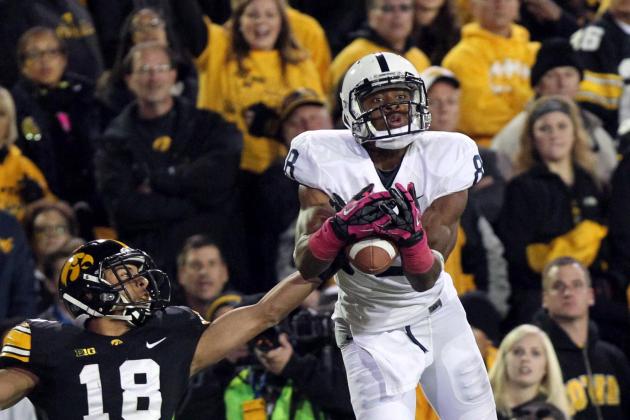 Reese Strickland-US PRESSWIRE

Saturday night was the first genuine step backward for the Iowa defense, and it started in a familiar place: pressure on the quarterback—or lack thereof in this case.
While most of the venom resulting from the loss to Penn State is being aimed at the offense and coaching staff, absolutely nothing the Hawkeyes did on defense provided so much as a speed bump against a Nittany Lion offense methodically marching up and down the field.
After a disastrous first half, there was hope the Hawkeyes would make some defensive adjustments, as has been the case in nearly every game in 2012.
Two plays from scrimmage and one touchdown later, it was clear that would not be the case.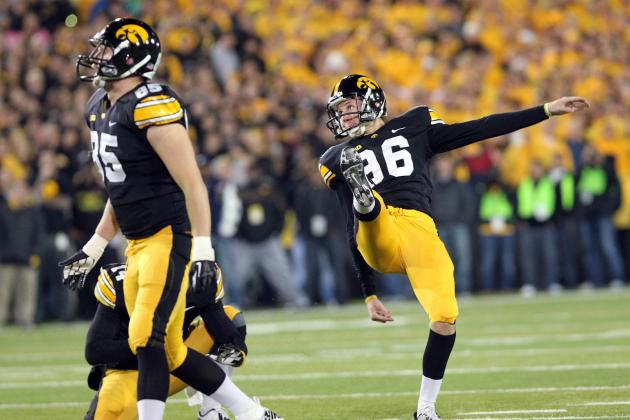 Reese Strickland-US PRESSWIRE

If you're the type of person who thinks it's best for a college basketball team to lose before tournament play in order to relieve the pressure of perfection and move on to handling business, you probably apply that logic to individual streaks as well.
In that case, you no longer need to wait with bated breath for the pressure of Mike Meyer's consecutive-made-field-goal streak to reveal itself and affect an important attempt in a close game.
Meyer has been outstanding all season, but when it rains, it pours. On a night when nothing went right for Iowa, the previously reliable Meyer missed two field goals.
Just one of those nights. I expect him to rebound and finish the season strong.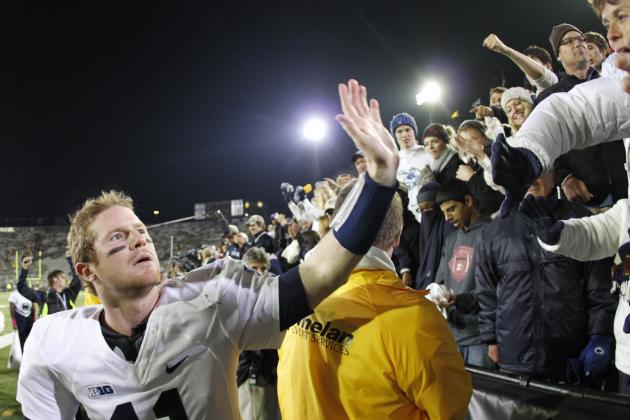 Matthew Holst/Getty Images

It was supposed to be a great weekend for the Hawkeyes from a recruiting standpoint, as Blair Sanderson of Rivals reported 30 recruits visited Iowa Saturday night.
Not all recruits were undecided. Some of these visitors have committed to Iowa already. What they all have in common is they are impressionable teenagers with one of the most important decisions of their lives ahead of them.
A passionate crowd decked out in black and gold, an alumni presence with an NFL pedigree on the sideline and fireworks to greet the team under the lights of prime-time football are all things that might make a young man look kindly on the possibility of spending four years in a Hawkeye uniform.
Watching Iowa get utterly dominated in every phase of the game, bearing witness to listless schematic approaches on both sides of the ball and hearing the passionate home crowd rain boos on the team throughout the latter part of the game are all things that could easily nullify the aforementioned highlights that lead up to kickoff.
It was an ugly night, and the ugliness that manifested itself in the form of boo birds among the Iowa faithful may have done more harm than good.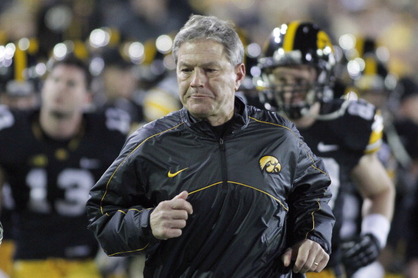 Matthew Holst/Getty Images

Full disclosure: I don't care about Kirk Ferentz's contract. But I know a lot of you do.
There are always going to be people who call for a coach's job when things go bad. I am not one of those people. I don't actively campaign for people to lose their jobs, especially people I respect. I am a firm supporter of Ferentz, but I certainly understand some fans' frustrations.
I disagree, however, with anyone whose primary argument for a coaching change is related to his salary. I don't pay him, and chances are you don't either. And spare me the "I'm a ticket-holder, I pay his salary" nonsense.
The worst part of these losses are the week(s) we have to spend listening to people with absolutely no stake, outside of their emotional investment, in the program saying, "we pay him $4 million a year and THIS is what we get? Unacceptable!!!"
Any way you look at it, Saturday's game against Penn State was a brutal loss without much of a silver lining. It is going to be an uphill battle, but given the roller coaster the season has been, thus far, don't be shocked if the Hawkeyes bounce back with a win next week.
Well, OK, maybe it would be a shock.