Arizona Football: Forecasting the Outcome of the Wildcats' Final 5 Games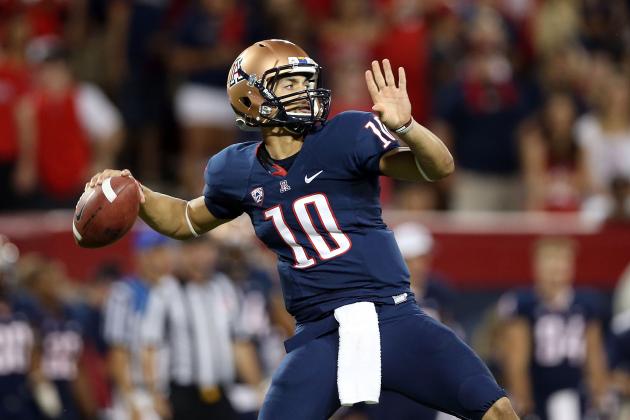 Christian Petersen/Getty Images
Arizona quarterback Matt Scott ranks among the nation's best in passing yards and touchdowns.
In the buildup to his team's matchup with then-ranked Oklahoma State, coach Rich Rodriguez spent most of his time preaching relevance.
After a decisive 59-38 victory, Arizona found itself both ranked and relevant.
But their relevance proved transient.
Two weeks later Arizona traveled to Eugene for a face-off with established powerhouse Oregon. The Ducks pummeled the 'Cats, 49-0.
Two heartbreaking defeats later—at the hands of Oregon State and Stanford—and the Wildcats were not only irrelevant, they were dead last.
Refusing to fold, the 'Cats bounced back in a big way, defeating the Washington Huskies 52-17 this past weekend. With USC (No. 9) heading to Tucson next, the Wildcats have a chance to become relevant once again.
With a win, the Wildcats will find themselves in or near the Top 25. If they lose, they'll drop to 1-4 in league play.
Read on to find out how Arizona will fare in its final five games.
Begin Slideshow

»
Stephen Dunn/Getty Images
USC quarterback Matt Barkley
In the midst of blowing out hapless Colorado, USC quarterback Matt Barkley became the first player in USC's illustrious history to pass for 100 touchdowns.
This weekend, his Trojans (No. 9) travel down to Tucson for a pivotal Pac-12 South matchup.
The Trojans, who allow a mere 16.7 points per contest, will be faced with the task of slowing down Arizona's offensive juggernaut.
Led by quarterback Matt Scott and running back Ka'Deem Carey, the Wildcats boast one of the nation's most potent offenses. The 'Cats place fifth in the country in total offense (548.7 YPG) and twentieth in points scored (39.1).
The other side of the ball is an entirely different story for Arizona. The Wildcats have allowed four opponents to score 38 or more points in a game this year. They've also allowed three opponents to accumulate over 600 yards.
The Trojans offense averages just shy of 35 points per game (34.9). They average 262.4 yards through the air and 158.9 on the ground.
While the Wildcats should be able to put up points, they'll have a difficult time slowing down USC's offense. Look for the Trojans to put up over 500 yards in an entertaining affair.
Prediction: USC 45, Arizona 34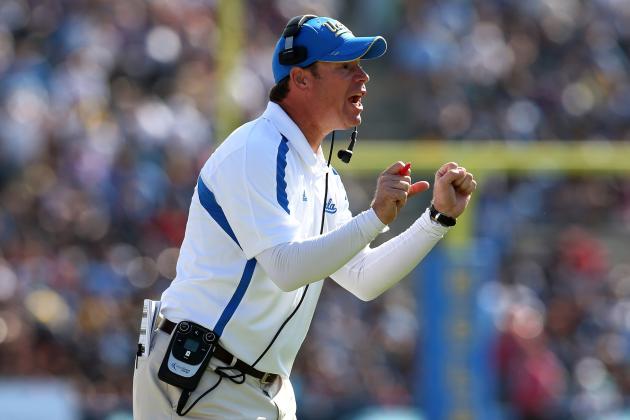 Stephen Dunn/Getty Images
A win in Tempe would keep Jim Mora's team alive in the Pac-12 South race.
UCLA football is enigmatic.
It's difficult to judge the quality of any team that defeats Nebraska and loses by 26 to Cal.
Nonetheless, UCLA has been more good than bad in 2012.
Before hosting Rich Rodriguez' Arizona Wildcats, the Bruins (5-2, 2-2) will travel to Tempe for a crucial matchup with Arizona State (5-2, 3-1). The outcome of this game will determine whether UCLA is still in the running for the Pac-12 South crown.
Regardless, the Bruins will assuredly bring it against the 'Cats.
UCLA is one of a handful of Pac-12 teams whose offense can run with Arizona's. The Bruins average over 500 yards per game. More impressive, they do it with tremendous balance. Jim Mora's team averages over 200 yards passing and rushing.
UCLA's defense—which allows under 23 points and slightly under 400 yards per contest—is good. But, Arizona has made a lot of good defenses look bad this year.
With Matt Scott and Ka'Deem Carey leading the charge, the 'Cats should be able to score in bunches.
While UCLA controls the all-time series with Arizona 19-15-2, the Wildcats have fared well as of late. Most recently, the 'Cats drubbed the Bruins 48-12 in Tucson a year ago.
Arizona's win over Washington inspires confidence that the team can put a tough loss behind them. Expect Arizona to bounce back with a win in yet another shootout.
Prediction: Arizona 44, UCLA 41
Doug Pensinger/Getty Images
It's hard not to feel for Colorado head coach John Embree.
The once proud Colorado Buffaloes have been reduced to a punchline.
That will happen when a team loses to Fresno State by 55 points.
Colorado did beat Arizona 48-29 in Boulder a year ago, in a game that would ultimately determine the identity of the worst team in the Pac-12 South.
But this year's Buffs would likely lose to last year's team by a few scores.
With an average margin of defeat of a neat 28 points, it's hard to envision Colorado providing much resistance for a bowl-hungry Arizona team.
Prediction: Arizona 52, Colorado 21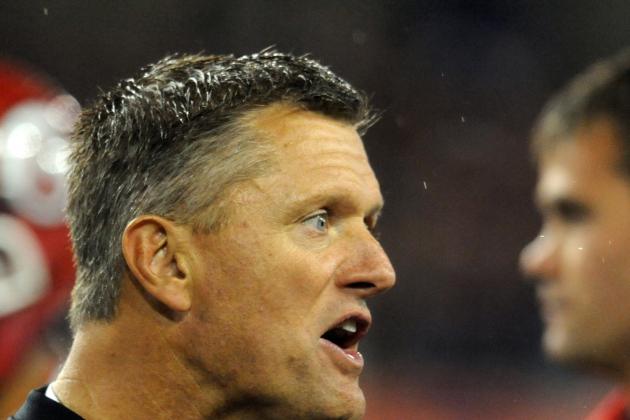 Steve Dykes/Getty Images
Utah head coach Kyle Whittingham has had a tough go of it.
Arizona, bowl eligible after defeating Colorado, will travel to Utah in search of its seventh win.
Utah, once considered USC's likely challenger for the Pac-12 South crown, finally escaped the cellar with wins over Cal and Washington State.
The offensively challenged Utes have averaged a shade over 20 points per game to date.
The defensively challenged Wildcats have allowed over 30 points per game to date.
No offense (or defense, for that matter) can go through an entire season without a letdown or two. Arizona proved as much by laying a goose egg in Eugene.
After a stretch of strong offensive performances, Arizona will finally stumble.
Utah, aided by brutally cold weather, will play opportunistically on the defensive side of the ball en route to another victory over Arizona.
Prediction: Utah 27, Arizona 16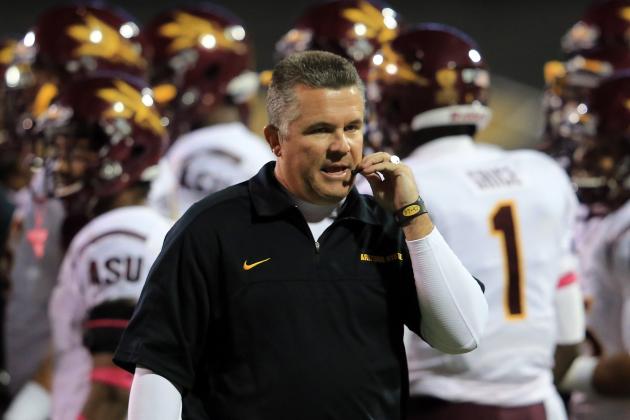 Doug Pensinger/Getty Images
Arizona State head coach Todd Graham has the Devils off to an impressive start.
Almost invariably, the Territorial Cup decides little more than who gets bragging rights for twelve months.
Sure it can impact bowl positioning, but neither program has made anything more than a brief splash on the national scene in a while.
The 2012 version probably won't impact much more than bowl positioning, either.
The Sun Devils face a difficult second half to their season, with games against Oregon State (No. 7) and USC (No. 9) looming, among others. Chances are ASU will have had their Rose Bowl hopes dashed by the time they face off with their hated rival.
Arizona, on the other hand, would need to win out to win the Pac-12 South. With USC, UCLA, Utah and Arizona State remaining, the odds of that happening are slim-to-none.
Alas, the annual bragging rights game.
More often than not, one team is reduced to the role of spoiler. Often times that team comes away victorious.
Case in point, Arizona's 31-27 win in Tempe a year ago.
The year before, well, you know what happened.
Truthfully, the Territorial Cup is always a toss up. In the spirit of predictions, here goes:
Trailing 23-17 late in the fourth quarter, Arizona State quarterback Taylor Kelly leads the Sun Devils on a flawless 86-yard drive to tie the game. With just 46 seconds left to play, Arizona appears done for.
But before the maroon-and-gold-clad portion of Arizona Stadium can regain their composure, the extra point is blocked.
Still alive, Rich Rodriguez makes the wildly unpopular decision to play for overtime.
Arizona gets the ball to begin the first overtime period. On the third play of the drive, running back Ka'Deem Carey finds a seam and reaches the end zone. The extra point is good.
Cool, calm, and collected, quarterback Taylor Kelly responds by tossing a 14-yard score to D.J. Foster.
Then it happens.
The sky opens up and rain begins to fall. Barely visible from the sideline, head coach Todd Graham runs frantically towards the side judge to call timeout.
In a bold move, Graham elects to bring the offense back out onto the field.
The rain continues to intensify as Taylor Kelly and the Sun Devil offense huddle up.
The ball is snapped low. Kelly picks the ball up off the wet ground and immediately feels pressure. He scrambles right. Quickly running out of real estate, Kelly tosses the ball up for grabs in the back of the end zone.
The ball is deflected twice before winding up in the hands of tight end Chris Coyle.
Devils win.
Sparky leads the charge towards the Arizona Block A, pitchfork in hand. Sun Devil players celebrate at midfield while the Wildcat players and fans look on in disbelief.
Hardly audible in the chaos, the referee declares, "the play is under further review!"
It takes a few moments for this information to register. Eventually, players on both teams retreat to their respective sidelines.
They wait, soaking wet.
Almost as one, the fans look towards the scoreboard in the south end zone to see what happened.
Suddenly the Wildcat faithful begin to roar. It appears as if Coyle's foot landed out of bounds!
The referee returns to the field.
"After further review, the receiver landed with his first foot out of bounds. It is an incomplete pass. The game is over. Arizona wins."
Pandemonium ensues as the Arizona sideline spills onto the field. Graham and Rodriguez struggle to find one another amidst the chaos.
Sparky and Wilbur begin wrestling one another as Wilma looks on in horror.
Prediction: Arizona 30, Arizona State 29