Atlanta Falcons: Building an NFL Trade Deadline Wish List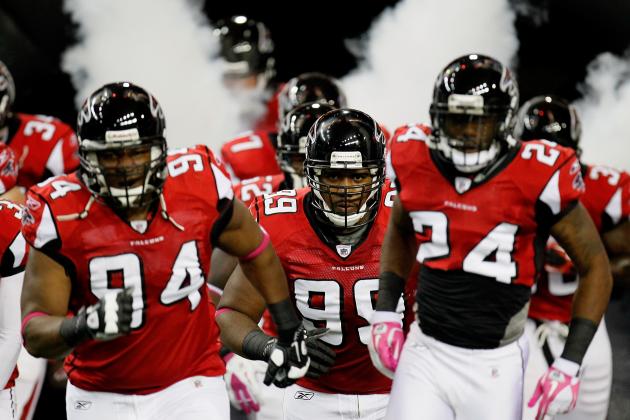 Kevin C. Cox/Getty Images

It's human nature to wish for the things we don't have.
The trade deadline wish list for Atlanta encompasses exactly that; the attainment of the things they do not have, in this case, players who fill the biggest needs on an otherwise solid roster.
The Atlanta Falcons are in the process of creating something special. Actually, they are on the cusp of creating something great.
Let's run through the players that make the most sense for trade possibilities.
Begin Slideshow

»
Truth be told, Atlanta is desperate for a shutdown left tackle.
While Sam Baker has shown great improvement so far in 2012, he still appears best suited to play at right tackle. Moreover, Tyson Clabo has struggled mightily thus far in 2012.
Jake Long is the perfect solution. He can handle his business alone without help from a guard or running backs. His addition would also allow Baker to slide over to right tackle while also allowing Clabo to be a solid backup or provide depth elsewhere on the line.
There's no evidence that Long will be available for trade, but he is in the final year of his rookie contract and the Dolphins have no guarantee he'll re-sign. Long's reputation is that of a winner and he may not be willing to wait on the organization any longer.
All-Pro left tackles aren't typically traded in their prime, but the Dolphins may look to get something for him rather than let him walk after the season.
An offseason holdout playing under a one year franchise tag tender, Avril is another great player who may be available for trade due to overall contract circumstances.
Avril is high-motor, high-intensity player who is a relentless pass-rusher; much in the same mold as John Abraham.
He would be the perfect bookend opposite Abraham, allowing Atlanta to rush the passer with their front four, much in the same manner as the New York Giants: freeing linebackers to have less pass-rush responsibility.
Avril is also the perfect fit to replace Abraham long-term.
He is 26 years old with a ton of playing time ahead of him. His sack numbers have increased in each season of his four-year NFL career (with a high of 11 in 2011) and he's forced 15 total turnovers, including an interception.
The Falcons need to get a little meaner, a little more nasty on defense overall. More importantly, they must get better at tackling and filling the run from the middle linebacker position.
Laurinaitis fits perfectly. He's another high-intensity player whose motor never stops. He's mean, he's nasty, he's very athletic and he is a tackling machine. In his three full seasons he has averaged over 100 tackles.
He would also be the long-term answer for the Falcons at 26 years old.
With Atlanta having transitioned to a pass-first offense, a young slasher such as Hunter is the perfect fit to complete the offensive transformation. Atlanta could go almost exclusively one-back and keep their best players on the field.
At 24 years old, Hunter is entering the prime years for an NFL running back. Though he lacks the overall wear and tear of a feature back, he's put up very good numbers in his career to date. In 21 career games, Hunter has averaged 4.5 yards per rush and 10.8 yards per reception; his longest on both being 44 yards.
Not to be overlooked, Hunter would be a great fit to go along with Jacquizz Rodgers, allowing the Falcons to run the exact same offense no matter which player is in the backfield.
In a very different way, Brandon Jacobs could have as big an impact as Kendall Hunter.
With Atlanta's transition to a pass-first offense, they are stuck in a situation of being somewhat of a hybrid offense. They mix a three and four wide receiver passing game with a two-back power running game. Moreover, the Falcons are not consistently effective with the power-run aspect of the offense because Michael Turner is not the same back he was even a year ago.
Atlanta struggles most in situations when they need to gain two yards or less. They have had to rely heavily on the passing game not just in the red zone, but on the goal line as well.
Jacobs' presence would lessen the overall load on Michael Turner even more, as well as give the Falcons a viable option on short-yard and goal line situations.