Tennessee Football: Winners & Losers from the Week 8 Game vs. Alabama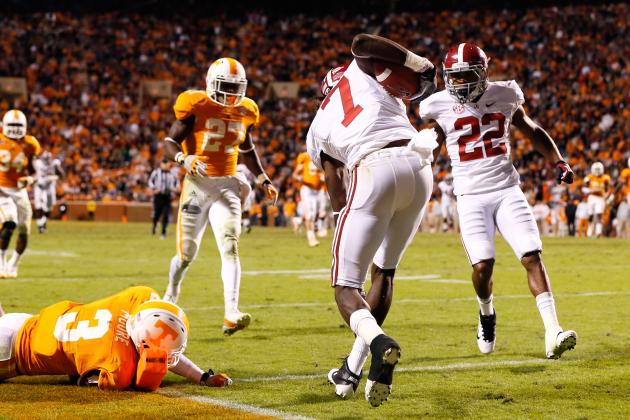 Kevin C. Cox/Getty Images

Tennessee took one on the chin at home Saturday night against top-ranked Alabama. The outcome didn't come as a total surprise though.
Neyland Stadium turned into Bryant Denny North by the midpoint of the third quarter.
The Vols are now 3-4 on the season. The four opponents that have defeated Tennessee currently have a combined one loss.
When a team loses 44-13 there aren't too many great things to say.
With that, here are the winners and losers from Saturday.
Begin Slideshow

»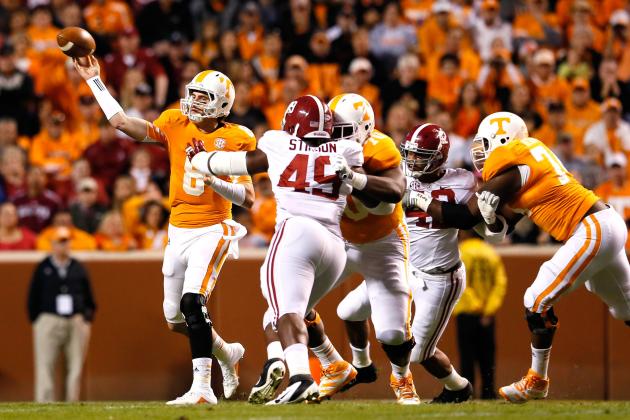 Kevin C. Cox/Getty Images

There hasn't been much offensive success for any team against the Alabama defense this season, so it doesn't come as a huge surprise that Tennessee struggled as well.
However, Tyler Bray had quite a rough night. Bray was 13-for-27 for 184 yards with two interceptions. One interception turned into points in the first half for Alabama, while the other ended a scoring chance and happened during the last time Tennessee was really in the game.
Bray was just a little off for most of the night, and that took away any chance the Vols had at a victory.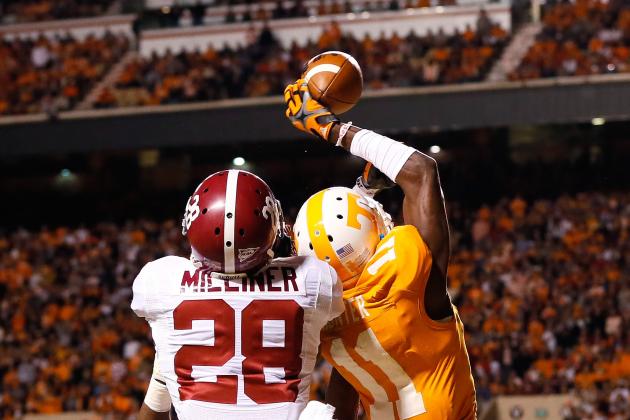 Kevin C. Cox/Getty Images

Justin Hunter has been rated by many scouting services as one of the top wide receivers in the country. However, he has struggled mightily lately and Saturday was no exception.
Hunter's numbers at the end of the night didn't look horrible. He finished with 70 yards receiving on four catches. That's not a great night, but not terrible either. However, he didn't make his first reception of the game until the third quarter, and his other three catches came during garbage time in the fourth.
The one opportunity Hunter had to make a real impact on the game came on the Vols' final possession of the first half with Tennessee trailing by 13. Tyler Bray threw a deep ball that would've put Tennessee in scoring position right before halftime, but it slipped right through the hands of Hunter.
Tennessee needed the junior to have a big game, and he didn't come through.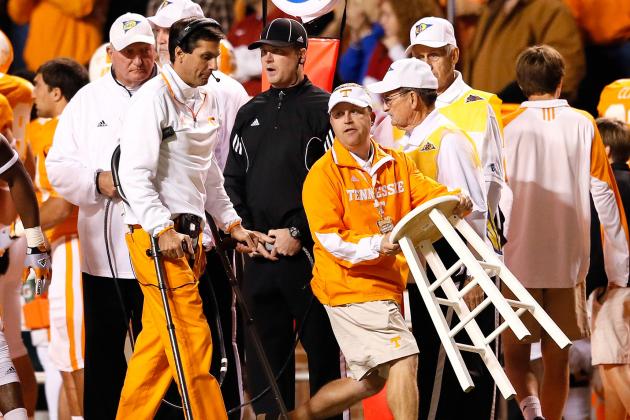 Kevin C. Cox/Getty Images

Derek Dooley has been under fire almost since the moment he stepped on campus. The chatter is only getting louder with each passing week.
Dooley doesn't make this list as a loser because his team lost 44-13 to the No. 1 team in the country. He's considered a loser because of the lack of fan support he had Saturday night.
Neyland Stadium was full of crimson, and Tennessee did nothing on the field to take those fans out of the game. Then the fans in orange and white poured out of Neyland Stadium halfway through the third quarter.
That's not a good sign for a coach that needs as much support as he can get right now.
Kevin C. Cox/Getty Images

Alabama quarterback A.J. McCarron had a career passing day for the second straight year against Tennessee as the Vols secondary was torched Saturday night.
Not only did McCarron have a career night, but it was also the coming out party for wide receiver Amari Cooper. The freshman had seven receptions for 162 yards and two touchdowns. The Vols once again had way too many breakdowns in the back end of their defense, and they allowed a run-first offense to have a field day through the air.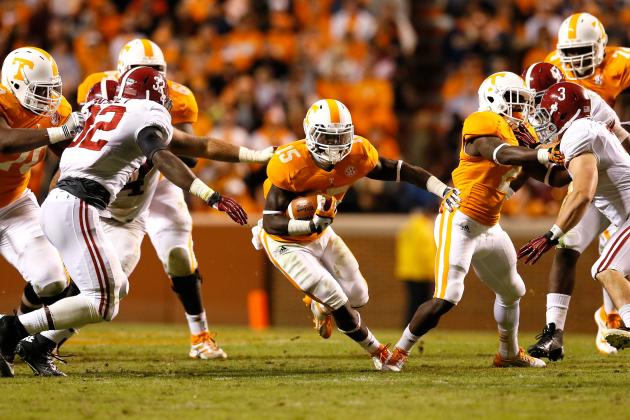 Kevin C. Cox/Getty Images

Lane didn't have a huge night, but there needed to be at least one winner on the night for the Vols. Alabama's defense is always stingy against the run, and it was again on Saturday.
Tennessee rushed for only 79 yards, but Lane did a decent job with starting running back Raijon Neal out for the game.
Lane had 55 yards on the ground and 48 yards receiving.
The only Tennessee player with more all-purpose yards was Cordarrelle Patterson, who gained most of his yards on special teams plays.
On a night when very little went well for the Vols, Marlin Lane was a small bright spot.