South Carolina Football: Grading the Offense and Defense from the Florida Game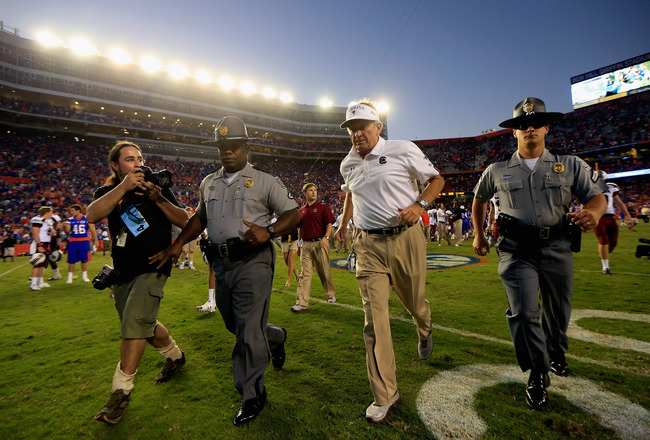 Chris Trotman/Getty Images
You could not have asked for a bigger game situation for South Carolina this season.
After becoming the darling of the national media and seemingly a national title contender, the Gamecocks dropped a close game to LSU that ended South Carolina's perfect record.
But all was not lost.
If South Carolina could go down to The Swamp and beat the Florida, the Gamecocks would be in prime position to win the SEC East and still have a chance to win the SEC Championship...
Florida crushed South Carolina 44-11.
All hope was most certainly lost...
Although I graded the team on Saturday during the game against the Gators, we will take a look now with some fresh, sober eyes how the offense and defense played against Florida.
Connor Shaw, Grade: F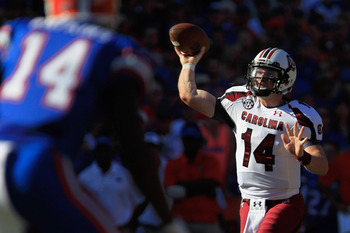 Chris Trotman/Getty Images
Odds are the pass shown in the picture above was incomplete, as most of Connor Shaw's play was erratic and inconsistent.
Stat line: 9-20, 72 yards, 0 touchdowns
What is not part of the stat line is Shaw's fumble on the first play from scrimmage that set up Florida's first touchdown.
His poor play resulted in him being pulled from starting the second half. Dylan Thompson was not much better, finishing 8-20 for 83 yards. Sky Captain grounded.
Marcus Lattimore, Grade: D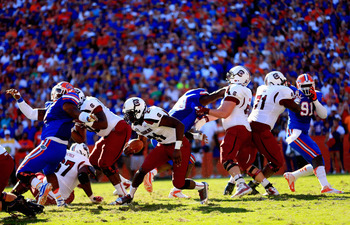 Chris Trotman/Getty Images
There was a lot of talk coming into the Florida game that Marcus Lattimore's hip injury was going to keep him out of the starting lineup. But even when he did make his appearance late in the first quarter, the All-American was stifled and rendered ineffective.
Stat Line: three carries, 13 yards
Lattimore never really had a chance to get on track once the game started to get out of hand due to the Gamecocks' turnovers. After halftime, South Carolina abandoned the run and extended their futility to the passing game.
Offensive Line, Grade: D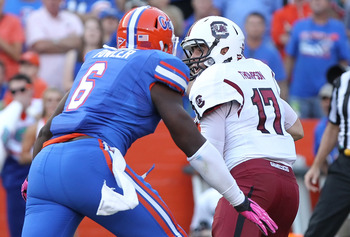 Kim Klement-US PRESSWIRE
If you had to guess if the play above ended in a sack or a tackle for a loss, you'd probably be right.
The Gamecocks once again could not run the football and managed only 36 yards on the day. Were they the reason Connor Shaw and Dylan Thompson were unable to get the ball downfield? Not as much as you might want to grade them down for.
But they were badly beaten off the ball once again, and without a way to run the ball to create holes for Lattimore and company, the Gamecocks offense was doomed despite a 64-yard drive in the first quarter that seemed to calm the Gators' momentum.
Ace Sanders/DL Moore/Damiere Byrd, Grade: F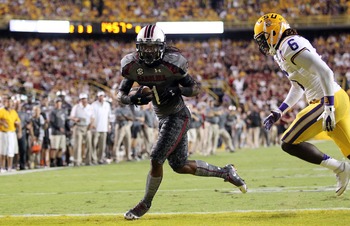 Crystal Logiudice-US PRESSWIRE
How bad were Ace Sanders, DL Moore, and Damiere Byrd?
Try finding a picture of them in this game that I could use for this piece.
As receivers, they were collectively non-existent, combining for five catches and 55 yards. But what hurt the Gamecocks the most were the two fumbles by Sanders and Byrd on a punt and kickoff respectively that gave Florida two more easy touchdowns.
Justice Cunningham, Grade: Incomplete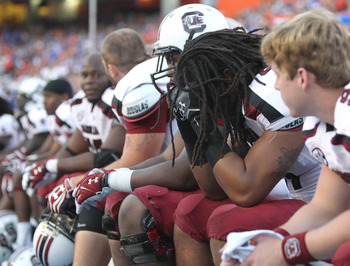 Kim Klement-US PRESSWIRE
Two catches for 13 yards.
The greatest name in all of college football was as ineffective as the rest of the South Carolina receivers.
Heck, I almost forgot he played in the game because even with Sanders, Moore and the other wide receivers covering downfield, Shaw was unable to hit the checkdown receivers for any sort of consistent, substantial gain.
Jadeveon Clowney, Grade: C+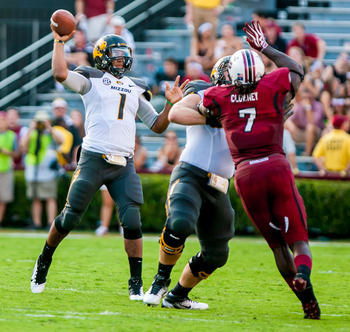 Jeff Blake-US PRESSWIRE
While happier times were had in the game against Missouri, Jadeveon Clowney actually had one of the better efforts in the Florida game.
Where he was criticized for being handled and corralled by LSU last week, Clowney was back to creating havoc in the Gators' backfield, even if Florida still managed to put 44 points on the board.
Even so, Clowney became a non-factor by the second half.
Stat Line: five tackles, one sack
Defensive Line, Grade: C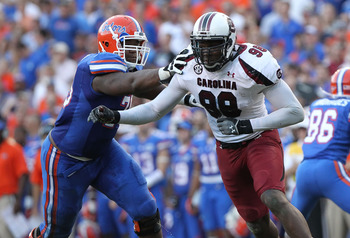 Kim Klement-US PRESSWIRE
Like Clowney, it's hard to get totally down on the defense despite the final score.
Here's the reality: Florida had 21 points on only 29 yards in the first half. The defense was keeping South Carolina in the game as the score was only 21-6 to halftime. All three of those Florida scores came on short fields created by turnovers.
Objectively, though, they did not hold when Florida field goals (instead of touchdowns) would have helped a struggling offense.
Linebackers/Secondary, Grade: D+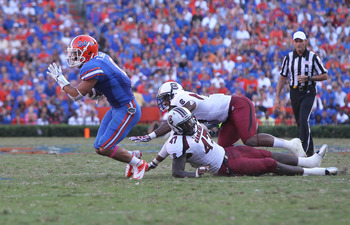 Kim Klement-US PRESSWIRE
DeVonte Holloman was a beast for the South Carolina line-backing corps, registering eight tackles and a first quarter sack that could have been a turning point for the Gamecocks.
Where the linebackers and secondary ran into trouble was covering Florida in the red zone and allowing the Gators to get more than enough separation to score inside the 20-yard line.
Concluding Thoughts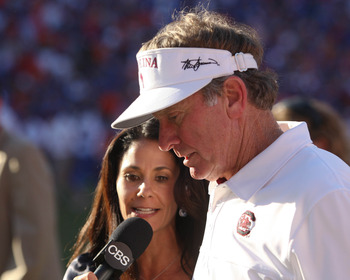 Rob Foldy-US PRESSWIRE
Well, there's always the Chick fil-A Bowl!
In all seriousness, South Carolina played one of the hardest three-game sets any team could ask to play with three Top Ten teams (two of which were played on the road) in Georgia, LSU and Florida.
Against Georgia, they looked like title contenders.
Against LSU, they were brought back to reality.
Against Florida, they were embarrassed.
The next two games against Tennessee and Arkansas will be critical for South Carolina in getting their offense back on track. They will have the advantage of being at home, but questions about how healthy Marcus Lattimore is going forward and who the Gamecocks are going to start at quarterback (between Shaw and Thompson).
It's easy to give the Steve Spurrier props for being a great coach when the team is doing well. But the true evaluation of his coaching ability this year will be how he motivates and tweaks the team heading into the last four games of the season.
Keep Reading

South Carolina Football: Like this team?