Tennessee Football: Grading All 22 Starters from the Alabama Game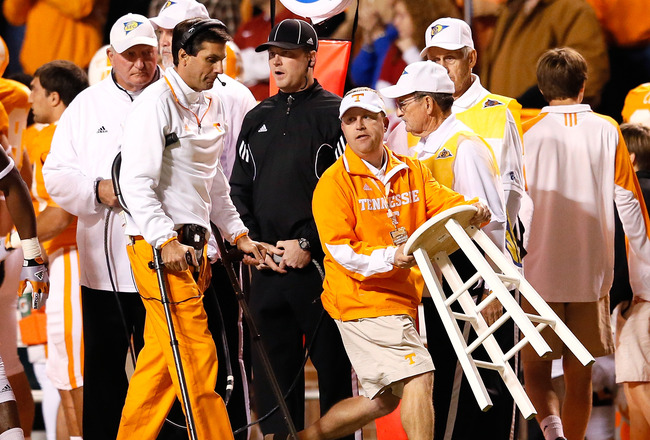 Kevin C. Cox/Getty Images
On a night when the 1997 SEC championship team was honored, the Tennessee Volunteers didn't look anything like a championship-caliber team.
If anything, they looked like a team that was out-matched on both sides of the ball. The offense could barely move the ball and the defense couldn't stop the opposition.
Alabama looked exactly like what it is called, the best team in the nation, while the Vols looked less than mediocre.
With such domination, it make the task of grading the Tennessee starters a little more daunting.
As it has been this season, there have been a lot of negatives that overshadow the few positives.
Quarterback: Tyler Bray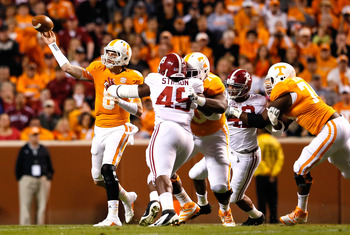 Kevin C. Cox/Getty Images
Stat Line: 13/27, 184 yards, 0 TD, 2 INT
Grade: F
If Tennessee was going to keep up with Alabama, then Tyler Bray was going to have to play the best game of his career.
What he gave instead was one of the worst performances he has had.
It is up to him to lead this team and produce when adversity strikes. In this game against Alabama, Bray did anything but this.
Running Back: Marlin Lane
Kevin C. Cox/Getty Images
Stat Line: 15 carries for 55 yards, 5 receptions for 48 yards.
Grade: C
Lane is a valuable weapon in the Tennessee arsenal, but had just an average game against Alabama. His yardage on the ground wasn't enough to keep Alabama off-balance, but was valuable in the passing game.
In any other game, 103 total yards of offense would be considered a great showing, but when looking to upset the No. 1 team, it takes more effort than that.
Fullback: Ben Bartholomew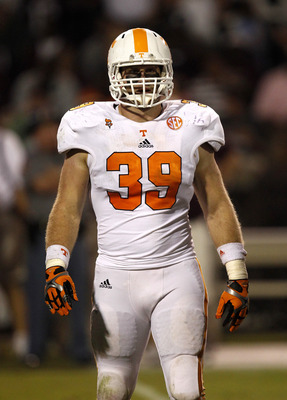 Butch Dill/Getty Images
Stat line: 0 carries, 1 reception for 4 yards
Grade: C
As it has been this season, the fullback doesn't get much work. Even though he started in the game, he didn't get much action.
The grade of C is just overall for him. Given more opportunity, he has the ability to grade out higher.
Offensive Line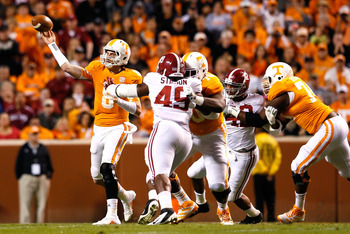 Kevin C. Cox/Getty Images
Starters: LT Richardson, LG Thomas, C Stone, RG Fulton, RT James
Grade: B-
Instead of breaking down the offensive line by its individual players, it will be graded out as a unit.
As usual, in this game, the offensive line performed very well. It's a great feat to give up no sacks, but to give up zero to the best defense in college football is astounding.
That in itself would grade it out as an A, but the lack of production in the running game is what lowers it to the grade it received.
In order to win big games, you have to run the football effectively. That starts with the offensive line.
Wide Receiver: Justin Hunter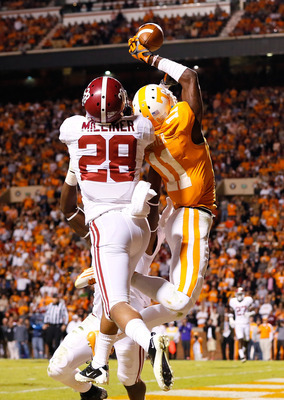 Kevin C. Cox/Getty Images
Stat Line: 4 receptions for 70 yards
Grade: D
Justin Hunter is listed as an NFL-caliber talent, but recently, and in this game, it seems that he is invisible.
He has also had some key drops that could have helped the momentum swing. He has more talent than what is graded out here; he just needs to use it better.
Wide Receiver: Cordarrelle Patterson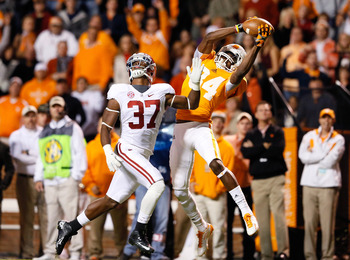 Kevin C. Cox/Getty Images
Stat Line: 1 reception for 25 yards, 2 carries for minus 6 yards, 4 kick returns for 111 yards
Grade B
The most dynamic player on the field was relegated to just three touches on offense. In order for him to show his talent, he needs to get the ball a lot more than that.
His offensive production keeps him from grading out higher, but his special teams play keeps it from dropping lower.
Every time he touched the ball on kick returns, the highlight reel was rolling. He put the Volunteers into great spots to stay in this game.
The offense squandered almost all of these opportunities.
Tight End: Alex Bullard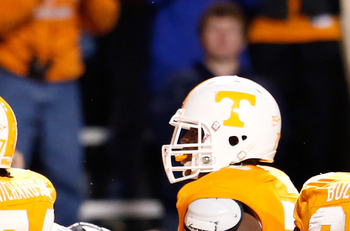 Kevin C. Cox/Getty Images
Stat Line No stats
Grade: N/A
Bullard was listed as the starter at tight end. With no stats and the fact that he is listed as an offensive lineman, it makes it difficult to grade him out.
Defensive End: Darrington Sentimore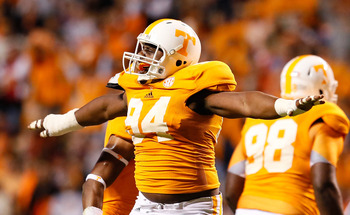 Kevin C. Cox/Getty Images
Stat Line: 3 tackle, 1 sack, 2 QB hurries
Grade B
Sentimore was very vocal coming into this game about wanting to beat Alabama and had some disparaging things to say about Nick Saban.
He played hard the entire night and was always in motion toward the quarterback.
He played well enough to back up his words.
Nose Tackle: Daniel McCullers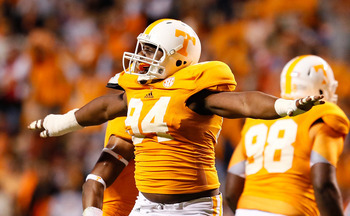 Kevin C. Cox/Getty Images
Stat Line: 3 tackles
Grade: C
Three tackles for the person that is supposed to be your up-the-middle run-stopper is not enough. His presence did cause Alabama to run more to the outside, however.
McCullers will become a force for this team when he develops into an every-down player
Defensive End: Mo Couch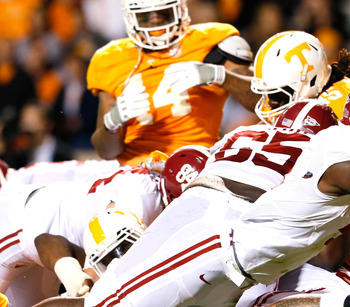 Kevin C. Cox/Getty Images
Stat Line: 5 tackles, 1 sack
Grade B
Couch is one of the more dependable players on the Tennessee defense. He has a motor that doesn't quit.
In this game, he was always moving toward the quarterback.
Linebacker: Curt Maggitt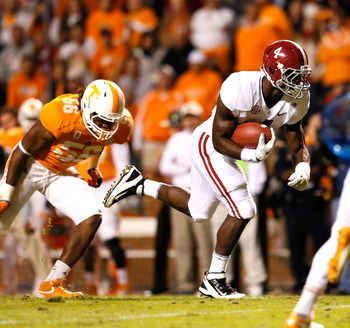 Kevin C. Cox/Getty Images
Stat Line: 3 tackles
Grade: D
Maggitt was the weak link for the linebacking core in this game. This is probably more a case of his nagging injuries rather than ability.
Linebacker: Herman Lathers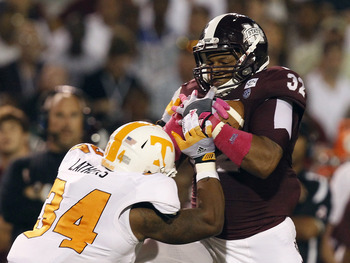 Butch Dill/Getty Images
Stat Line: 8 tackles
Grade C
Lathers is the leader of the Tennessee defense and played pretty well in this game. It's just not good enough.
Linebacker: Justin Coleman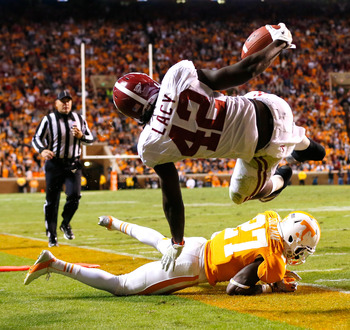 Kevin C. Cox/Getty Images
Stat Line: 13 tackles
Grade C
The grade of C is pretty much across the board. Coleman played well in the game, but the entire defense was just gashed too bad for grading out higher.
Linebacker: AJ Johnson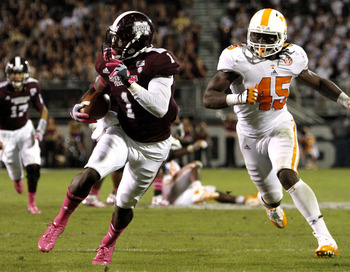 Butch Dill/Getty Images
Stat Line: 14 tackles, 3 carries for 6 yards, 1 TD
Grade B
A J Johnson was the lone bright spot in an otherwise dismal game for Tennessee. He is proving that he is the best player on this defense.
He always does his part.
Johnson also scored the only touchdown for the team in this game.
Secondary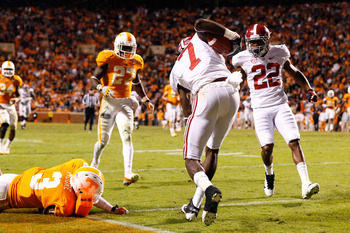 Kevin C. Cox/Getty Images
Starters: DB Eric Gordon, RCB Prentiss Waggener, FS Byron Moore, SS LaDarrell McNeil
Grade: F
In order to fairly assess the starters from the Tennessee secondary, they will need to be looked at as an overall unit.
In this game, they were the worst unit in the game. Alabama just made all of them look silly.
To put it all in perspective, they allowed Tide quarterback, AJ McCarron to pass for a career-high 306 yards. They also gave up four touchdowns to him, two of which saw Alabama receivers wide open in the end zone.
Other Notable Starters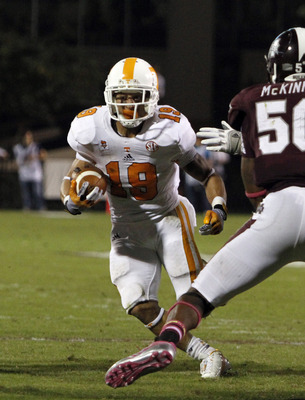 Butch Dill/Getty Images
Michael Palardy, K/P
Stat Line: 2/2 FG, 1/1XP, 5 punts for 48.2 yard average.
Grade: A
Probable the best game from a Tennessee kicker all season; it just happens to be wasted on its worst overall game of the season
Devrin Young, PR/RB
Stat Line: 1 punt return for 13 yards, 5 carries for 25 yards
Grade: C
Limited opportunities on punt returns and carries net Young an average grade for this game. He has the ability to break plays; he just needs more opportunity.
Keep Reading

Tennessee Volunteers Football: Like this team?