3 Reasons Aaron Rodgers' Play Has Vastly Improved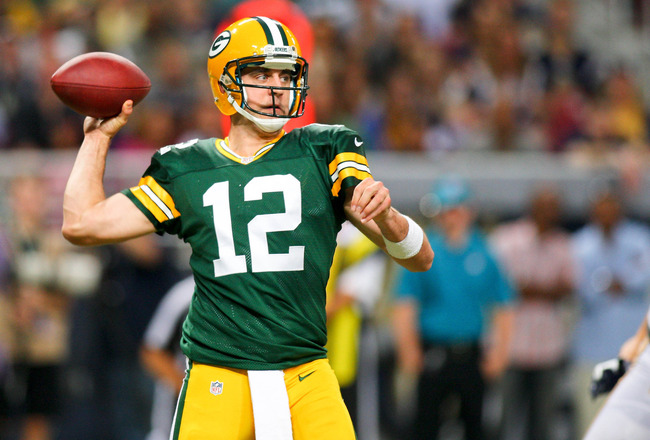 Scott Kane-US PRESSWIRE
After torching a second defense to the ground in as many weeks, Green Bay Packers quarterback Aaron Rodgers has officially snapped out of whatever "funk" the media and fans wanted to paint for him to start the 2012 season.
The Packers have now won two-straight games while scoring 72 points, most coming from the right arm of Rodgers. Consider his statistics from the last two weeks.
In wins over the Houston Texans and St. Louis Rams—both coming on the road—Rodgers has completed 54 of 72 passes (74 percent) for 680 yards, nine touchdowns and zero interceptions. His passer rating over that stretch is a mind-boggling 140.8.
What has changed for Rodgers over the last two weeks? We'll outline them for you in the following slides.
Pass Protection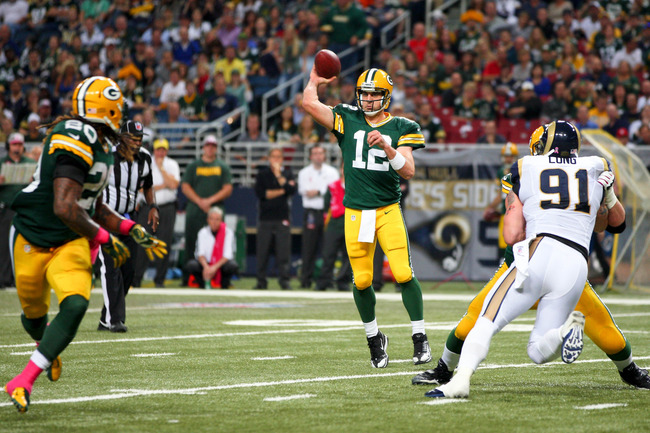 Scott Kane-US PRESSWIRE
The Packers pass protection wasn't perfect Sunday in St. Louis, especially during the first half. Rodgers was sacked three times and hurried on a handful other drop backs.
That said, Green Bay's front five did more than enough to allow Rodgers to be the surgeon he is when the pocket stays clean. Certainly, it's no coincidence that the pass protection has been above average for the last 120 minutes of football and that Rodgers has also tore two really good defenses to shreds.
While the five overall sacks (two in Houston, three in St. Louis) may seem like too many, the majority of the other snaps have been very good in terms of keeping Rodgers clean. The clean pockets have far outweighed the muddied ones over the last two weeks.
Production from Top WRs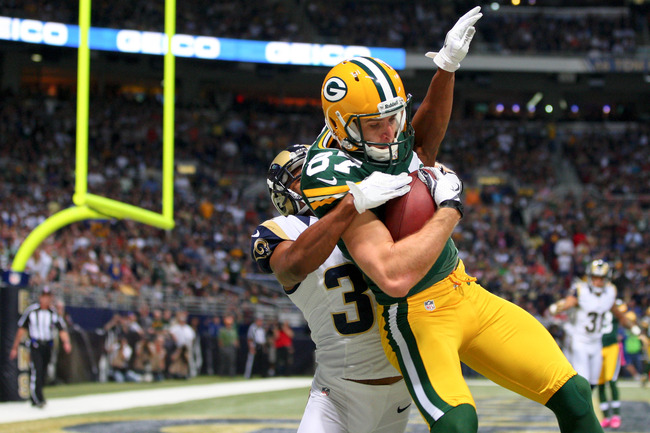 Scott Kane-US PRESSWIRE
No Greg Jennings? No problem for this Packers offense over the last two weeks.
The numbers from receivers Jordy Nelson, Randall Cobb and James Jones against both Houston and St. Louis are almost hard to fathom.
Over that two-game stretch, the three receivers have combined to catch 41 passes for 520 yards and eight touchdowns. Simple math averages that production out to 20.5 receptions, 260 yards and four touchdowns a game.
Want more context? Try this on for size.
Coming into Week 7, the Jacksonville Jaguars top three receivers (Cecil Shorts, Laurent Robinson and Justin Blackmon) combined to catch just 30 passes for 458 yards and zero touchdowns for the entire season. Over a five-game sample size, the Jaguars' production at the receiver position was completely dwarfed by what the Packers have received from Nelson, Cobb and Jones over just the last two.
Balance, Balance, Balance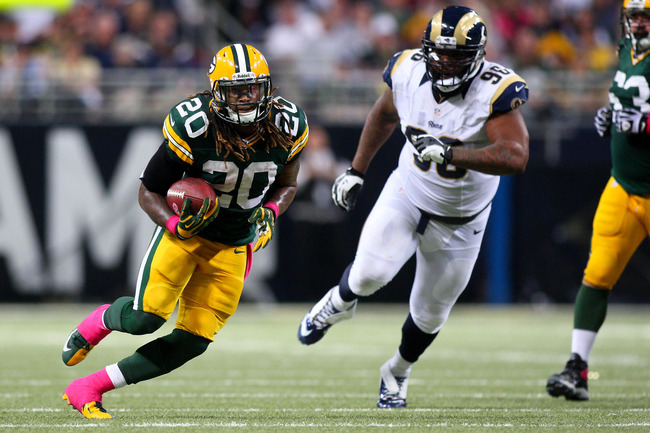 Scott Kane-US PRESSWIRE
If you're only focused on box scores, then the production numbers for second-year running back Alex Green probably haven't looked good over the last two weeks. But head coach Mike McCarthy and the Packers offensive staff routinely say that it's not about the yardage totals in the run game—it's about how many runs are called in a given game.
Sticking to that philosophy, balance has returned for the Packers offense the last two weeks.
Green carried 20 times for 35 yards Sunday in St. Louis, just one week after getting 22 carries in Houston. Overall, the Packers have run the football 57 times over the last two contests.
The production hasn't followed with opportunities, but that emphasis on staying balanced has kept defenses from leaving both safeties back and pinning their ears back rushing the passer. Big plays and fewer sacks have been the result.
Keep Reading

Green Bay Packers: Like this team?