Heisman Watch 2012: Which Players Have Emerged from the Pack?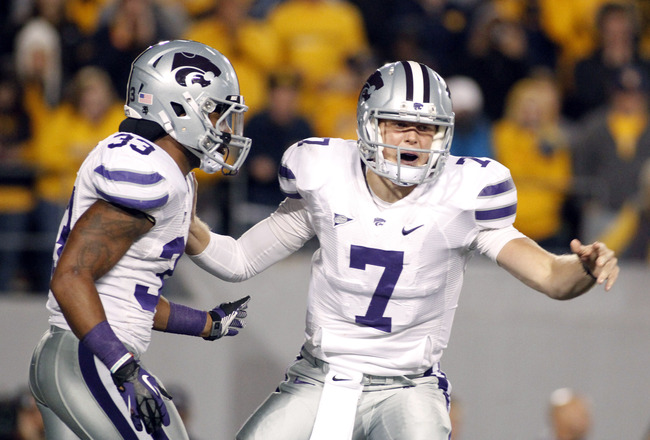 Justin K. Aller/Getty Images
Through the first eight weeks of the season, a number of teams and players have separated themselves as the elite of the country. There have been a few surprises in the Heisman race, but most of the players that are emerging from the pack were expected.
The Heisman list is full of offensive players, as is standard practice, but Notre Dame linebacker Manti Te'o is making waves as a defensive candidate. There has been one defensive winner in Heisman history; this year could mark the second.
Other major players have stepped up to the challenge with Collin Klein having a Heisman day Saturday against West Virginia and Matt Barkley going nearly perfect against Colorado.
With a number of big-name players chasing the bronze to finish the season, these are the six pack leaders through the first eight weeks of college football.
Geno Smith: QB, West Virginia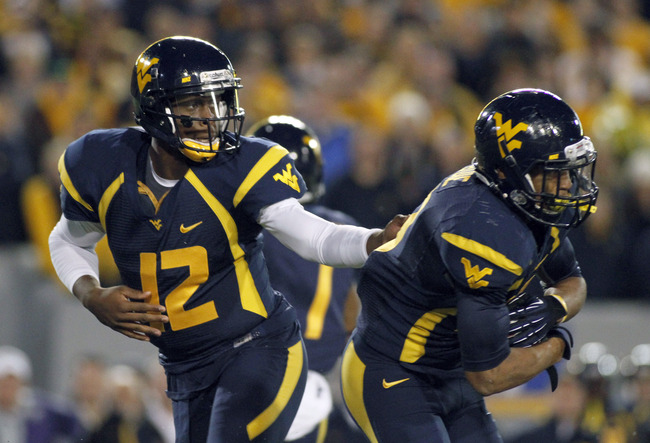 Justin K. Aller/Getty Images
Geno Smith has been the front-runner in the Heisman race for some weeks now, but two consecutive losses will hurt his candidacy.
Smith is his team's offense. Without Smith performing at a very high level, West Virginia becomes mediocre. That has been exposed over the past two weeks against Texas Tech and Kansas State.
The worst showing of the season came this past Saturday against Kansas State with Smith only tossing 143 yards and throwing two interceptions. He did complete 65.6 percent of his passes, but there was only a long of 13 on the day.
The challenges continue to mount for Smith and the Mountaineers as the future holds TCU, Oklahoma and Iowa State. There is a lot of room for growth or failure. Smith is still the leader of the Heisman pack, but his stock is dropping quickly.
Key Stats
Passing: 216-of-291 for 2,414 yards, 74.2 CMP%, 26 TDs, 2 INT
Collin Klein: QB, Kansas State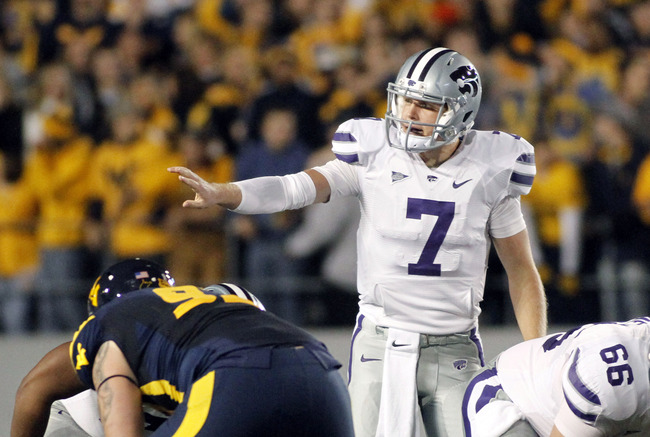 Justin K. Aller/Getty Images
If you were sleeping on Collin Klein and this Kansas State team, it ended after Saturday's win. Klein led his Wildcats into Morgantown and throttled the West Virginia Mountaineers 55-14.
Klein had his best performance of the season against West Virginia, completing 90.5 percent of his passes for 323 yards and three touchdowns. He also added 41 yards on the ground and four rushing touchdowns.
The Wildcats have made their case for a national title run, and Collin Klein has solidified the Heisman conversation that surrounds him. He has been a phenomenal leader for this team and is the reason Kansas State is now 7-0 shooting for an undefeated season.
There has never been a Heisman winner at Kansas State. Collin Klein shouldn't mind making history.
Key Stats
Passing: 98-of-139 for 1,397 yards, 70.5 CMP%, 10 TDs, 2 INTs
Rushing: 110 carries for 551 yards, 14 TDs
Braxton Miller: QB, Ohio State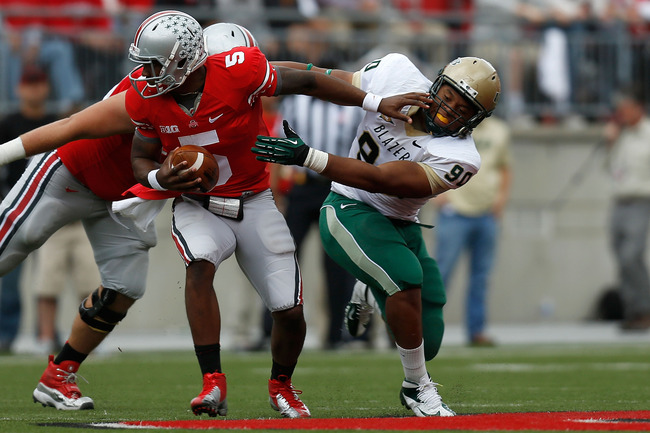 Kirk Irwin/Getty Images
There have been a few surprises in this season's Heisman race with Braxton Miller being one of them. Miller has built a strong season for Ohio State, leading the program to an undefeated record through the first eight games of the season.
The Buckeyes do not face another ranked team to finish the season, and it splits the schedule 2-2 with home and away contests. Miller's stock can continue to rise, even if the Buckeyes are not postseason eligible.
Andre Ware won the Heisman in 1989 while Houston was on NCAA probation so Ohio State's administration issues shouldn't affect Miller's candidacy.
Against Purdue this past Saturday, he did suffer a head injury and couldn't finish the game. Miller has since been released from medical care, but there is no answer regarding his return for this week's game at Penn State.
Key Stats
Passing: 105-of-179 for 1,384 yards, 58.7 CMP%, 11 TDs, 5 INTs
Rushing: 141 carries for 959 yards, 10 TDs
Matt Barkley: QB, Southern California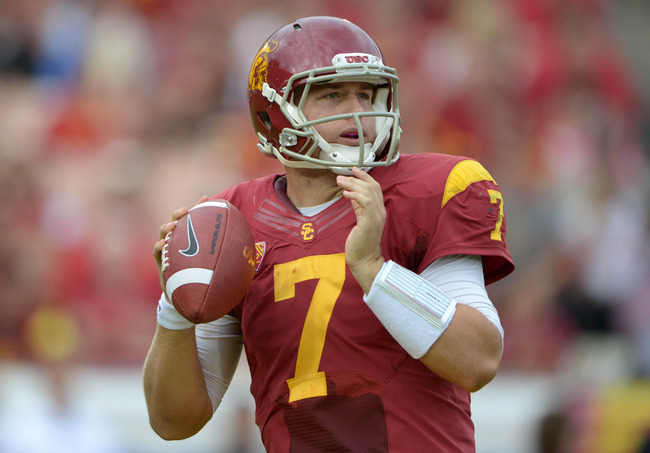 Kirby Lee-US PRESSWIRE
Matt Barkley was the leading Heisman candidate when the season started, but when USC fell from the national spotlight with a loss to Stanford weeks ago, so did the focus of the Barkley Heisman campaign.
The trophy run was rekindled this past Saturday when Barkley completed 95 percent of his passes for 298 yards and six touchdowns. It was a ridiculous showing for a very good quarterback.
The Trojans have two marquee games remaining with Oregon and Notre Dame coming to Los Angeles before the season ends, so there is plenty of time for Barkley to regain the spotlight.
Wins are what matter most right now, and without those Barkley will drop from favor again.
Key Stats
Passing: 140-of-213 for 1,773 yards, 65.7 CMP%, 22 TDs, 6 INTs
De'Anthony Thomas: RB, Oregon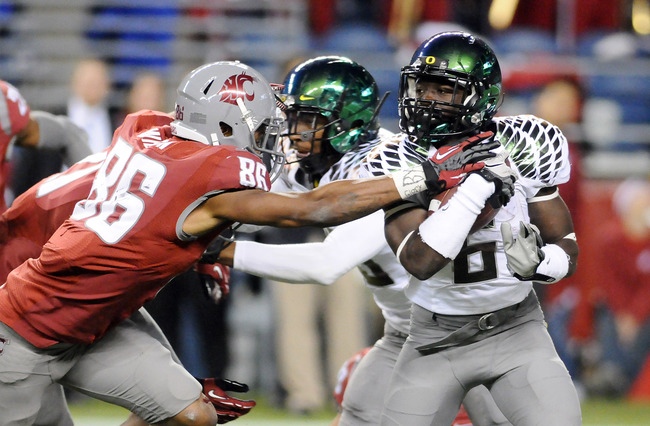 James Snook-US PRESSWIRE
Oregon is full of playmakers this season, but De'Anthony Thomas was the key to offensive success for the Ducks through the first eight weeks.
Thomas has led a great transition for Oregon from the LaMichael James days. Thomas has been consistent on the ground and in the passing game for the Ducks. This Saturday was not his best showing—he only accounted for 29 yards of Oregon's offense—but the starters were off the field by halftime.
At this point Thomas appears to be a long shot at the Heisman, but he has the skills to pull away in the next few weeks. A big game against USC in two weeks would go a long way to expose his skills to the country.
Key Stats
Rushing: 53 carries for 402 yards, 7.6 YPC, 6 TDs
Receiving: 23 receptions for 209 yards, 3 TDs
Manti Te'o: LB, Notre Dame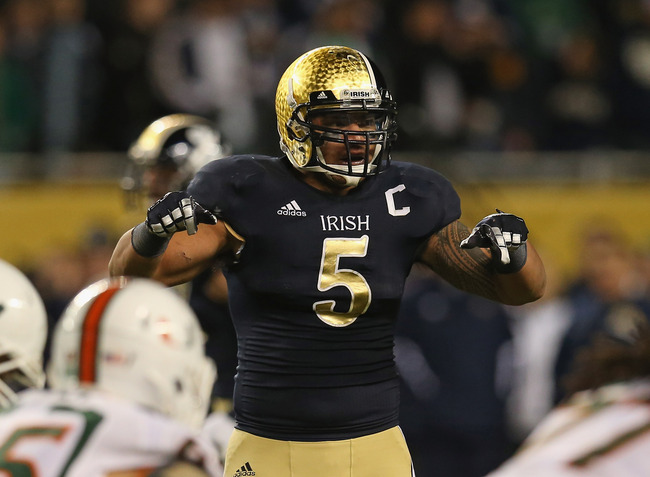 Jonathan Daniel/Getty Images
Te'o has been the heart and soul of the Notre Dame defense that has led the Irish to an undefeated record through the first eight weeks of the season. Te'o has four interceptions from the linebacker position and 67 total tackles.
As the season continues, if Notre Dame continues to mount wins and land in a BCS bowl, Te'o could be a part of the Heisman discussion. He is a strong leader and an amazing on-field performer for this defense.
The candidacy for Te'o is a long shot, but it adds fun to the mix of candidates with a player that deserves the chatter.
Key Stats
Defense: 67 total tackles, 27 solo, 4 INTs, 5 games with 10 plus stops
Keep Reading