N.Y. Rangers: Does Ryan McDonagh Have What It Takes to Be a Great Blueliner?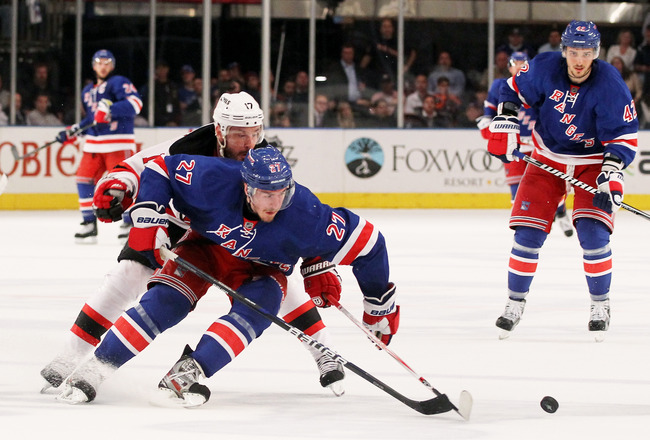 Bruce Bennett/Getty Images
Ryan McDonagh burst onto the scene last year, as he became a first-pair defenseman on a New York Rangers team that was two wins away from reaching the Stanley Cup.
In only his first full season, McDonagh, 23, showed poise and confidence beyond his years. He looked like a star defenseman.
But does he have what it takes to continue his stellar play and become one of the best blueliners in hockey?
Read on to find out.
Defense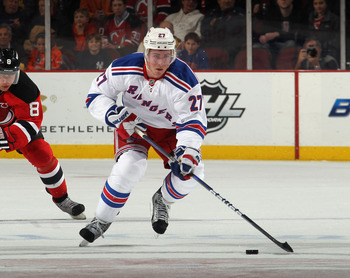 Bruce Bennett/Getty Images
The best way to judge a defenseman is by, of course, their defense. And McDonagh rates out pretty well in that regard.
McDonagh had a plus/minus of plus-25, which is pretty remarkable for someone who played 25 minutes a game, against top lines.
McDonagh, who is playing for Barys Astana in the KHL during the lockout, is smart in his own end. He doesn't take too many risks. He makes strong passes out of the zone, as well.
He's willing to throw around his body, too. He had 118 hits last year along with an outstanding 182 blocks.
He's obviously physical and at 6'1", 222 pounds, he has the body to make it work.
McDonagh also played a lot on the penalty kill and his presence helped lead the Rangers to the fifth-ranked penalty kill in the league.
McDonagh's combination of smarts, physicality and skill puts him at the top of young defensemen in the league. He is a shut-down defender, and he has shown that in just 122 career games.
McDonagh's still developing, and he has what it takes to make it to the upper echelon.
Offense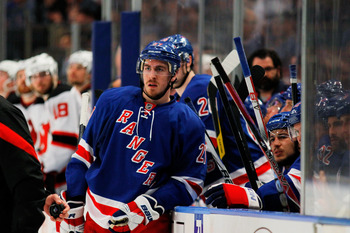 Bruce Bennett/Getty Images
A well-rounded defenseman needs to pinch in on offense, too. McDonagh has shown the ability to do just that.
McDonagh scored seven goals and added 25 assists last year.
No, those aren't great numbers, but McDonagh is still developing in that area. He shows a great ability to start the rush. He's tough to move off the puck and has great speed rushing from end to end.
He's a terrific passer. His outlet passes are strong and smart. He also has a pretty booming shot from the point.
McDonagh doesn't spend too much time on the power play; it's not because he's ineffective, it's just because the Rangers like to keep one forward on the point, and he's behind Michael Del Zotto and Dan Girardi on the depth chart on the man advantage. When he does play on the power play, he more than holds his own.
This part of his game is, admittedly, developing. But he's shown signs of real potential and could become one of the better offensive defensemen when all is said and done.
Poise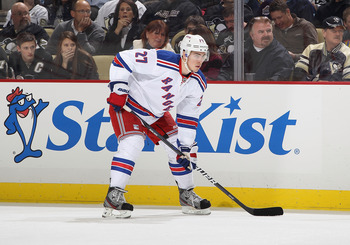 Christian Petersen/Getty Images
One of McDonagh's best traits is his poise. And it may be his most important one.
To be a top first-pair defenseman, you cannot get fazed. You're going to go up against Sidney Crosby, Alexander Ovechkin and Steven Stamkos nightly. If you make a mistake, which is inevitable, you have to have a short memory.
McDonagh has shown that ability. Yes, he's been on the ice for some bad goals. All defensemen have been and will be on the ice for bad goals. But unlike some young defensemen, McDonagh doesn't let it affect him on the next shift.
He plays with an even-keel demeanor. He plays with a calm that belies his age and experience.
A lot of young defensemen, even some with more experience than McDonagh, are excitable. They make a great play and they get too amped up. They make a bad play and they get too down.
McDonagh doesn't play like that. Rather, he plays like a 15-year veteran who has seen it all and been through too many battles to count. Yet McDonagh has only played in 122 games.
That bodes very well for McDonagh and, of course, the Rangers.
The Future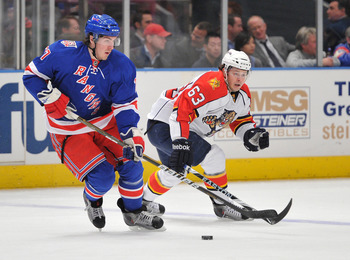 Christopher Pasatieri/Getty Images
So what does the future hold for Ryan McDonagh? Is he going to emerge as a Norris Trophy-caliber defenseman? Or is he going to fade into oblivion?
The smart money is on the former. You would be hard-pressed to find a player who has played as well as McDonagh has, and has shown all the signs of greatness, who suddenly lost it all.
McDonagh is only 23. He has a lot of years left. Assuming his health holds up, we could see him on NHL ice for the next 17 years.
McDonagh is not without flaws, of course. He needs to continue working on his offensive game. He needs to continue to play at a high level.
But if his first season-and-a-half is any indication, McDonagh is up to the task. He's not a household name—yet. But he will be soon. As the Rangers continue to be among the elite teams in the league, McDonagh will be under the microscope more.
Based on what we've seen so far, he is more than up to the task.
Keep Reading

New York Rangers: Like this team?