Georgia Football: 10 Things We Learned from the Bulldogs' Win vs. Kentucky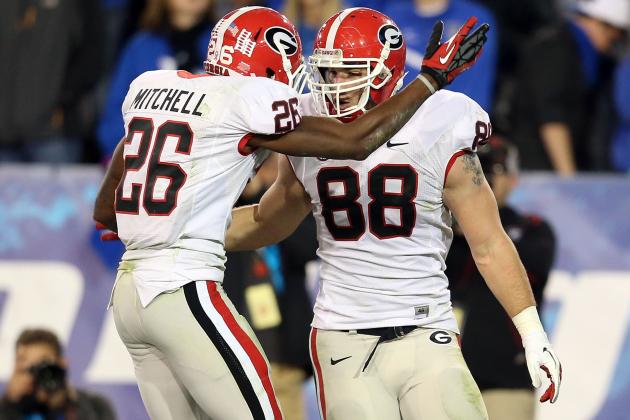 Andy Lyons/Getty Images

It was not an easy win, and it sure wasn't an pretty win, but the important thing is the Bulldogs leave Lexington with a win against Kentucky.
After the loss against South Carolina, the Bulldogs needed a bounce-back game from the offense, defense and special teams.
And while they did some good things, there are a lot of things they need to work on this week before they take on Florida next Saturday.
Here's 10 things we learned from the Bulldogs' win vs. Kentucky.
Begin Slideshow

»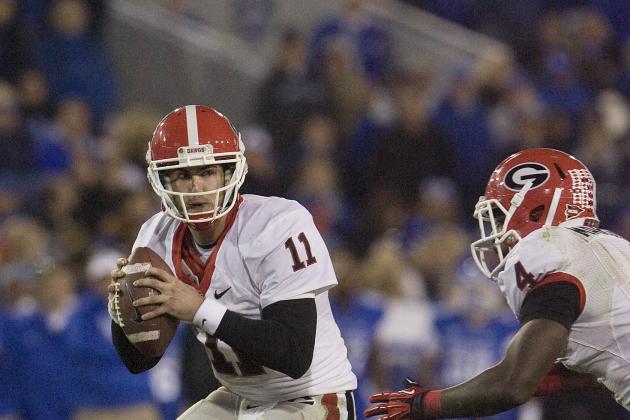 Mark Zerof-US PRESSWIRE

This is not to say he lost it, but it was nice to see Aaron Murray play well after being destroyed against South Carolina.
Murray finished the game 30-of-38 with 427 yards and four touchdowns. Despite being sacked three times, Murray kept his composure and stood tall in the pocket all game long.
He needed to have a game like this heading into the Florida game.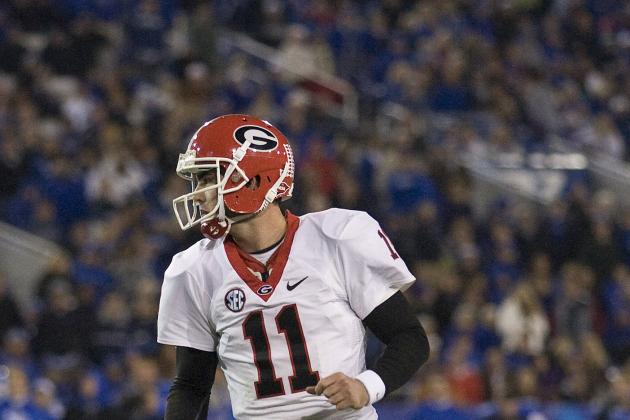 Mark Zerof-US PRESSWIRE

With his performance, Murray now holds the school record for career TD passes, surpassing David Greene.
What makes this record special is Murray broke the record in his third year while it took Greene four years to get to 73 TD passes.
He may not end up with as many records as Eric Zeier or Greene for that matter, but when his career is all said and done, Murray will end his career with very nice numbers.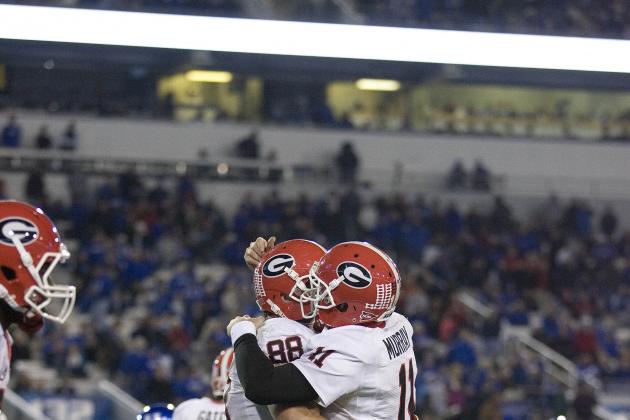 Mark Zerof-US PRESSWIRE

As it was mentioned earlier, the offensive line did give up three sacks and could not open too many holes for Keith Marshall and Todd Gurley. But if it wasn't for them, Murray would not have thrown for 400 yards.
Because of the youth at center and at left tackle, they are going to have some growing pains. But, the more reps the staring five see, the better they will be at the end of the year.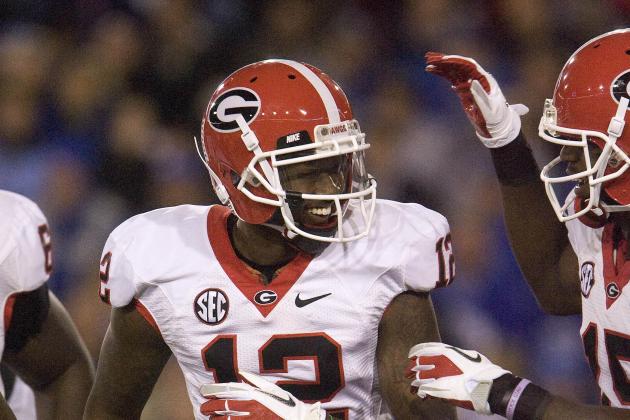 Mark Zerof-US PRESSWIRE

He may have done all his work all in the first half, but Tavarres King gave the Wildcats fits with his plays downfield.
King had nine catches for 188 yards and two touchdowns against a struggling Kentucky secondary. As good as Malcolm Mitchell is, King is the No. 1 deep threat for the Bulldogs and has been Murray's favorite target this season.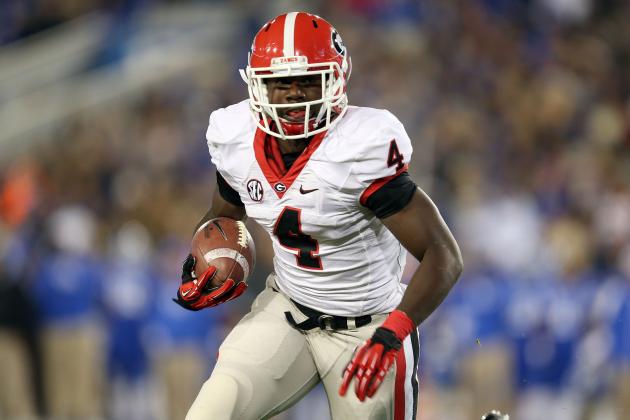 Andy Lyons/Getty Images

Marshall and Gurley were off to a hot start but have cooled off the last two games.
Marshall ran for 23 yards on six carries, while Gurley rushed for 47 yards on 12 carries.
Part of the problem was the offensive line, but the Kentucky front seven made sure that they took good angles and wrapped up at the point of attack, which will be seen more often from the rest of the teams on Georgia's schedule.
It will be interesting to see how Mike Bobo uses the two freshmen moving forward.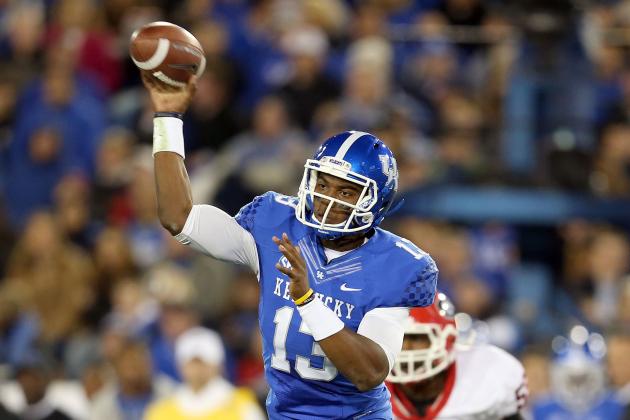 Andy Lyons/Getty Images

The one weakness for the Bulldogs defense has been dealing with quarterbacks who can make plays with their arm and legs.
Morgan Newton and Jalen Whitlow had only a combined 52 rushing yards but have been able to keep drives alive by converting 3rd-and-longs with scrambles.
The Bulldogs had the same problem with South Carolina and even had the same problem against Buffalo.
It's not going to get easier as the Bulldogs have to face Jeff Driksel next week, and he is very good at making plays on the run.
Andy Lyons/Getty Images

The run defense has not been great for Georgia all season, and it didn't get any better against the Wildcats.
Thanks to Newton, Whitley, Jonathan George and Raymond Sanders, the Wildcats rushed for 206 yards and two touchdowns.
All four were patient and let the offensive line get its blocks before hitting the hole.
The Bulldogs were going without Jarvis Jones and Abry Jones, and they did tighten up the run defense in the second half. But they have to correct those mistakes made in the first half in order to stop teams like Florida and Georgia Tech.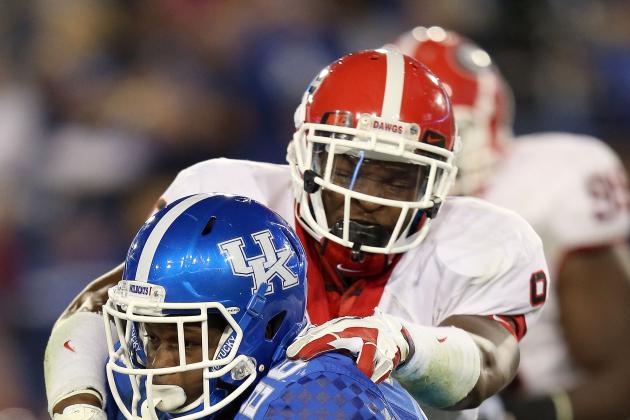 Andy Lyons/Getty Images

It was another strong game for Alec Ogletree, tallying a team-high 11 tackles and one tackle for loss.
He was all over the field and looking strong every snap he took.
Out of all the defenders, Ogletree has been the most consistent this season, and he did not play in the first four games. The Bulldogs will need another big game from him next Saturday.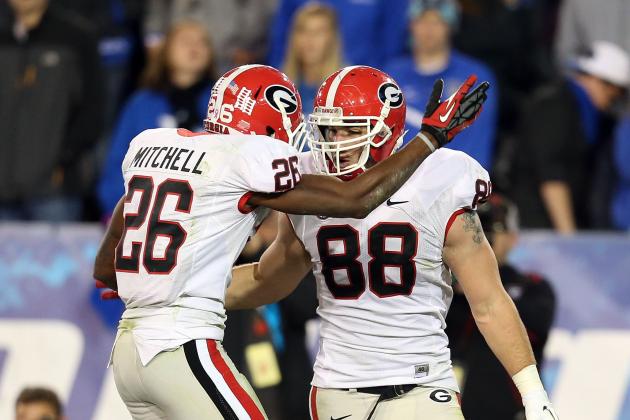 Andy Lyons/Getty Images

Malcolm Mitchell did not score but was vital in the passing attack against Kentucky.
Mitchell ended his night with nine catches for 103 yards. He was able to keep the chains moving and get some yards after the catch.
Having King and Mitchell making plays is good for the Georgia offense. If "Gurshall" can't get the job done, the offense can always go to "King Mitchell."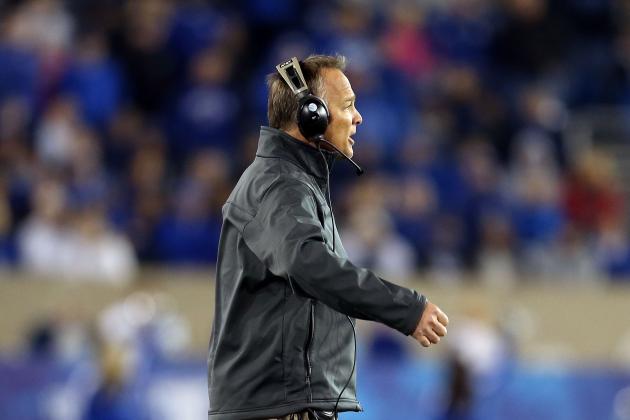 Andy Lyons/Getty Images

If the Bulldogs want to beat a team like Florida, they have to start a lot faster than what they showed against Kentucky.
The Wildcats jumped to a 7-0 lead at the start of the game and hung with the Bulldogs throughout the entire game.
That's a preparation issue, and Mark Richt has to be sure his team is ready for whatever comes at them.
Yes, they did win the game, and there was really little doubt they would. But if they start slow next week, they will have little-to-zero chance of winning.