Tottenham 2-4 Chelsea: Rating Every Spurs Player in Their Home Loss to Chelsea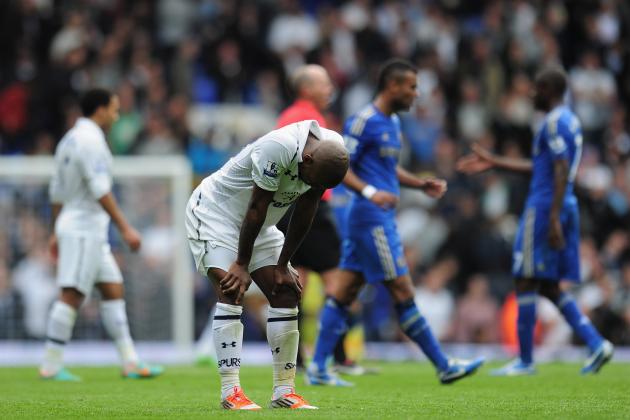 Shaun Botterill/Getty Images

Well, that certainly did not go according to plan.
In manager Andre Villas-Boas' first match against his former club, AVB's Tottenham fell to Chelsea 4-2 at White Hart Lane on Saturday morning.
The first half was largely dominated by the Blues, who went into the break with a 1-0 advantage.
However, despite missing Gareth Bale and Mousa Dembele, Spurs entered the second half on a mission and turned their deficit into a 2-1 lead.
In the end, though, Chelsea had too much for Tottenham, and they kept their place at the top of the league table.
For Spurs, the loss provided only a moderate setback, as they kept their fifth-place spot.
So how poor were Tottenham on the day? And who stood out as a bright spot in the loss?
Here is a rating of every Spurs player's performance.
Begin Slideshow

»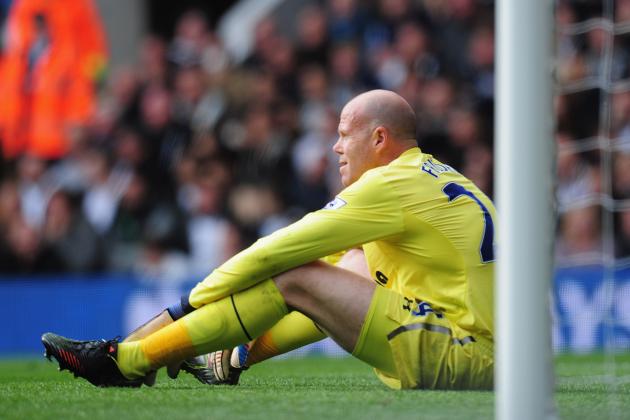 Shaun Botterill/Getty Images

Brad Friedel
Poor Friedel.
After being re-awarded his spot as the starter, the 41-year-old American keeper was left exposed on multiple occasions.
Despite making a few nice saves, Friedel was unable to come up with a key save on four occasions.
He could probably be excused for his concessions, but Friedel obviously has room for improvement.
6/10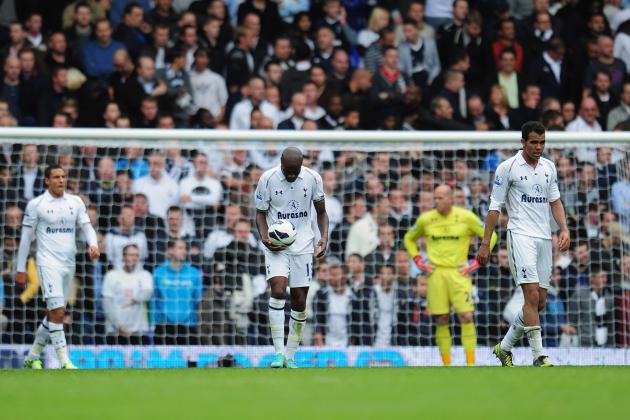 Shaun Botterill/Getty Images

Jan Vertonghen
Vertonghen was not quite as influential going forward as he has been in the previous few matches, but he still had a few nice runs.
Additionally, the Belgian was a rock at the back.
6.5/10
Steven Caulker
Caulker had a pretty nondescript match, but he failed to make any really poor errors at the back.
His most influential moment was getting a slight deflection on Gary Cahill's opener. However, not only did that seem unfortunate, but also it seemed like it didn't make too much of a difference.
5.5/10
William Gallas
This is probably one of the worst performances by a goal-scorer imaginable.
Gallas was at fault for the first three Chelsea goals, clearing very poorly on the first two and letting Mata in behind on the third.
Even the Frenchman's goal was ugly, as he barely got a touch on a tap-in that may have been going in anyway.
3.5/10
Kyle Walker
Many will point to the nightmare Walker had at the end of the match, which led to Chelsea's fourth goal.
However, I am willing to cut him a bit of slack on that one because he was trying to make something happen while his side trailed in stoppage time.
Regardless, Walker wasn't that great down the wing, and he was less than stellar in defense.
4.5/10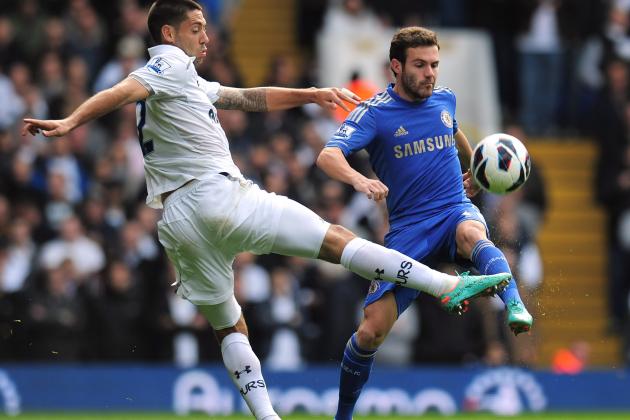 Shaun Botterill/Getty Images

Tom Huddlestone
Huddlestone put in a good shift in the midfield today, putting in 67 minutes and really providing some of the best passes of the day for Spurs.
He certainly tired by the end, but I wasn't very down on Huddlestone in this one.
5.5/10
Gylfi Sigurdsson
Sigurdsson improved vastly as the match went on, but the Icelandic national squandered a few clear opportunities and failed to control the ball on too many occasions for me.
5/10
Sandro
Similar to Sigurdsson, Sandro had a few too many poor passes and wasteful moments throughout the match.
Still, the Brazilian wasn't that bad in the defensive end of midfield.
5/10
Aaron Lennon
When he had the ball at his feet, Lennon was the brightest player for Spurs. He took on and regularly beat defenders, setting up the second goal.
However, he had a hard time getting into the match, especially in the first half.
6/10
Clint Dempsey
Seemed lethargic, perhaps understandably, given his long travels from the USA.
Still, Dempsey failed to impress in this match and even drew a few heckles in the first half.
4/10
Jake Livermore
Came on late and really failed to be effective in the match.
Still, he tried and did an okay job attempting to link up play.
4.5/10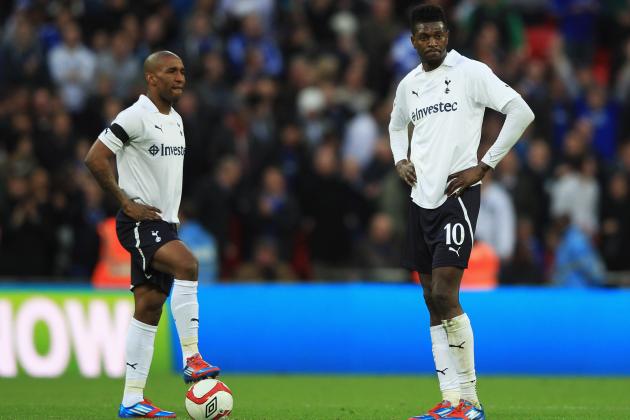 Michael Steele/Getty Images

Jermain Defoe
Defoe dealt well with some adverse circumstances and did a good job to get involved in the second half.
His goal was a thing of beauty, as his intuition shined through.
There was no risk of Defoe being too involved, but he deserves a lot of credit here.
7/10
Emmanuel Adebayor
Yes, he came in late, but Ade still failed to provide the big moment his side so desperately needed.
One particular moment stands out: The big striker failed to take advantage of a rebound first-time, instead trying to take a touch. As a result, the ball ended up with Cech and the chance faded.
On more than one other occasion, Ade failed to help the play downfield.
Still, his change of pace provided a little something, as he quickly headed down to Sigurdsson. The moment ultimately didn't amount to anything, but at least it was something.
4.5/10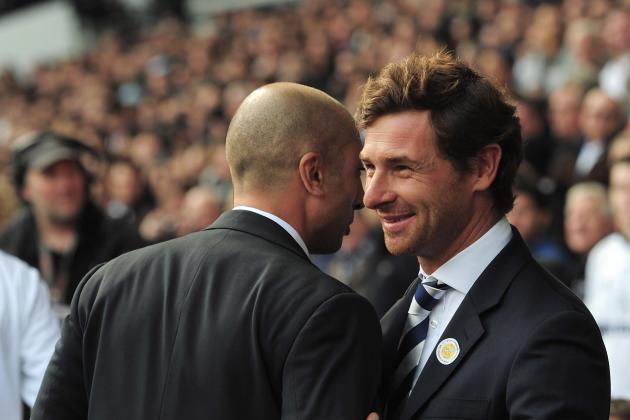 Shaun Botterill/Getty Images

So that's it for me.
What do you think? Any disagreements?
Let me know in the comment section below!
For the latest news in the world of football, follow me on Twitter.