Analyzing the Futures of the Cornerstone Players of the Dallas Cowboys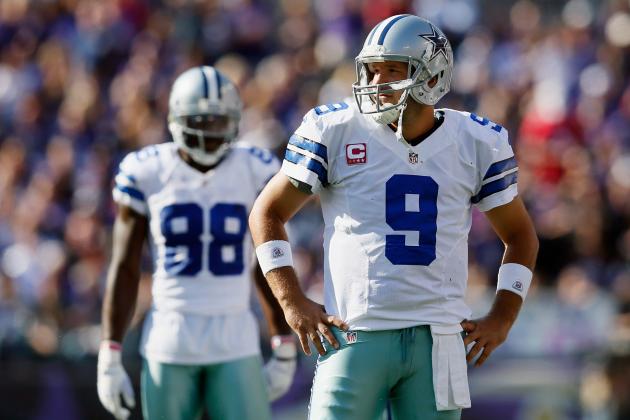 Rob Carr/Getty Images

With players like Jay Ratliff, Jason Witten, Tony Romo and DeMarcus Ware moving into their 30s, the future isn't far off for the Cowboys.
The Cowboys have done a decent job acquiring cornerstone players that the organization can build around. Some of these players, however, may not have a the long-term future we hope for.
Let's take a look at the young cornerstone players and what the future holds for them.
Begin Slideshow

»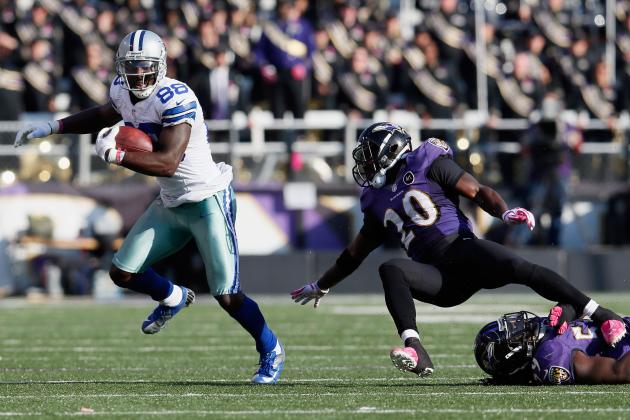 Rob Carr/Getty Images

What Has He Done
We all know that Bryant is an electric wide receiver. When he gets it going, he is near unstoppable. He has great hands to go with this fantastic speed and strength.
Bryant has put up great numbers as a Cowboy, but he has been inconsistent. This season has plagued Bryant with accusations of not being reliable. Furthermore, Bryant has had a slew of off-the-field issues that have drawn questions about his character and focus.
How He Fits
Bryant has all the talent and potential to be a true No. 1 receiver in this league.
Questions will always be asked regarding his ability to match his potential. He has a lot of maturing and growing to do. If the Cowboys can coach him correctly, and if he is willing to accept the help, Bryant can be as good as anyone in this league.
As long as Bryant is a member of this Cowboys team, he will keep the offense lethal. Opposing coaches are always raving about how hard Bryant is to cover, and when he's at his best, he's difficult to cover even for the best defensive backs.
Bryant's behavior and focus is a giant question. Jerry Jones has already threatened to send him packing, and I don't think that should be taken lightly.
Will He Stay?
This is the toughest case to figure out.
My heart says that I want Bryant to stay. I want to see the kid succeed in the worst way. I'm a fan.
My head says that he is on a very short leash after a rocky start to his career. If the Cowboys feel like they have a legitimate shot at replacing him or even feel comfortable with someone of lesser talent but better focus, Bryant could be expendable.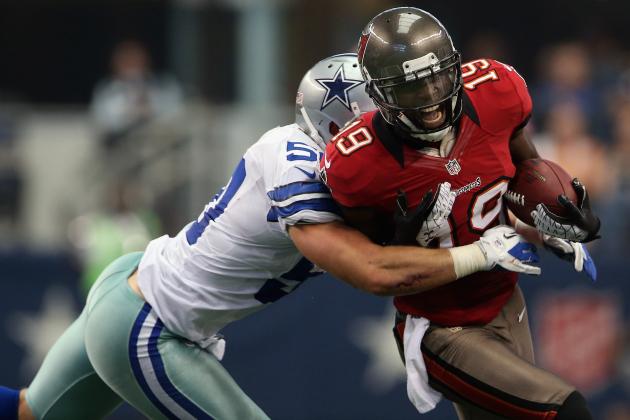 Ronald Martinez/Getty Images

What Has He Done
What hasn't he done?
Since his second season, Lee has been a true playmaker at his position. So far in his career, he has been a tackling machine that creates turnovers.
Lee is a smart player who is always around the ball. He has exceptional play recognition and pursues plays better than anyone I've seen at the position besides Ray Lewis.
Lee has stabilized a linebacker group that hasn't had much stability outside of DeMarcus Ware.
How He Fits
Lee is an old-school player. He plays with heart and intensity. When DeMarcus Ware is gone, it'll be up to Lee to be the leader of that defense.
Lee gives the Cowboys a player that they can build around. They know his smash-mouth style and intense level of play will always place him among the league's best. There isn't a scheme that Lee couldn't be productive in, and he continues to prove his worth.
It's extremely hard to find players of this caliber.
Will He Stay?
You have to believe that Jerry Jones will do everything he can to retain Lee. The question will be is if Lee wants to stay.
His tenure with the Cowboys so far has been a disappointing one. I wouldn't blame the guy for wanting to play on a team who is doing a better job at competing for a championship.
As a fan and a Cowboys Nation member, I hope that Lee's love for the star overshadows his desire to play elsewhere.
I believe it will.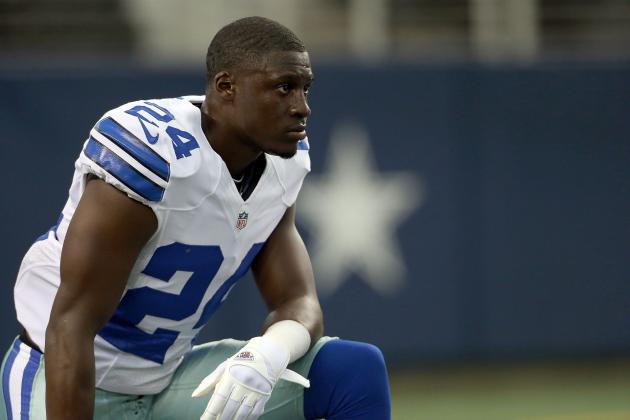 Ronald Martinez/Getty Images

What Has He Done
Obviously, Claiborne is still a rookie, but that doesn't mean he hasn't done anything. Claiborne has been very effective and has shown a solid skill set.
Claiborne has all the tools to be a dominant cornerback in this league. He plays man coverage exceptionally well and is adjusting to zone coverages rather well. He has superstar written all over him.
How He Fits
Currently, the Cowboys are playing a man-coverage defense. Claiborne fits perfectly with that because of his physical style of play. Things may change in the upcoming years, though, and Claiborne's man-to-man prowess may not be as valuable.
I do think that Claiborne will be an elite cornerback in the near future. That alone will make him attractive to any team. The Cowboys invested a lot in him, and I think they'll make sure he succeeds in their system no matter what.
Will He Stay?
Like I said before, the Cowboys have a lot invested in Claiborne. Claiborne likes it in Dallas and will grow and learn a lot in his time here.
Jerry will pay "retail" for Claiborne if he has too.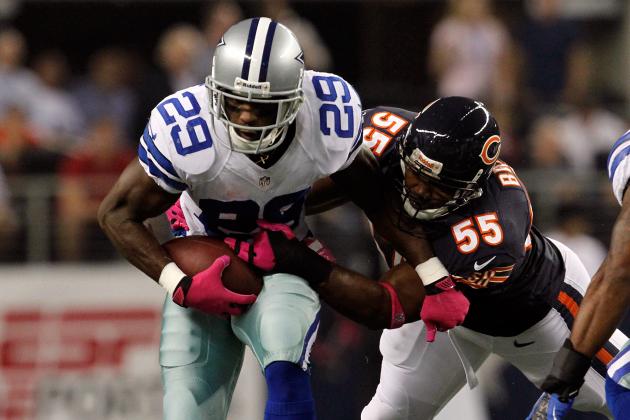 Tom Pennington/Getty Images

What Has He Done
Murray burst on to the scene in 2011 by posting 897 yards in just 13 games. While doing so, he also set the Dallas Cowboys rookie rushing record against St. Louis when he ran for 253 yards.
As 2013 came, there was a lot of hype around Murray. He came out of Week 1 with a 100-plus-yard game, and the excitement was growing. Since then, Murray has been a bit of a dud. While it hasn't been his fault, Cowboys Nation has expected more.
How He Fits
Murray is a true workhorse back in a league that has few. He has exceptional vision and uses his speed and size to run through defenses. One of Murray's strengths is receiving out of the backfield. He is the ideal all-around back.
We'll have to keep watching Murray. If he can get back on the track of success he displayed in 2011, there is a lot to be excited about. The Murray of 2011 is a back that you can build a team and offensive philosophy around. The Murray of 2012 is a back that will likely end up with a similar fate like that of Felix Jones and Julius Jones.
Will He Stay?
Murray is the best option the Cowboys have right now and is still considered one of the top young backs in the league. If he continues to be injury-prone or unproductive, the Cowboys will be forced to look elsewhere.
I think that Murray regains form and has a successful career in Dallas. However, in the rare event I'm wrong, don't be surprised if the Cowboys look for a franchise back via the NFL draft.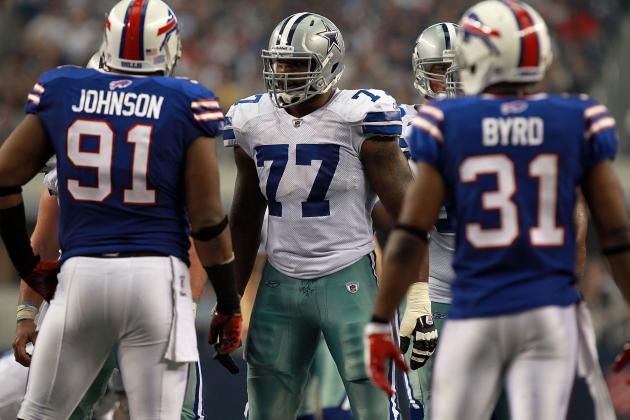 Ronald Martinez/Getty Images

What Has He Done
Tyron Smith is a tremendous lineman for only being 21 years old. In 2011, he was easily the Cowboys' best player on the line, but he has since seen some regression this season.
Smith has played somewhat undisciplined this season, racking up penalties at an alarming rate. He has all the talent in the world to be a stone wall at left tackle, but he needs to focus a little more on refining his game.
How He Fits
The Cowboys offensive line is atrocious. Smith offers the only bright light of a good future. Smith will continue to be better and is young enough to evolve and make a great career out of it. He does everything really well, so he isn't much of a liability in a scheme switch.
Smith is one of the most exciting young players the Cowboys have had in some time.
Will He Stay?
Lock it up.
Smith is the only player on the offensive line worth keeping long-term, and you need to keep him. Without Smith, all you have is a group of mediocre castoffs who are looking for whatever small success they can find.
Smith is a Pro Bowl caliber player who will be a mainstay in Dallas for his whole career.