Notre Dame Football: 10 Things We Learned from the Irish Win over BYU
Jonathan Daniel/Getty Images

It wasn't pretty, but No. 5 Notre Dame outlasted unranked BYU at home for a hard-earned 17-14 victory.
The Cougars had the Irish against the ropes, taking a 14-7 lead into halftime, but the Irish defense held strong in the second half as their offense did just enough to secure a win.
Notre Dame marches on at 7-0, looking to continue to climb to the top of the BCS rankings while BYU falls to 4-4.
So, what else we can take away from Notre Dame's gritty victory against BYU?
Let's find out:
Begin Slideshow

»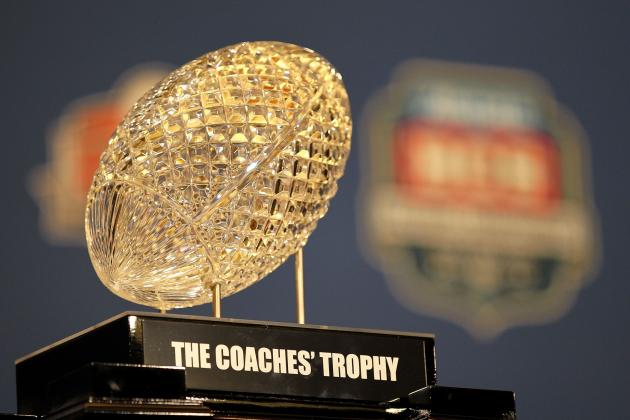 Andy Lyons/Getty Images

BYU came close to spoiling Notre Dame's national-title aspirations, but the Irish did what they had to do to win.
At No. 5 in the BCS, Notre Dame is certainly within reach of earning a trip to Miami in January.
One team ahead of the Irish is guaranteed to be out of the picture after the SEC season plays out, and there are still chances for them to improve their standing by beating ranked teams.
Next week, UND will travel to Oklahoma for a Top-10 battle with the Sooners. A win in Norman would be a gargantuan boost to the Irish's BCS resume.
Then in its final game, Notre Dame will take on USC, another team currently ranked in the Top 10 on the road.
Obviously, every game is a must-win in terms of the national title picture, but if the Irish split—or maybe even lose both—they will likely still have a BCS at-large bid.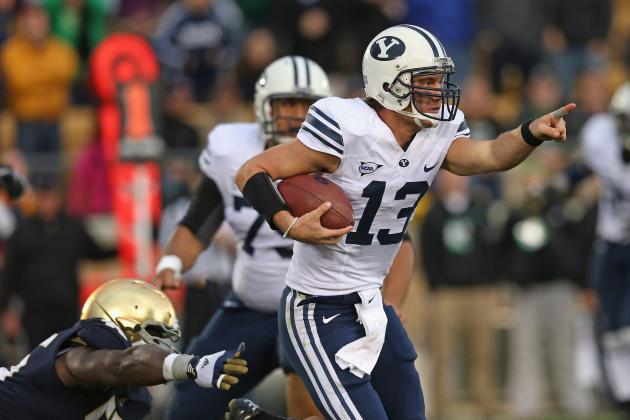 Jonathan Daniel/Getty Images

At 4-4, BYU hasn't had the greatest start to the season.
After last week's ugly loss to Oregon State, the situation was looking even worse. However, the Cougars had a pretty strong showing today–particularly on defense.
If it weren't for a few big explosion plays from Notre Dame, BYU would have pulled off the upset.
Riley Nelson has been awful at times this year, but with limited mistakes, he gave his team a great chance to win this game.
He also gave Notre Dame fits with his running ability. His team struggled to protect him at times, but he still managed to make plays in the face of pressure.
Looking forward, the Cougars have a great chance to win out and finish at 8-4.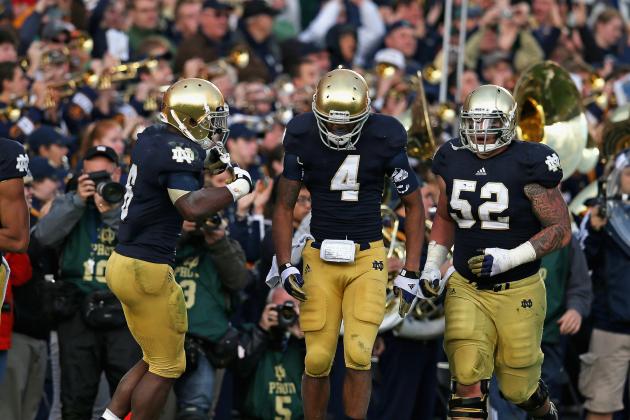 Jonathan Daniel/Getty Images

BYU entered the game as the No. 3 rush defense in the nation, allowing just 68 yards per game on the ground.
Notre Dame ran for 270 yards on 43 attempts and had two rushers go over 100 yards.
Theo Riddick led the way with a career performance, going for 143 yards on 15 carries, averaging 9.5 per carry.
Just behind him was Cierre Wood who ran for 114 yards and played a big role in grinding out the clock in the fourth quarter.
Neither of them reached the end zone, however, as that honor went to George Atkinson III. He didn't have a glamorous day, netting just 11 yards, but he made a very nice move to notch the go-ahead touchdown.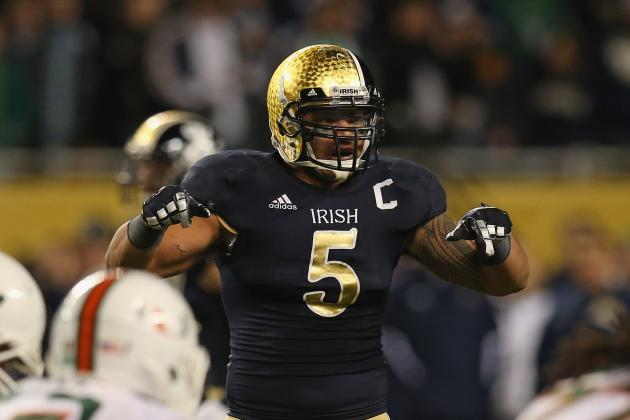 Jonathan Daniel/Getty Images

With no other hopefuls willing to take over the race for the Heisman Trophy, Manti Te'o will continue to rise up the list of candidates.
He recorded a game-high 10 tackles and secured an interception as well.
This gives him 69 tackles and four interceptions already on the year, to go with two fumble recoveries.
There isn't another defensive player that has as much of an impact on each game as Te'o does week in and week out.
He has been impossible for opposing offenses to avoid, and the more plays he makes, the higher he'll climb in Heisman contention.
H/t to Stephen Webb who pointed out my mistake. This previously read "79 tackles and five interceptions." I mistakenly added the BYU stats on twice.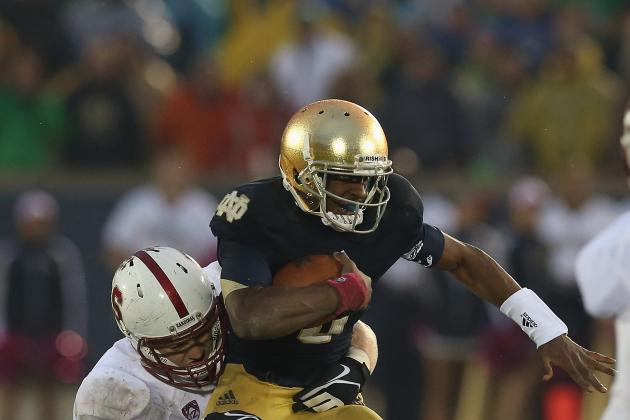 Jonathan Daniel/Getty Images

Tommy Rees has been effective coming into games when his team needs him this year, but today, he showed why he isn't the starter.
He finished just 7-of-16 for 117 yards, one touchdown and one interception. He only had two receivers with multiple catches and one with more than 50 yards receiving.
The Notre Dame offense did essentially nothing through the air, and if it wasn't for Riddick, Wood and the offensive line, the Irish would no longer be undefeated.
Luckily, head coach Brian Kelly announced that Golson would start next week against Oklahoma.
It is clear that a dual-threat quarterback like Golson gives Notre Dame a much better chance to be successful.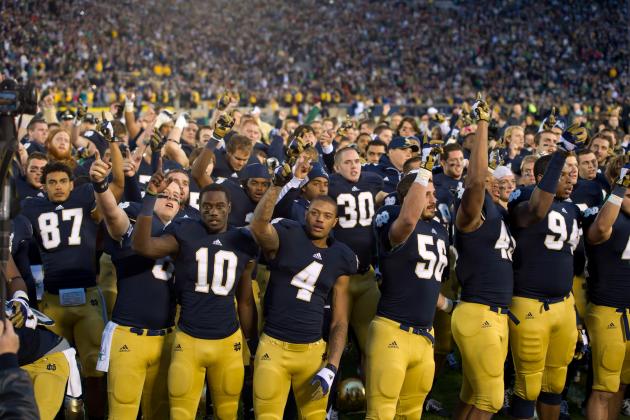 Matt Cashore-US PRESSWIRE

Notre Dame won because of its defense once again.
Both of the Cougars' scoring drives came on a short field, and they didn't drive further than 56 yards on the day.
BYU netted just 243 total yards and only 66 on the ground, gaining just four yards per play on the game.
The Irish defense pressured Nelson all day long, sacking him four times and forcing him to throw two interceptions.
Without its starting quarterback, Notre Dame again leaned on its defense for the win.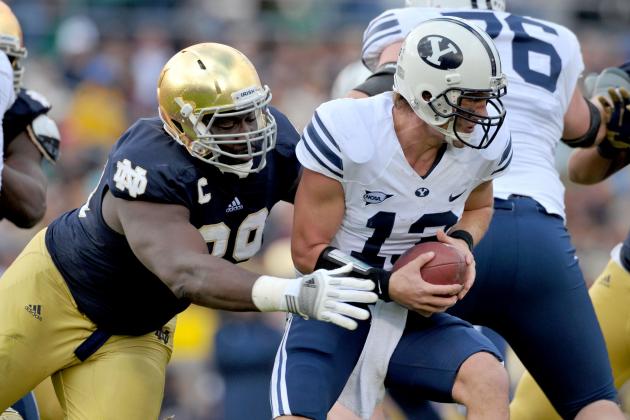 Matt Cashore-US PRESSWIRE

Another huge factor for Notre Dame was the battle up front, where the Irish simply dominated.
Despite BYU's best rushing efforts, Rees was sacked just once.
The big story was the run-blocking, which allowed the Irish to gain 6.3 yards per attempt on the ground.
Together with the rush defense, UND outran BYU by more than 200 yards.
While Notre Dame gashed the Cougars on the ground for 6.3 per carry, BYU gained just 2.6 yards per carry.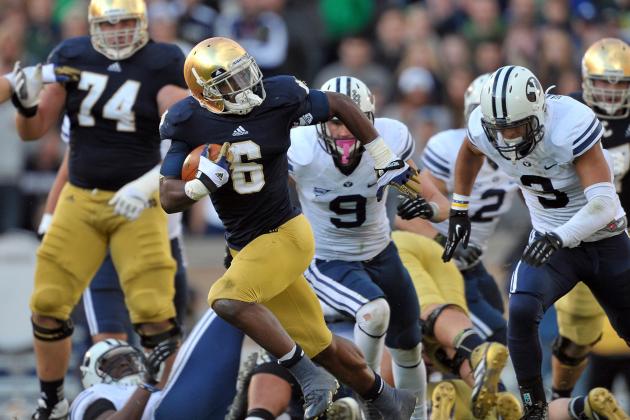 Matt Cashore-US PRESSWIRE

In a game where offense was otherwise difficult to come by, big plays allowed the Irish to put points on the board.
Two of Rees' passes went for more than 30 yards—one to T.J. Jones for 31 yards and another to Tyler Eifert for 33 yards.
On the ground, four rushers had gains of more than 10 yards.
Riddick had three runs of 19 yards or more, including an incredible 55-yard run in which he was swallowed up at the line of scrimmage but escaped for a near-touchdown.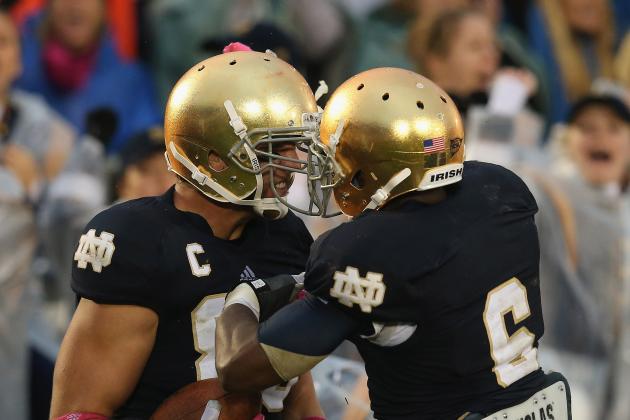 Jonathan Daniel/Getty Images

Tight end Tyler Eifert was the only Notre Dame receiver with more than two receptions and caught the team's only touchdown through the air.
On the game, he had four receptions for 73 yards and a touchdown—all team highs.
He is almost impossible to cover near the end zone, which was proven against BYU.
The senior may be one of the best tight ends in the nation, and once Golson returns, he must expand to become his favorite target.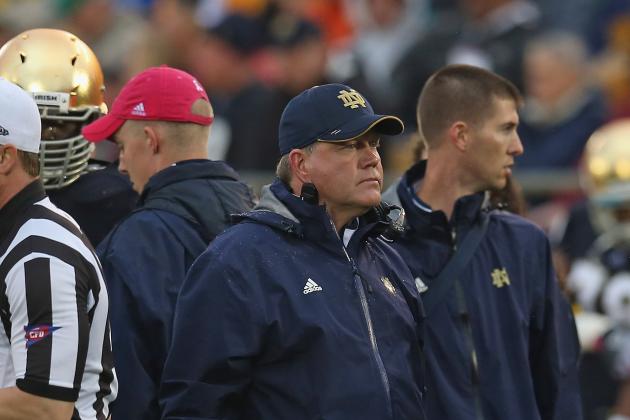 Jonathan Daniel/Getty Images

Notre Dame nearly killed itself with penalties, being flagged five times for 51 yards.
A few of these were inexcusable personal-foul penalties—the kind of miscues that must be avoided.
The Irish recorded only one turnover, but a second one may have changed the outcome of this game entirely.
Given Notre Dame's style of play, it looks like there will be many more close games in its future.
Because of that, the Irish need to avoid mistakes, something they didn't do so well in this one.
Notre Dame committed penalties to assist both of BYU's scoring drives, and its second scoring drive came after a Rees interception.
Against teams like Oklahoma and USC, these types of mistakes could spell the end for Notre Dame.