Rating the Manchester United Players Against Stoke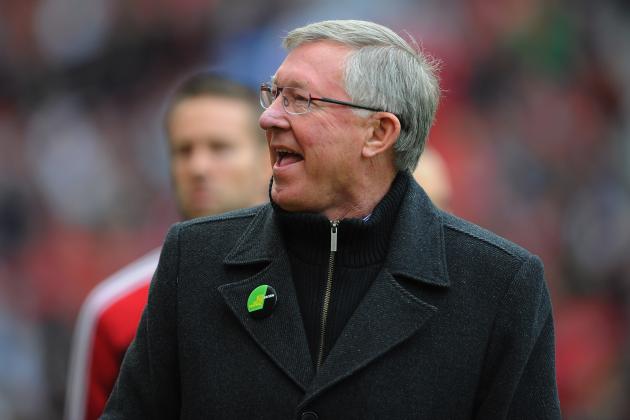 Michael Regan/Getty Images
Sir Alex Ferguson
Before rating Manchester United's players against Stoke, something needs to be said about what happened outside the match.
Rio Ferdinand is in trouble.
Sir Alex Ferguson was widely quoted on his comments from Friday's press conference about Jason Roberts' threat to not wear a "Kick it Out" T-shirt as a protest, according to Jamie Jackson of The Guardian.
Let's give this a context. This weekend, all Premier League players were supposed to wear the T-shirt as part of the "Kick it Out" campaign.
On Friday, according to Tony Banks of the Daily Express, Jason Roberts had raged against Chelsea for not taking a stronger line against John Terry.
Rio Ferdinand and Joleon Lescott were both thought to be considering joining Roberts in refusing to wear the T-shirt, according Sami Mokbel and Charles Sale of the Mail Online.
Having said that, all the Manchester United players would wear the T-shirt, Sir Alex will have been acutely embarrassed that Rio did not.
The Manchester United defender must either be deaf or stupid to not do so. The message that Sir Alex had given was not just directed at Roberts, it surely was coded for all his players also. He was clearly pretty angry after the match.
Apart from Rio going against Sir Alex's instructions the manager would have wanted to make a point in a week where Chelsea are perceived to have had a double standard by fining Terry but leaving the captaincy with him.
It's impossible to say whether the situation affected Ferdinand's performance, but he may have made a career-threatening error. Like Paul Scholes and Ryan Giggs, he is seeking a one-year extension to his contract.
The defence has wobbled this season. Sir Alex has previously showed no patience with Jaap Stam and Roy Keane, also senior professionals who publicly embarrassed him. If the Scot ever needed an excuse to go out and buy another senior defender, this could be it.
At the very least, Rio will be hit with a fine by the club for his defiance.
Getting back to the match Sir Alex made some interesting decisions—first to play 4-2-3-1 and second with his team selection.
First, this is United's third different formation in a month. Maybe, Sir Alex is trying out new tactical formations before the big matches come along, but if he's going do this, he needs to get the personnel right.
OK, so United had most of their squad away on international duty, but he played Carrick who had 180 minutes for England.
The manager seemed to have learned very little from the Tottenham debacle. He played Rooney from the start with Van Persie, but he either stubbornly or blindly seems to believe that Scholes was not the problem in the 3-2 defeat.
The first half at Tottenham was characterised by United being overrun in a midfield where Carrick and Scholes played as a duo. The same thing happened again in the first half against Stoke. A better team would have repeated the Tottenham experience.
It's against this factor that we review the players' performances.
Begin Slideshow

»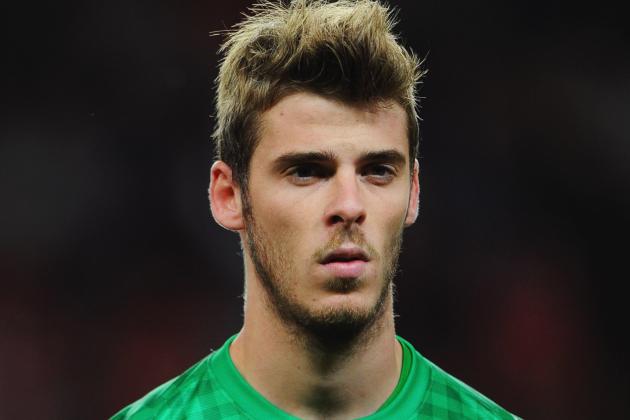 Michael Regan/Getty Images
David De Gea
David De Gea 7/10
Has Sir Alex finally decided on his No. 1 goalkeeper? Probably not because Anders Lindegaard may be in goal against Braga on Tuesday.
David De Gea deserves to be that man.
Today, he was fearless in coming out to the Stoke threat, especially with a punch early on. He still gets criticism in some quarters for not catching the ball, but punching is the continental way.
Against the tallest attack in the Premier League, he didn't look to have the problems that characterised his early experiences last season.
He was blameless for both goals, but once again, showed that he is arguably one of the best reaction keepers in the world.
Considering that Stoke scored twice, he had relatively little to do, but his instinctive save to a deflected Charlie Adam narrow angle shot was worth his pay packet alone.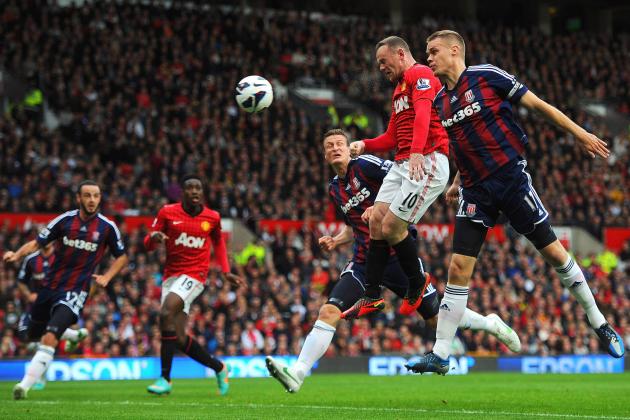 Michael Regan/Getty Images
Wayne Rooney Own Goal
No doubt there will be some who will blame the defence for conceding two goals. That would be short-sighted, because both were the result of individual errors.
Since the Tottenham match, Sir Alex has made a couple of changes that have tightened things up considerably. He has demanded that only one full-back should be up the pitch at a time and that the full-backs stay closer to the central defenders.
But, he still doesn't seem to have learned from the consequences of playing Michael Carrick and Paul Scholes as a pair in midfield.
The result, once again, was a vacuum, at times, in the middle of the park that Stoke filled, and this put extra pressure on the defence.
Rafael 8/10
For the first time, today, it became clear how great a wing-back Rafael can become.
He was restrained in his attacking forays but always looks dangerous going forward. After his two goals this season, opposition managers have to take him seriously.
He has massively tightened up his self-control also. He doesn't seem to have the lapses of concentration of the past. Today, he also stayed on his feet and was in receipt of a late Michael Kightly tackle that deserved a yellow card at least.
He marshaled one of England's more dangerous wingers very well. He is also a magnificent header of the ball for his height, with a terrific spring.
Finally, he saved at least one dangerous attack when he steadfastly raced across his own defence, progressively blunting the danger until he cleared himself from the left side of the penalty box.
Rafael was unfairly criticised by Brazilians for their debacle in the Olympic Final when his own captain was more to blame. Nevertheless, he appears to have taken that criticism on his chin and is growing in maturity, day by day.
Let's hope his twin brother returns similarly improved from his trip to QPR. If he does, he must surely threaten Patrice Evra's position as first-choice left-back.
Evra 4/10
And on that note, it is about time that Evra was relieved of the vice-captaincy which leaves him notionally leading the side in Vidic's absence.
The trouble is that, apart from calling the coin toss and wearing the armband, he is, by no stretch of the imagination, a leader at Manchester United.
In fact, he has become a liability.
Yes, he had his best performance of the season against Newcastle, but he was up to his old tricks again today.
More than once, he was caught stranded upfield as an attack broke down but simply stood and watched as his fellow defenders bailed him out.
But, that didn't happen with Stoke's second goal. Evra was messing around under pressure on the touchline when he should have simply kicked the ball out and retreated to his defensive position.
Robin Van Persie came to help him out, and the ball was lost. As Stoke broke away to score, even after the ball was nestling in the net, Evra was still stood some 65 yards away, apparently transfixed.
He simply can't do this. He was personally to blame for United's collapse against City, along with Jonny Evans.
Watching Quinton Fortune manfully defend him on MUTV this week was in some senses embarrassing. Maybe Patrice does wear his heart on his sleeve and has United Red running through his veins.
But on the pitch, he shows no real leadership and has become an accident waiting to happen.
Alexander Buttner should be given a run right now. He can't be any worse than Evra, is just as dangerous on the attack and much better defensively.
And the captain's armband should be given to Van Persie or Rooney until Vidic returns. Evra can still be nominally vice-captain. That way, Sir Alex doesn't have to keep playing him.
Rio Ferdinand 7/10
Apart from his defiant stand before the match, Rio can't be faulted for today. It was a delight to see him bringing the ball out of defence on several occasions. On one of them, he reached the Stoke penalty area. Remember, Rio used to be a striker. He should score more goals.
He spent most of the day marking Peter Crouch, and while he didn't win every aerial duel, he was never really under threat and a couple of times was wrongly penalised when Crouch made no attempt to jump.
Rio gets bad press, and people think he's past it. He is still as good a defender as most in the Premier League, and United could certainly not have managed without his 24 starts in his last 27 matches.
Jonny Evans 7/10
Jonny had an astonishingly good match against Portugal this week as Northern Ireland held out for a draw. He was Mr. Competent today. He has become one of the most assured defenders in the Premier League.
There was a moment this afternoon when you suddenly realised that there are some United players who simply don't panic under pressure. First and foremost are Carrick, Evans and Ferdinand.
Today, Jonny was calmness personified. He did all the right things. Let's hope he can do the same against Chelsea.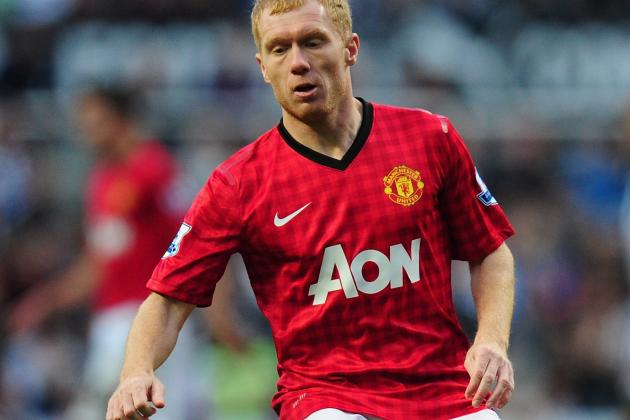 Stu Forster/Getty Images
Paul Scholes
Who would have thought Sir Alex Ferguson was a sentimentalist?
It seems treasonably outrageous to say this, but his judgement must be seriously questioned on two counts:
Patrice Evra and Paul Scholes.
Paul Scholes 4/10
Now, no doubt Sir Alex would say "hey, we've had countless people away on international duty. Now is the time to use Paul Scholes' experience..."
OK, Sir Alex, but you've also said that United won't lose the title on goal difference this season. Unless you play your strongest available team whenever necessary, you won't even win it at all.
On Friday, the manager said "Anderson is getting better and better..." So, why wasn't he played today? You can understand Tom Cleverley not featuring because he was running on empty by the end of England's match on Wednesday.
But Sir Alex is credited with bringing on youth as well. What would Anderson and Nick Powell be thinking today?
Anderson came on and did everything Scholes did, plus more and better. He pinged two long-distance passes on a sixpence: one with his left peg and the other with his right.
But, he also brought immediate pace and energy to the game. Michael Carrick dropped back into the space that Scholes had crowded him out of. The vacuum in the middle of the park closed and United didn't concede another goal.
It may seem heresy to say so, but it's time for Scholes to hang up his boots and give the other talented players a chance.
Shinji Kagawa couldn't even get on the bench and nor could Darren Fletcher.
Nick Powell had a stellar performance for the Reserves on Monday in front of his manager. He scored a bullet header, had several shots with both feet and looked a class better in midfield. He couldn't even get on the pitch today.
Surely, none of these could have played worse than Scholes. The Newcastle match showed how good United can be with energy in midfield. Today, Ryan Giggs was on the bench again.
It's painful to say this, but it's time to pension off Paul Scholes to being just a squad player when needed.
Can't Sir Alex see that playing Scholes means that midfield is far too deep? OK, so he had one run when the Stoke defence parted like the Red Sea but with no end product. If he is there to shoot on sight, Powell is even better than him in that department.
For most of the first half, Scholes was deeper than Carrick. At one point, he was deeper even than his own central defenders. So what is the point of him being on the pitch? A sentimental swansong? That could lose United the title.
And here are two reasons why.
Scholes was almost single-handedly to blame for the first goal. He made a reckless challenge on Kightly that gifted the best set-piece team in the League a Charlie Adam free kick on the goal line only 25 yards from goal.
Result? In seeking to cut out the cross-under pressure from Ryan Shawcross, Rooney headed into his own net.
Second, Scholes had two further reckless challenges. The first was daft, just short of the halfway line with United under little pressure. Once again, the crowd held its collective breath as Scholes arrived 10 minutes late with a sliding tackle. Stonewall yellow card.
This was crying out for Paul to be substituted at halftime as Giggs was against Tottenham because he was a risk to his own team.
He stayed on, despite a tackle from behind that could easily have earned a second yellow.
Sir Alex is, no doubt, clinical in his analysis of every match and every detail. Surely, he can't continue to have a blind spot while his senior professional relives all his yesterdays while other younger players are champing at the bit?
Sad to say that Scholes was no better than Darron Gibson today.
Michael Carrick 6/10
Carrick wasn't called on to do much but what he did was at his competent best. He never panics, hardly misplaced a pass, cleared up in defence and even ventured forward.
He was a shadow of himself for England on Wednesday because the players around him were, with the exception of Tom Cleverley, collectively awful.
Carrick is one of the best holding midfield players in Europe, so what does he think when he keeps turning round and seeing Scholes behind him?
How he must long to relax back into the Regista role he has made his own, with the legs of Cleverley, Anderson and Rooney around him.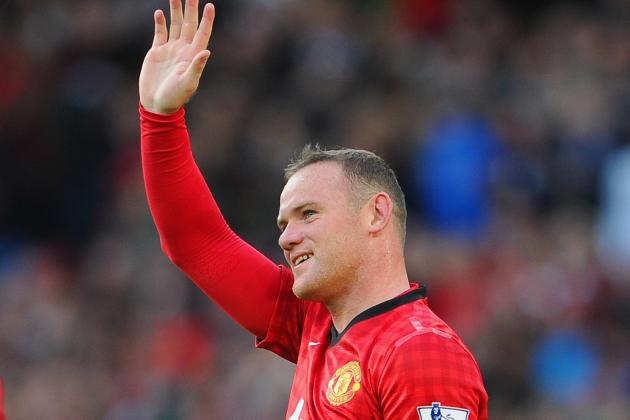 Michael Regan/Getty Images
Wayne Rooney
Yet another tactical formation and this one was designed to get the best out of Rooney and Van Persie, together with giving extra height at set pieces.
If Tom Cleverley hadn't played flat-out for 90 minutes in Poland as England's only creditworthy player on Wednesday, surely he would have been alongside Carrick today, and United could have won by six or seven.
Here is the only stat that matters today:
In the three matches that Rooney and Van Persie have started together, they have a total of eight assists and five goals between them!
Provided that things are shored up at the back, they can win the Premiership for United if they stay fit. They already have an uncanny understanding. They are both intelligent players, and they are on the same wavelength.
It is thought that the chance to play with Wayne Rooney was one of the reasons why Robin Van Persie came to Old Trafford. Together, they are scary, and they make other players better.
Welbeck 6/10
Welbeck would have been given a better mark had he not scoffed two good chances and been shoved off another two.
He is happy to play wide to get a start and has shown for England that he has the potential to become their No. 1 striker after two brilliantly instinctive goals.
Today, he scored a striker's goal with a low header, so it could be worth reversing the roles and playing Van Persie on the left where he loves to wander, with Welbeck through the middle.
He is very dangerous running at defences, and his height is a bonus in defence.
Rooney 8/10
Wayne Rooney played flat-out for England for 160 minutes in the last week, including an inspirational performance as captain. As we've said before, he must be a candidate to captain both England and United when Gerrard and Vidic respectively step aside.
Today, he was back to his best. As Sir Alex has said in the past, Wayne wants to start every match for United. Playing alongside Van Persie, you can see why.
Today, he scored his first two goals of the season, including his 200th club goal. He also made one for Welbeck. His scoring rate at United alone is 0.5. Pretty impressive for a guy who usually starts behind the main striker.
Valencia 7/10
"Tony" didn't have his best day today, but he skinned his full-back more than once, put over a couple of crosses that weren't converted and slid a perfect ball in for Van Persie to convert at the near post.
He always gives 110 percent which is why we've scored him seven rather than six. He wasn't quite as effective defensively today as normal but does enough to slow down the opposition, and unlike Scholes, rarely gives away a free kick.
In one hilarious moment, he shows that he still doesn't have a left foot when that was the only peg to hit the ball with. He made us amateurs look like superstars as his tame effort was calmly scooped up by the excellent Eyal Begovic.
Van Persie 8/10
It's hard to imagine ever scoring Robin less than eight out of ten. His work rate is superb, despite a full international for Holland in midweek.
He is one of the most intelligent players United have ever had. He also has a much better left foot than his right, but it is oh, so, sweet!
In one wild moment this afternoon, the thought occurred that this guy could play at least another five years for United, and he would be a more than adequate replacement for Scholes in three years' time. (Not suggesting that the Ginger Prince will still be strutting his stuff then, of course!)
His goal showed why he is one of the best and most instinctive strikers in the world. What a schooling Chicharito, Welbeck, Keane and the rest are having—first, Michael Owen, and now, Robin Van Persie.
For the record, he scored 37 goals in 48 appearances for Arsenal last season.
For United, he has eight in 10 already (and two of those were as substitute). MVP anyone?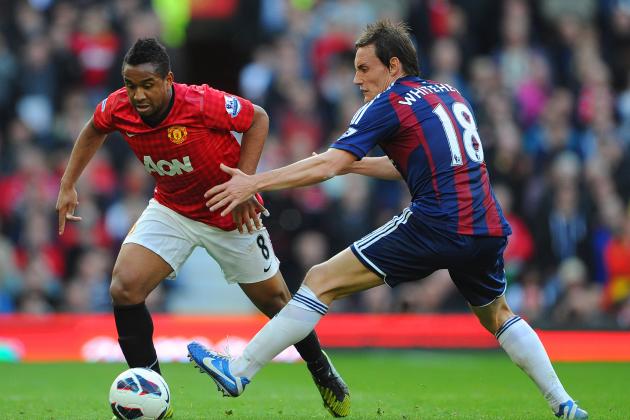 Michael Regan/Getty Images
Anderson
Anderson 6/10
What does Anderson have to do to get a start? Cleverley wasn't available due to 180 minutes of flat-out football in a week.
Surely, the Newcastle match showed that United can be unbeatable if they start with Carrick or Fletcher in a holding role and either Cleverley or Anderson alongside him?
As soon as Ando came on, the energy levels lifted. He takes players on, and by virtue of his greater mobility and pace, he inhibits the opposition midfield.
He also made the point to his manager that "anything Scholes can do, I can do better" as he pinged first a right foot and then a left-footed long pass onto a sixpence for Evra.
Nani 5/10
Had very little time to make an impact but looked sharp right away and nearly scored with an acute angle shot.
More mobile, responsible and committed than he has been.
Chicharito 5/10
Also had little time to make an impact. Did nothing wrong and a lot of things right. This cameo suggested he may be back to his sharpest best, with a more rounded contribution than in the past.