Oregon Football: Winners and Losers from the Week 8 Game vs. Arizona State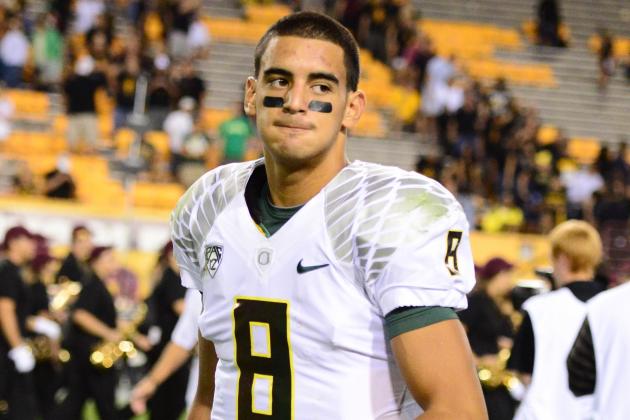 Mark J. Rebilas-US PRESSWIRE

Arguably, the biggest winner from Thursday night's Oregon vs. Arizona State game was the Ducks' overall football program. Finally, the rest of the country had an opportunity to watch Oregon play without prying their eyelids open with toothpicks.
And watch they did, almost two million viewers for the 9 p.m. (EDT) start. Suddenly, fans from Alabama, Florida, USC and other nationally ranked schools are trolling for any information about the Ducks and weighing in on how Oregon compares to their teams.
It may feel like a loser when Oregon watches its BCS ranking drop to No. 4 after computer-loving performances by Florida and Kansas State. But, the eyeball factor of this game will help the Ducks down the road when the computers catch up.
There were several individual and unit winners and losers in this one as well.
Take a look and see if you agree.
Begin Slideshow

»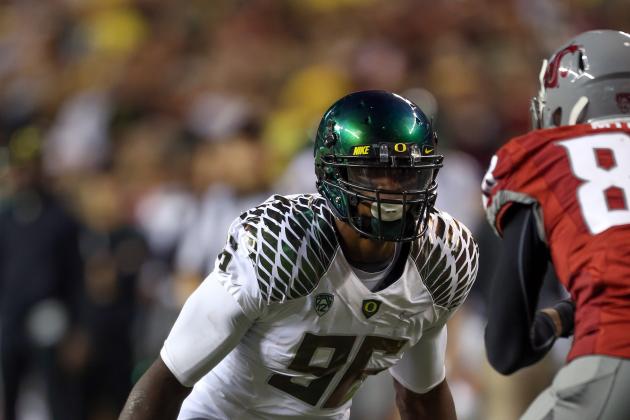 Otto Greule Jr/Getty Images

Poor Taylor Kelly. Every time the ASU quarterback looked up, he had Oregon defenders like Dion Jordan, Boseko Lokombo and Kiko Alonso in his face and bearing down on him.
Oregon's D-line—even without suspended tackle Isaac Remington—was fearsome Thursday night. Dion Jordan had two sacks and five tackles in the first half and really set the tone for the entire game.
The linebackers swarmed the Sun Devils' offense. Junior LB Boseko Lokombo's interception on the first play of the second quarter was Kelly's first interception in 103 passes. That pick seemed to deflate ASU and really marked the end of the competition.
Oregon's front seven was a major factor in this victory for the Ducks, maybe the factor.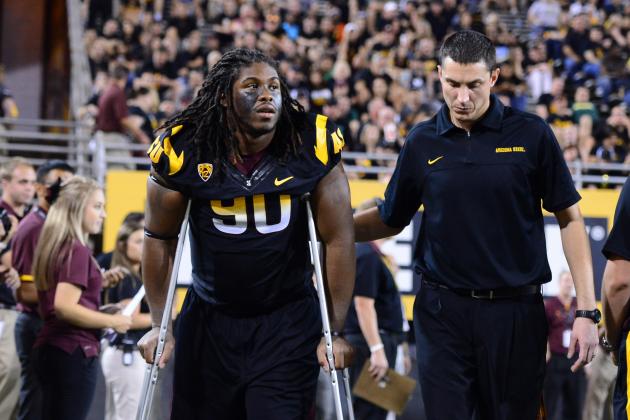 Mark J. Rebilas-US PRESSWIRE

Anyone who follows Pac-12 football knows that ASU defensive tackle Will Sutton is a force to be reckoned with.
Personally, I was looking forward to learning how Marcus Mariota and the Ducks would respond to Sutton's pressure up front. And, I'm sure that Sutton was looking forward to showcasing his talent on this glamorous Thursday night matchup on ESPN with the country watching.
Unfortunately, big No. 90 went down with an injury on the second play from scrimmage and was unable to return to the game. Good news on Friday reported by The Arizona Republic was that Sutton had an MRI Friday morning and "received a good prognosis." He is "week-to-week."
Still, Sutton lost out on a great opportunity to show football fans everywhere what he can do on the field.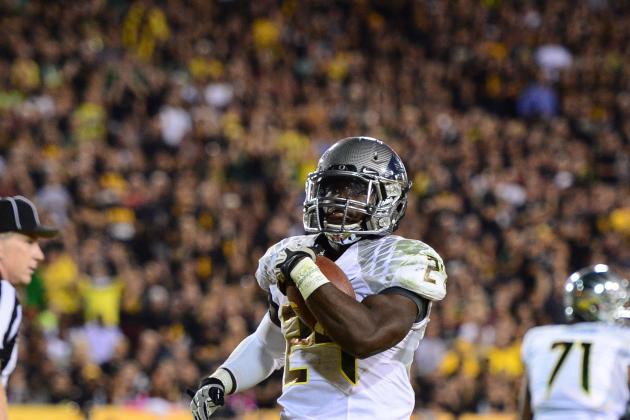 Mark J. Rebilas-US PRESSWIRE

Whatever running back coach Gary Campbell said to his star Kenjon Barner at halftime of the Washington State game in Seattle worked. Barner has been a demon since then.
Going into this game, it was obvious that the only weakness in ASU's No. 8-ranked defense was its run coverage. I expected a big night for Barner, and he did not disappoint. Barner ended up with 143 yards on 16 carries with three big touchdowns, including one 71-yard run where he looked like he'd been shot out of a cannon.
Barner has been steadily climbing up the nation's rushing stats leaderboard, and he's currently ranked No. 8. He has 870 total yards on the year, for a 6.6 yards per rush average. Of the top 10 rushing leaders, Barner's 12 touchdowns are second only to Nevada's Stefphon Jefferson's 14 TDs.
If Oregon keeps winning and Kenjon Barner keeps playing at this pace, he deserves to be in the Heisman conversation.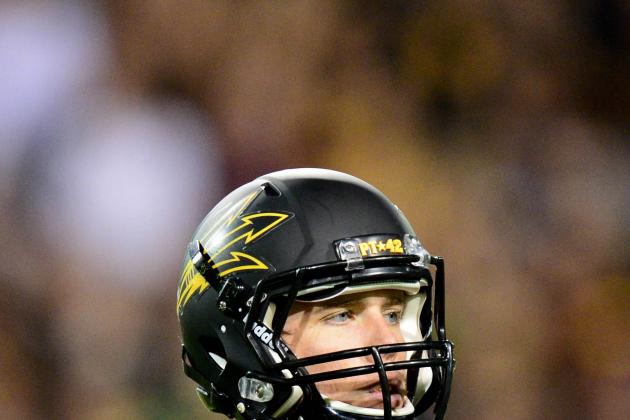 Matt Kartozian-US PRESSWIRE

Taylor Kelly was riding high on a wave of success, and in one quick half, it all came crashing down.
The sophomore quarterback, who won the starting job in a tough, three-way contest, has put up stunning numbers all season long and entered this game ranked fourth in the nation in passing efficiency. But in this big game for the Sun Devils, Kelly was only 10-of-18 passing for 93 yards. He did get one TD but had two interceptions and ate dirt for dinner five times.
He is still in the top 10 for quarterback efficiency nationwide, coming in at No. 8, but the Ducks exposed some weaknesses in Kelly's game. Beyond that, he looked rattled at times—not that you wouldn't be too if Dion Jordan and Kiko Alonso were trying to kill you.
Bottom line for me was that Kelly looked...young—like a boy playing among men.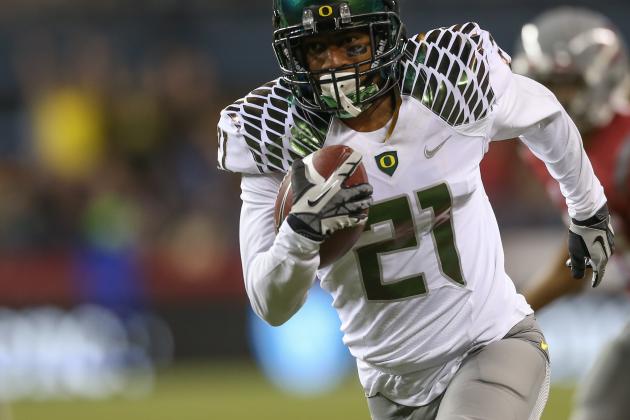 Otto Greule Jr/Getty Images

Avery Patterson has now intercepted a pass in three straight games. Lots of DBs go their entire college careers without a single interception. Three. Straight. Games.
If you read this space often, you know that I spent a day on the floor of my closet sucking my thumb in the dark when John Boyett went out for the season. Oregon didn't really have a two-deep depth chart at safety; it was Boyett's job.
To my, and everyone's amazement, Patterson has stepped up beyond belief in Boyett's absence. The defensive back has turned into one of the premier free safeties in the Pac-12. He has 111 yards off the three interceptions and has scored two touchdowns.
Clearly, Boyett has taken Patterson under his wing and is likely feeling like a proud big brother.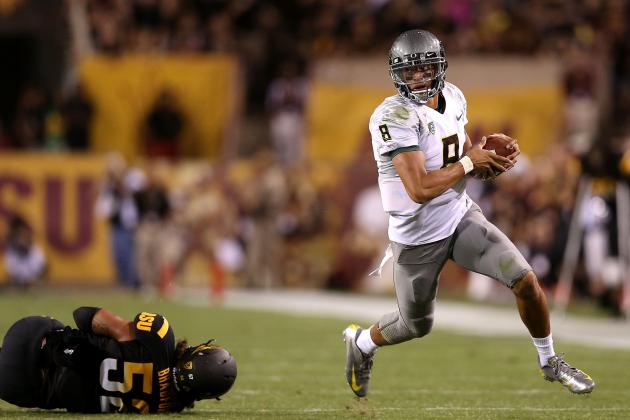 Christian Petersen/Getty Images

How many quarterbacks do you know who have scored touchdowns for their team passing, running and receiving?
Not very darn many. The last time an Oregon quarterback did it was Joey Harrington in 2000 at the Holiday Bowl.
So much for the first big away-game test for Mariota. If that was a test, give him an "A+." Even after that gross fumble in the opening moments of the game, Mariota did not flinch. He seems to shake off bad things and good things equally well and is very even-keeled.
Whereas Taylor Kelly seemed young and inexperienced on the big stage, Mariota seemed old and wise for his years and experience.
A huge game for Mariota and you have to believe that he's just getting started.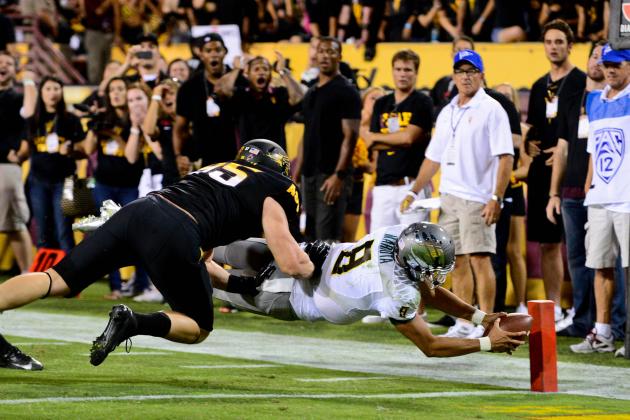 Matt Kartozian-US PRESSWIRE

Going into this game, ASU's defense was ranked No. 8 in the country. They were expected to slow down Oregon's high-flying offense and scare the Ducks' redshirt freshman, inexperienced quarterback.
Losing defensive standouts Will Sutton and Junior Onyeali early in the game certainly didn't help the Sun Devils' cause. But one comes away with the feeling that Oregon would have scored its points no matter what.
The Ducks scored 43 points in the first half, and if the first 11 guys had played in the second half, you and I know it would have been much worse for the ASU defense.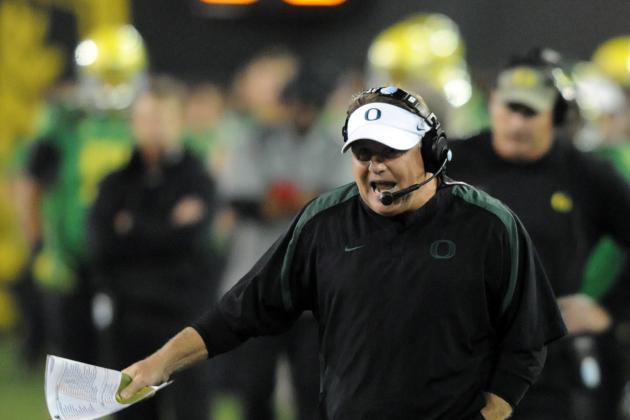 Steve Dykes/Getty Images

Oregon had an excellent game plan for this road test with ASU—on both sides of the ball. The offensive play-calling was brilliant from the two-point conversion after the first touchdown to the last play of the game.
Running the ball right at ASU's D-line was the recipe for success, and the Ducks shoved it down their throats from the get-go.
Defensively, the pressure the front seven put on Taylor Kelly rattled him early. And, whatever drill Nick Aliotti has the DBs doing in practice to catch balls, please keep doing it.
But, this game was won before it even started. Somehow, Chip Kelly gets these kids all on the same page and convinces them that even a big road test is business as usual. They come out slightly amped—they are kids, after all—but it really feels more like they are just going to work.
It's brilliant coaching, and it starts at the top.