Iowa Hawkeye Football: 5 Keys to the Game vs. Northwestern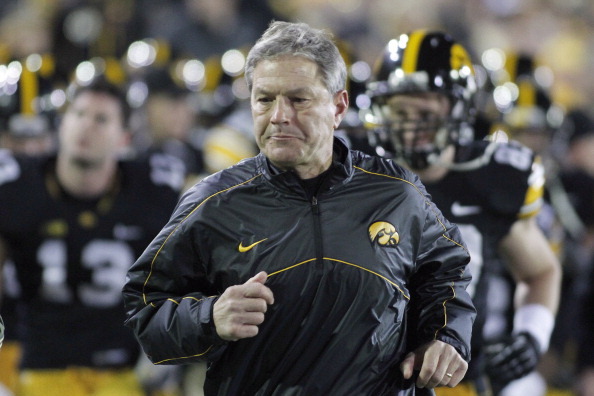 Matthew Holst/Getty Images

They say the true measure of a team's character is how it responds to adversity.
Well, the 2012 Iowa Hawkeyes are in about the most adverse conditions the program has seen in a while.
Iowa is 4-3. Last week, the Hawks received their worst home-game beatdown—regardless what the score said—since 2000.
Three games before, Iowa lost a home game to MAC doormat Central Michigan, a team that has not won a game since beating the Hawkeyes.
Against PSU, Iowa lost two starting offensive linemen for the year (per the San Francisco Chronicle), the passing game is a wreck and the defense, while it is improving, is young.
At this point, getting to six wins looks to be a stretch.
Meanwhile, 6-2 Northwestern still has a shot—though a long shot—of winning the division and getting to the Big Ten Championship game.
The recent history between these two teams has been dramatic, but this game is something of a role-reversal in which Iowa has the chance to be the spoiler.
Begin Slideshow

»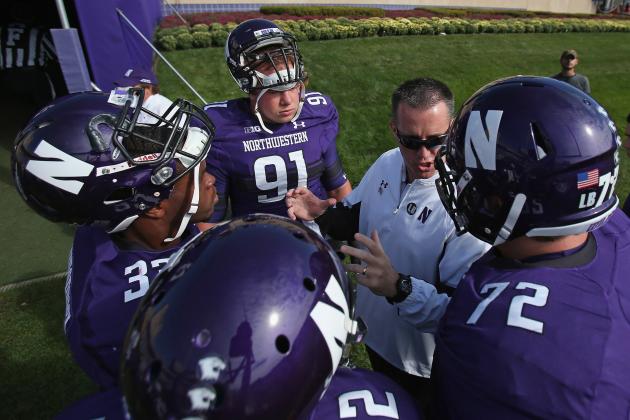 Jonathan Daniel/Getty Images

Head Coach: Pat Fitzgerald (seventh year as head coach)
Last Game: 28-29 loss to Nebraska
2012 Record: 6-2 (2-2 in conference)
Previous Opponents: At Syracuse (W), Vanderbilt (W), Boston College (W), FCS South Dakota (W), Indiana (W), at Penn State (L), at Minnesota (W), Nebraska (L)
Combined Record of Previous FBS Opponents: 23-26
2012 Season, So Far, in 20 Words or Less: The Cats are two quarters and 14 points away from being undefeated. Lack of depth has been their downfall.

Northwestern Record, Last Five Years: 2011, 6-7; 2010, 7-6; 2009, 8-5; 2008, 9-4; 2007, 6-6
2012 Scoring Offense: 30.8 points-per-game (fifth in the Big Ten)
2012 Scoring Defense: 23.0 points-per-game (seventh in the Big Ten)
Returning Starters: Five on offense, five on defense and both specialists
Offensive Scheme: Spread
Defensive Scheme: 4-3
Iowa's All-Time Record vs. Northwestern: 46-23-3
Last Five Meetings vs. Iowa: 2011, 31-41; 2010, 21-17; 2009, 17-10; 2008, 22-17; 2007, 17-28
Key Injuries: Nick VanHoose CB, doubtful; Quinn Evans CB, doubtful; Hunter Bates S, questionable; Demetrius Dugar CB, questionable: Venric Mark RB, probable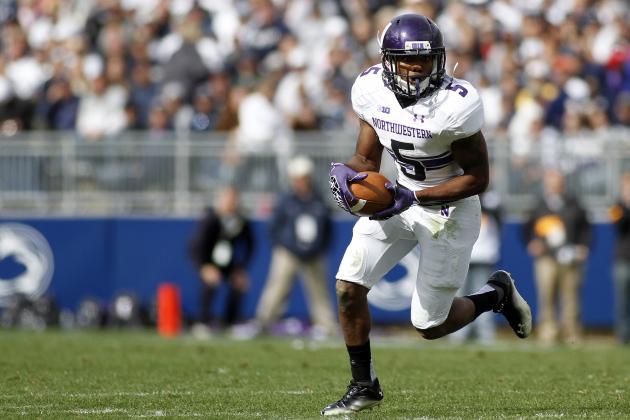 Justin K. Aller/Getty Images

NU's Venric Mark and Kain Colter give new meaning to the word "ubiquitous."
Colter is second on the team in rushing, fifth in receiving and is also a solid passer having completed 70 percent of his 80 attempts this year.
Meanwhile, Mark spent his previous two seasons in Evanston as a receiver. He has always been a dangerous return man, but his move to running back this year has spurred what has been one of the conference's worst rushing attacks for the past few seasons.
Mark is fifth in the conference in rushing, sixth on the team in receiving and is the No. 1 punt returner in the country. He also returns kicks.
On offense, both Colter and Mark can burn their opponents out of any position on the field.
Iowa is not going to shut either of them down, but the Hawkeyes will have to contain them in order to keep the Northwestern offense from running wild on the Iowa defense.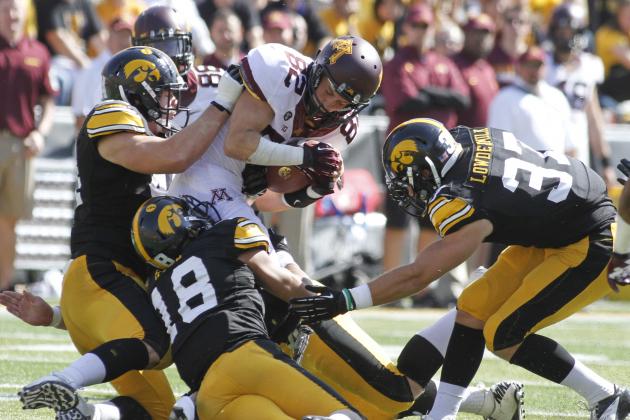 Matthew Holst/Getty Images

Northwestern has the most versatile receiving corps in the conference.
Seven different players have caught at least 10 passes.
Neither NU quarterback—the aforementioned Kain Colter and sophomore Trevor Siemian—has been exceptional as a passer, but both have been adequate and both can get the ball to their pass-catchers.
Moreover, as Iowa fans well know, the Wildcats are the kings of nickel and diming the ball down the field.
The Hawkeye linebackers and defensive backs will have to play tight coverage and make sure that the 'Cats earn every yard they get.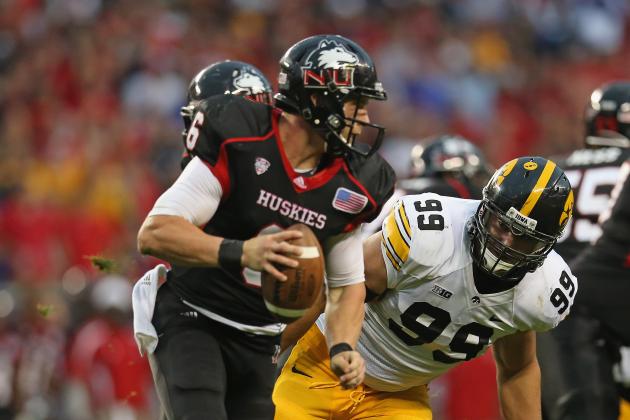 Jonathan Daniel/Getty Images

The Iowa defense cannot afford to commit players to the blitz. The back seven will have too much to worry about in terms of covering the NU receivers and sweeping up the run game. In effect, the front four will have to generate the pass rush alone.
This is a lot to ask from this young defensive line.
It had been making steady progress before the Penn State game.
That said, neither of the 'Cats' quarterbacks are former Hawk-killer Dan Persa (at least, not yet). Both can be rattled.
Colter is the more athletic of the two, and when he is in the pocket, the front four have to make sure that he stays there.
Siemian is not a statue, but is nowhere near the athlete Colter is. When he is taking the snap, the ends have to make sure he doesn't get comfortable.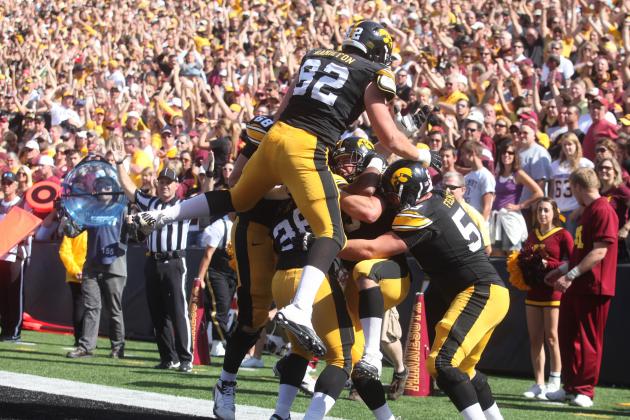 Matthew Holst/Getty Images

Iowa is tied for 118th in the country at turning red-zone opportunities into touchdowns.
This will not turn into a defensive showdown ala Iowa's win over Michigan State. Northwestern will score points. If the Hawkeyes are to beat Northwestern on the road they will have to maximize their opportunities.
That means anything reasonable inside the 20-yard line should be four-down territory.
Aside from Northwestern's ability to put points on the board, the Hawks don't want to get into a kicking contest with the Wildcats.
NU's junior kicker Jeff Budzien is having a stellar year, having made 11-of-12 field-goal attempts. His one miss was a 53-yarder against Nebraska.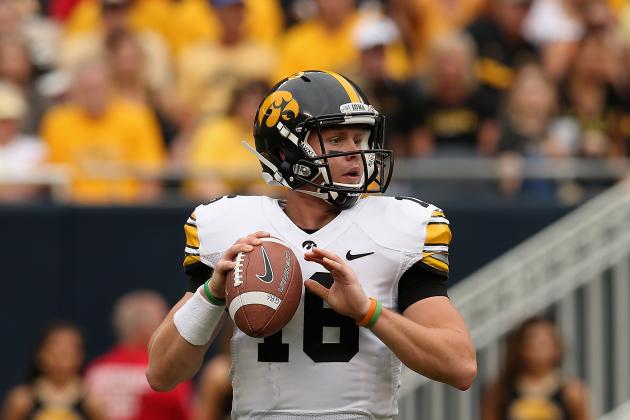 Jonathan Daniel/Getty Images

The woes of the Iowa passing game (via Hawkeyegamefilm on Hawkeyenation.com), and specifically of quarterback James Vandenberg, have been well documented.
NU is the 54th-ranked passing defense (opponents' efficiency rating) in the country—10th in the Big Ten—and it is down both starting cornerbacks, not to mention multiple backup defensive backs.
The only potentially worse pass defense that the Hawks will see for the remainder of the year is Indiana.
The 'Cats will load up the box and do everything in their power to take away Iowa's running game, and they will be successful if Iowa doesn't burn them repeatedly and deep through the air.
If some sort of breakthrough doesn't happen this game, it's not going to happen.
And if it doesn't happen, Iowa won't score more than 14 points on offense, which will not be enough to beat the Wildcats.
None of the other keys to the game matter if the Hawkeyes can't do this.