NHL Lockout: Picking an All-Star Team of Locked-Out Players Playing Elsewhere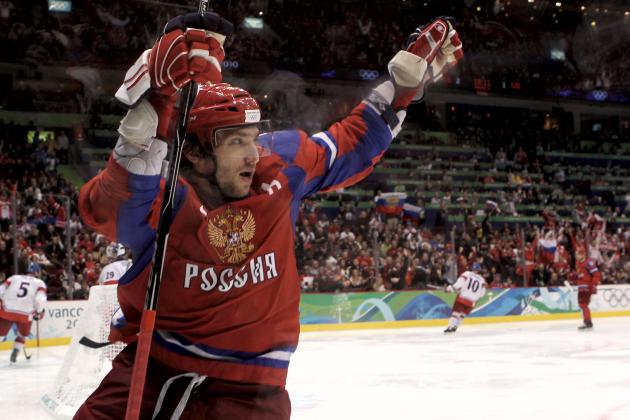 Bruce Bennett/Getty Images

During the NHL lockout, an exodus of players made the decision to play in a variety of leagues in Europe. With the lockout still in effect, these players will spend quality time overseas, but what would happen if all the players overseas decided to unit to form an NHL All-Star team?
Could you imagine what would happen if ESPN aired a game featuring a team made up of KHL All-Stars vs the NHL's locked out players overseas?
Here is an all-star team featuring the best of the NHL's players overseas.
Begin Slideshow

»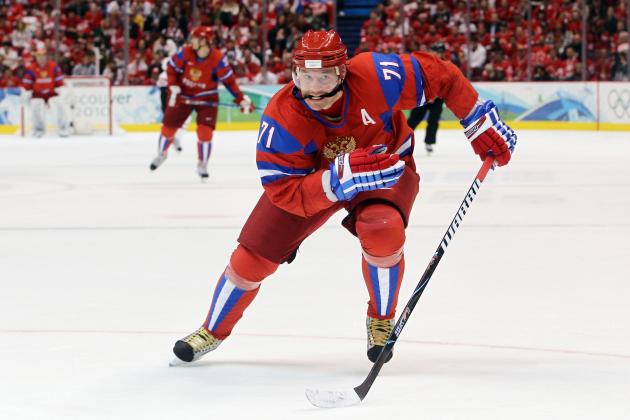 Bruce Bennett/Getty Images

Line 1: Ilya Kovalchuk
The New Jersey Devils' sniper is tearing it up in the KHL alongside St.Louis Blues' prospect Vladimir Tarasenko. Kovalchuk is a top notch player full of speed, skill and he possesses a blistering wrist shot.
Line 2: Alex Ovechkin
Alex Ovechkin is one of the NHL's top goal scorers who decided to head over to the KHL. Ovechkin is currently skating for Dynamo Moscow, and he is starting to play like the player fans came to know and love during his early years in Washington.
Line 3: Henrik Zetterberg
Henrik Zetterberg decides to join EV Zug of the Swiss Elite league during the lockout. On this team Zetterberg would be a third line winger, but he would play special teams because of his versatile toolset.
Line 4: Evander Kane
The Winnipeg Jets youngster is currently skating for Dinamo Minsk of the KHL. He is a dynamic player who is a top-six forward for the Winnipeg Jets, but he gets knocked down a peg on this All-Star studded team featuring Ovechkin and Kovalchuk at left wing.
Bench: Thomas Vanek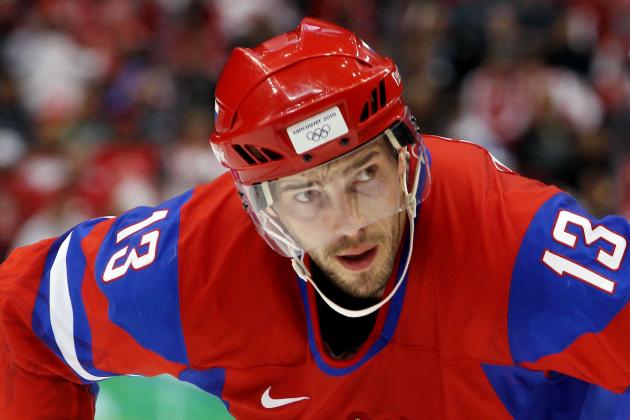 Bruce Bennett/Getty Images

Line 1: Pavel Datsyuk
The lockout enabled the Detroit Red Wings' puck wizard to suit up for CSKA Moscow in the KHL. He is playing with fellow NHLer Mikhail Grabovski. Datsyuk is arguably one of the best locked out centers in Europe and he is a player who is dynamic no matter where he plays.
Line 2: Evgeni Malkin
Evgeni Malkin was the NHL's top player during the 2011-12 season, and he should continue to tear it up in the NHL. On this team, Malkin would have the luxury of playing with Alex Ovechkin and Tyler Seguin.
Line 3: Joe Thornton
Joe Thornton returned to HC Davos to play with buddy Rick Nash in the Swiss A league. Both Thornton and Nash look like men amongst boys in the Swiss league, and this duo would make a formidable trio with Henrik Zetterberg on the third line.
Line 4: Anze Kopitar
Anze Kopitar is coming off a great season with the Los Angeles Kings, and he is finally starting to look like a center who can dominate offensively. Kopitar has the speed, shot and instincts to make an impact on this team.
Bench: Jason Spezza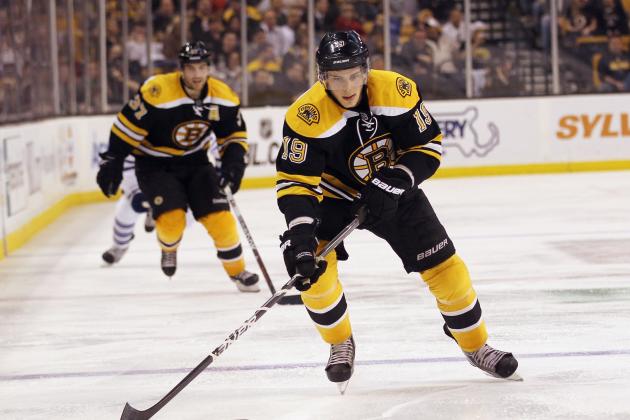 Bruce Bennett/Getty Images

Line 1: Nail Yakupov
The NHL's 2012 No. 1 draft pick is currently tearing it up in the KHL. Although the lockout sucks because there is no NHL hockey, a line of Kovalchuk, Datsyuk and Yakupov would be an amazing line that could have probably went toe-to-toe with the famous K-L-M line of the Soviet Union's Red Army.
Line 2: Tyler Seguin
The Boston Bruins' star forward decided to make the journey to Europe to skate for EHC Biel of the Swiss Elite League. He is a star on the rise, and he would have an amazing time playing with Alex Ovechkin and Evgeni Malkin.
Line 3: Rick Nash
Rick Nash slots in on the third line of this All-Star team, and he would skate alongside buddy Joe Thornton and Henrik Zetterberg. This line would feature scoring, solid two-way play and veterans of hockey.
Line 4: Alexander Semin
Alexander Semin would be in his comfort zone on this team, because he would be playing overseas and he would be surrounded with a ton of his fellow countrymen. Semin has a lot of talent and he would thrive on this fourth line with Anze Kopitar as his pivot.
Bench: Daniel Briere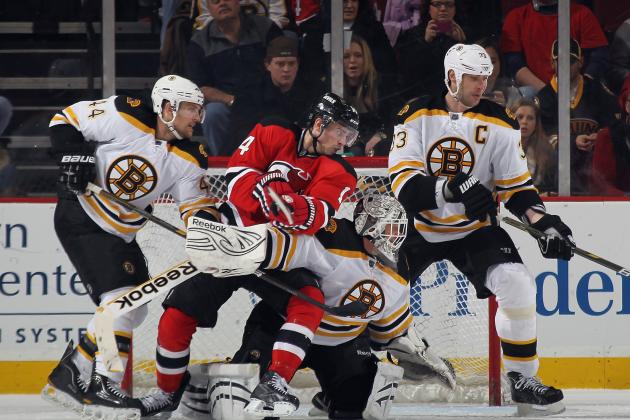 Bruce Bennett/Getty Images

No.1 Defenseman: Zdeno Chara
Having Zdeno Chara anchor this team's blue line would give the All-Stars a huge advantage over the competition. His booming shot, ability to play sound defense and his physical presence would make him the ideal No.1 d-man for this team.
No.2 Defenseman: Dennis Seidenberg
Pairing Seidenberg with Chara would automatically increase the team's defensive chemistry. Whenever you can pair up real life NHL teammates on an All-Star squad, it always ends up working in your team's favor.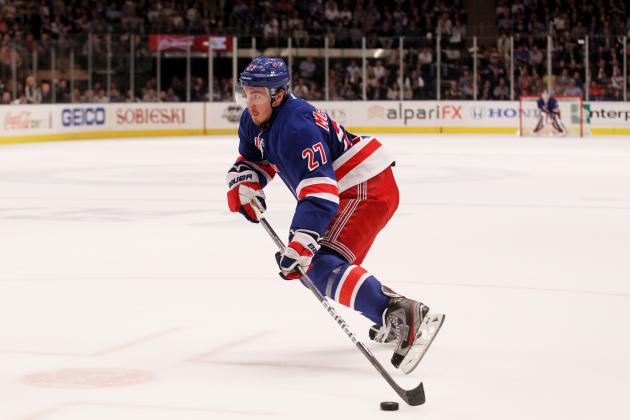 Bruce Bennett/Getty Images

No. 3 Defenseman: Ryan McDonagh
Ryan McDonagh is going to be the next star defenseman in the NHL. He is one of the best shot blockers, he has an offensive side to his game, he eats up big minutes and has impeccable speed that allows him to maintain great positional coverage at all times.
No.4 Defenseman: Erik Karlsson
Erik Karlsson had an amazing 2011-12 NHL campaign, and he captured the Norris Trophy for his efforts. Playing alongside McDonagh would allow Karlsson to take more risks offensively, because McDonagh's speed would cover up if Karlsson got caught pinching too far in throughout the game.
This defensive pairing would serve as the team's second No.1 pairing, but they would likely receive second-pairing minutes.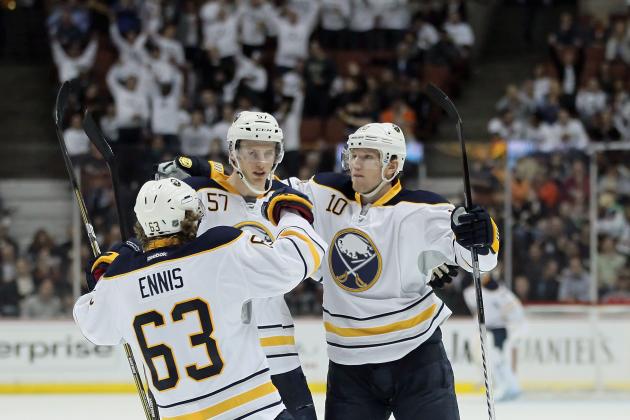 Jeff Gross/Getty Images

No.5 Defenseman: Tyler Myers
This Buffalo Sabres defender has a hulking frame and a booming shot that would make him a useful asset on the third pairing, and one of the main power play units. Myers is a defenseman who is stil developing his game, but he is a defender on the rise.
No.6 Defenseman: Christian Ehrhoff
Keeping the two Buffalo Sabres together would allow for continuity and chemistry on the third pairing. Ehrhoff is a talented defender who has a solid shot, and he could be useful on the power play because of his lethal wrist shot.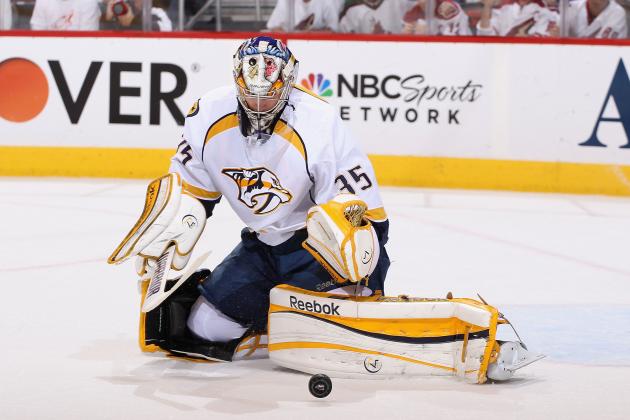 Christian Petersen/Getty Images

Pekka Rinne would be the team's No. 1 goalie and the de-facto starter. Rinne had an amazing 2011-12 campaign in which he finished third in the Vezina Trophy voting. The Nashville Predator's netminder also led the league with 43 wins.
Rinne's frame, quick lateral movement and instincts would give him and his team the ultimate advantage.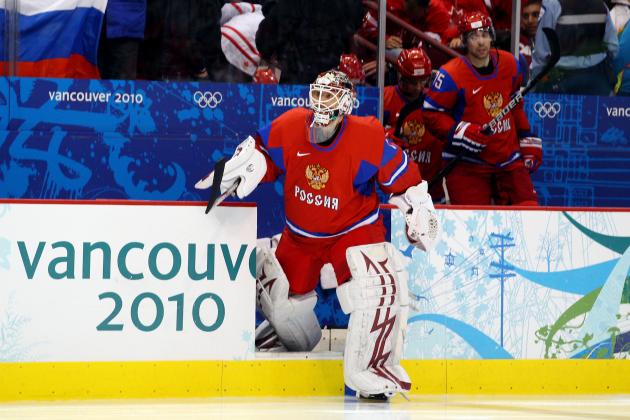 Cameron Spencer/Getty Images

Ilya Bryzgalov would backup Pekka Rinne as the All-Star team's No.2 netminder. Bryzgalov had a tumultuous first year with the Philadelphia Flyers, but he did have consistent success as a member of the Phoenix Coyotes.
Overseas, Bryz would be in his comfort zone, and he would be able to concentrate on hockey, and not dealing with the media.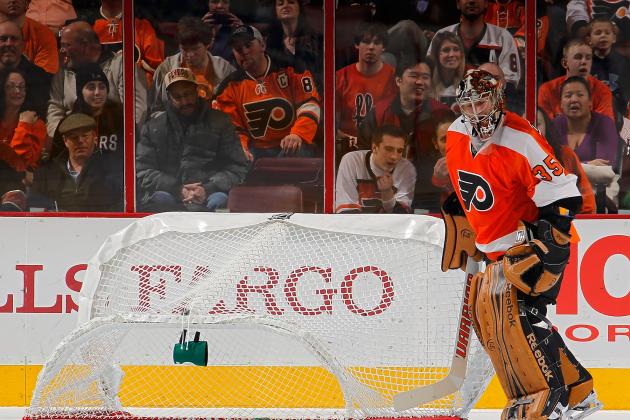 Paul Bereswill/Getty Images

Sergei Bobrovsky would complete the goaltending trio as the team's third goaltender. In the case of an injury or an emergency, Bobrovsky would dress as the backup during the All-Star series. The young netminder has earned 42 wins during his young 83-game career.
He should have been the goaltender of the future for the Philadelphia Flyers, but the team decide to turn to Ilya Bryzgalv.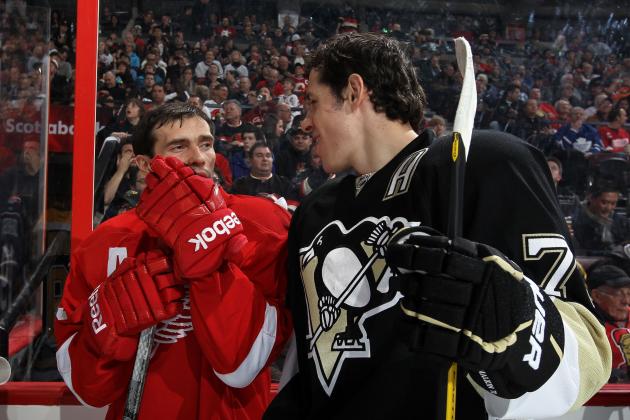 Bruce Bennett/Getty Images

Here is what the starting lineup would look like for the NHL lockout All-Star team.
| | | |
| --- | --- | --- |
| Left Wing | Center | Right Wing |
| Ilya Kovalchuk | Pavel Datsyuk | Nail Yakupov |
| Alex Ovechkin | Evgeni Malkin | Tyler Seguin |
| Henrik Zetterberg | Joe Thornton | Rick Nash |
| Evander Kane | Anze Kopitar | Alex Semin |
| | |
| --- | --- |
| Left Defense | Right Defense |
| Dennis Seidenberg | Zdeno Chara |
| Ryan McDonagh | Erik Karlsson |
| Christian Ehrhroff | Tyler Myers |
Goaltenders
Pekka Rinne
Ilya Bryzgalov