2012 NLCS: 3 Reasons St. Louis Ends Series Tonight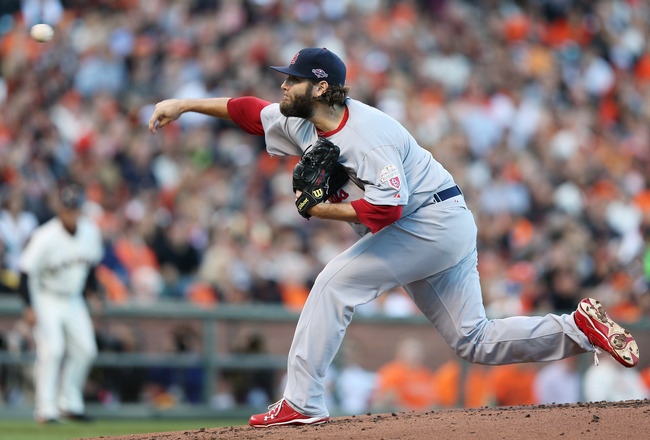 Lynn should bounce back from his shaky Game 1 start
Ezra Shaw/Getty Images
As we approach what could be the clinching Game 5 for the St. Louis Cardinals, their fortunes saw a big boost when Carlos Beltran was officially put in the lineup for tonight's game.
Looking to end this series and prepare for the American League Champion Detroit Tigers, the Cards will hope to strike quickly against San Francisco and starter Barry Zito.
There seems to be a growing sense that if the Cardinals don't clinch tonight, they might live to regret it like they did in 1996 after facing the Atlanta Braves. While I am not quite that negative in my assessment, I do believe it will be a moot point.
Why?
Because the series is going to end tonight.
Here are three reasons why:
3: If Zito Struggles, There's No Life Preserver for Giants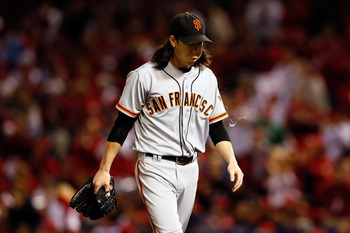 The Lincecum gamble backfired, leaving the Giants lacking a long relief option
Kevin C. Cox/Getty Images
Barry Zito, oh what 10 years will do.
Once upon a time, Zito was among the 3-4 best pitchers in baseball, and his 23-win, Cy Young Award-winning season in 2002 was the apex of a career many thought would be enhanced upon his arrival at the spacious AT&T Park.
Instead, he has been an oft-wild, inconsistent fifth starter who simply has not delivered the goods for the Giants when it counts.
This year's "renaissance" (15-8 record, 4.15 ERA) has largely been attributed to his very generous run support. For San Francisco, that is their only chance to get this series back to the Bay Area.
The problem is, if Zito struggles—and his track record suggests he will—then the Giants don't have the literal ace up their sleeve in Tim Lincecum to come out of the bullpen.
Lincecum's uneven Game 4 start (and loss) eliminated the Cy Young tag-team the Giants used against Cincinnati in Game 4 of the NLDS.
Why does that matter?
Because the Cardinals have had great success against Zito.
David Freese is hitting .375 lifetime. Allen Craig .400 with three home runs in 10 at-bats. Yadier Molina .375 against Zito. Jon Jay is hitting .600 (though in a small sample). The point is, this lineup is familiar with and has had plenty of success against Zito.
That means, unless Lance Lynn implodes (and he hasn't exactly been a circa '99 Pedro Martinez either this postseason), San Francisco will probably have to score 5-plus runs to win.
Considering they've averaged two in St. Louis so far, that might be a tough task even for this resilient team.
2: Craig, Allen Craig.
Craig's success against Zito could be on full display tonight
Kevin C. Cox/Getty Images
In 10 at-bats, Allen Craig has three home runs off of Barry Zito.
Zito knows that.
As such, Craig may be pitched to very carefully. What that does is set up the rest of the lineup to benefit from it. Yadier Molina, David Freese, and Daniel Descalso will have opportunities to deliver tonight.
Speaking of delivering, Matt Carpenter did a yeoman's job taking the place of Carlos Beltran in the last two games.
So much so that you almost forgot that the greatest postseason slugger in baseball history was gone. But like Marvin Gaye and Tammi Terrell famously sang, ain't nothing like the real thing, baby.
That means having Beltran back makes this dangerous lineup that much more potent.
Through the first two games, Beltran was on his way to possibly being the MVP of this NLCS. Facing Zito turns his bat around, but it also gives balance to the lineup, since Carpenter would have likely dropped from the number two spot. The triumvirate of Beltran, Matt Holliday and Craig may spell an early doom for the Giants tonight.
You heard it here first.
1: Clutch Is More Than a Car Part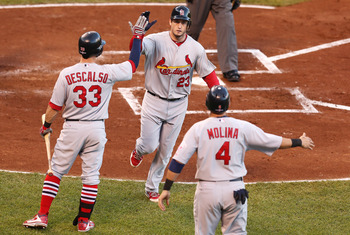 Quite simple, St Louis has made the plays San Francisco hasn't
Christian Petersen/Getty Images
The sum of this series is pretty simple:
Through four games, the San Francisco Giants are 8 for 32 with runners in scoring position, or .250 overall. The last two games, both losses, they are 1 for 12.
The Cardinals, on the other hand, are 9 for 29, or .310 overall.
They have done more with less than the Giants have had in this series. When you factor in that the lone Giants win (Game 2) saw San Francisco go 4 for 14 and St. Louis 0 for 7, the averages separate even more drastically. The Giants are hitting 4 for 18, or .222 in their three losses; the Cardinals are hitting 9 for 22, or .409 in their three wins.
In a series expected to be hotly contested and dragged out to the limit, there is usually some telltale stat that makes the difference.
It has been situational hitting by far in this NLCS.
St. Louis has taken advantage of their chances and San Francisco has not.
While Barry Zito did outpitch Lance Lynn on August 7th, that seems like a light year ago, compared to the present time and place. No Melky Cabrera, a struggling Buster Posey and the emergence of role players like Descalso have the Cardinals looking like, well, the Cardinals of 2011.
I don't think the Giants are going to give St. Louis anything. They haven't in the first four games. Honestly, I just think the better team is going to take it tonight.
That team is the St. Louis Cardinals.
Final Analysis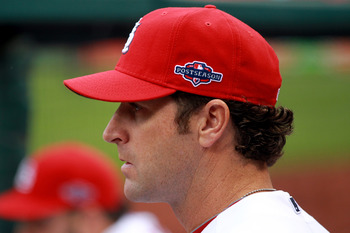 It's shaping up to be quite the opening act for Matheny
Dilip Vishwanat/Getty Images
Sports has a funny way of providing symmetry sometimes.
Back in 2002, the Giants and the Cardinals met in the NLCS, but the St. Louis had home field advantage. Much like this year, the road team quickly set the tone in Game 1 and powered to a 3-1 series lead.
The question tonight is: Do the champion Cardinals put the Giants away, or do they risk tempting their fortuitous fate by going back to San Francisco?
They could take a page from the 2002 Giants' book. In it, they advanced to the Fall Classic on a Kenny Lofton base hit in the ninth inning.
All signs point to St. Louis sealing the deal.
You already know my feeling about it personally. I will close with this caveat, however: They say that those who don't know their history are condemned to repeat it. The Cardinals will be best suited not to have to risk becoming history on San Francisco's home field.
If they somehow fail to finish the Giants with their fifth starter going, it could be 1996 all over again.
Keep Reading

St Louis Cardinals: Like this team?