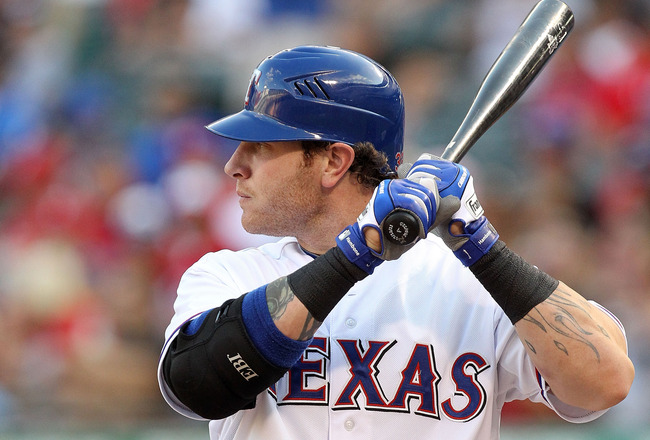 Ronald Martinez/Getty Images
Toronto has been aching for a playoff-contending Blue Jays team since 1993. Prior to the 2012 season, Blue Jays fans had hope that this year was it.
Rumors of big name acquisitions like Yu Darvish and Prince Fielder circled over the Blue Jays, leading us to believe this team was a serious contender.
What happened?
Of course the Blue Jays ownership believed that those players were not worth the money, and they went to Texas and Detroit respectively—two teams that made the playoffs.
Maybe it was for the better as the Blue Jays have a wonderful situation this off-season.
The Yankees have pretty much collapsed at the end of the 2012 season, the Red Sox are in rebuilding mode, and the Orioles' success is speculated by many to not to last.
That just leaves the Rays as the strongest competitor in the division—an organization that will most likely not go past $70 million in payroll.
These five players are going to look the best in that blue uniform in my opinion and help bring October baseball north of the border. Take note, Alex Anthopoulos!
Honorable Mentions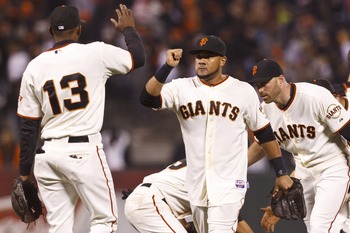 Jason O. Watson/Getty Images
Josh Hamilton
Wait, what? Are you saying that one of the best hitters in baseball didn't make your list?
That's exactly what I'm saying.
It's not because I think the offense doesn't need him, or Josh Hamilton's alcohol problems will affect his performance. (Isn't it funny that the best two hitters in baseball both have alcohol problems?)
It's just that Blue Jays ownership will never, ever pay what he will ask. Pujols-type contract till he is 41? Absolutely no way.
Melky Cabrera
Great bat but does steroids and has attitude problems.
Shaun Marcum
I don't want to take anything away from Shaun Marcum. He is a great pitcher and a fun guy to be around in the clubhouse.
A former Blue Jay that will most likely would love to come back and pitch in Toronto—but the Blue Jays don't need any more No. 2 and No. 3 pitchers; they need an ace.
Brandon McCarthy
Coming off another impressive year with the Oakland A's, I could see McCarthy improving even more in 2013. He is one of my personal favorites, with his pitch repertoire and delivery similar to past Blue Jays ace Roy Halladay.
Billy Beane must see something in him too, though. Being the one of the only pitchers not traded for prospects in 2012, he's most likely going to stay with the A's organization.
Nick Swisher

Swisher Highlights

Nick Swisher is the definition of consistency.
He has had at least 23 home runs and 82 RBI in a season for the past four years with New York.
A switch-hitter, something that Blue Jays lineup lacks, he always has great at-bats and would fit in great in left field in Toronto.
Swisher was originally believed to resign with New York, but the collapse of the Yankee Empire is most likely to push him somewhere else. Hopefully he gets pushed about 300 miles west into Toronto.
The possible contract situation with Nick Swisher is more suited to the Blue Jays' organizational plans—a maximum term of five years, which sounds reasonable.
Jake Peavy

Peavy's 16 Strikeouts with SDP

Not blessed with the best health from 2009-2011, Jake Peavy turned it all around in 2012 with a 3.34 ERA in 35 starts.
Peavy has finally found his fastball command again—the same command that helped him win the pitching triple crown in 2007 with the San Diego Padres.
Peavy's contract situation is that he currently has a team option on his contract for $22 million. This is most likely not going to be exercised.
With his health a concern, he could be signed to a reasonable contract that accommodates for that risk.
A contract of five years and $50 to 70 million might be worth the gamble if 2006-2007 Jake Peavy showed up for even just two seasons with the Blue Jays.
Maicer and César Izturis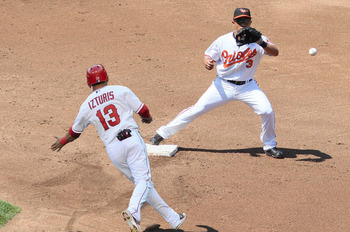 This year's selections at second base and shortstop are very not impressive.
With Kelly Johnson most likely leaving the Blue Jays, it leaves Alex Anthopoulos with three basic options.
1. Resign Kelly Johnson or another second baseman.
2. Move Yunel Escobar over to second and sign a shortstop.
3. Have Adeiny Hechavarria play either second base or shortstop.
Now this is just theoretical, but what if both Izturis brothers were signed to handle the middle infield for the Blue Jays?
Both players will easily adapt to playing with each other as they are brothers, both play great defense, and both players are relatively cheap free agents.
If the experiment didn't work, it is still possible to move one of the two to a backup infielder role, and it would be a low-risk gamble.
Edwin Jackson
Edwin Jackson is a good pitcher. His stats may not be eye-popping, but the hard throwing right-hander has some nasty stuff.
The Blue Jays are reportedly very interested in Jackson with Danny Knobler of CBS reporting off Twitter:
One non-Tiger note from today's Tiger column: Blue Jays had nine different scouts watching Edwin Jackson's final 3 starts this year.
The biggest asset that Jackson brings along with him is his health, pitching at least 183.1 IP for the past four years.
The main problem with Jackson is that his agent is the infamous Scott Boras. Well, hey, thanks for helping us get Colby Rasmus last year, though.
Zack Greinke

Greinke's Stuff

The 2009 Cy Young Award winner is the best arm on the market—and that is just easier to say after Cole Hamels signed an extension with the Phillies.
This selection was probably the most obvious—with pitching the most needed area of improvement for the Blue Jays.
Pop quiz.
What was the Blue Jays' team ERA for 2012? 4.64.
What rank out of 30 MLB teams do the Blue Jays rank? 26th.
How badly do the Blue Jays need an ace to contend on a scale from 1 to 100? 100.
Greinke, Romero and Morrow sounds like a solid top of the rotation to me.
Keep Reading

Toronto Blue Jays: Like this team?
Load More Stories