Ranking the Top 10 Contenders for Champions League Glory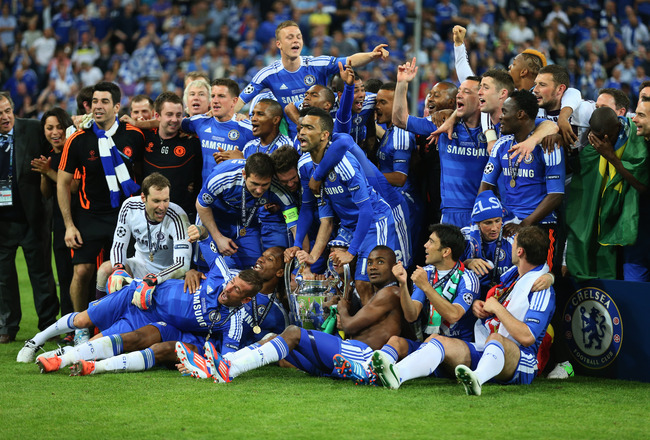 Alex Livesey/Getty Images
Chelsea won't win the Champions League this year, but they will definitely be one of the top 10 contenders.
Last year was a fluke. Playing an uncharacteristic blanket defence and winning on the counter-attack won't work this year. Didier Drogba is gone.
This year the trophy will be won rather than lost. Last year, first Barcelona and then especially Bayern Munich managed to lose it. For the latter this was sheer carelessness, having done the same in 1999 to Manchester United.
In order to determine the top 10 contenders this year, we first have to project the 16 qualifiers from the Group stages.
Although it is still in its early stages, the tournament is in the main likely to be fairly predictable, based on what we've seen so far. So the projected final 16 is as follows:
Group A: FC Porto, Paris St Germain (PSG)
Group B: Arsenal, Schalke
Group C: Malaga, AC Milan
Group D: Real Madrid, Borussia Dortmund
Group E: Chelsea, Juventus
Group F: Bayern Munich, BATE Borisov
Group G: Barcelona, Benfica
Group H: Manchester United, Braga
Some may be surprised not to see Manchester City in the final 16. Just because you spend £1 billion on a football club doesn't guarantee success at all levels. Indeed, they probably won't even win the Premier League either.
They have not started well again in their Group, whereas Dortmund have shown they can translate their Bundesliga form onto the European stage. They were unlucky not to beat City in their first encounter.
So who do we pick from these for our top 10. Ultimately, of course the most likely final eight will depend on the draw, so there is an even bigger element of conjecture.
Nevertheless here they are. Please post your own comments and suggestions.
10 Arsenal
Arsenal
Julian Finney/Getty Images
Arsene Wenger has shown once again that he can reinvent the wheel, but they haven't won a trophy of any sort in seven years.
It may be true that keeping Robin Van Persie would have been against his will, but in the Premier League, let alone the Champions League, how do you replace 37 goals?
Not with Olivier Giroud, that's for sure.
Nevertheless the French "Professor" has made some canny signings, and this time they're not all French. In Lucas Podolski and Santi Cazorla he has two players who can definitely hack it in Europe. With the precociously talented Alex Oxlade-Chamberlain they may make the final eight but won't get near winning.
9 Paris St Germain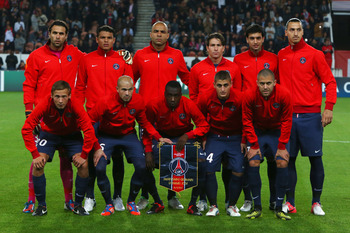 PSG
Dean Mouhtaropoulos/Getty Images
Carlo Ancelotti is undoubtedly one of the best coaches in the world. Roman Abramovich never gave him a proper chance at Chelsea.
It takes time to bed in great players, but in Zlatan Ibrahimovich and Thiago Silva they have two of Europe's very best.
In the French League they have run into some form, and in Europe they were only narrowly beaten by Porto in Portugal.
They should qualify and, depending on the draw, could even surprise some people by doing even better than this ranking.
8 FC Porto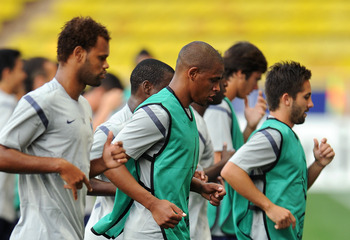 FC Porto
Jasper Juinen/Getty Images
When Porto played Barcelona in the European Super Cup they put up a decent fight, but there was only going to be one winner.
Jose Mourinho cut his teeth with Porto in the Champions League with astonishing success. One of his pupils is Andre Villas-Boas.
Porto have been far and away the most successful club in Portugal for over a decade. As a result, they continue to be able to attract top players. Many of the current squad are coveted by some of Europe's top teams.
While Porto may edge their Group over PSG, they may not get beyond the last eight in the knockout stages.
Despite having lost Hulk to Zenit St Petersburg, in the likes of Moutinho and Rodriguez they still have some top players. Time will tell whether Hulk's loss is too much to bear.
7 Juventus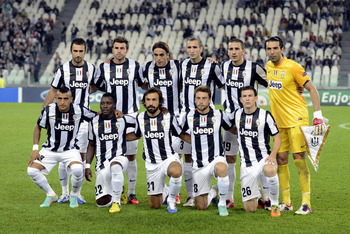 Juventus
Claudio Villa/Getty Images
Juventus may have managed only two draws in their Group so far, lying in third place as a result, but they undoubtedly have too much class to miss out on the knockout stages. So they will qualify at the expense of Shaktar in quite a difficult Group.
While their decision to take Nicklas Bendtner on loan shows some deficiencies in the striking department, they surely have far too much class and too many seriously good players to miss out.
The best of them all is Andrea Pirlo, who almost took Italy all the way to triumph at Euro 2012.
Last season they won Serie A for the first time in nine years, having gone the entire season unbeaten. However their manager, Conte, is suspended for the next ten months through being implicated in a match-fixing scandal. While the players remain loyal, it cannot help their ambitions.
They do, however, sit joint top of Serie A with 19 points from seven games. In the Champions League they should prove hard to beat, and therefore, as well as qualifying we expect them to make the final eight.
6 Chelsea
Chelsea
Steve Bardens/Getty Images
Chelsea winning the Champions League last season was a fluke. That is taking nothing away from their bravery, determination and Roberto Di Matteo's tactical gamble of sitting out Barcelona and Bayern and hitting on the counter.
Their manager, Andre Villas-Boas, had been sacked, having lost the dressing room. They finished way behind Manchester United and City and would not have qualified for the Champions League this season if they had not won the trophy.
It seems possible that Abramovich would have walked away otherwise, and who knows what would have happened to Chelsea then.
Instead he has weighed in with renewed enthusiasm, buying Eden Hazard and Oscar, who are both prospectively world class players.
Failing to persuade a world class manager to come in as steward, Abramovich was stuck with Di Matteo who failed at West Bromwich Albion. Nevertheless "Robbie" is currently leading them to one of their best starts in years in the Premier League, and they look pretty persuasive in the Champions League.
Juan Mata is on fire, and if Fernando Torres can somehow rediscover the form he had at Liverpool, Chelsea can go fairly close. But they won't win it, and better teams may well find out their defence with John Terry's future more uncertain by the day.
5 Manchester United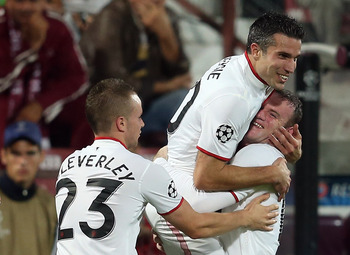 Cleverley, Van Persie, Rooney
Julian Finney/Getty Images
Last season was an aberration, and frankly, the blame should be placed firmly at the feet of the manager. Sir Alex and his players, in what was regarded as an easy Group, fatally underrated Benfica and Basel and blew out.
For many it was the final sign that United were on the wane. This is far from true.
No top team gets even a few years to rebuild these days, such is the pressure to succeed. Sir Alex has kept United near the top of European football for so long by constantly rebuilding and transitioning his squad, integrating new signings and academy graduates with the core of the team.
Many people think he has pulled off a masterstroke equivalent to signing Eric Cantona in wooing Robin Van Persie to Old Trafford. Arsenal's loss is undoubtedly United's gain.
A few neutrals are licking their lips at the prospect of the newly forged partnership between Robin Van Persie and Wayne Rooney putting United in touching distance of another Double.
The early signs are promising, and with Tom Cleverley once again showing the form we glimpsed last season, Anderson returning to his very best, Fletcher back at full fitness and the inspired signing of Shinji Kagawa, they can go all the way to the semis at least.
4 Borussia Dortmund
Borussia Dortmund
Alex Livesey/Getty Images
Jurgen Klopp has already masterminded the deposing of Bayern Munich as Bundesliga champions, so why not go all the way to the Champions League Final?
They made a pretty persuasive case with the way they nearly engineered a win at Manchester City.
They have a host of talented players, all the way from Hummels at the back, through Gotze in midfield to Lewandowski up front. They may have lost Kagawa to United but swiftly replaced him with the talented Marco Reus.
Klopp is a master tactician. If he were to take Dortmund to the European title, don't be surprised to see a host of top clubs interested in him.
It can't be ruled out.
3 Bayern Munich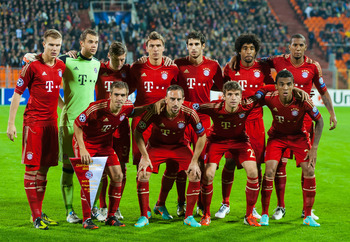 Bayern Munich
EuroFootball/Getty Images
Losing one Champions League Final is careless, but two is irresponsible.
Against Manchester United in 1999, Bayern imploded in the space of a couple of minutes when all they had to do was keep the ball.
Against Chelsea in 2012, they only had to convert one of the multitude of good goal-scoring chances to add a fifth European championship.
Like Barcelona before them, however, they lost their bearings in front of goal, and Chelsea grabbed a massively unlikely victory.
You would have thought they would have learned from that experience, but no. They have already compounded the crime by losing to BATE Borisov, who had to flog through qualifying to get to this stage of the Champions League.
Surely Bayern won't make that mistake again and should qualify at a canter. With their existing strong squad having been enriched by the massive signing of Javi Martinez and the tricky skills of Basel's Shaquiri, they have too much in all departments to blow out at the first hurdle.
Nevertheless, despite providing the core of the German national team, Bayern managed to miss out on the Domestic Cup and the Bundesliga as well last season. But they must be strong contenders for the semi-finals of the Champions League this year.
2 Real Madrid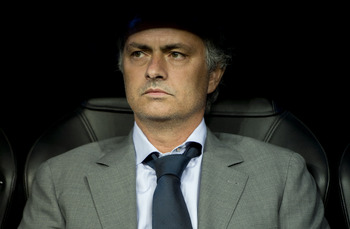 Jose Mourinho
Jasper Juinen/Getty Images
Jose Mourinho has looked a worried man more than once this season already. Real Madrid sit in fifth place in La Liga, eight points behind Barcelona, having dropped almost half of those available so far.
Against Manchester City, he saw his side go behind twice, only to salvage a heart-stopping win through the brilliance of Cristiano Ronaldo.
The former Manchester United and Sporting Lisbon player, who earned his 100th cap for Portugal this week, is carrying a shoulder injury. He will have to be cosseted over the next few weeks.
Although Real Madrid are stumbling in the league, there is no reason why we shouldn't dream of an El Clasico Final in the Champions League this time.
Why? Well, apart from the sheer wealth of talent right through the ranks, they seem as much as anything to be set up as a Cup team. They are spectacular on the attack, as the City match showed, and this should more than cover for the occasional slip at the back.
If the draw works out, don't be surprised to see an all-Spanish Final. Much more likely this season than an all-English affair.
1 Barcelona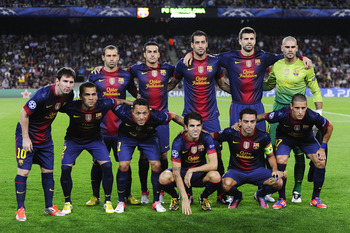 FC Barcelona
David Ramos/Getty Images
So far so good.
Tito Villanova seems to have taken over the reins from Pep Guardiola somewhat seamlessly. Barcelona sail serenely on, despite injuries to the likes of Pique and Puyol.
To be fair, they have been helped by Real Madrid's sloppiness, but in the Champions League they have yet to concede a goal.
They may not have as much money to spend as their number one Spanish rivals, nor even their English distant cousins, but each year they seem able to add to the squad without weakening it.
There are 15 Spanish players out of Barca's First Team squad of 25; they form the core of the supremely successful Spanish national side. There is a symbiosis between the two that could see Spain and Barcelona dominating world football for the next decade at least.
Someone has to find a way round the "tiki-taka" football. Chelsea didn't, because Barcelona beat themselves. Few would have bet against a Barcelona win last season, nor few this time either. Surely the normally faultless Messi won't mess up again in front of goal?
So frankly we can't see past Barcelona to win this season, partly because the competition somehow seems weaker.
With some teams aging, some rebuilding and some integrating a clutch of new players, it may be a year or two before another team wrests the Champions League off Barca.
Or it could take the wiles and guile of an old eagle in the twilight of his coaching career or a talented younger upstart, blending craft, innovation and a driven bunch of players to break the mould this year.
If Barcelona don't win it, Dortmund, Bayern or United might.
Keep Reading

FC Barcelona: Like this team?