Chael Sonnen vs. Jon Jones and the Supposed Sanctity of the UFC Title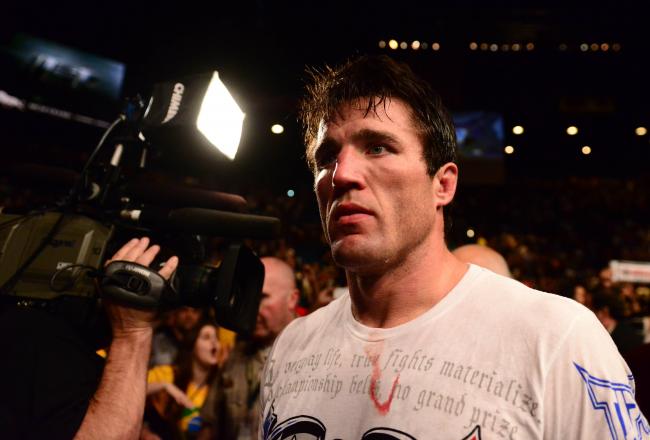 Mark J. Rebilas-US PRESSWIRE
In the days since Dana White announced a 2013 bout between UFC light heavyweight champion Jon Jones and former middleweight challenger Chael Sonnen, pundits have lined up to take a chunk out of the UFC President's backside.
Emboldening the critics was Yahoo boxing writer Kevin Iole. One of the first traditional journalists to cover the sport of mixed martial arts, Iole can usually be counted on to support the UFC company line. His break from the UFC on this issue opened the floodgates for other critics to follow.
But was Iole right? Here's his premise, in a nut shell:
Putting two of them together is almost a slam-dunk megafight.

That, though, doesn't make it right.

Sonnen was knocked out in devastating fashion by Silva in the second round at UFC 148. That dropped him to 0-2 in his two bouts with Silva. Whether or not he won five of the seven rounds against Silva, he didn't win the fights. He lost.

One of the things that White and UFC CEO Lorenzo Fertitta did in taking control of the company in 2001 was to try to structure the titles in a way that they meant something.

There has been a path to a championship that is transparent and understandable. No one was given title shots just because of their name or who their manager happened to be, as has been the case far too long in boxing.
The problem? That UFC he describes, the one with a "clear path to the title," a promotion where the only thing that matters is what happened in the cage—well, it's a UFC that only exists in Iole's fantasies.
The UFC has no public rankings. Fights are made on the promoter's whim. And it's always been that way.
Sonnen vs. Jones isn't the first title fight to stir controversy. Was Brock Lesnar's 2008 title shot justified by his 1-1 UFC record? Probably not. His immediate push towards title contention was a product of fan interest and prodigious potential.
Lesnar, to be fair, hardly stands alone. There have been plenty of other less than ideal title fights over the course of UFC history. It's a promotion in many ways built on shortcuts that place commerce before sport.
The Foundation
From the very beginning, the UFC has walked a tight rope, balanced precariously between sport and spectacle. In the early days, the integrity of the "sport" didn't exist. There was no sport. The UFC was selling spectacle, marketing it as an event illegal in 49 states before it was illegal anywhere.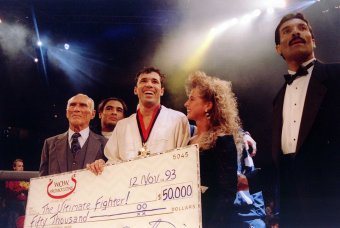 Markus Boesch/Getty Images
The early UFC events were clever infomercials for the Gracie family. Rorion Gracie was one of the company's founders and his brother Royce was the star. The product? Gracie Jiu Jitsu, a martial art their father Helio had created from the basic tenets of judo and perfected over a lifetime of street fights and competitions. Size, the Gracies said, didn't matter. Royce proved it in the cage, dismissing critics with win after win and his bold challenge to meet anyone who didn't believe in his system in single combat. The family, with Royce as their avatar, became worldwide legends in the blink of an eye.
Sport wasn't at the forefront of anyone's mind in the early days of the UFC. The first UFC title, in fact, was created in part as a way around the traditional "pure sport" tournament the UFC had concocted to crown champions at each event.
Martial-arts luminaries the Gracie family recruited for the promotion weren't interested in competing in the UFC's tournament format. It would be one thing to fall short against Gracie, another all together to lose to a lesser fighter in the early rounds of competition.
That bone of contention, a sticking point in negotiations with wing chun legend Emin Boztepe, led to the creation of the first UFC superfight at UFC V. Boztepe, it turned out, was more smoke than fire. But the idea of a one-on-one match with Gracie survived the initial discussions, even if Boztepe's participation did not. It was the perfect opportunity to create the rematch fans and UFC brass had craved since the first UFC in 1993.
The two biggest stars in the sport were Gracie and American grappler Ken Shamrock. Gracie had won a short match at the first UFC, but fans were convinced Shamrock could give him a better fight if they met again. The UFC was desperate for it to happen—but the fight gods had different ideas.
Shamrock broke his arm sparring with Vernon White before UFC 2, nixing the immediate rematch. At UFC 3, the company was so convinced they would get the fight they wanted, Shamrock and Gracie were actually featured on the poster in a staredown, Gracie listed as the champion, Shamrock as the challenger.
Instead, Gracie dropped out of the competition after a grueling bout with Kimo Leopoldo and a dejected Shamrock refused to fight in the finals against anyone else, infuriating his adopted father Bob and perhaps costing himself major legacy points in the process.
In a way, however, you can understand Shamrock's decision. The fight he wanted was with Gracie. The tournament just a barrier keeping him from it. In itself, it wasn't interesting for him, or for the thousands of fans who were cheated out of the fight they wanted to see more than any other.
UFC V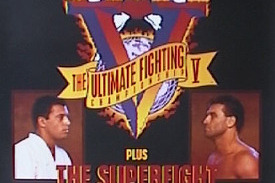 That build up, more than anything else, is what led to the enormous success of UFC V, the UFC's top performing pay-per-view for more than a decade. Sport was thrown out the window in favor of the super fight. There was no ambiguity, no "will they or won't they" about the Shamrock-Gracie rematch this time.
On April 7, 1995, the two met in the main event at the Independence Arena in Charlotte. More than 260,000 tuned in on PPV to see the two square off in what turned out to be a disappointment. Shamrock spent almost the entire bout in Gracie's guard. While he did some damage, a blackened eye was not enough to finish the bout.
With no end in sight, and with the PPV window rapidly closing, officials halted the fight after 36:06, abruptly calling an end to the bout of the ages. With no judges in place, the superfight ended with a whimper, a long, boring draw. Perhaps it was Karma paying them back for trying to game the tournament system?
Captain America
With that foundation, is it any wonder that the UFC has tended to lean towards spectacle over the years? Iole's contention that the UFC has created a system of merit that leads towards logical championship shots doesn't pass muster under any historical scrutiny.
While Zuffa didn't take over the UFC until the 2000's, little changed. As promoters, they valued box-office success over and above any pure sport considerations. The poster boy for this value system? Hall of Famer Randy Couture.
Couture has spent a career fighting for a gold belt in the UFC. Sometimes it made sense. Other times? Less so.
Take, for example, a 2003 bout for the UFC interim light heavyweight title against Chuck Liddell. His path to this prestigious title fight? Losing consecutive fights in the heavyweight division, being beaten badly by both Josh Barnett and Ricco Rodriguez.
"The Natural" walked the same path, only in the opposite direction, in 2007. After losing two of his previous three fights, Couture retired from the sport. Upon his return, he was immediately scheduled for a heavyweight title fight against Tim Sylvia, despite not winning a fight at all since 2005 and not competing at heavyweight for more than four years, his final fights in the division both losses.
Transparent? Logical?
No and no. But successful? Yes.
Shamrock vs. Ortiz
In 2000, Ken Shamrock rejoined the sport he helped create after a stint in the WWE. Although he started in the Japanese Pride promotion, like many of the best fighters of the era following the money, he soon found his way back home to the Octagon—and an immediate title shot.
Like Sonnen, Shamrock knew how to hype a fight.
Shamrock's athletic credentials supporting a shot at gold? He had lost two of his last three fights in Pride, the losing streak broken by a fight against Sam Adkins, a designated fall guy with a career record of 7-20.
Simply put, from any traditional athletics perspective, Shamrock didn't belong anywhere near a UFC title fight by this point of his career. He was there to help build Ortiz, a big name looking for a big payday.
Again, it was wildly successful, drawing more fans on PPV than any fight since Shamrock's own mid-1990's glory days.
The Other Poster Boy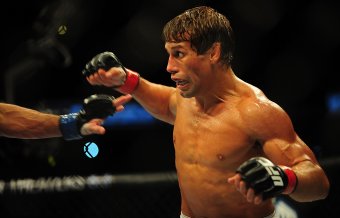 Anne-Marie Sorvin-US PRESSWIRE
Urijah Faber was the face of World Extreme Cagefighting. His personal magnetism, good looks and considerable fighting skill played a huge role in the UFC adopting the little guys, bringing the featherweight and bantamweight divisions into the fold in 2010.
I admire Faber a lot, but there's no doubt that he's been granted the benefit of the doubt a number of times along the way as the UFC has done its best to build interest in smaller fighters. Since losing his featherweight title in 2008 to Mike Brown, Faber has fought for a world championship four times. His overall record in that span? Five wins, four losses.
To say his road to these championship opportunities was "understandable" is true. It just wasn't understandable in a world where chances are created solely in the cage. Faber has gotten his opportunities in large part because he's a marketable fighter, in many ways the "good guy" yin to Sonnen's bad guy "yang."
The Flip Side
On the flip side, of course, are fighters who didn't earn title shots despite tremendous athletic credentials, in some part because of perceived box-office issues. Welterweight Jon Fitch comes to mind here as does middleweight contender Yushin Okami, both of whom waited for their shots, perhaps longer than they might have otherwise, thanks to a grueling and grinding style.
Lyoto Machida was in the same boat, requiring six UFC wins before finally getting a chance to fight for the title. Machida was lucky. The "Karate Kid" gimmick the UFC helped him create changed fan perspective, turning him over night from a fighter considered "boring" into a throwback to tradition.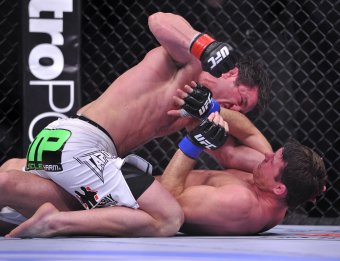 Mike Dinovo-US PRESSWIRE
Sonnen could have easily found himself in this category. His style, on its face, is not exactly fan friendly. His success in the cage is predicated on holding his opponent down on the mat and controlling the action with a careful assortment of ground and pound. Had he not discovered his inner pro wrestler, Sonnen might have easily become a middleweight Fitch, the kind of fighter the UFC looks for excuses not to promote.
Instead, he's become a sensation, creating demand and then capitalizing on it. You can certainly see why there would be some degree of hand wringing over the announcement that Sonnen would leap to the front of the line at light heavyweight. Intellectually, you'd be hard-pressed to argue he deserves his spot as the top challenger.
But money talks in the combat sports. That's nothing new.
For the UFC, putting sport to the side has traditionally paid off in a big way. Sonnen is not the first fighter to earn opportunities on the strength of his personality. He won't be the last.
In MMA and boxing, when fans talk, good promoters listen. Unlike football, baseball and basketball, sports where the bulk of the money is guaranteed in advance by enormous television contracts, the UFC has to earn their money each and every time out.
As long as the fans demand Sonnen, Sonnen is what they are going to get. White and Lorenzo Fertitta clearly remember an old axiom that Iole and other UFC critics must have forgotten—they don't call it the fight game. It's the fight business. And the Chael Sonnen business is booming.
This article is
What is the duplicate article?
Why is this article offensive?
Where is this article plagiarized from?
Why is this article poorly edited?