Duke Basketball: 7 Critical Games in the 2012/13 Season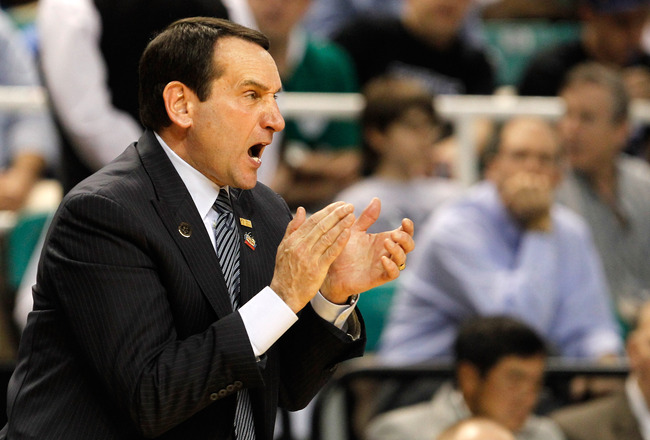 Streeter Lecka/Getty Images
Even though a basketball season is a marathon, not a sprint, there are always certain games that serve as watershed moments for a team. These critical games can turn the fortunes of a team for better or worse and help formulate a more robust sense of the team's capabilities.
With that in mind, I'm going to take a look at seven vitally important games in Duke's 2012/13 campaign. These potentially season defining bouts will illuminate Duke's strengths, expose their weaknesses and establish just how much of a chance the Blue Devils have at winning National Championship No. 5.
Kentucky, November 13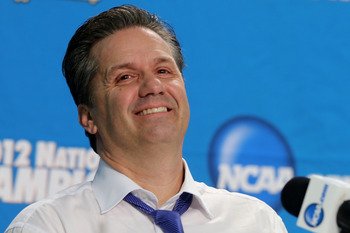 Jeff Gross/Getty Images
Duke's second game of the season is in Atlanta, site of this year's Final Four, against the reigning National Champions. Mike Krzyzewski is renowned for his ability to have his teams playing at top form early in the year. Meanwhile, Kentucky will be breaking in an almost entirely new roster.
This game will serve as a battle ground between teams that embrace the one-and-done dynamic of college basketball versus those that seek to develop players over a four-year career.
Seniors Seth Curry, Ryan Kelly and Mason Plumlee will have to rely on experience to shut down Kentucky's stable of top recruits. A win for Duke would legitimate them as National Championship contenders, while a loss to a team that will only get better throughout the season would expose them as pretenders to the throne.
Ohio State, November 28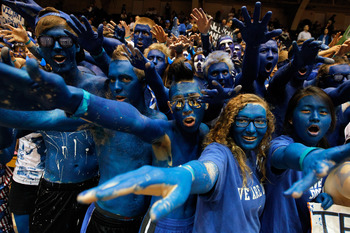 Streeter Lecka/Getty Images
After both Duke and the ACC's dominance in the ACC/Big10 Challenge, the past few years have taken a turn for the worse. In 2009, Duke lost at Wisconsin. In 2011, Duke got hammered on Ohio State's home court.
This season offers a rematch with the Buckeyes in the familiar confines of Cameron Indoor. Playing the game at home should help the Blue Devils as Ohio State is a top-5 team with a style of play that will once again test Duke's physical toughness.
Following on the heels of the Kentucky game, Duke will have another opportunity to establish themselves as one of the nation's best teams. If Duke loses, however, they don't have another chance for redemption in a big time matchup until ACC play starts.
@ NC State, January 12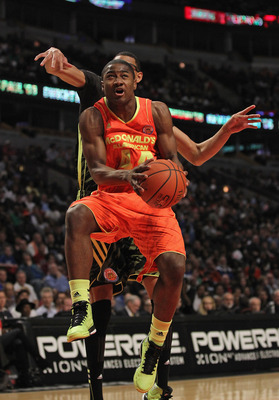 Jonathan Daniel/Getty Images
The Wolfpack are the fashionable pick to win the ACC. A series of highly touted recruiting classes have NC State poised to assert their dominance with a roster full of potential superstars. Of course, realizing all that potential may be difficult.
Rodney Purvis the popular pick for ACC Freshman of the Year, but last season NC State's post players had a bad habit of finding themselves in foul trouble.
If State can find some nice chemistry between their established players and their freshman point guard, then the Wolfpack will be a force to be reckoned with. Duke won a close game at Cameron last year, but playing at State with a crowd and team ready to prove it is once again an ACC powerhouse will prove to be a difficult test for Duke.
@ Florida State, February 2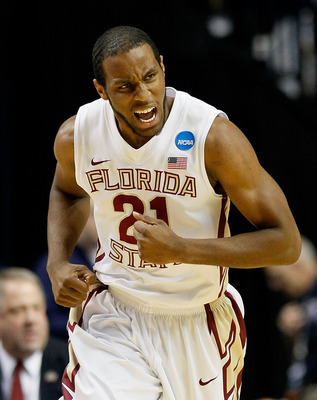 Kevin C. Cox/Getty Images
Duke has a terrible habit of losing to Florida State. With the game taking place on Groundhog Day, the Blue Devils will be hoping to avoid a Bill Murray style repetition of past events.
Last year, Duke took care of business in Tallahassee, but only after losing at home to the Seminoles. To add further insult to injury, Florida State knocked Duke out of the ACC Tournament.
Florida State always seems on the verge of becoming a team with legitimate title aspiration, and this year is no different as they start the season just inside the top 25. Whatever their national standing, Florida State's physical play and emphasis on defense will test Duke's shooters.
A win would prove Duke's toughness and ability to do more than just launch three's. A loss would prove Duke's lack of frontcourt depth to be a serious issue going forward.
North Carolina, February 13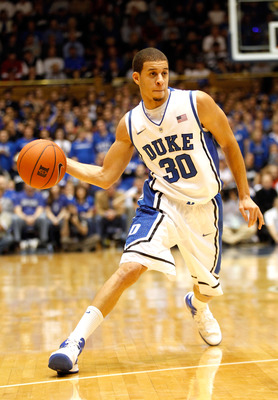 Streeter Lecka/Getty Images
The three seniors of Curry, Kelly and Plumlee would love to defend home court the final time they'll be hosting UNC in Cameron.
Last year, Duke and UNC split their pair of games with the away team coming up the victor. Duke's home court advantage took a bit of a shot last year with home loses to UNC, Miami and Florida State. This game provides a perfect opportunity to reestablish the aura of Cameron Indoor Stadium as the most difficult place for opposing teams to play.
The Tar Heels lost most of last year's squad to the NBA draft, so Duke should have a distinct advantage in talent and experience. Of course, rivalry games have a way of leveling the playing field, so this should be the usual dog fight.
@ Maryland, February 16
Streeter Lecka/Getty Images
One of college basketball's more underrated rivalries has had something of a slow go of it in recent years. The departure of Gary Williams and Maryland's decline into mediocrity hasn't caused teams to fear the turtle. But Mark Turgeon has put together some solid recruiting classes and looks set to make conference contenders out of the Terps.
Duke handed Maryland two double digit loses last year so the team and fans will be fighting mad when Duke comes to visit. The two teams will have already played in Cameron on January 26 so Duke will know what kind of squad they are up against.
Even if Duke wins the first matchup, they will know that playing in College Park against an improved Maryland team will reestablish the vitriolic rivalry.
@ UNC, March 9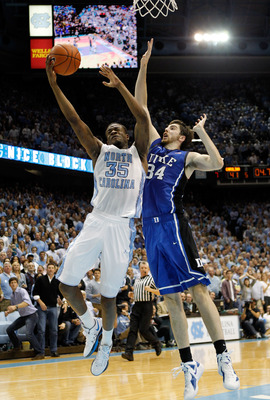 Streeter Lecka/Getty Images
In Duke's final game of the regular season they'll either be trying to ensure a series split with North Carolina or attempting to sweep the Heels outright.
The last time Duke won both games against their baby blue rivals was 2010, when Duke went on to win the National Championship. The No. 1 seed in the ACC tournament might be on the line as well as a No. 1 seed in the NCAA.
Also, I'm sure this year's Duke team would love to prove that they can go into the hostile environment of the Dean Dome and win without the heroics of Austin Rivers. A win would offer momentum into the ACC tournament and beyond, a loss would leave the seniors feeling sour knowing that, barring a tournament rematch, they lost their final duel against their bitter rival.
Keep Reading

Duke Basketball: Like this team?