Cleveland Browns at Indianapolis Colts: 10 Keys to the Game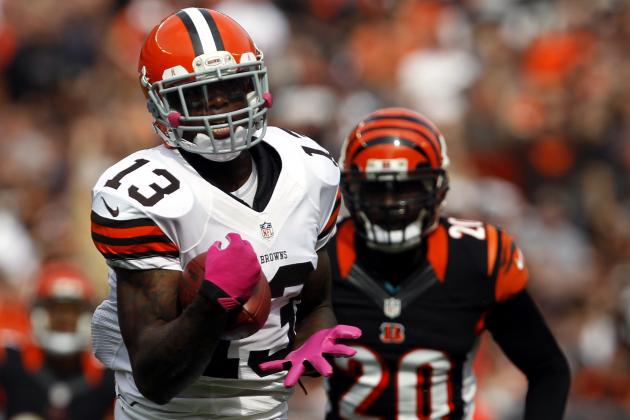 Matt Sullivan/Getty Images

Thomas Jefferson once said, "With one win comes many others, that the sweet nectar of victory should flow liberally to those who desire it most."
That's made up, but the Cleveland Browns' encouraging performance is real. For the first time this season, fans didn't have to start each sentence with, "We played well, but..."
Maybe it was a lucky break, or maybe it was because I watched the game on Ohio soil. Either way, this young team showed some flash and finally gave fans a much-needed reprieve. And it wasn't just the numbers on the scoreboard that proved the players' maturation. Each play demonstrated the control, leadership and tenacity that must be present on a winning football team.
But the warmth of the victory is wearing off, and fans, players and staffers fearing for their jobs are looking ahead to Sunday. The Colts aren't the stiffest test the Browns will face this season, but they're no slouches, either.
Here are 10 keys to winning this weekend's game and proving that this team is committed to ongoing improvement.
Begin Slideshow

»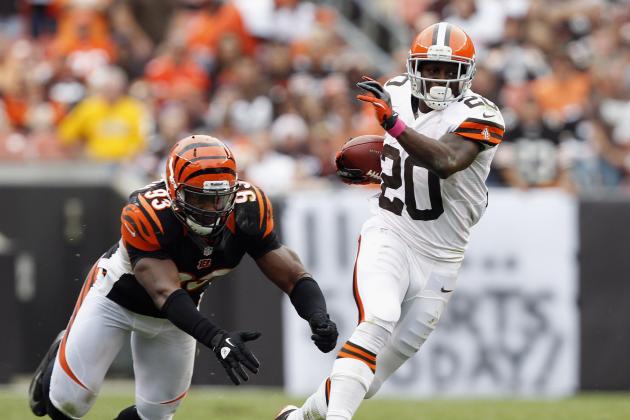 Matt Sullivan/Getty Images

Trent Richardson was injured early. The Browns won anyway.
As the city holds its collective breath before each injury report, we would be wise to remember that there are other capable running backs on this squad. He's not as explosive as TRich, but Montario Hardesty has proven that he can be scrappy, pick up crucial yardage and get into the end zone when it matters most. He looked decent, and we should use him.
This is especially true when you're dealing with increasingly huge defenses and a commodity as valuable as Richardson. Do you wear your favorite underpants every day of the week? No, you reserve them for big presentations and first dates and make sure to wash them on the gentle cycle.
We drafted TRich to use him, but there's no harm in rotating him with a pair of fresh legs. The Colts are proving to be a bit helpless against the run; the more weapons we use, the better.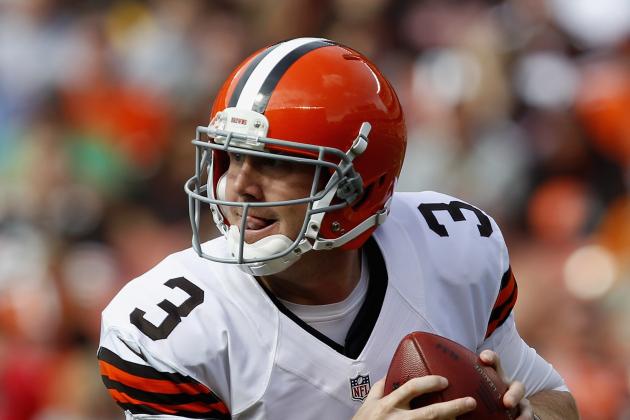 Matt Sullivan/Getty Images

This continues to be a major make-or-break statistic for the Browns.
The offense converted 7 of 17 third downs (41 percent) in the win over the Bengals, a significant improvement from its 31 percent average on the season. Opponents have averaged 37 percent.
This is one of my favorite statistics in football. It begins to capture something larger in the character of an offense—tenacity, perhaps. It shows how Brandon Weeden and company perform under less than optimal circumstances.
And I'm glad they're improving. Successful third-down conversions are the result of creative play-calling and good decision-making. They show an offense that hasn't given up on the drive, even if it's on life support. This is a key difference that could win or lose us the game.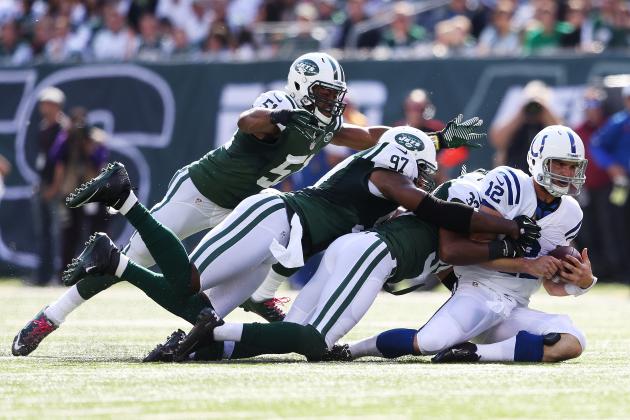 Nick Laham/Getty Images

Andrew Luck is an immensely talented young quarterback. Last week, the Jets' defense showcased the latter part of that description.
Luck, like many other rookies, hasn't quite mastered the art of handling pressure. He can put the ball almost anywhere on the field if given time. The Browns' defense needs to take that away from him.
Despite a weak pass rush and depleted, Joe Haden-less secondary, D'Qwell Jackson and company have managed to rack up a respectable number of sacks. Better yet, they're fairly evenly distributed, showing that there are several players capable of getting to the quarterback.
A sack is great, but pressure is almost as good when it comes to a young QB. We've got to rattle Luck, do it early, and shut down the passing game as much as possible. This will lead to...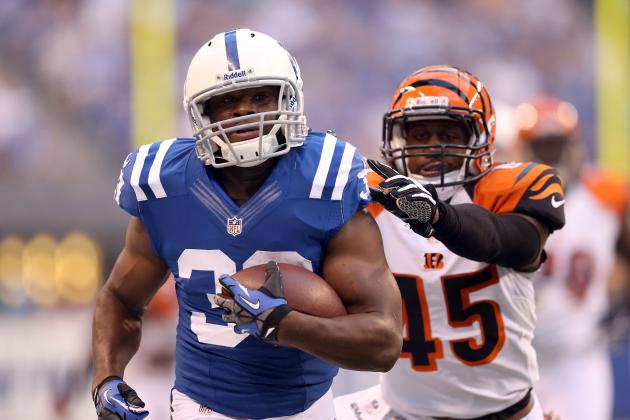 Andy Lyons/Getty Images

Vick Ballard isn't going anywhere. I know this well, because I picked him up on my fantasy team last week and bragged that I'd thought of it first. Pride comes before the fall, friends.
Indianapolis is hurting when it comes to its running game, and the Browns are in a great position to take advantage of that. Yes, our pass rush has left a bit to be desired, but it's as good a matchup as we'll see this season.
For a team that relies so much on the arm of its quarterback, being forced to run the ball consistently isn't exactly ideal.
Sheldon Brown has been playing like a man possessed since Haden's return. Between keeping tight coverage and pressuring Luck, we should be able to put a great deal of the weight on Ballard's shoulders.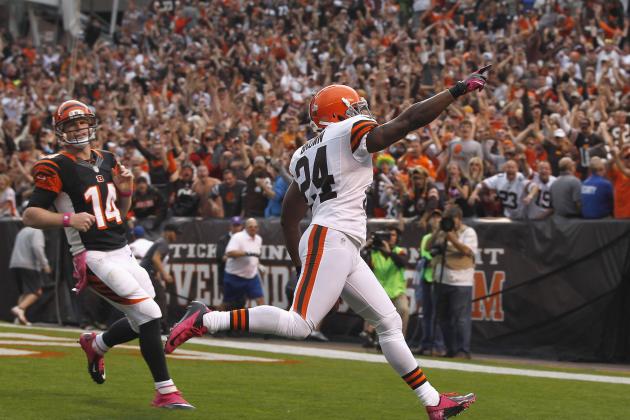 Matt Sullivan/Getty Images

Hey, Joe Haden, do you know how hard it is to get lipstick off a TV screen? I'll be sending you the bill, buddy.
Finally, we're beginning to play with some semblance of a complete squad. And it looks pretty good. Haden is one of those players whose presence (and absence) affects much more than just his individual defensive zone. Just ask Sheldon Brown.
This isn't just about tight coverage, it's about capitalizing on the other guy's mistakes. This defense, though it has its flaws, has shown moments of total brilliance when given the opportunity to embarrass opposing offenses.
Haden's return is putting this defense in a great position to continue to do just that.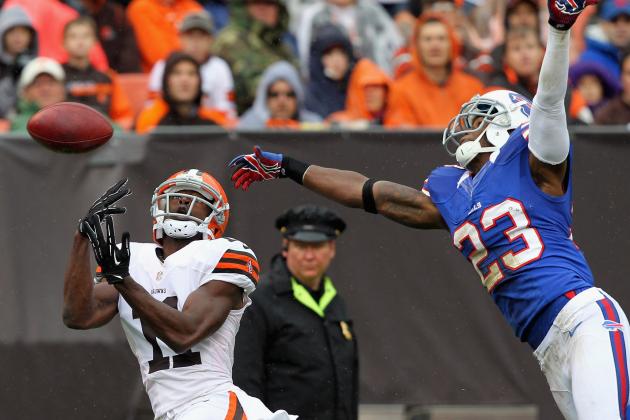 Matt Sullivan/Getty Images

Say it with me, "Cleveland has several viable receivers." Now, pinch yourself.
Travis Benjamin and Muhamad Massaquoi returned to practice this week. Whether they'll be able to play still remains to be seen, but it's a good sign and a warning to opposing defenses: we're not planning to make this easy.
While Greg Little is buttering his hands on the sidelines, Josh Gordon, Massaquoi, Benjamin and Jordon Norwood are keeping secondaries everywhere on their toes. None of them is fantastic, not quite yet, but each has shown tremendous promise and his own unique chemistry with Weeden.
This will be a key strength moving forward. What this Browns team lacks in flash, it makes up for in depth. A group of solid, well-utilized receivers can be better than one consistent superstar. It's more difficult to slap your best cornerback on him and call it a day.
If we keep new faces and fresh legs as targets for Weeden, we stand a great chance of keeping the defense from finding any sort of rhythm. Of course, we should continue to subtly...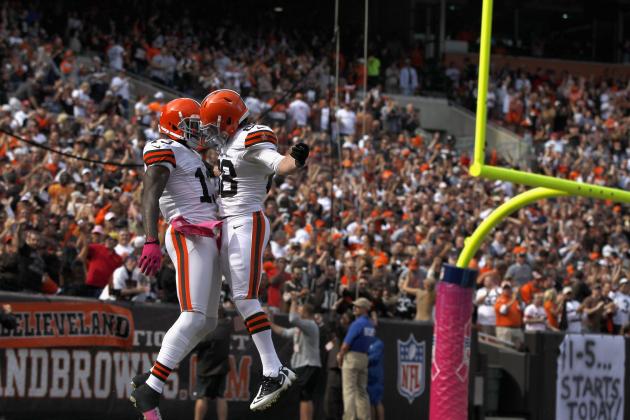 Matt Sullivan/Getty Images

Two words for our acquisition of Gordon: Worth. It.
From the beginning, this kid showed a ton of promise, and he's starting to deliver in a big way. He's not getting an overwhelming number of targets, but he's taking advantage when the ball comes his way. His 71-yard touchdown catch against the Bengals was the stuff of poetry, and Weeden's starting to like him more and more.
There are a lot of disadvantages to having such a young team. However, we are blessed with the element of surprise. There's something terrifying about a great receiver who no one saw coming, and Gordon's got that going for him as he heads into Week 7. A few strategic targets without exhaustive overuse by Weeden will keep this Gordon train rolling and defenses tripping over themselves trying to keep up.
I get the feeling that this is only the beginning for Gordon, whose size and great hands make him a distinct possibility to lead the Browns in receiving for years to come.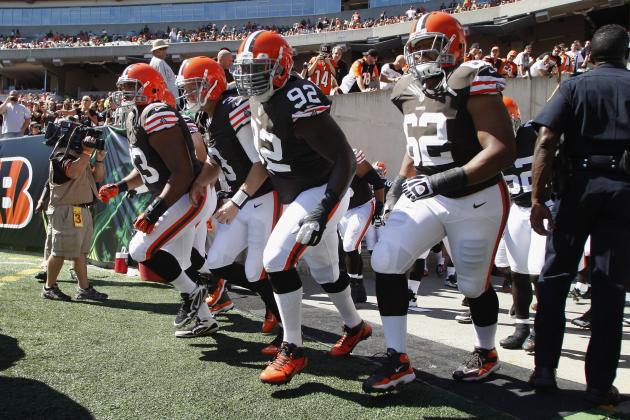 John Grieshop/Getty Images

Easy, boys.
Penalty yards, along with third-down conversions, are one of my favorite statistics. Again, it shows discipline (or lack thereof) and tenacity—the ability to recover quickly without making careless mistakes.
And we're getting better. After committing 10 penalties for 91 yards in the loss to the Giants, the Browns had five penalties for 35 yards in last week's win. It's still not great, but at least we didn't gift-wrap a first down and skip off the field.
Penalties are a quick and dirty way to toss an otherwise decent game down the tubes. Officiating is an imperfect science, to be sure, but we can minimize the damage by tightening things up and learning from our past mistakes.
Keep the penalties down, keep the score up.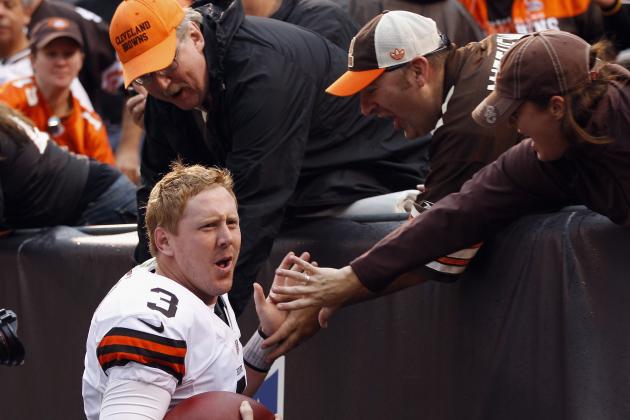 Matt Sullivan/Getty Images

We finally won a game, and we have a distinct chance to add one more. The Colts are overwhelmingly beatable. This is an opportunity to establish some legitimate momentum and finally pull our heads above water.
But momentum is a dangerous thing. A healthy dose of confidence is good, but too much can lead to overzealous mistakes. It's best to keep a level head and concentrate on the factors that gave us the W to begin with.
For the offense, it's a matter of recognition and adaptation. The best teams are able to identify and repeat the things that went right and adapt the things that went wrong. For example, I once shrugged off the expiration date on a pack of turkey and ate it anyway. That's what we call a "learning experience." But if you don't take a lesson away, it's just an unpleasant experience that you're doomed to repeat.
Keys to keeping momentum: Watching film, correcting mistakes and capitalizing on strengths. It sounds obvious because it is, but confidence can be a double-edged sword.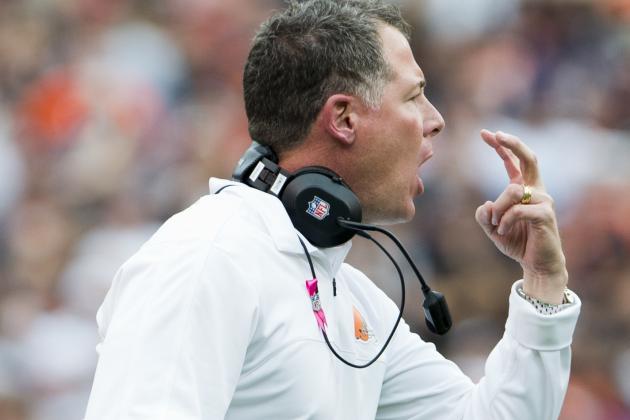 Jason Miller/Getty Images

Look, we have very little to lose at this point. We might as well experiment with creative play-calling and fluidity in the lineup. Distribute some touches throughout the offense. See what everybody can do. Live a little, Shurmur (but please don't take out our best running back on 3rd-and-1. That's not what I meant.)
We have so much talent on this team, and there's no harm in testing the waters a little bit. Get Jordan Norwood the ball, maybe, or continue to utilize Ben Watson in the red zone. I don't mind a couple missteps if they improve our offensive instincts and chemistry in the long run.
My favorite part of last week's win was the team's almost gleeful reaction. These Browns were having fun, perhaps for the first time this season. As a fan, I want to see more of that. I'll admit it—I really like this team. I like its determination and effort in the face of perpetual 1 p.m. spots and glossed over summaries on Sportscenter. I like that it seems to actually care about winning and losing as much as we do.
Now, it's time to prepare my "keys to the game" by assembling the ingredients for my hot butter bourbon cider. Go fall, and go Browns!