Predicting the Atlanta Braves' Lineup in 2 Years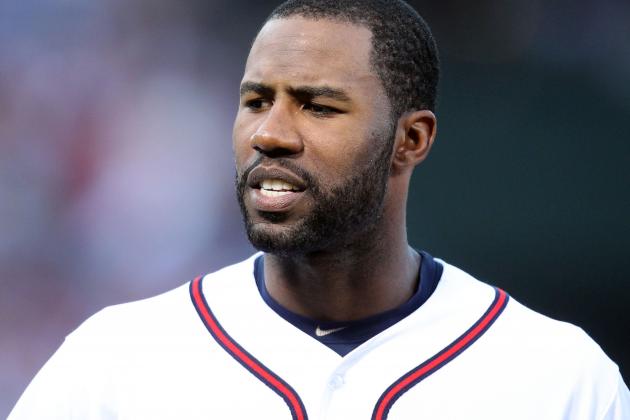 Daniel Shirey-US PRESSWIRE
Jason Heyward and the Braves should remain strong in 2014.
With the 2012 season already in the books and Chipper Jones ready to move on to the next stage of his life, now is as good a time as any to take a look at the future for the Atlanta Braves. This will be a new era for the franchise, as the Braves will certainly have a different look in the coming years.
With a core of talented young players and the financial freedom of a few bigger contracts set to come off the books, the future is promising for the Braves.
This article takes a look at their projected 2014 lineup.
Begin Slideshow

»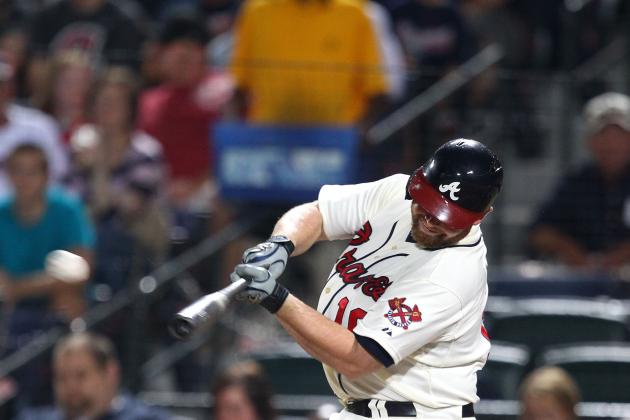 Mike Zarrilli/Getty Images
Brian McCann is one of the top catchers in baseball.
Unless something drastic happens in the next two years, Brian McCann will still be the Braves' catcher. McCann may have seen his numbers take a sharp drop this year—and may have been battling injuries for the last few seasons—but when he's hitting, he is still among the best hitting catchers in all of baseball.
There is a reason why McCann made the All-Star team in each of the first six full seasons in his career. His ability to hit for average and power, as well as to come up with clutch hits, makes him a middle-of-the-order presence for the Braves.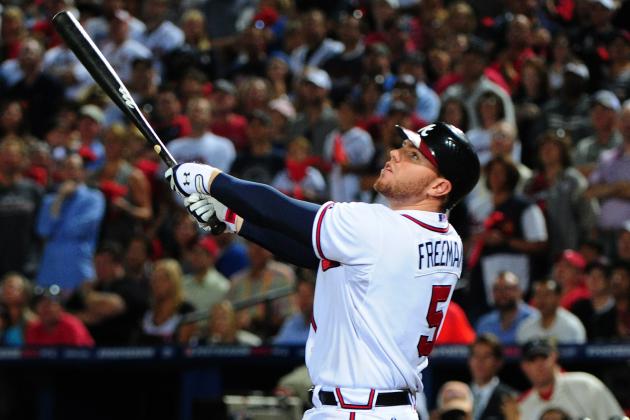 Scott Cunningham/Getty Images
Freddie Freeman could be an All-Star in two more years.
With Chipper Jones gone, Freddie Freeman is set to become one of the faces of the franchise for the Braves. The talented young first baseman has shown great promise early on in his career, and was on pace for a breakout season this year prior to battling an eye injury.
Freeman is the type of player who could hit between .280 and .300 with 25-30 homers and 100 RBI on a regular basis. He also provides solid defense at first base, which improved this year from his 2011 rookie campaign.
By 2014, Freeman could be on his way to being an All-Star if he continues his development and remains healthy.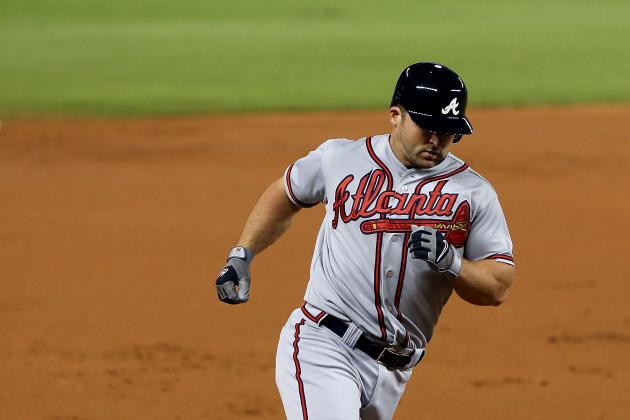 Marc Serota/Getty Images
Dan Uggla may be able to find his old form and become a key producer again.
Dan Uggla came to the Braves prior to the 2011 season with great expectations placed upon him by the fans and media. Those expectations came from his impressive career with the Marlins before being dealt to the Braves.
Since the trade, it's safe to say that Uggla has not lived up to those high expectations.
Uggla was a major disappointment in the first half of 2011, before a big second half made his numbers respectable. This season, he slumped badly again and was even benched at times.
Uggla will be in the fourth year of a five-year contract, and with the money he's owed, it's hard to predict the Braves not having him in the lineup.
That's why Uggla is the clear choice to be the starting second baseman in 2014.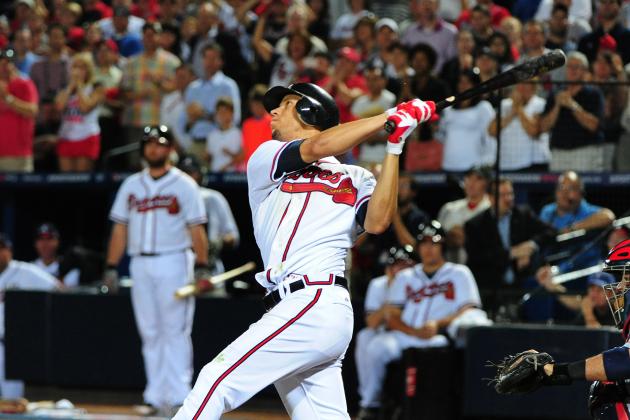 Scott Cunningham/Getty Images
Andrelton Simmons is a dynamic young player.
One of the more exciting pieces of this lineup is young shortstop Andrelton Simmons.
Prior to getting injured, the rookie quickly emerged as one of the best defensive shortstops in the game and a better than expected hitter. A hand injury did rob him of time down the stretch, but he returned prior to the end of the season.
Simmons may not be as good with the bat as we saw this year, but he should be good enough to be a threat, in addition to being a Gold Glove-caliber defender.
That combination is enough to make him the best all-around shortstop the Braves have had since Rafael Furcal left town.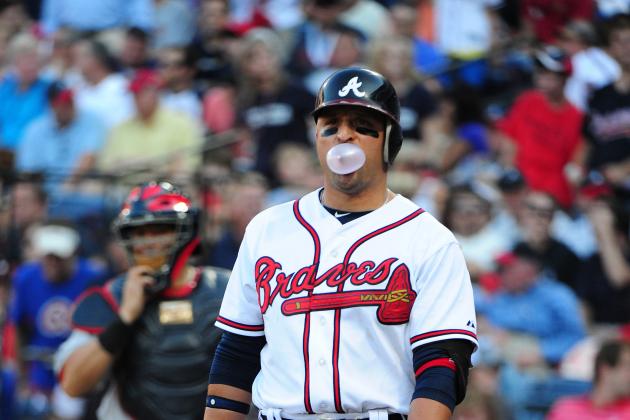 Scott Cunningham/Getty Images
Martin Prado is the best choice to replace Chipper Jones.
The logical choice to replace Chipper Jones in the lineup is Martín Prado.
Of course, the Braves could keep Prado in left field and give Juan Francisco a shot to take over third base, but Prado is a better fit in the infield than he is in the outfield.
Prado is one of the leaders on the Braves, capable of hitting for a high average and coming up with big hits. Prado is also capable of becoming one of the better third basemen in the National League and being a solid replacement for Chipper, although he may remain in the outfield.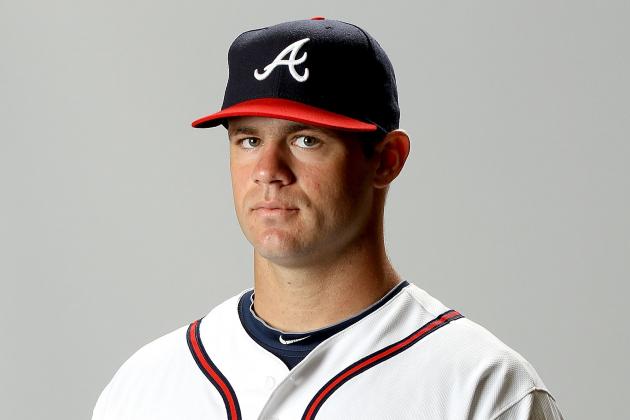 Matthew Stockman/Getty Images
Evan Gattis has a chance to be a real contributor at the big league level.
The biggest question with the projected 2014 lineup is who plays left field, assuming Martín Prado moves to third base as the replacement for Chipper Jones.
Unless the Braves make a trade for someone or sign a free agent such as Delmon Young, this spot should go to someone within the organization.
If the Braves do stay internal, the most interesting option at this time is Evan Gattis.
Though Gattis is a bit old for a prospect, there is a story behind his age and all that he has overcome to get to the doorstep of the big leagues. He also had great success in the minors this year, looking like a potential slugger before an injury slowed him .
Gattis may not end up being a star in the big leagues, but he certainly has the ability not only to make it, but also to hold his own. He could potentially be a guy that will hit 20-25 homers per year, with a chance for him to hit more if his power from the minors stays with him.
Scott Cunningham/Getty Images
The Braves can not let Michael Bourn leave as a free agent.
Although he is a free agent this winter, I am predicting Michael Bourn will be a member of the Braves' lineup in 2014.
This may surprise some, as Bourn's first half made him appear to be putting himself out of the Braves' price range, but a second half slump may have brought him back to a fair market price.
The Braves need to keep Bourn somehow.
After years of struggling with the top of the order, Bourn was the Braves' first true leadoff threat since Rafael Furcal. His ability to get on base, create things with his speed and play strong defense in center field make him a valuable commodity.
The Braves will need to pay to keep Bourn, but they do have money coming off the books and can't afford to let Bourn walk. The fact that the free agency class is pretty weak overall and the team doesn't have a legitimate option within the organization only strengthens the case to keep Bourn.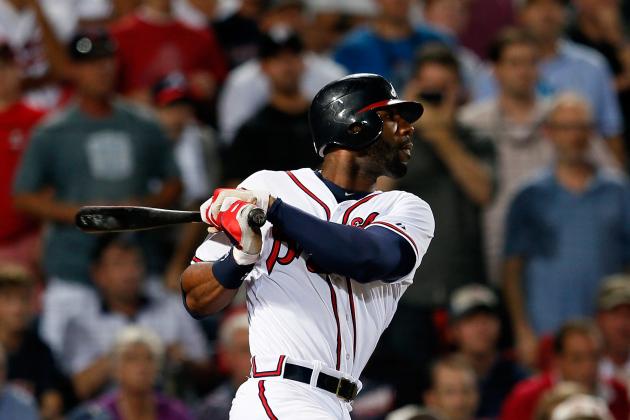 Kevin C. Cox/Getty Images
Jason Heyward has superstar potential.
With Chipper Jones gone, the new face of the franchise is set to become Jason Heyward.
A former top prospect with comparisons to Ted Williams, among others, Heyward has had an up-and-down start to his career thus far. The good news is that he was up in 2012 and should continue to grow into a star going forward.
Heyward certainly got past his disappointing 2011 season and became one of the leaders in wins above replacement this season. His five tool ability really stood out this year, as he was able to tap into his power and increase his speed after working on it last winter.
Heyward has the skills needed to become the next superstar as soon as next season, as long as he keeps growing as a player.
By 2014, he should become a regular on the All-Star team.