Oscar: Rating the Chelsea Star's Performances in England so Far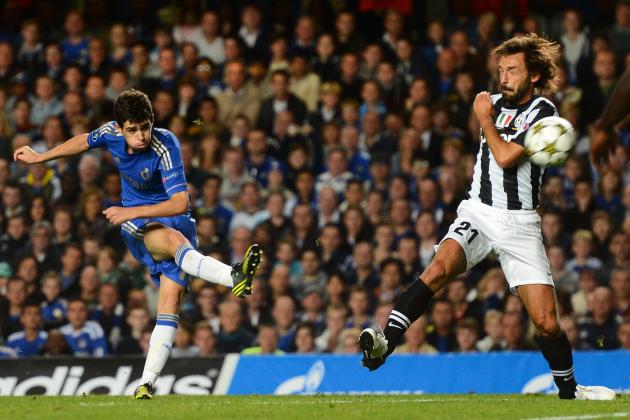 Mike Hewitt/Getty Images

Since coming to the English top flight over the summer, Chelsea's £25m signing of 21-year-old Oscar has been one looked upon with great fascination and scrutiny by some.
When spending so much on a talent so young, a club will always earn that extra bit of attention, with some wanting to see the starlet fall while others await big things.
While his time with Internacional of Brazil was a highly impressive one, one can't quite make an assumption of Oscar's Blues career just yet.
That being said, we can take an in-depth look at the youngster's Stamford Bridge tenure thus far, breaking down his displays on a match-by-match basis to give us an idea of how he's progressing in the English top flight.
Begin Slideshow

»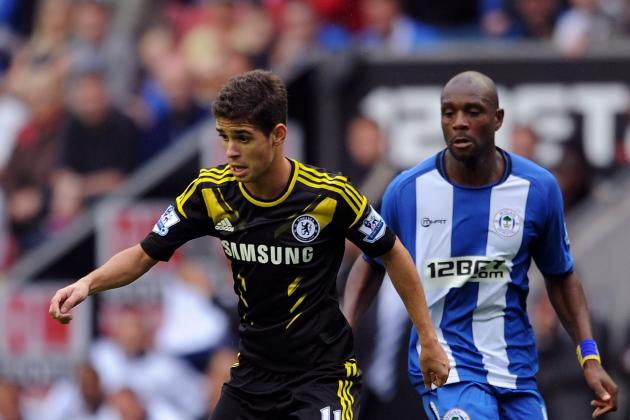 Chris Brunskill/Getty Images

Competition: Premier League
Transferring not just leagues, but continents also, it would be understandable for any player in Oscar's circumstance to struggle in adapting their play to the Premier League.
However, Oscar's first senior appearance in Chelsea colours showed the Blues everything they wanted to see from a new signing, and the 21-year-old was impressive on his debut.
Coming on as a second-half substitute for Eden Hazard, the Brazilian international took 23 touches of the ball and finished up with a respectable 76 percent pass completion rate.
However, nerves did show at times, and Oscar showed little in terms of attacking penetration, making it a good thing that the result was pretty much sewn up in the first 10 minutes.
A solid start, if anything.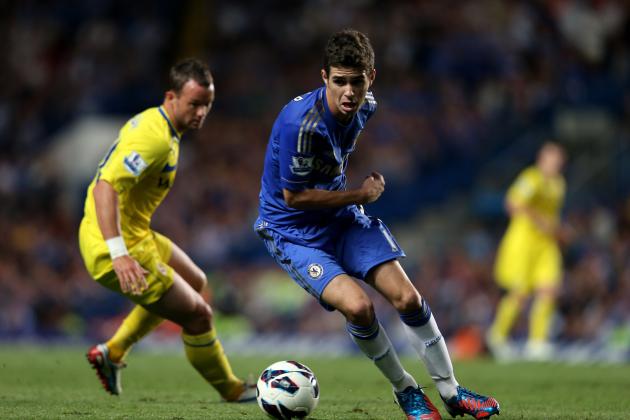 Mark Thompson/Getty Images

Competition: Premier League
Oscar's next appearance for Chelsea came against Reading and was the first of several early signs the settling-in process was well and truly underway.
Having come on in the 57th minute with his side then 2-1 down, the introduction of Oscar was a key factor in Chelsea's eventual win, adding a sense of fluidity that Ramires wasn't bringing at the time.
Winning 100 percent of his aerial duels and completing 95 percent of his passes, the starlet's first display in front of his home crowd was a massively positive one.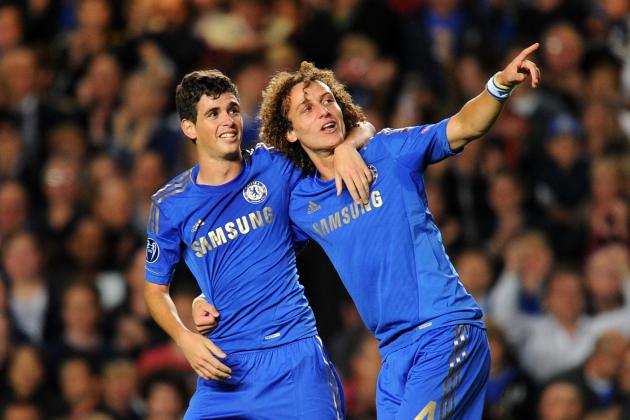 Mike Hewitt/Getty Images

Competition: Champions League
Almost inarguably the brightest performance of the youngster's time in England so far, Oscar scored the first goals of his Chelsea career as part of a 2-2 draw against Juventus.
Roberto Di Matteo chose to put a certain amount of faith in his new signing and handed Oscar his first start in the UEFA Champions League, a deed that was repaid with a delightful brace.
Juve are by no means easy opposition, and Oscar managed to thunder his way past Gianluigi Buffon with a sensational second after hitting one from long range just two minutes earlier, despite taking a slight deflection.
If the draw showed us anything, it's that Oscar is more accustomed to the European game than the rugged climates of the English top flight, and a double on your Champions League debut points towards major things for the future.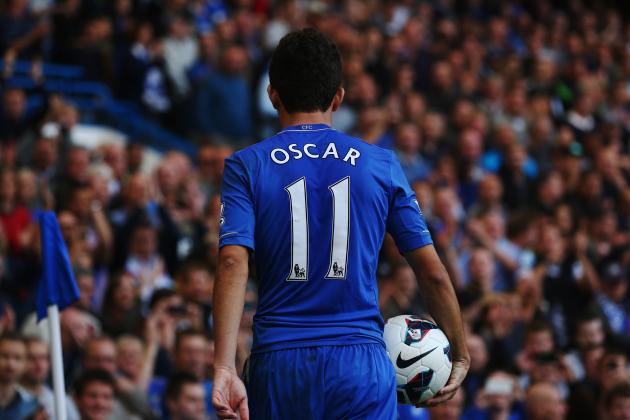 Clive Rose/Getty Images

Competition: Premier League
While the scoreline may not suggest it, the 1-0 over Stoke City was a good test of Oscar's acclimation to England's game, and the Potters tend to be as tough as it comes.
The Brazilian showed that the impressive passing for which he had become so renowned for in his native was just as strong in the Premier League.
Oscar maintained an 89 percent pass completion rate, numbers that no opposition midfielders or strikers managed to surpass.
The fixture against Tony Pulis' side did, however, expose the player's physical shortcomings which, at just 21 years old, is to be slightly expected.
With time, Oscar will find it easier to cope with the physical side of the English top flight, but the Stoke City match provided evidence that it remains a small weakness at the moment.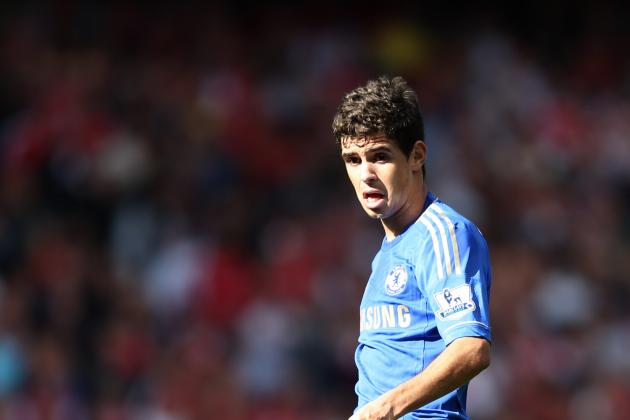 Richard Heathcote/Getty Images

Competition: Premier League
Debatably the first fixture Oscar has faced against top four opposition in his time as a Chelsea player, it speaks volumes that Di Matteo was wiling to give the 21-year-old a start at the Emirates Stadium.
One of the most consistent passers on the field in north London, a completion rate of 92 percent against opposition such as Arsenal is nothing to be sniffed at.
That being said, Oscar's inexperience at this level was shown in terms of his positioning and inability to keep up with the play at times.
The 21-year-old looked flooded by opponents on more than one occasion and took only 53 touches of the ball, less than all but two of the Blues' outfield players.
Shaun Botterill/Getty Images

Competition: Champions League
As was the case against Juventus, the Champions League once again provided Oscar with the perfect platform to shine when facing FC Nordsjælland.
While perhaps not the main attacking threat in Copenhagen, Oscar did what he has become known to do best and provided ample opportunities for those around him.
The Brazilian showed up with a Man of the Match performance and pitched in with two assists along the way.
With 92 touches of the ball, Oscar proved that he has the potential to Chelsea's main man despite the massive amount of talent within the club already.
Eighty-nine percent of the midfielder's passes were completed on the day, and Oscar excelled playing as Chelsea's main orchestrator.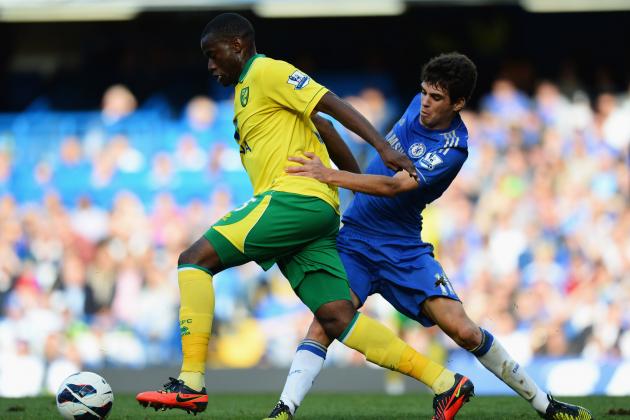 Mike Hewitt/Getty Images

Competition: Premier League
One of only several games in which Oscar has featured for the entire 90 minutes, Norwich were no match for the dribbling skills of Chelsea's newest Brazilian acquisition in early October.
The youngster stood out once more as a big performer at Stamford Bridge and made it difficult for opposite Canaries Jonny Howson and Alexander Tettey to keep up with his elite standard.
Although the playmaker's passing wasn't as efficient as he's become used to (82 percent), three key passes still contributed largely to an eventual 4-1 regardless of the opposition's small resistance.