2012 NLCS: 5 Early Signs the Cardinals-Giants Series Is Going to a Game 7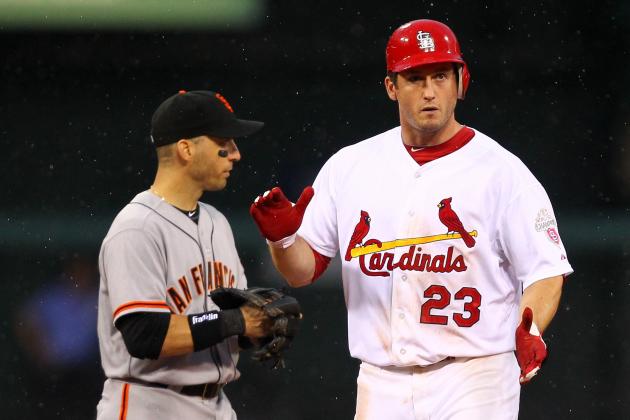 Dilip Vishwanat/Getty Images
Marco Scutaro and David Freese will see plenty of each other in the NLCS.
Going into Game 4 of the NLCS on Thursday (Oct. 17), the St. Louis Cardinals hold a 2-1 series lead over the San Francisco Giants.
With a Game 4 victory, the Cards could take control of the series with a 3-1 lead. But with Adam Wainwright struggling, that might provide an opportunity for the Giants to tie the NLCS at 2-2. However, no team has been able to put away the Cardinals over the past two postseasons.
Both clubs seem so evenly matched, with St. Louis arguably having a hitting advantage while the Giants have a seemingly stronger pitching staff. Each team also has prominent sluggers who haven't produced, which has allowed unexpected heroes to emerge. The starting rotations for both teams haven't performed up to expectations either, yet their respective bullpens have provided relief.
This NLCS has the look of a wrestling match in which neither team will give much ground. While the ALCS has been something of a snoozefest as the Detroit Tigers have dominated the New York Yankees, the National League will likely take some more time to determine its champion. That should provide some fun, dramatic moments for us to watch.
Here are five reasons why the Giants and Cardinals look destined for a seven-game series to decide who goes to the World Series.
Begin Slideshow

»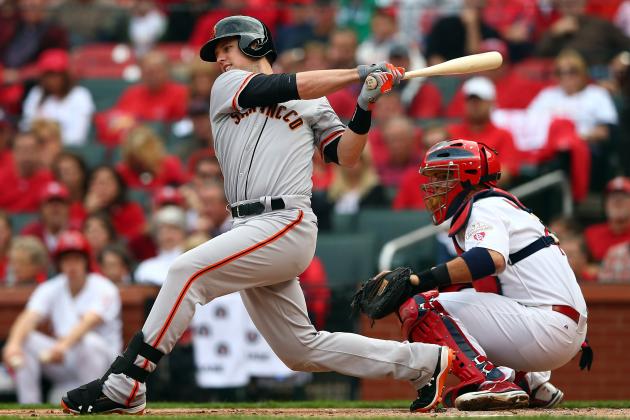 Elsa/Getty Images

Obviously, this could change pending the outcome of Game 4 on Thursday, but neither team has been able to take a two-game lead in the NLCS thus far. Neither the Cardinals nor Giants took a 2-0 lead in the first two games of the series, forcing the opponent to catch up.
For the Giants, that might be significant, considering they fell behind 0-2 to the Cincinnati Reds in their NLDS. That put San Francisco in the position of playing three straight elimination games. The Giants certainly responded well to that kind of pressure, but it's a difficult path toward success.
Meanwhile, this is business as usual for the Cardinals. The best-of-five format prevented St. Louis from pulling away from the Nats in the NLDS. But last year, the Cards traded wins with the Phillies before winning their divisional series. And in the World Series, St. Louis went seven games with the Texas Rangers before ultimately prevailing.
If the Cardinals win Game 4, they can take control of this series. But if the Giants get the victory, this NLCS is almost certainly going to seven games. The series already has that look anyway.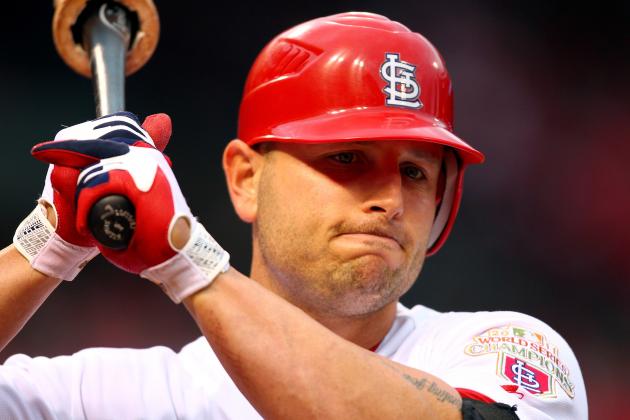 Dilip Vishwanat/Getty Images

Matt Holliday is 2-for-12 (.167) in the first three games of the NLCS. He's batting .222 overall in the postseason. Allen Craig is batting 0-for-9 against the Giants and .250 for the playoffs.
Carlos Beltran was the Cardinals' best postseason hitter but suffered a strained left knee that forced him to leave Game 3 after one at-bat. He won't start Game 4, according to St. Louis manager Mike Matheny, but could make a pinch-hitting appearance.
On the Giants' side, Buster Posey hasn't looked much like an MVP against the Cardinals thus far. He's batting .200 (2-for-10) with a .585 OPS. Pablo Sandoval is hitting .231. Neither player has an extra base hit.
Perhaps the biggest fizzle for San Francisco has been Hunter Pence. Maybe he's expending too much energy in those fiery pregame speeches. He's batting .091 (1-for-11) with a .285 OPS. There's time for Pence to turn it around and supply some run production, but he has to do it soon.
The best hitter between the two teams thus far has been Marco Scutaro, who's carrying a .462 (6-for-13) average and 1.000 OPS in the NLCS. Holliday's takeout slide might have pumped him up.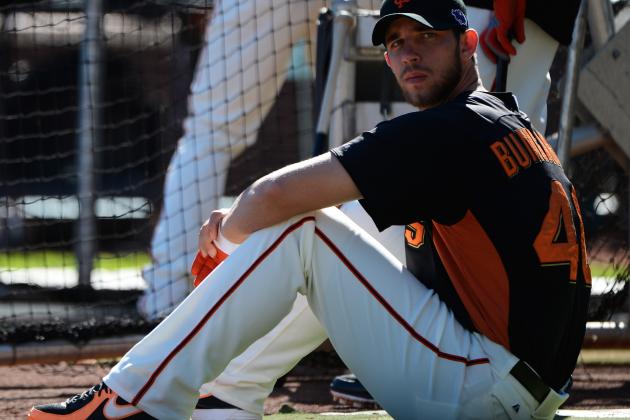 Thearon W. Henderson/Getty Images

Starting pitching was presumed to be a strength for the Giants, but that hasn't been the case during the postseason. (Ryan Vogelsong has been the exception, but we'll get to him later.)
Matt Cain pitched respectably in Game 3, giving up three runs and six hits over 6.2 innings. But with the Giants scoring only one run against Kyle Lohse, three runs turned out to be too many. In three starts this postseason, Cain has a 4.67 ERA.
Madison Bumgarner might not see the pitching mound again during the playoffs after his implosion in Game 1 of the NLCS. He was pounded for six runs and eight hits in just 3.2 innings. The left-hander's ERA is 11.25 in these playoffs, thanks to allowing 10 runs in eight total innings.
Realistically, however, Giants manager Bruce Bochy probably has to use Bumgarner again in this series and could start Game 5 for San Francisco.
For the Cardinals, the pitcher generally regarded as their ace was roughed up in Game 2. Chris Carpenter has been a playoff stud for the Cards, but was hammered for five runs (two earned) and six hits in just four innings of work.
Game 1 starter Lance Lynn was knocked around as well and couldn't make it through the fourth inning. He ended up allowing four runs and five hits in 3.2 innings. If not for Bumgarner being a bust on the other side, the Cardinals may have fallen behind 0-1 in the NLCS.
Christian Petersen/Getty Images

Despite the pitching struggles for both teams, a couple of arms have emerged with standout performances during the NLCS.
As mentioned in the prior slide, Ryan Vogelsong hasn't followed his fellow starting pitchers with poor performances. In Game 2, he allowed just one run and four hits over seven innings, giving the Giants the kind of start they'd been looking for in this series.
Vogelsong was almost as good in the NLDS versus the Reds, allowing one run and three hits. He pitched five innings in that outing, however.
Kyle Lohse came through for the Cardinals when needed. He allowed one run in Game 3 over 5.2 innings despite giving up seven hits and five walks. In three postseason starts, Lohse is 2-0 with a 1.96 ERA.
If any of his fellow starting pitchers—perhaps Adam Wainwright in Game 4—can match that level of performance, the Cards will likely advance to the World Series.
Dilip Vishwanat/Getty Images

While the starting rotations for both the Giants and Cardinals have faltered during the postseason, each team's bullpen has picked up the pitching slack in a big way.
Santiago Casilla has a 2.08 ERA in six appearances for San Francisco, striking out seven batters in 4.1 innings. Sergio Romo has been even better, compiling a 1.69 ERA in four games. Both Jeremy Affeldt and George Kontos have yet to allow a run during the postseason.
For St. Louis, closer Jason Motte has a 1.23 ERA in five appearances, also notching three saves. Edward Mujica has allowed two runs in five innings, resulting in a 3.60 ERA.
But their fellow relievers have been incredibly stingy. Neither Marc Rzepczynski, Mitchell Boggs, Fernando Salas, Joe Kelly and Trevor Rosenthal have allowed an earned run during the postseason thus far.
Even when the starting pitching struggles, relief work like that has kept the Cardinals in almost every playoff game.
Follow @iancass on Twitter