Danny Garcia vs. Erik Morales: Fight Time, Date, Live Stream, TV Info and More
image from complex.com

The worst thing about the buildup to a Danny Garcia fight is being forced to listen to his father talk trash. It's a shame that Angel Garcia has become the mouthpiece for an otherwise likable champion.
Garcia's surprise KO victory over Amir Khan validated his undefeated record, but again almost any enjoyment was spoiled by Dad's classless remarks about race before the fight. Sports Vibe quoted the elder Garcia with this statement:
"If he were American, nobody would care. Khan has never faced a Latino like Danny. This is Latino blood, a nation. We are going to show the world who is the boss."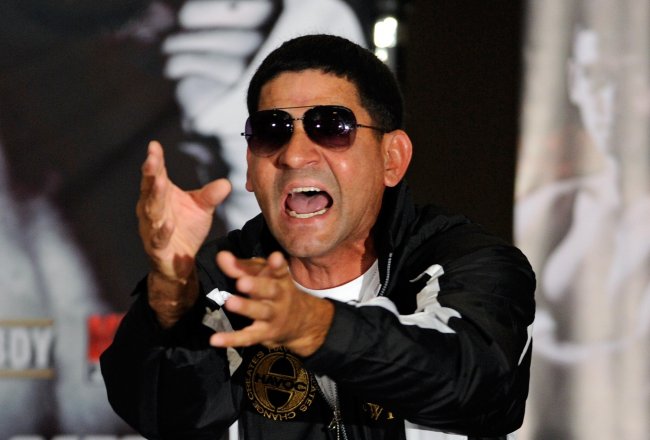 David Becker/Getty Images
What a guy.
Despite that distraction, Garcia is 24-0 with 15 KOs and he's the reigning WBA Super World Lightweight champion and WBC Light Welterweight champion. He'll be rematching a pure Mexican legend in Erik Morales.
This isn't the same Morales that fought wars with Marco Antonio Barrera and defeated Manny Pacquiao. This El Terrible retired for three years in 2007, returned in 2010, but has lost two of the six fights he's had since returning.
One of those losses came against Garcia. In fact, it was Morales' last fight and it took place in March of this year. It was a fairly lopsided decision win for Garcia, and frankly I don't understand the purpose of this rematch.
Morales looked old, slow and grossly out of condition. He was even fined for missing weight, per Boxing Scene. Here are some of the highlights:
Morales landed some decent shots, but I didn't see anything in this fight that would warrant this quick of a rematch, especially considering Morales is 36 years old. Nonetheless, it's coming our way. Here's how you can watch it, and some deeper analysis into both fighters:
When: Saturday, October 20, 9 p.m. ET
Where: Barclays Center in Brooklyn, New York
TV: Showtime
Live Stream: Showtime Anytime (Pay Service)
The Book on Garcia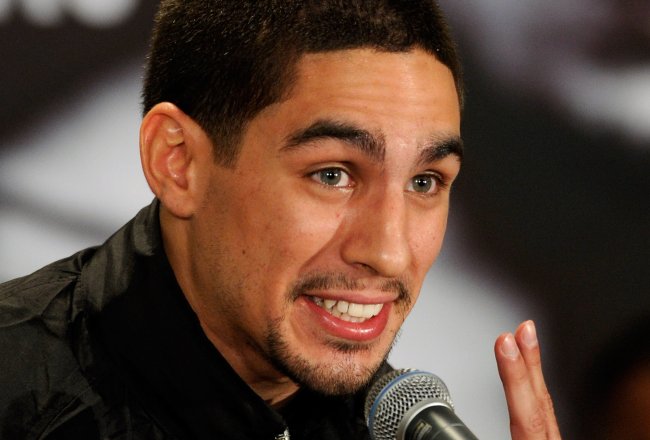 David Becker/Getty Images
Nothing about Garcia looks expressly overwhelming. He isn't lightning fast, and he doesn't have earth-shaking power. What he does bring into the ring is determination, and solid counter-punching skills. Those two qualities have taken him to an undefeated record and two world championships.
He has the ability to lull opponents to sleep, and then explode on them in exchanges. That's essentially what happened to Khan when Garcia knocked him silly in July.
Khan was dominating the fight, but he got careless and he began engaging in repeated exchanges with Garcia. The better chin won out as Garcia landed a blind—but huge left hook to drop Khan in the fourth round. It was the beginning of the end for the British fighter.
Take a look at it here:
Garcia is physically and mentally tough. His confidence should be at an all-time high right now, but don't expect that to mean he'll slack off in this fight. This kid is a consummate professional, and more importantly he knows his game.
He doesn't panic, he stays patient and he takes advantage of his opportunities. It'll take a completely rejuvenated Morales to have a shot at producing a different outcome than the one we saw in March.
The Book on Morales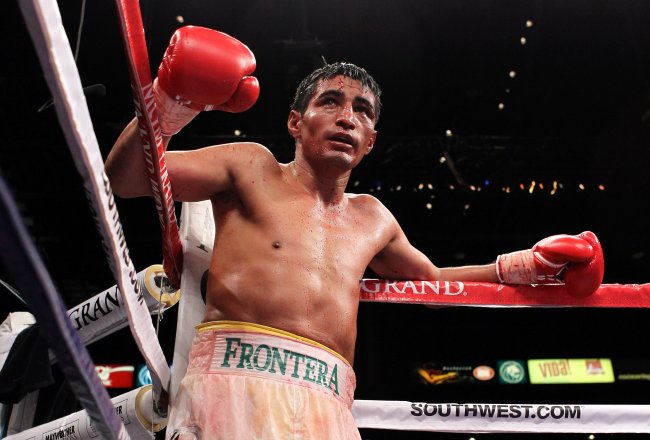 Al Bello/Getty Images
Morales is a boxing legend. Nothing that happens in this fight, or any other fight can change that. Because of his immense skill set, instincts and heart, he can still be competitive with most fighters. That said, he won't beat many true contenders.
When Morales decided to retire in 2007, he had lost five of his last seven fights. Since he returned, he has only scored victories over underwhelming competition.
He still brings decent hand speed to the table, a great chin and a strong will. However, he doesn't punch the way he once did. Part of that is because old age has forced him to fight in a bigger weight division, and his power hasn't translated. He's KO'd only one fighter in the last nine years.
At this point in his career, Morales is an overblown featherweight getting by on his significant guile and boxing IQ. Hopefully, any fan that chooses to watch this fight remembers how good Morales was in his prime.
He is one of the top 20 fighters in the past 25 years, and the man you'll likely see on Saturday night is a shell of himself. In case you didn't see him then, or you just want to reminisce, check out a highlight reel of the real El Terrible:
Prediction
Garcia will win a mildly competitive fight, only because most of his fights turn out that way, and Morales is still slick enough to prevent embarrassment.
This will be another unanimous decision win for Garcia.
Follow Brian Mazique and Franchiseplay on YouTube and Twitter for reactions, analysis and news from the world of sports and sports video games
This article is
What is the duplicate article?
Why is this article offensive?
Where is this article plagiarized from?
Why is this article poorly edited?