South Carolina Football: Injuries and Illness to Important Players May Hurt Team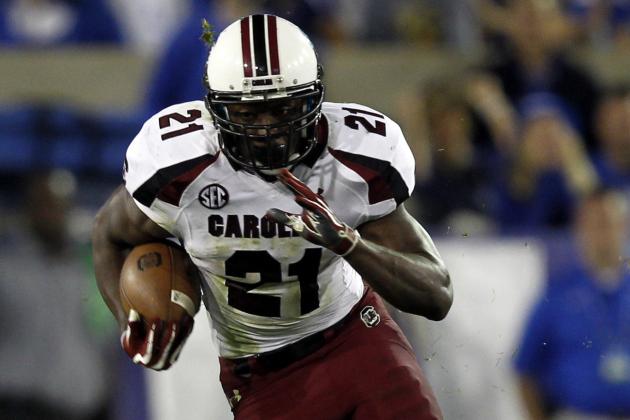 John Sommers II/Getty Images

Is South Carolina's magical season already going down the drain?
I'm not ready to throw in the towel just yet, but the Gamecocks continue to get bad news. Josh Kendall of The State, tweeted on October 17th that the Gamecocks are suffering from some Flu issues. A who's who of star players are getting sick.
Combine that with the recently announced news that Marcus Lattimore may sit out the Florida game, and it's looking a little bleak.
The Gamecocks need to be in top form in order to compete with the Gators this year. Let's take a look at the impact players that have been affected.
Begin Slideshow

»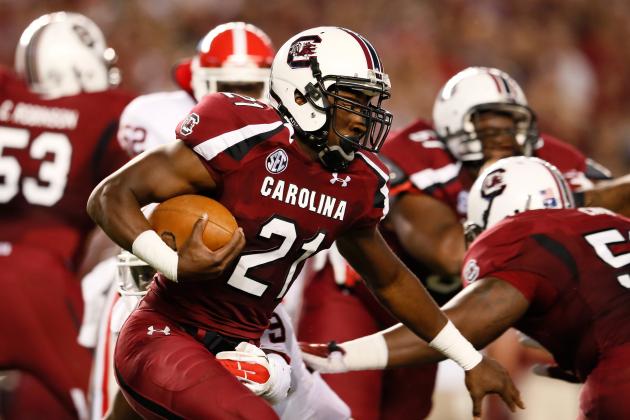 Kevin C. Cox/Getty Images

The news that Marcus Lattimore's hip may keep him out of the game may be the biggest news of all.
Lattimore has accounted for 584 rushing yards with 10 touchdowns. He's also the most targeted receiver. He has 22 catches for 156 yards.
This could be a crushing blow to the Gamecocks. However, I do have faith in Kenny Miles. He's a good back, who has produced in Lattimore's absence before. He has 100 yards rushing and one touchdown on the season.
However, it would be nice if Brandon Wilds wasn't injured. He was a star when Lattimore went down last year.
Freshman Mike Davis may get some extended action. He has shown flashes of brilliance this year. He has 117 yards on just 13 carries. He also has a touchdown.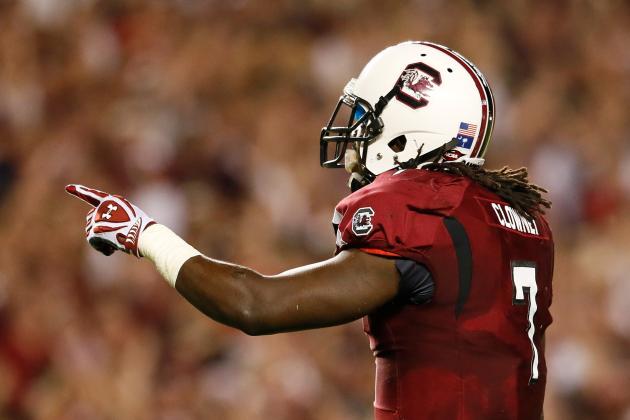 Kevin C. Cox/Getty Images

The devastating Jadeveon Clowney is a new add to this list. He's feeling the effects of the flu bug and a foot injury.
He has 6.5 sacks on the season and has been disruptive all year. He showed a weakness against the run at LSU which could be exploited by Florida.
Chaz Sutton will see an increased role. Sutton is an extremely talented player who could be a star soon. The Gamecocks are loaded at defensive end, and as talented as Clowney is, the Gamecocks will be fine here.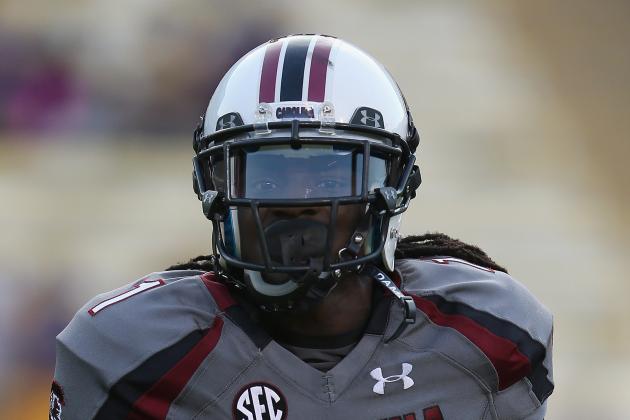 Ronald Martinez/Getty Images

Ace Sanders is a full-blown star. I knew he'd be a breakout player in 2012, I just didn't realize it would be as a punt returner.
One of college football's most explosive return men is also a hell of a receiver. Even though the Gamecocks don't pass often, Ace Sanders has shown excellent receiver skills. He has got great hands, amazing speed and runs crisp routes.
He has 159 yards receiving and four touchdowns. He leads the team in touchdown receptions (along with Rory Anderson).
He also has a punt return touchdown. He's second in the country in punt return yards.
The Gamecocks have great receivers to step up in that area. However, no one can return a punt quite like Sanders.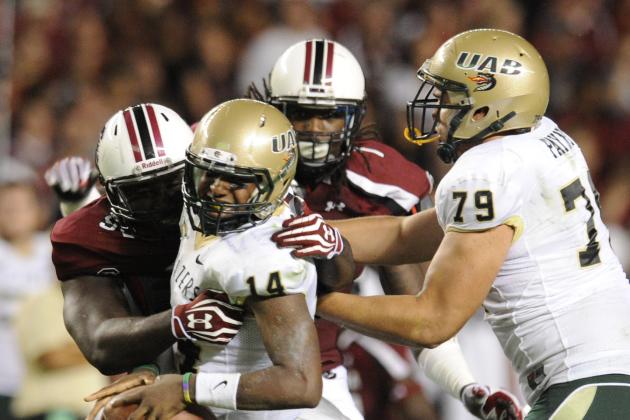 Mary Ann Chastain/Getty Images

Push aside his punching issue at LSU. That was stupid. However, not the issue here.
Kelcy Quarles is a stud defensive tackle who plays the run and rushes the passer, very well. He's fast, strong, and disruptive. He's also nursing a shoulder injury that slowed him down against LSU.
Quarles has 30 tackles. Six of them went for a loss. He also has two-and-a-half sacks. Defensive tackle isn't nearly as deep as defensive end. If Quarles isn't 100 percent (or is suspended), this could be a big blow to a defensive unit that needs to shore up the run defense.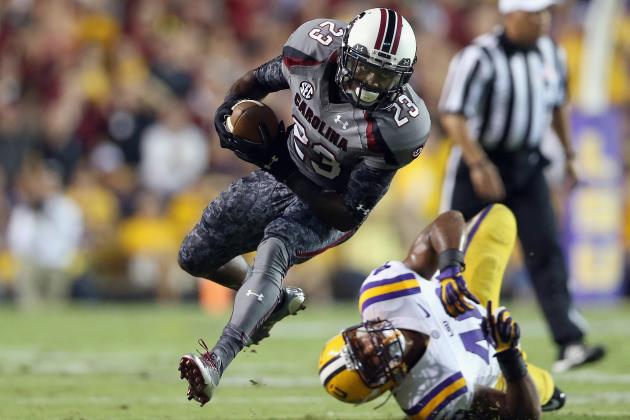 Ronald Martinez/Getty Images

Bruce Ellington has grown into quite a good receiver. He's fast and sure-handed. He's also tough.
Not tough enough to fight off that flu bug, though.
He's the second leading receiver yardage-wise on the team. He has hauled in 265 yards worth of passes to go along with two touchdown. Hopefully, "the Bruce is loose" will be heard at "The Swamp" on Saturday.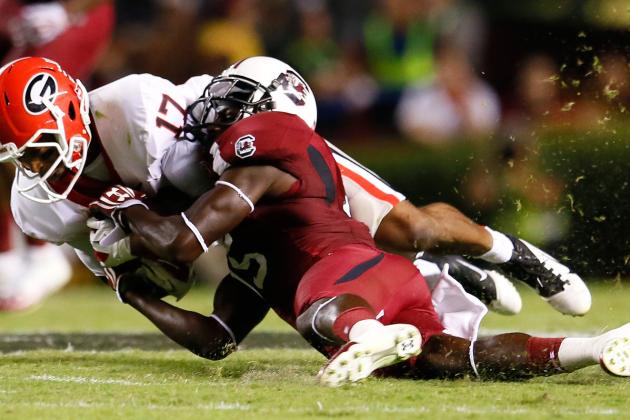 Kevin C. Cox/Getty Images

Jimmy Legree has been one of the most positive surprises this year. Everyone thought Victor Hampton would be a star. He hasn't been.
However, Legree has.
He's a tackling machine and is getting dangerously close to being considered a shutdown corner. He has 29 tackles, two interceptions, and five pass breakups.
He has to be 100 percent. Even though Florida doesn't pass often, he's so solid all around, he would be missed. He's an excellent tackler and reads plays well. The team needs him.