WWE: What You Missed on NXT, Main Event, Superstars and Saturday Morning Slam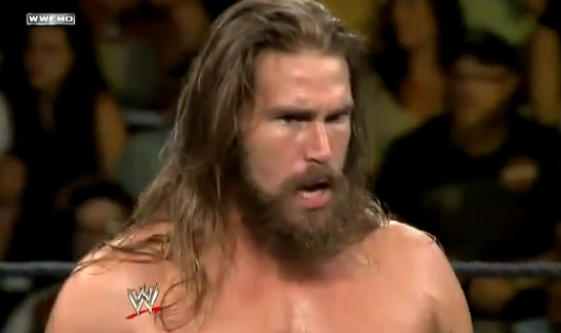 Credit: WrestlingNewsGreek.com
The program begins with a recap of last week's NXT Championship match and Rollins' interaction with CM Punk.
After the opening theme, we cut to the arena where Byron Saxton reminds us that William Regal is his co-commentator, and that tonight's main event will be a six-man tag match pitting Steamboat and The Usos against Ohno and The Ascension.
Alex Riley makes his way to the ring in the first match I remember seeing him in at all in quite some time. Mahal is his opponent, who Saxton says hasn't appeared on NXT since losing to Rollins in the finals of the NXT Championship tournament.
As he makes his way to the ring, Mahal is not accompanied by the other members of 3MB. Instead, he is back to wearing his old headgear and placing it in the protective case outside the ring. We've seen 3MB on this program before, but I recently learned they tape these shows a month or more in advance (thanks Jon Strickland), so 3MB likely wasn't even completely thought through when this was taped.
As long as I've been writing reviews of NXT, I can't remember a match featuring two superstars who have already made it to Raw and SmackDown, so I guess this is a special treat (or maybe punishment, in their eyes) for the crowd at Full Sail University.
The match felt relatively slow-paced to me, and the live crowd didn't seem to be feeling it. Riley picked up the win after a quick roll-up. Post-match, Mahal attacked Riley (sans Slater or McIntyre), putting him into the camel clutch until the referee forced him to break it up. I guess we'll have to see how things pan out for Mahal on NXT while he continues to build 3MB on Raw and SmackDown.
Before the commercial break, we find out that the next match will be Barreta vs. Jake Carter, a match that was set up on NXT last week.
The match goes back-and-forth pretty regularly for the first few minutes until Baretta attempted a high-cross body. Carter got out of the way, sending Baretta flying into the ropes (which was a great visual; Barreta should incorporate that into his matches regularly). At that point, the son of Vader remained in control.
Barreta, who recently returned after six months on the DL, got a good reaction from the crowd. For the last few minutes of the match, Barreta would attempt a comeback, but Carter would take control back using his size and strength advantage.
In the end, however, Barreta countered Carter's offense with a knee to the chin for the win.
Sandow will be in action after the commercial break. No opponent is announced, a good indication that it will be a squash match.
As Sandow makes his way to the ring after the break, he has a mic and rips into the live crowd, who respond with the appropriate heat. His opponent is already in the ring, and his name isn't mentioned until just before the match when Regal realizes it and reminds us that it is NXT relative newcomer Traven.
Despite the fact that Regal tries to sell us on Traven by reminding us he was trained by Harley Race and spent some time in Japan, there was really no question who would win this match, even after a few short spurts of Traven offense.
If you ask me, Traven likely won't ever make it in WWE without a major image and gimmick makeover. Sandow gets the victory after hitting the Terminus.
The main event is up after the commercial break. It's refreshing to watch WWE programming that doesn't feature a Raw Rebound.
And, immediately following the commercial break...we get a Raw Rebound. That's my fault, I forgot to knock on wood at the end of that last paragraph. After sitting through a video for which I did not need a reminder, The Ascension make their way to the ring with the most unique entrance in NXT.
As their partner Ohno makes his way to the ring, Saxton welcomes Jim Ross to the announcer's table. The faces are introduced, jump in the ring and send the heels to the outside before the bell rings. We take a commercial break.
Kenneth Cameron and Jimmy Uso have started the match when we return. There's a little more than 13 minutes remaining in the program. By the time we get to the next commercial break, it seems obvious that the purpose of this match is two-fold: to further the Steamboat/Ohno feud and to further establish The Ascension as the best tag team in NXT.
After the commercial break, we get a message from Layla about her mother and breast cancer that rivals the Sarah McLachlan animal abuse commercials in terms of laying it on thick. Yes, breast cancer sucks.
When we return to the match, the heels have control. At one point, there was a rare moment on commentary in which JR had to confirm the name of a move with Regal when Ohno uses a "front head chancery with a trapped arm." Also worth noting, JR can't tell the difference between the two Usos. Admittedly, neither can I.
For most of the match, the heels isolated Jay Uso. It was obvious that a hot tag would eventually be made, and you've got to believe it will be to Steamboat so he can go after Ohno. Which, indeed, happened with a minute or two left in the match, while the Usos took out the Ascension on the outside of the ring.
While Steamboat has his attention turned elsewhere, Ohno hits him with a KO elbow and gets the pin. A solid match showcasing the future of WWE, with great commentary by Ross, Regal and Saxton.
Sorry fellas, no mention of Paige this week, so no picture of Paige on my slide.
Prediction: Ohno and The Ascension will get bumped to Raw and/or SmackDown before SummerSlam 2013.
Question: Why doesn't WWE even mention this show anymore? They don't even have it listed at WWE.com. Just as die-hard baseball fans enjoy AAA games to see the future of their MLB team, die-hard WWE fans want to see the guys in the developmental leagues.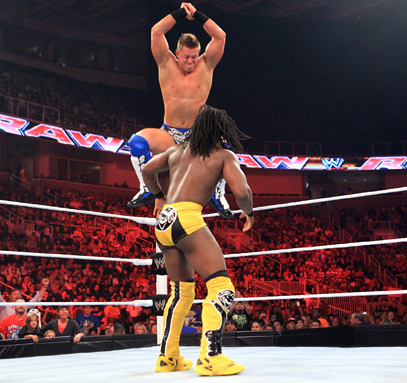 Credit: WrestlingLine.org
I'm still not sure how I feel about the format of WWE Main Event.
Clearly, after the first three episodes, they are trying to convince the most faithful of the WWE Universe that Main Event is a show they should be watching. Unlike Saturday Morning Slam, storylines can be progressed on Main Event.
But the format of the show, I believe, is an attempt to draw in new viewers. The three main events of Main Event that we've seen so far include Punk vs. Sheamus, Show vs. Orton, and Miz vs. Kingston. We are not seeing the culmination of a multi-episode arch. We are seeing the culmination of a week or so of build-up, the kind of matches that get set up a week in advance on Monday Night Raw or SmackDown.
The only real difference is the attention these matches get. If you weren't a loyal WWE fan already, the first 15 minutes or so of WWE Main Event would have you think the match was in the making for a long time, that the two competitors have a long and detailed history.
During the opening match, Cole makes the comment that Miz vs. Kingston has a "big-fight feel" to it. I think that's what they're going for every week, so that casual viewers will think there is more invested into the matches than there really is.
In addition, it also feels a little strange to have the main event as the first match of the episode, followed by a match that is obviously not at the same level as the first. It's just not what we're used to.
For now, the show is worth watching. If you like WWE's video packages, then you'd probably really enjoy the show's 15-minute intro. If you're not into that sort of thing, you can just tune in about 10 minutes after the show starts and you will get to see a really solid match that has potential to actually affect things on Raw and SmackDown.
As this week's episode begins, Michael Cole and John "Bradshaw" Layfield are in the ring. They are co-hosting this week's Main Event, and JBL reminds us that he still holds the record as the longest reigning champion in SmackDown history.
This week's opening match is The Miz vs. Kofi Kingston for the Intercontinental Championship. We see a replay from Raw, in which Kingston gets a pinfall victory over The Miz after a brutal Trouble In Paradise that literally left The Miz in stitches.
Showing a clip like that is generally an indication that The Miz is going over tonight. But this is the first title defense on Main Event, and if they're still trying to show the WWE Universe that this is a legitimate show, an Intercontinental title change could help make people pay attention.
They show a video montage of Kofi. He talks about everything: growing up in West Ghana, his high school and college career, and his development into the "boom boom boom" of the WWE. After the video package, Josh Matthews interviews Kingston backstage, where Kofi says he's received a lot of "Twitter messages" since hitting The Miz with the Trouble In Paradise.
Back in the ring, JBL is about to talk up The Miz when "Awwwesome" comes over the PA, and The Miz makes his way to the ring. He introduces a video package of his own history, how he surpassed everyone's expectations transitioning from reality star to WrestleMania headliner. After the video ends, Kofi joins The Miz in the ring, and we head to a commercial break as this title match is about to start.
When we return from the break, Garcia begins her introductions.
Bonus Question: On a side note, does anyone else think Lilian says the word "championship" a little funny? It sounds a little more like she's saying "championCHIP." But, I digress.
The match has a good back-and-forth, showing off Kofi's high-flying ability and the smash-mouth style of The Miz. Kofi almost hits the Trouble In Paradise again, but The Miz avoids it by rolling outside the ring and we head to commercial break.
The action is back in the ring when we return from commercial, and Kofi remains in control; but not for long. The match continues the same ebb-and-flow it had from the beginning. After a double high-cross body that leaves both men down in the center of the ring, Kofi manages to get up, get a little more offense in and then climb the ropes for an areal attack. The Miz manages to shove him from the top turnbuckle to the outside of the ring, and we head to commercial break again.
When we return this time, the action is back in the ring once again, and The Miz is in control with a rear chinlock, signifying that they used the commercial break as a chance to catch their breath. When they get outside the ring again, The Miz Irish whips Kofi into the steel steps, but Kofi avoids it with a leaping somersault, again drawing attention to his high-flying antics.
As we approach the end of the match, there are several finisher-reversals and near-falls. The Miz is frustrated, so he tries to leave with the title, but Kofi brings him back to the ring. Not long after, Kofi hits the Trouble In Paradise out of nowhere and wins his fourth Intercontinental Championship.
I completely disagree with this booking decision, putting the IC Title back on Kingston, but I will spare you my thoughts here and simply write another article about that. The length and quality of the match were pay-per-view worthy. If Main Event continues to put these level of matches on the card, it will easily cement a place as the WWE's C-show.
Kofi is interviewed backstage and gave a standard face response to winning the IC Title. After another commercial break, The Miz is interviewed backstage. It looks like, for at least a little while, The Miz will be obsessed with getting the IC Title back.
The second match-up of the night features Vickie Guerrero's client against the WWE's favorite broski. We go to commercial break after Vickie introduces Ziggler and he makes his way to the ring. With just under seven minutes of programming left after the final commercial break, we still have to wait for Garcia to introduce Ryder.
During the match, Ryder does get in some offense, but Mr. Money In The Bank kicks out after a Broski Boot and pins Ryder moments later after hitting his finisher. With about two minutes of programming remaining, Vickie grabs the microphone. She says nothing of real significance other than teasing that Dolph will cash in his MITB at HIAC.
Ziggler takes the stick from her and issues an open challenge to everyone in the back for next week's Main Event. The challenge is answered by the WWE's newest powerhouse, Ryback. If that didn't mean an obvious loss for Ziggler, I might be excited for that match.
Prediction: WWE will continue to headline Main Event with matches that could legitimately headline Raw or SmackDown, at least through the end of the calendar year.
Question: How long will WWE keep the format of the show as it currently is? Will that kind of format prove a boost in the ratings, or a complete bust?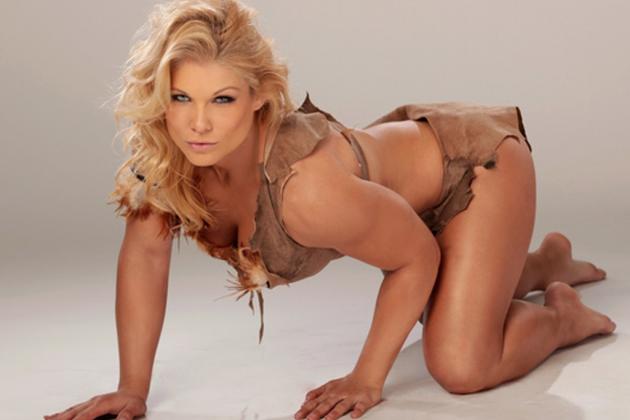 Credit: GirlsWithMuscle.com
Scott Stanford and Matthews are at the announcer's booth as this week's episode of Superstars begins, and Tensai is making his way to the ring. His opponent will be McGillicutty. They are playing up the angle that Tensai has been trying (unsuccessfully) to get his hands on Sheamus.
Tensai vs. McGillicutty (televised match length 7:30)
If you watch a lot of WWE programming outside of Raw and SmackDown, you see McGillicutty on a fairly regular basis. He generally faces guys a little smaller than himself, so it will be interesting to see how he does against a beast like Tensai.
Tensai has already gone through some minor gimmick alterations since his return. First, they dropped "Lord" from his name. Now, it seems as though they may have dropped his sidekick Sakamoto. He still has a profile on WWE.com, and there's no indication on his Wikipedia page that he's been released or going a new direction with the company, but we haven't seen him (or heard his name mentioned) on television for a few weeks.
I've heard rumors that they may tag Tensai and Yoshi Tatsu up to add them to the tag division, which I think would be beneficial to both of their careers at this point. Notably, the "Albert" chants seem to have stopped.
Using his size and strength advantage, Tensai controls the first few minutes of the match, simply punishing the son of Mr. Perfect. Just before commercial break, McGillicutty manages to get the upperhand by sending Tensai to the floor.
However, by the time the commercial break is over, Tensai is in charge inside the ring again. McGillicutty only gets one more spurt of offense, but Tensai reverses a suplex attempt, hits the Senton Splash and gets the 1-2-3.
Before we go to another commercial break, we get another heavy-hearted reminder about breast cancer, and we find out the next segment will just be a Raw Rebound.
As we were told after the Raw Rebound, and before another commercial break, up next will be Kaitlyn vs. Phoenix. I expected Matt Striker to join the announce team (as I believe he regularly does halfway through this program), but it remains Scott and Josh.
Kaitlyn vs. Phoenix (televised match length 6:38)

Kaitlyn still has her ankle taped over her boot. Phoenix takes control early in the match, and we're informed that it's Beth's 7th anniversary with the company. Kaitlyn manages to get a little offense in, but as we take a commercial break, Phoenix has the advantage once again.
So far, the match hasn't been especially technical, but it's more physical than a lot of the Divas matches that WWE puts on. Women's wrestling is still one advantage TNA clearly has over WWE.
Bonus Question: If WWE ever wants to have a respectable Divas division again, what sort of women would you like to see it built around? Do you prefer the kind of women that are legitimately intimidating, like Phoenix, OBD, Natalya and Awesome Kong? Or do you prefer the model-turned-wrestler types like Layla, Eve Torres and Alicia Fox?
When we return from the break, Phoenix has Kaitlyn in a modified reverse chin lock. Every time Kaitlyn begins to fight back, Phoenix holds her off and remains in control of the match. This formula holds true for the match until Kaitlyn utilizes the ropes and manages a sunset flip into a roll-up for the upset victory. Stafford gives credit to Kaitlyn's "channeled energy" from the scandal that cost her a Divas championship match.
The only thing remaining after the last commercial break is another Raw Rebound. There are so many better ways they could use this airtime. I wonder if WWE has any clue how frustrating this is to all of their most dedicated fans.
Prediction: WWE will continue to keep Phoenix and Natalya on the back-burner. Phoenix will grow frustrated and leave the company, whereas Natalya will simply accept her permanent spot as a second-rate draw in WWE creative's eyes.

Question: What is WWE trying to accomplish by loading shows like Superstars and NXT with Raw Rebounds? How many people are watching either of these shows that aren't already fully aware of Raw's happenings? The only people that would be doing that are people that are already familiar with Raw and just aren't into it.
WWE, please quit wasting our time with Raw Rebounds on these shows. Make the shows feel like a showcase of up-and-coming talent under the WWE umbrella, and not simply a long commercial for Raw.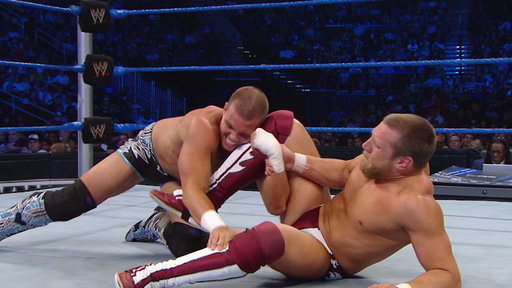 Credit: Break.com
As Saturday Morning Slam continues to tweak its format to find just the right fit for the Saturday morning crowd, it looks like we can start to expect Santino Marella on color commentary every week alongside play-by-play man Matthews.
It also looks like they'll be providing commentary for two matches instead of just one. Apparently, the kids like as much action as possible, and are less interested in the informational segments WWE was providing the first few weeks.
They announce that the main event will see Bryan facing off against Kidd. But for now, we get Ryder vs. Gabriel.
Ryder vs. Gabriel (television match length 6:50)

In this match, featuring two faces often geared towards the younger crowd, we are treated to Gabriel's wolf cry and Ryder's "woo woo woo" yell. If five-year-olds across the country are anything like my nephew, Ryder is much more over than Gabriel. However, they do give Gabriel a few opportunities to show off his high-flying antics, which the kids obviously enjoy.
The commentary and the back-and-forth of the match are really trying to convey the message that these two up-and-comers are essentially equals, so it's a toss-up guessing who will come out on top. In the end, Gabriel avoids Zack's first attempt to hit the Rough Ryder, only to fall victim to it seconds later.
However, due to the Saturday morning timeslot, the Rough Ryder is considered too dangerous to show the kids, so all we see is Santino and Josh calling the finisher until we see the ref counting the 1-2-3. My nephew didn't notice; I wonder how many kids did?
After we return from a commercial break, they replay the finish of the Ryder/Gabriel match (without actually showing the finisher) and segue saying that while the Rough Ryder is dangerous, it's not as dangerous as a python.
The next segment focuses on snake-related gimmicks in WWE's history. They begin with Jake "The Snake" Roberts for this week's "Video Vault." They also highlighted "The Rattlesnake" Austin as well as "The Viper" and "Apex Predator" Randy Orton. Orton says part of the reason he is called "The Viper" is because he was fascinated with reptiles as a child. You heard him, kids: go play with snakes!
After another commercial break, we're ready for the main event, featuring one half of the WWE Tag Team Champions, Bryan, against the final graduate of the Hart Dungeon and former tag team champion, Kidd.
Bryan vs. Kidd (televised match length 3:33)
This match is a perfect example of why this show is worth watching, especially if you have little ones. Bryan vs. Kidd will always be a solid match (even if it's short), but they manage to cater to the kids as well. Kidd pulls on Bryan's beard, resulting in Bryan leaving the ring and trying to leave the match. Kane, however, makes an appearance, and Bryan's terrified face is classic as he re-enters the ring.
There is also a spot in which Bryan rolls himself into a ball, forming a shape in which his shoulders are never touching the mat at the same time. Kidd rolls him around the ring for a minute, trying to find a way to pin him. Definitely worth checking out!
Bryan actually uses this to lure Kidd into a roll-up pin for the win. Post-match, Bryan and Kane (who remained at ringside throughout the match) go into their regular routine. Once again catering to the kids in a clever way, Kane takes Bryan's title belt, backs into a ring corner, steps up on the bottom turnbuckle and holds both belts above his head. When Bryan approaches, he "can't reach them" even when he jumps. After making a very sad pouty-face, Kane feels bad and ends the show by giving him the belt back.
Prediction: If the older members of the WWE Universe introduce this program to their little ones, I think the show will be a huge success. It's a great way to share something you love with the people you love. The matches are good enough to watch, the Video Vault generally has some old footage that is genuinely nostalgic, and they cut out anything that may be even remotely offensive. They've done this show right, but I really think it will depend on us making the connection with the future generation of the WWE Universe.

Question: How is it that this is the only show in which the majority of the content is actually wrestling and we don't have to sit through any Raw Rebounds?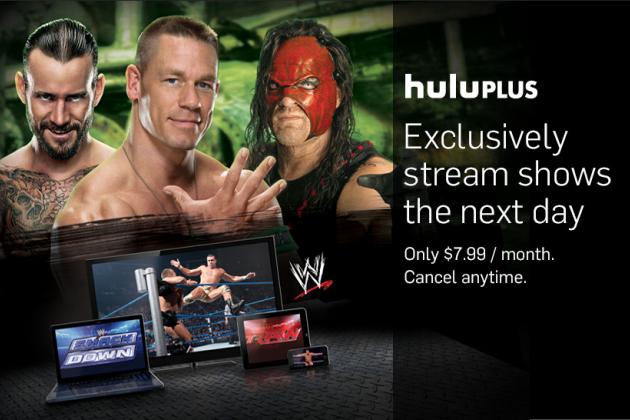 Credit: Hulu.com
The question remains: Is WWE producing too much content for their own good? Can they possibly keep all of their shows both relevant to the fans and profitable to the business?
If you count the shows reviewed in this article, there are a total of six shows WWE is producing for a total of more than eight-and-a-half hours of television each week. Outside of the United States, there's a program called WWE Vintage that is an hour-long weekly show that presents all sorts of nostalgic footage.
The problem is more complicated if your professional wrestling interests go beyond the world of Vince. TNA's Impact Wrestling and Xplosion take up another three hours of weekly programming. Don't forget ROH. Don't forget all of the major promotions in Japan. Don't forget your local independent wrestling scene. Don't forget at least one PPV every month.
As long as they can afford to put the programs on and it's not drawing valuable funds away from other projects, I think WWE should keep at it. WWE may have enough programming to flood the market on their own, aside from anything anyone else produces, but they serve different purposes.
Raw continues to slowly edge back towards the types of television parental ratings they had during the Attitude Era. SmackDown and Saturday Morning Slam cater to the younger audience and their parents. Superstars and NXT exist for the fans that prefer less mainstream content.
Additionally, an important part of any successful business is continuing to win over new patrons. Even if the ratings vary, there's no denying the dominance of Raw and SmackDown within the wrestling world today. But, most of the people willing to invest two, three or even five hours of WWE programming every week qualify as those that have already been won over.
With Saturday Morning Slam, they are reaching out to the next generation of the WWE Universe. Everyone has heard that the professional wrestling industry is cyclical, and an important part of that cycle is getting kids hooked when they're young; not unlike the tobacco industry, minus the cancer. SMS can attract the youngsters that are already watching the CW. Plus, it serves as a great show for older fans to try to win over their own youngsters.
The deal worked out with Hulu should bring over some new viewers as well. The shows stream on Hulu Plus, a subscription service that is made up mostly of television junkies who are always looking for something new to watch on television. While I think there will be a few people turned on to Hulu Plus thanks to their affiliation with WWE, I think more people will be turned on to WWE thanks to their affiliation with Hulu Plus.
The current format for Main Event seems to be trying to attract people that may have a casual interest in the sport but aren't dedicated enough to sit through an entire episode of Raw or SmackDown. They do a great job of taking a decent match and giving it a "big-fight feel," with a build-up and culmination all coming within the first thirty minutes of programming.
If those watching Main Event enjoy the first portion of the show, maybe they'll stick around for the follow-up match. Maybe the storyline or someone's gimmick will convince them to turn into Raw or to tune back in to Main Event the following week. I firmly believe their goal is to make Main Event the SmackDown of Ion Television, becoming the highest-rated show on a network that seems a little out of place in our world.
And for wrestling geeks like you and me, they put out shows like NXT and Superstars so that we can see some decent matches of decent length on a weekly basis that don't involve John Cena or Sheamus.
As far as I can tell, WWE has filled every niche. If they keep things at the same quality as they have been lately, I say the WWE should keep putting out six shows every week.
We're not sick of WWE, yet.
You can follow Dustin on Twitter, check out his blog or listen to his podcast.