Michigan Football: 5 Realistic Postseason Scenarios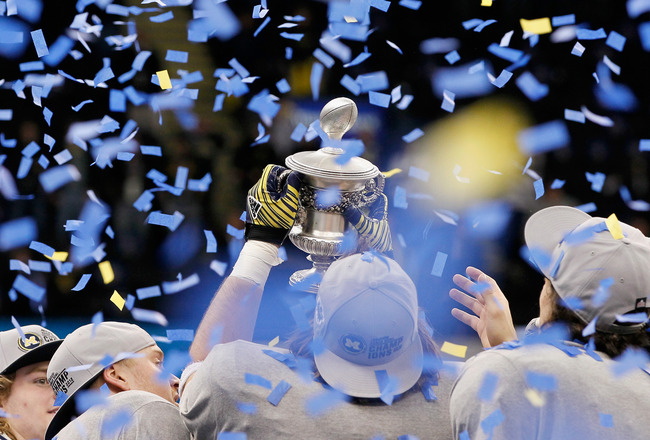 The Wolverines won last year's Sugar Bowl. Where will the end up this postseason?
Kevin C. Cox/Getty Images
There are 35 different bowl games played every winter for FBS teams. Seventy different teams play against each other in games ranging from the BCS National Championship Game to the Pinstripe Bowl played in Yankee Stadium.
Last season, the Michigan Wolverines played in one of the five BCS bowl games as they received an at-large bid to the Allstate Sugar Bowl. After defeating Virginia Tech 23-20 in overtime, many pegged Michigan to the Rose Bowl or the BCS National Championship Game for this season.
After six games and losses to top ranked teams Alabama and Notre Dame, where do we see Michigan playing this postseason?
1. Meineke Car Care Bowl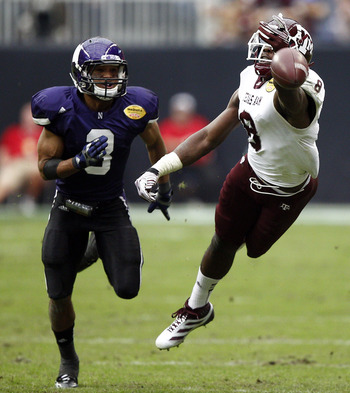 Northwestern (6-6, fifth, Legends division) and Texas A&M (6-6, seventh, Big 12) played in last year's Meineke Car Care Bowl
Bob Levey/Getty Images
This would surely be a consolation prize following the preseason hype surrounding the Wolverines. The Meineke Car Care Bowl (formerly the Texas Bowl) matches up relevant Big 12 and Big Ten teams to play in Reliant Stadium, home of the Houston Texans.
Last year, a pair of 6-6 teams played in this game, with Texas A&M edging Northwestern 33-22.
Potential opponents in this game could be Texas, Baylor, Iowa State or Oklahoma State. While this wouldn't be an easy win for Michigan, this is definitely the worst quality bowl I could see them competing in.
2. Outback Bowl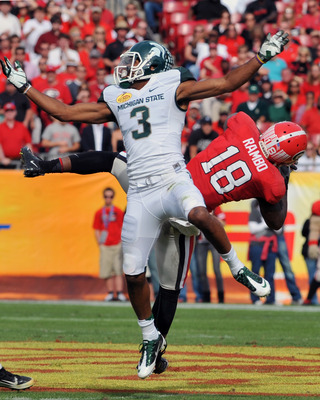 Last season, Michigan State (lost in Big Ten championship game) beat Georgia (lost in the SEC championship game) in overtime in the Outback Bowl
Al Messerschmidt/Getty Images
This is one of three bowls that ties the SEC in with the Big Ten. The Big Ten has played little brother to the SEC in recent years, losing 17 of 20 bowl games against them in the past 14 years, with many of those losses coming earlier in the decade. Michigan State showed signs of hope last year, taking down SEC powerhouse Georgia.
On New Year's Day, the third pick of teams from both the SEC and the Big Ten play each other in this game, making it one of the more competitive non-BCS bowls. If Michigan fails to get selected for a BCS bowl, the Outback bowl is a real possibility.
3. Gator Bowl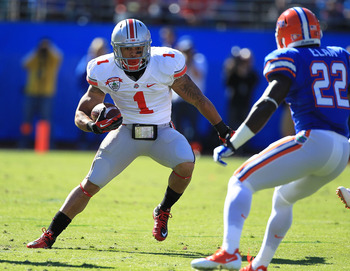 In a rematch of the 2007 BCS Championship Game, Ohio State and Florida met in the Gator Bowl last season.
Scott Halleran/Getty Images
Michigan played in this game in 2011 and lost brutally to Mississippi State, 52-14. That game would be Rich Rodriguez's last game as a head coach for the Wolverines before he was forced out in favor of Brady Hoke.
Coach Hoke can feel pretty comfortable knowing that if the Wolverines end up in this game, it probably won't be his last. Not only is Michigan a much more competitive team now than it was then, but the game was also more competitive last year with Ohio State (coming off of a loss to Michigan) coming within one touchdown of the Florida Gators.
The Gator Bowl would be a step down from what Michigan expected to accomplish this season, but it wouldn't be as bad as playing in the Meineke Car Care Bowl.
4. Capital One Bowl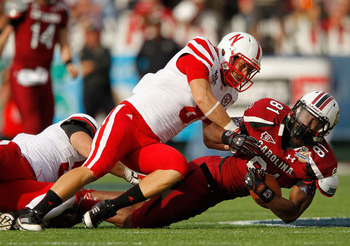 South Carolina took down Nebraska in last season's Capital One Bowl.
Mike Ehrmann/Getty Images
This would be the best scenario that the Wolverines could find themselves in if not a BCS bowl. The Capital One Bowl, played on New Year's Day, has the first selection of teams from the Big Ten and SEC after the five BCS bowls. It also has the largest payout of any non-BCS bowl.
Last season, Nebraska was taken down by Steve Spurrier's South Carolina Gamecocks 30-13.The Big Ten has won only two of the last five Capital One Bowls, with one of those wins coming on January 1, 2008 when Michigan beat Florida 41-25.
Playing in this bowl would be a very positive outcome for the Wolverines as it is considered one of the higher level bowls in terms of competition and recognition. Beating a top-notch SEC team wouldn't hurt their preseason ranking for next season either.
5. Rose Bowl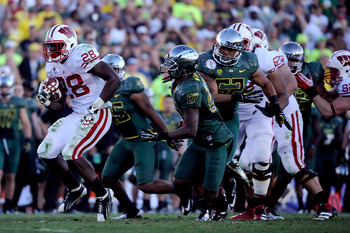 LaMichael James and the Oregon Ducks took down Montee Ball's Wisconsin Badgers in last year's Rose Bowl
Kevork Djansezian/Getty Images
Aside from the BCS National Championship Game, this is the big kahuna of bowls for any Big Ten team. In this game, the winner of the Big Ten plays the winner of the Pac-12, unless one is involved in the BCS National Championship game, in which case the next ranked BCS team would play.
The Rose Bowl is the oldest bowl game, giving it its nickname "The Granddaddy of them All," and is what teams in the Big Ten and Pac-12 strive for all season long.
The last time Michigan played in the Rose Bowl was January 1, 2007, when Pete Carroll and John David Booty's USC Trojans took down Lloyd Carr and Chad Henne's Wolverines 32-18.
The Big Ten has only won one Rose Bowl since 2001 and has played in nine. Wisconsin has lost to Oregon and TCU in the past two seasons in this game, but Michigan will look to unseat the Badgers and reclaim glory for the Big Ten.
Keep Reading

Michigan Wolverines Football: Like this team?