6 Things That Need to Happen for Real Madrid to Catch Barcelona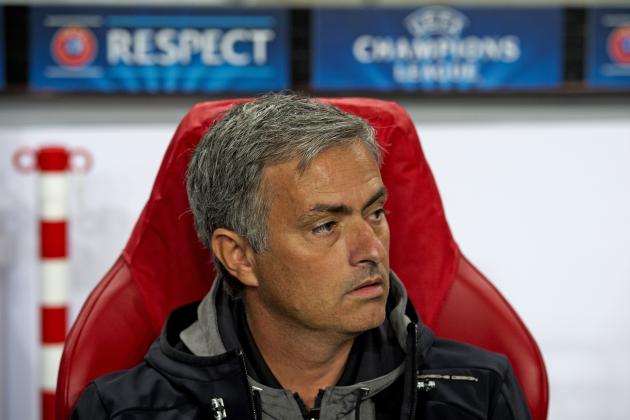 EuroFootball/Getty Images

We're halfway through October, which means the La Liga title is so far from being decided that it is barely even worth talking about right now. At least, that's how it should be at this point in the season.
Teams like Atletico Madrid and Malaga will pose a challenge, but chances are that the league winners will be one of Spain's two giants.
However, with Barcelona already having an eight-point lead over their rivals and with Real Madrid losing all three full-backs—at least—the title could be essentially won by the break if the defending champs aren't careful.
It was bad enough that Madrid let La Blaugrana build an eight-point lead through the first seven games, but that gap is not at all insurmountable, especially given the fact that Barcelona haven't been incredibly convincing thus far.
No gap is conclusive in October, but recent injuries to Real have put them on the verge of being out of the title race before the winter break even comes about.
The champs will now have to play without all three senior full-backs for at least the next few weeks. If they end up letting their rivals get a significant double-digit lead, it may just be too much to come back from.
This article looks at six things Jose Mourinho's men must do to catch Barcelona and prevent the league from getting away from them.
Begin Slideshow

»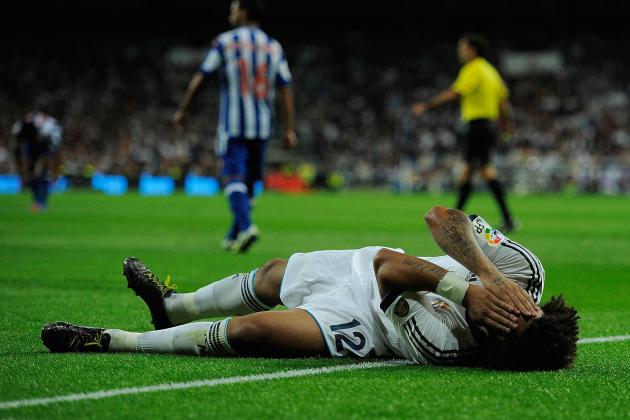 Gonzalo Arroyo Moreno/Getty Images

Wow, talk about bad luck. The injury bug has apparently left Barcelona and is now targeting their great rivals.
In just one week, Real Madrid have been wrecked by injuries. Sami Khedira, Karim Benzema, Gonzalo Higuain and Sergio Ramos all picked up minor injuries.
The bigger losses are the full-backs, the first hit being the loss of Marcelo Vieira for up to three months to a foot injury, Fabio Coentrao's groin strain came the same day. I discussed the impact of those losses here.
Things only got worse when Spain took on France and Alvaro was hurt, forcing him to miss the next three weeks of play.
That leaves the champions of Spain without their best three full-backs for at least this weekend's match against Celta Vigo and probably longer.
Thankfully for Madridistas, the next few matches in La Liga shouldn't present enormous challenges and they still have a strong chance to get three points from every match until Coentrao and Arbeloa are healthy again.
Real Madrid are not quite in panic mode yet, but they are close. The Champions League matches against Borussia Dortmund will be much more difficult now and could cost them their title bid.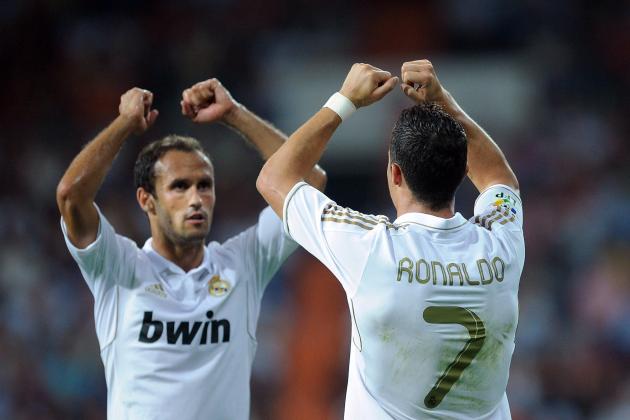 Denis Doyle/Getty Images

If Real Madrid want to avoid missing out on every major title, they should strongly consider bringing in a couple of defenders to cover for injuries and help tackle three competitions.
No Galacticos are needed, but at least one versatile defender would help since all four starters have already been hurt this season.
Los Merengues already missed the chance to add that depth in the summer and the effect has been an eight-point lead for Barcelona.
The injuries could cause some long-term problems by letting their rivals create an insurmountable lead, but the club cannot use it as an excuse—for two reasons.
Firstly, the current gap between Madrid and Barça was built before injuries came into play. Jose Mourinho continued his trend of dropping points early in the season, this time more than usual.
Secondly, it was the club's decision not to add depth at right back or central defender while also telling Ricardo Carvalho that he is no longer wanted in Madrid.
The need for depth was a clear need coming into the season, but the team failed to make a serious move for anyone and opted instead to buy a midfielder that wasn't really needed.
Denis Doyle/Getty Images

The fact that there will be no excuses for the poor results to this point makes sure that the club is fully accountable for what happens this season.
This can be used to strengthen the team. No more stories about Cristiano Ronaldo being unhappy or Ramos having a spat with Mourinho.
Real Madrid must use this period to get united and and regain that winning mentality that seems to be missing this season.
Guys like Xabi Alonso, Iker Casillas and Ramos must take this opportunity to turn all focus internally and on each other rather than the media or any other distractions.
Denis Doyle/Getty Images

Without all three full-backs, it will be difficult to make it to the break without dropping any points.
However, if Barça keep up their unbeaten streak though December, it is essential that Real Madrid lose the season before the break.
Dropping points will not conclusively spell the end of their domestic title bid, but losing more points than Barcelona and even Atletico Madrid will make it extremely difficult to retain their title.
Once again, the league schedule through mid-November is very winnable, but the added Champions League fixtures will put that much more pressure on the team to perform and stay fit.
But if they can just grind out some wins until at least Arbeloa is healthy, maybe Coentrao as well, they will still be in great position to take advantage of any slip-ups by Barça.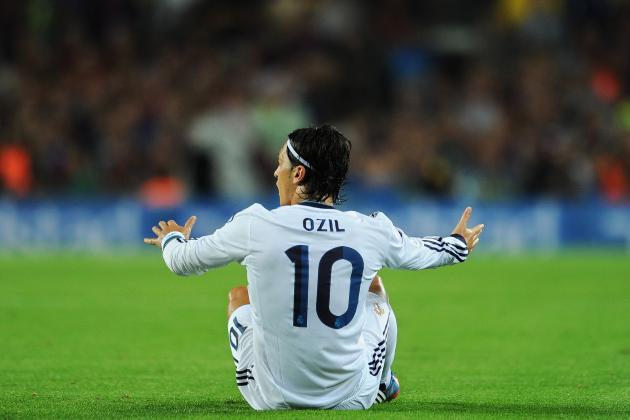 Jasper Juinen/Getty Images

While the next month or two will be key because of injuries, there will still be over six months to play after that.
The coming weeks could easily see Real Madrid play themselves out of the league title, but it could also define their season in a good way.
Through seven games, many key players have yet to play their best football. Ronaldo started poorly, both strikers and center-backs have been inconsistent, and Mesut Ozil is having his worst season in Spain.
Nothing can turn poor form around like an emotional win. Even better would be a string of close victories.
If Los Merengues can just make it over this difficult hump, the team can develop extraordinary confidence knowing that not even losing all three full-backs can stop them.
They can use this period as inspiration for the rest of the season, knowing that they can run the tables again just like last year and make a historic comeback to overtake Barcelona.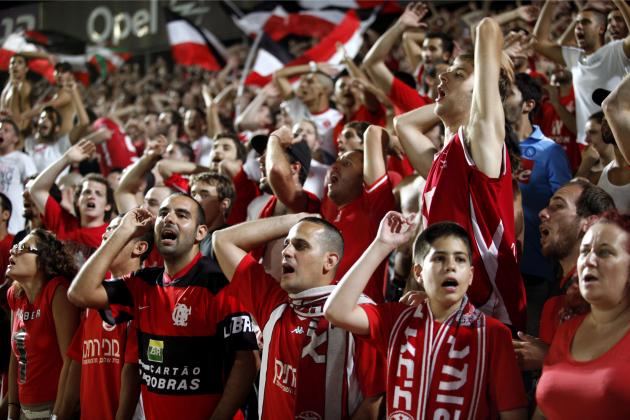 EuroFootball/Getty Images

While there is still hope for Real Madrid to win the title and while there is that great opportunity to let the coming weeks inspire the team, they just can't do it alone.
Los Blancos aren't going to repeat as champions without Barcelona dropping some points, much more than the champs do.
A head-to-head win in the spring Clasico won't be nearly enough to take the title back. An eight-point lead would be big if it came in the first three matches of the season. Overcoming that in just a few months may be too daunting a task.
If Madrid are going to catch their great rivals, the rest of La Liga will have to lend a helping hand to Los Merengues, as much as it would pain them to do so.
Barcelona has a pretty favorable schedule through December. However, they are also suffering from some key injuries, notably on defense.
Also, although La Blaugrana have not yet lost this season, they have come very close multiple times. Their matches against Osasuna, Granada, Valencia and Sevilla could all have ended in losses if not for a few key moments.
This proves that the Catalans have a winning mentality, but it also shows that they are far from unbeatable.
With some inspired play, a few missteps from Barcelona, and maybe a bit of luck, Real Madrid can still mount a title challenge and overcome these big injuries.
What do you think Real Madrid have to do to catch Barcelona? How many points can they realistically afford to drop with all three full-backs injured?