Temple vs. Rutgers: The Rodney Dangerfield Game of the Day for Oct. 20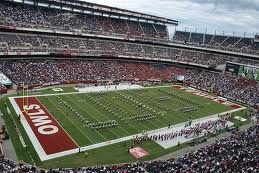 Lincoln Financial Field (Photo Credit: Sportschatplace.com)
The Big East is the most criticized of all the BCS conferences. Therefore, it is not surprising that precious few media outlets are saying much about Saturday's contest between the Temple Owls and the Rutgers Scarlet Knights.
This is just the type of a "no respect" game that Rodney Dangerfield would have been excited to see.
In years past, the fanbases of these two schools that are just approximately 60 miles apart would be excited only because one of these two struggling programs was bound to get a victory. However, both of these teams have experienced success recently and have winning records currently.
Rutgers travels to Lincoln Financial Field in Philadelphia, Pa., with a perfect 6-0 record and a No. 15 BCS ranking. The Scarlet Knights defeated the Syracuse Orange 23-15 last Saturday to move to 3-0 in Big East action.
Temple returns home after coming from 14 points down to defeat the Connecticut Huskies 17-14 in overtime. The Owls are 2-0 in conference play for the first time in their history as a member of the Big East. Temple has a non-conference victory over Villanova to go along with losses to Maryland and Penn State.
If Temple's Matt Brown returns to the field after re-injuring his ankle last weekend, this contest will arguably feature the three best tailbacks in the Big East. Continue reading to learn more about those talented running backs along with other skilled athletes in this battle that deserves more respect.
Begin Slideshow

»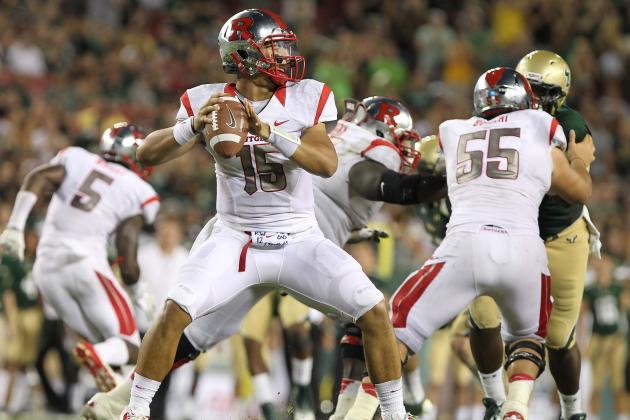 Kim Klement-US PRESSWIRE
Rutgers's Gary Nova
Sophomore Gary Nova has been the starting quarterback for Rutgers all season long after being benched in favor of Chas Dodd last year. So far in 2012, Nova has completed 60.9 of his passes for 1,271 yards and 11 touchdowns. More importantly, he has thrown just two interceptions directing Rutgers's run-first offense.
Along with his steady play, Nova has impressed the coaching staff with his poise, decision-making and leadership skills. Nova has only lost two games as a starting quarterback since the eighth grade.
As he develops, Nova will have more opportunities to throw the ball on early downs. Against the South Florida Bulls, Nova sustained several drives by completing a high rate of passes on third down.
Junior Chris Coyer has struggled this season despite being named the Offensive MVP in Temple's victory over the Wyoming Cowboys in last year's New Mexico Bowl. Coyer has completed just 54 of his 101 attempts (53.5 percent) for 662 yards with six touchdowns and two interceptions.
Despite his troubles completing passes, Coyer has excelled running the football in Temple's spread-option attack. He currently ranks second on the team in rushing with 302 yards on 71 attempts.
Coyer has shown considerable improvement over the last two weeks. He completed 16 of his 20 attempts attempts against South Florida and threw a touchdown pass with 19 seconds remaining in regulation to force overtime against Connecticut.
Edge: Rutgers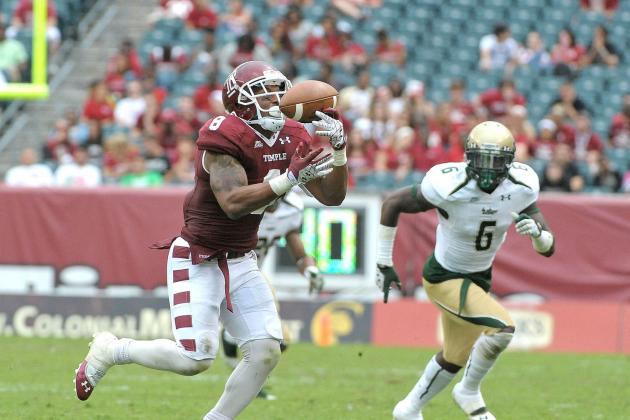 Eric Hartline-US PRESSWIRE
Temple's Montel Harris
Six games into the season, sophomore Jawan Jamsion has been a workhouse back for Rutgers. The current rushing leader in the Big East has gained 665 yards on 158 carries in 2012. Jamison has rushed for three touchdowns while catching one of his 10 receptions for a score.
Jamison had registered six straight 100-yard rushing games in a row before his streak ended against Syracuse. There are concerns about Jamison wearing down physically during the year, but his shifty style of running prevents him from taking too many direct hits from opposing defenses.
Savon Huggins has returned from injury to give Jamison the occasional break. Huggins ran the ball seven times for 14 yards against the Orange.
Only three times in five games have Montel Harris and Matt Brown have been able to carry the football in the same game. As earlier stated, Brown may miss this contest after getting injured during a kickoff return against Connecticut.
Harris leads the Owls with 310 yards rushing on 69 carries. He has scored three touchdowns while averaging 4.5 yards per carry.
Harris has rushed for over 100 yards two contests in a row after returning to the lineup after injuring a hamstring against the Villanova Wildcats. He leads all current running backs in the FBS with 24 career 100-yard rushing games. Harris is known for his exceptional vision and cutting ability.
Brown is a 5'5" scatback that provides Temple with big-play potential rushing the football and returning kicks. He has averaged 5.8 yards per carry in 2012 on 45 attempts to go along with two rushing touchdowns. Now a senior, Brown gained 916 yards rushing while topping the 100-yard mark on five occasions in 2011.
Edge: Temple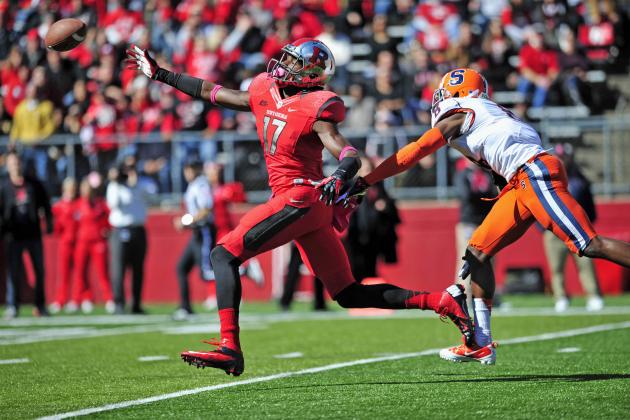 Joe Camporeale-US PRESSWIRE
Rutgers's Brandon Coleman
While the Scarlet Knights may not have the most statistically productive group of receivers in the Big East, they have the biggest. Tight end D.C. Jefferson tops the group at 6'6", 250 lbs. while wide receivers Brandon Coleman, Tim Wright and Mark Harrison measure 6'6", 6'4" and 6'3" respectively.
Coleman leads Rutgers with 382 yards receiving on 24 catches. Coleman's five touchdown passes are an indication that his unique combination of size and speed befuddles opposing cornerbacks.
Harrison has evolved this season into a possession receiver for the Scarlet Knights. Three of his 22 receptions have gone for touchdowns. Wright averages 11.4 yards per catch on his 21 receptions.
Jefferson is a reliable target when Gary Nova gets in trouble while reserve tight end Tyler Kroft caught a touchdown past last weekend. Jefferson has tallied 11 receptions on the year for 95 yards.
Some of Chris Coyer's issues throwing the football can be traced to Temple receivers dropping the football. In the first three games, Temple receivers dropped 15 passes.
Sophomore Jalen Fitzpatrick paces the Owls with 12 receptions for 196 yards and two touchdowns. Deon Miller is the only returning receiver that had more than three catches last year, but only has three so far in 2012.
Cody Booth is following the footsteps of quality tight ends the Owls have produced in recent years. One of Booth's eight catches this season has gone for a touchdown.
Edge: Rutgers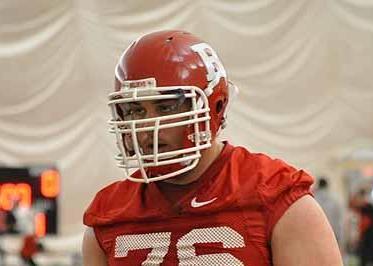 Rutgers's R.J. Dill
Projected OL Starters for Rutgers
LT Kaleb Johnson
LG Antwan Lowery
OC Betim Bujari
RG Andre Civil
RT R.J. Dill
At the beginning of the season, Rutgers's offensive line struggled with pre-snap penalties. Those errors have mostly been corrected as the season has progressed.
Rutgers ranks third in the FBS in sacks allowed with an average of 0.5 per game. The revamped offensive line has also done a good job in opening up running lanes for Jawan Jamison.
R.J. Dill, a senior transfer from the University of Maryland, has stabilized the line by bringing his 33 career starts to the unit. Sophomore Kaleb Johnson is regarded as the team's best offensive lineman and being named a Freshman All-American by several media outlets.
Rutgers may have to shuffle its offensive line if Betim Bujari cannot return to the lineup after injuring his knee against Syracuse.
Projected OL Starters for Temple
LT Zach Hooks
LG Jeff Whittingham
OC Sean Boyle
RG Kyle Friend
RT Martin Wallace
Temple's offensive line has been blamed for Chris Coyer looking uncomfortable in the pocket and not be able to go through all of his progressions. The Owls have allowed 11 sacks in five games—quite high for a team that doesn't throw the ball much.
Martin Wallace is the only returning starter on the line. Zach Hooks is a redshirt freshman while Kyle Friend is a top 10 player from Temple's 2011 recruiting class. Senior Sean Boyle has overcome four shoulder surgeries in his career to anchor the unit.
Edge: Rutgers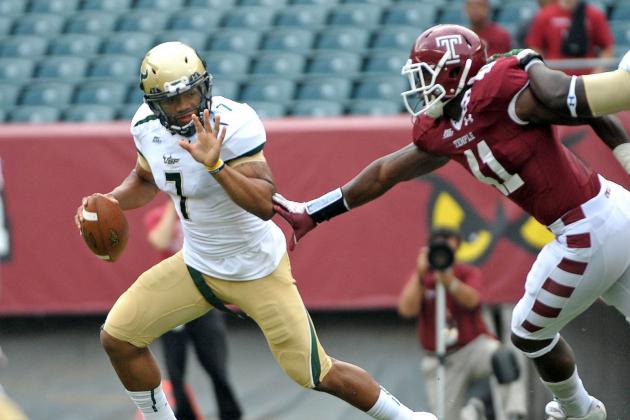 Eric Hartline-US PRESSWIRE
Temple's Marcus Green
Rutgers ranks second in the FBS in defending the run, allowing just 60.8 yards per game. Defensive tackle Scott Vallone's motor never stops running as the key cog in the middle of the Scarlet Knights' defensive front.
Senior end Ka'Lial Glaud leads the defensive line in tackles with 17 and sacks with three. Marcus Thompson is an athletic end that was a running back in high school.
Temple's defensive line has played a major role in the team's ability to rush the passer. The Owls are 10th in the FBS in sacks at 3.20 per game.
This season, senior Marcus Green finally earned the opportunity to start at defensive end. More importantly, he is making the most of his increased playing time.
Green is tied for sixth on the team in tackles with 22 while his three tackles for loss is tied for second. He has also tallied two sacks on the season. Green blocked a field goal against South Florida to help preserve the victory for the Owls.
John Youboty has 21 tackles and two sacks so far this year. Nose tackle Levi Brown is a space eater that regularly takes on multiple blockers, allowing Temple's linebackers to make tackles near or behind the line of scrimmage.
Edge: Temple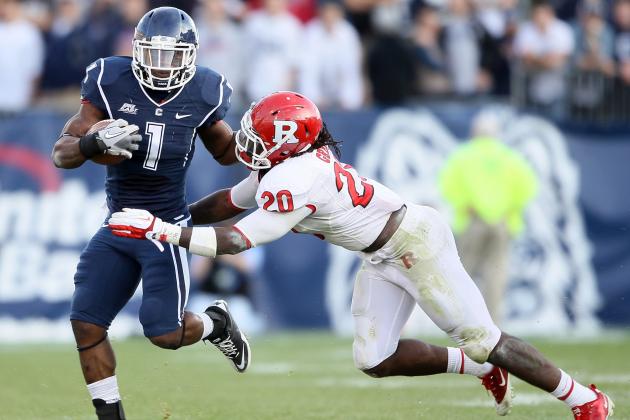 Elsa/Getty Images
Rutgers's Khaseem Greene
Khaseem Greene is not only the best defensive player on Rutgers, but he may be the best player on the entire team. Greene is a converted safety that has added speed and athleticism to the linebacking corps.
Greene's 63 tackles puts him first on the team and second in the Big East. He is sixth in the conference in sacks with 3.5.
The weak-side linebacker has mastered the art of stripping the ball-carrier of the football while he is being engaged by another tackler. Greene forced three fumbles against Syracuse last Saturday and has tallied four on the year.
Greene has shown he also has the speed to cover receivers by recording four pass breakups this year.
Strong-side linebacker Jamal Merrell is tied with Greene for the team lead in tackles for loss with 5.5. He also ranks second on Rutgers in toal tackles with 42.
Steve Beauharnais is a tough middle linebacker that sets the physical tone for the entire defense.
While seniors dominate the starting linebacking unit for the Scarlet Knights, freshmen dominate the position at Temple. Junior Blake Caponegro represents the lone starter from last season still around.
Nate D. Smith is a redshirt freshman that has certainly been a pleasant surprise for the Owls. Smith has recorded 43 tackles and three forced fumbles after five games.
True freshman Tyler Matakevich did not start the season at strong-side linebacker, but has quickly emerged as an up-and-coming star for Temple. Matakevich made 15 tackles in his first career start against South Florida then set a career-high with 19 stops against Connecticut.
Edge: Rutgers
Chuck Cook -US PRESSWIRE
Rutgers's Brandon Jones
While Rutgers allows an average of 256.2 yards per game through the air, the secondary has done an outstanding job in creating turnovers. Brandon Jones is tied for first in the Big East with three interceptions.
Cornerback Logan Ryan has tallied two thefts so far this year while leading the secondary with 38 tackles. Three of those tackles have been for negative yardage.
Free safety Duron Harmon returned a blocked field goal for a touchdown against Syracuse last week. Strong safety Lorenzo Waters has tallied two sacks to go along with 24 tackles.
For the first time in years, Temple has an experienced secondary. Senior strong safety Justin Gildea ranks third on the Owls with 30 tackles. He also had recorded three pass breakups and one sack this season.
Temple has only intercepted three passes this year, and Vaughn Carraway is the only member of the starting secondary that even has one. Anthony Robey has replaced Maurice Jones in the starting lineup and has responded with three pass breakups and 1.5 sacks.
Edge: Rutgers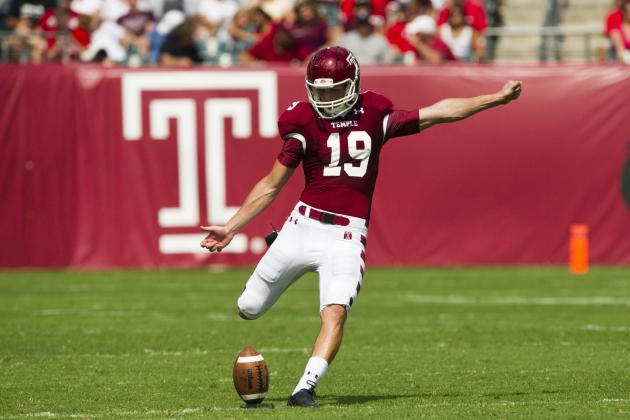 Howard Smith-US PRESSWIRE
Temple's Brandon McManus
Rutgers may have some issues with kicking field goals if freshman Kyle Federico remains sidelined with a hip injury. Against Syracuse, walk-on Nick Borgese made a 25-yard field goal but missed an extra point.
Even with Federico on the field, the kicking game has been mediocre. On the year, Federico has converted on just six of 11 attempts with a long of 52 yards.
Justin Doerner averages 39.0 yards per punt on 37 attempts. Doerner normally gets good hang time on his punts as 10 have been fair caught.
The explosive Jeremy Deering leads the Scarlet Knights with a 38.8 kick-return average. Overall, Rutgers is ranked No. 1 in the FBS in kick returns at 38.0. Mason Robinson averages 4.5 yards on his 15 punt returns.
Temple's Brandon McManus was named Big East Specialist of the Week after making a game-winning 29-yard field goal against Connecticut. For the year, he has converted on eight of his 10 attempts with a long of 50 yards.
The senior McManus doubles as the team's punter. He is currently ranked 12th in the FBS with a 44.9 average. Eight of his 30 punts have traveled over 50 yards; 21 of McMahon's 28 kickoffs have gone for touchbacks.
An able-bodied Matt Brown will defenitely help Temple's return game. Brown is second in the FBS with a punt return average of 20.2. He has returned 14 kickoffs for an average of 20.8.
Edge: Temple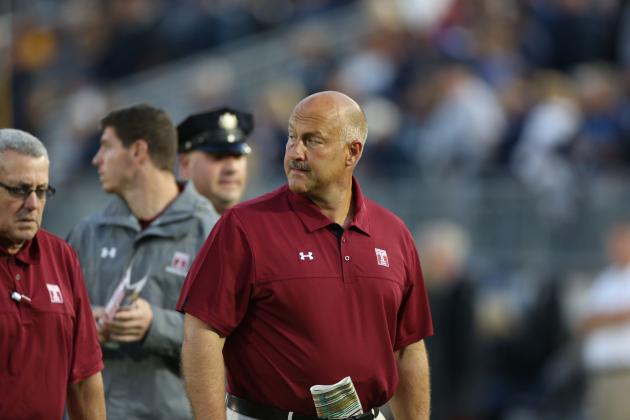 Rob Christy-US PRESSWIRE
Temple's Steve Addazio
Greg Schiano left Rutgers to accept the head coaching position for the Tampa Bay Buccaneers the week before national signing day. Kyle Flood and his staff were able to keep most of the recruiting class intact.
The last time Rutgers promoted an assistant coach on staff to become the head coach was when Frank Burns was named in 1973 to replace John Bateman. Burns later became the winningest coach in school history.
There were concerns about the hiring of Flood because he had been basically just a position coach in each of his 19 seasons as an assistant. However, most of those worries have disappeared after a 6-0 start.
It would be quite ironic if Rutgers would win the Big East this season since it would mean that Flood would accomplish a feat in his first year at the helm that Schiano could not in 11 years.
In his first season as head coach, Steve Addazio guided the Temple Owls to a 9-4 record and a second-place finish in the Mid-American Conference East Division. Those results made Addazio the all-time winningest first-year coach in school history.
Although Temple has since moved to the Big East, its 2012 recruiting class was ranked No. 1 in the MAC by Rivals.com. Known for his intensity and enthusiasm, Addazio led Temple last year to its first bowl win since 1979.
He spent six years at the University of Florida under head coach Urban Meyer. Addazio also served as an assistant coach at Indiana, Notre Dame and Syracuse.
Edge: Temple
Saturday's game marks the first time that Rutgers and Temple have met with both teams undefeated in Big East action. The Scarlet Knights have won the last two games in the series but have not played Temple since 2004.
Temple's defense has been getting off to slow starts in recent weeks but cannot afford to do so against Rutgers. The Owls may have to abandon their running game if they get too far behind early in the game. In addition, the Scarlet Knights have outscored their opponents in the third quarter, 48-3.
How these teams run the ball against the other will go a long way in determining the winner of this contest. Rutgers has been strong against the run all season long, and it is doubtful that Temple's passing attack, ranked 116th in the FBS, would suddenly explode against the Scarlet Knights.
Rutgers has been conservative on offense since the encounter with the Arkansas Razorbacks. The Scarlet Knights like to run on early downs and then attack through the air off play-action. The Owls' secondary could get exposed in the secondary if they have to bring in a safety to stop the run.
Turnovers could also play a role in determining the winner since both teams are adept at forcing turnovers while limiting their own mistakes. Rutgers is tied for first in the FBS in turnover margin at a plus-2.17 per game while Temple ranks 12th along with the Oregon State Beavers at a plus-1.20.
The Owls would love to keep the game close going into the fourth quarter and then steal the game late with a field goal. However, it is more likely that the Scarlet Knights will successfully run the football and keep Temple's offense under wraps for most of the contest.
Prediction: Rutgers 21, Temple 17