Predicting the Philadelphia Phillies' Lineup in 2 Years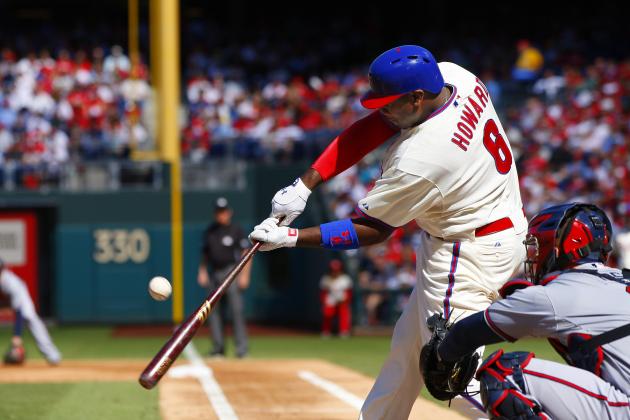 Rich Schultz/Getty Images

Entering an offseason with many question marks ahead, the Philadelphia Phillies have some holes to fill. They have a major outfield vacancy, specifically in center field. Their third base situation is also sketchy. And a veteran reliever or two certainly wouldn't hurt after the younger relievers showed this past year that they can't handle the workload by themselves.
All those holes will be filled in a matter of weeks. But what about two years from now? Where will the Phillies stand heading into...say, 2015?
Perhaps that's a bit to far away to judge. Trades, free agency signings and the like are bound to happen, so what will be predicted in this slideshow and what will realistically occur are probably going to be very different from one another.
Some of the current Phillies under contract will still be around for 2015. Others will have moved on to other teams, while some may have even retired. There's also prospects who could be promoted by then. Since both the players and even the manager could be different by 2015, who bats where, per se, will not be predicted; rather, who is playing where is what will be determined.
So, without further ado, here is the projected 2015 Opening Day lineup for the Philadelphia Phillies.
Begin Slideshow

»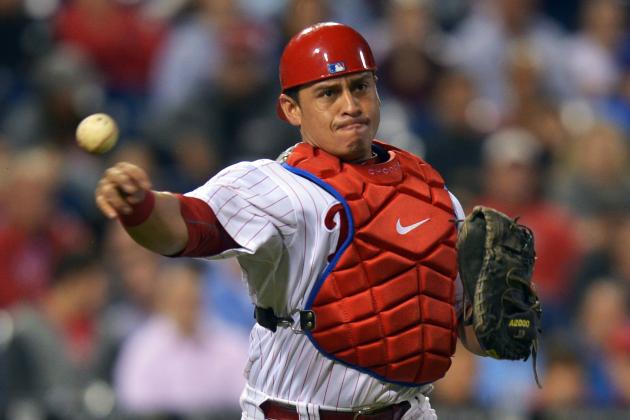 Drew Hallowell/Getty Images

I'm going to go out on a limb and say that 2015 will be Carlos Ruiz's final year as the Phillies catcher. Don't mean to start you out on a down note, but while he's a fantastic player, Chooch will turn 34 years old in January.
As a Phillie, Ruiz has gone from being a second base prospect to catching prospect. From there, he went to being a top-notch defender. And as a major leaguer, he's been the backstop for two Roy Halladay no-hitters, becoming one of baseball's better game callers, and has also become one of the better hitting catchers as well.
For a guy who's turning 34 years old soon and is entering his prime now, that's nothing short of awesome.
However, perhaps I'm overestimating the situation. Maybe Chooch won't stick around until 2015. After all, 2013 is the last year of his contract (assuming the Phillies pick up his club option) before he's a free agent. And while it's difficult to imagine him going elsewhere even in that situation, if the Phillies decide they no longer want and/or need his services, obviously the Chooch era will come to a close.
My guess is that he'll sign an extension either before or during the 2013 season, one that guarantees 2014 under contract with a 2015 option that either vests or is at the Phillies' discretion. The only way to find out is to wait, but for now I have the catching position handed to Chooch for one more go-around.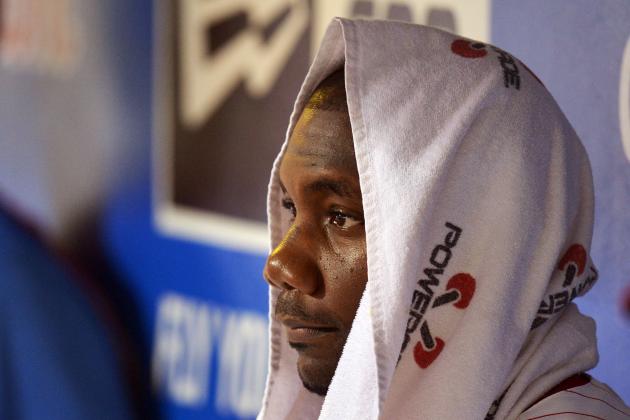 Drew Hallowell/Getty Images

Unless he's injured again, the look on Ryan Howard's face in the picture is more likely to be seen on Phillies fans' faces than his.
Howard is entrenched at first base for the foreseeable future. His contract is guaranteed through 2016 at $25 million a year after 2013. We all know the soon-to-be 33-year-old slugging first baseman is here to stay, so as much as the thought is resented, it's a reality, folks.
Declining power, dipping average, slightly improving defensive skills. That's what you're getting over the life of this contract. Maybe he won't even be capable of starting five games a week by 2015. Who knows?
The only way Howard doesn't play first base for the Phillies is if he's traded, presumably to an AL team in search of a power-hitting DH. And he certainly wouldn't be bad in that role. But at $25 million a year? The Phillies would have to pay most of that to the team receiving Howard in such a deal as the starting point.
So, until further notice, Ryan Howard remains your Phillies first baseman.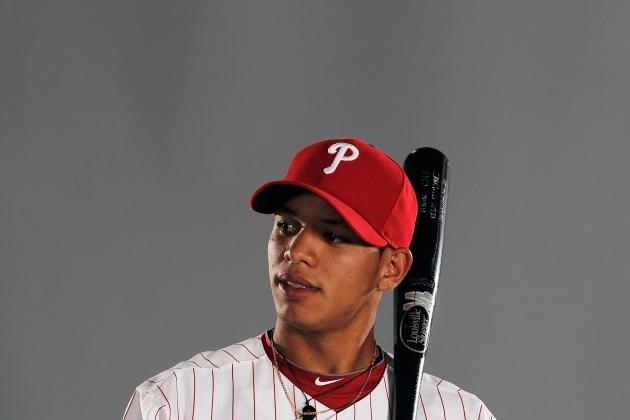 Jonathan Ferrey/Getty Images

Here's where it gets a bit murkier.
The 2013 season is Chase Utley's final year under contract; after the season, he's a free agent barring any unforeseen extension. I'm going to go out on a limb and say that, unless he signs elsewhere or retires, Utley's back for 2014 on a one-year deal. Whether or not that's as the starter is a different story. After 2014, Utley calls it a career, opening up a spot at second base.
But who fills the void Utley leaves, one that has been filled for almost 10 years?
While fans may be rallying behind Freddy Galvis, I'm giving the nod to Cesar Hernandez. Signed out of Venezuela as a 16-year-old in 2006, Hernandez is flashy with the glove as well, though not as much as Galvis. The bad news is that Hernandez isn't perceived in the same way as Galvis in that he's either a second baseman or a backup second baseman. My point is that a position switch would not be so smooth for Hernandez.
The good news? He's got a decent bat. Hernandez spent most of 2012 at Double-A Reading where he hit .304 with a .781 OPS and stole 16 bases. He smacked 26 doubles and 11 triples, though since his 5'10" frame is still maturing, he hit only two home runs on the year. Realistically speaking, though, he's not much of a power hitter anyway.
Since his glove is above average and Galvis could be the starting shortstop by 2015 anyway, Hernandez is my favorite to take over the reins after Utley's departure before 2015.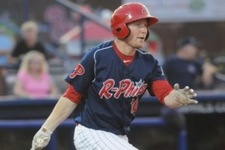 Photo courtesy Reading Phillies
Who fills in at third base from now until 2015 is anyone's guess. But starting in 2015, Cody Asche will likely be the guy manning the hot corner for the Phillies.
Drafted in the fourth round of the 2011 MLB Draft, Asche was tremendous in his first full professional season after getting off to a slow start in 2011. Starting the year at Single-A Advanced Clearwater and ending it at Double-A Reading, Asche overall hit .324 on the season with an .849 OPS, 12 home runs, 33 doubles, 72 RBI and 11 stolen bases. He also hit six triples.
It's not like this was any fluke, either. Asche actually played more games at Reading (68) than at Clearwater (62). While his batting average and OBP were not as good at Single-A as they were at Double-A, they were still above average, and his slugging percentage and OPS actually improved with the promotion as did his home run count, which went from two in Clearwater to 10 at Reading.
Defensively, let's just say Asche still has his work cut out for him. On the season, Asche committed 18 errors and posted a .941 fielding percentage. Since he's in the minors, there's still plenty of time, but if there's any area the Phillies should prioritize, hopefully it's his defense.
Asche could very well make his major league debut in 2013 and become the starter by 2014. It's possible. But if not 2014, then almost certainly 2015.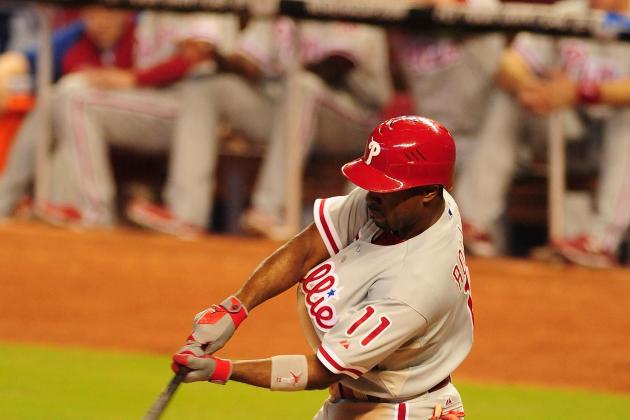 Jason Arnold/Getty Images

Jimmy Rollins has been the face of the Phillies for what seems like forever now and will continue to be until 2015, his final curtain call.
Rollins, who will also turn 34 years old this offseason, has been the heart of the Phillies, the "spark plug," a fan favorite over the years. He's made bold predictions, all of which have seemingly come true. J-Roll even won an MVP in 2007, the year he declared the Phillies the "team to beat," and until 2012 that rang true for five consecutive seasons, one of which ended with a World Series title in 2008.
A spectacular defender still today and above average hitter for his position, Rollins has embodied the Phillies on the whole since the day he set foot on the then-turf of Veterans Stadium. And while he's aging by baseball measures, he's still going to be around long enough that we'll see him set foot on the infield of Citizens Bank Park in 2015.
Although his contract is only guaranteed through 2014, Rollins has an $11 million vesting option for 2015 that, even if it does not vest, leaves the Phillies with an $8 million club option, and if all else fails, Rollins is almost sure to pick up his $5 million player option.
So while Freddy Galvis may be the guy who is best suited to be playing shortstop by 2015, it'll be Jimmy Rollins out there, barring any trade to a west coast team. Assuming 2015 is his last season with the Phillies, it will have been a great ride, Jimmy.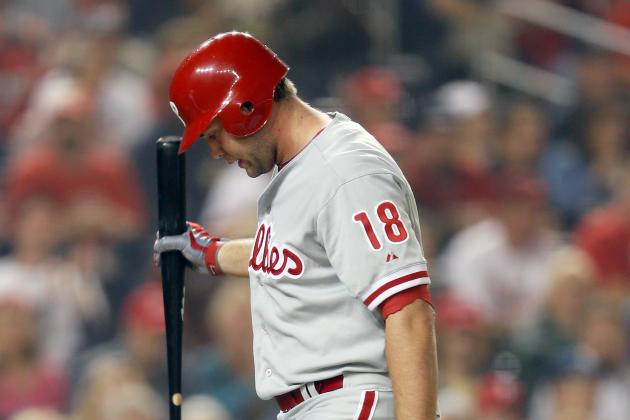 Rob Carr/Getty Images

It gets a little tricky here, ladies and gentlemen.
Darin Ruf emerged as a breakout player at Double-A Reading this year when he slugged 20 home runs in the month of August, contributing to his total of 38 on the season in addition to an average over .300. and OPS over 1.000. Ruf's playing winter ball in Venezuela this offseason so the Phillies can get a better look at him in left field, which would be his only major league opportunity with the Phillies given Ryan Howard at first base.
If Ruf shows he can be a serviceable defender in left field, he'll get his chance in spring training to win the job. If not, the Phillies will have to get creative and/or spend on the open market for someone else. My gut is that if it's not Ruf, it'll be a platoon of maybe Laynce Nix and John Mayberry, Jr. in left, at least for 2013.
Likewise, if Ruf doesn't win the starting job, it leads to Larry Greene taking over by 2015. Greene, the Phillies' top draft pick in the 2011 draft, will turn 20 years old by spring training. Although he struggled in rookie ball in Williamsport, he's still got plenty of time to work on everything. With two more seasons to go until 2015, I think he'll start putting it all together by then, and though he won't be handed the job in 2015, he'll be the favorite to earn it.
If not Ruf, then Greene by 2015. That's my guess.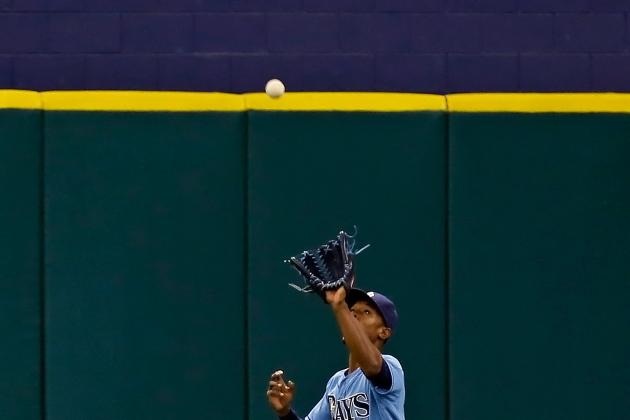 J. Meric/Getty Images

Please don't sign B.J. Upton, please don't sign B.J. Upton...
My bias aside, the Phillies have an interesting situation on their hands this offseason. Center field is a vacant position for the first time since 2005, if not earlier, and there's no obvious choice to take over the job. With the replacement likely coming from outside the organization via a deep free agent class at the position, the Phillies have many options.
They could go with Josh Hamilton or Michael Bourn, who would be expensive and the former especially risky. They could go for a cheaper option, such as Angel Pagan or even Shane Victorino. My guess? They settle in the middle, inking B.J. Upton to a contract of four or five years in length.
As I said, I don't want this to happen. He doesn't hit for average, strikes out way too much, and is only an average defender at best. Nevertheless, he does hit for power and steals a decent amount of bases. At least there's a positive there.
Upton has a ton of upside (pun intended), but how much is uncertain. Even though he's still just 28 years old, unless he enters a huge prime, you know what you're getting with Upton, and my only concern is that whether or not it's the Phillies, he'll be vastly overpaid.
I see Upton as the Phillies' center fielder of the future. I don't like it, but it's the most realistic option.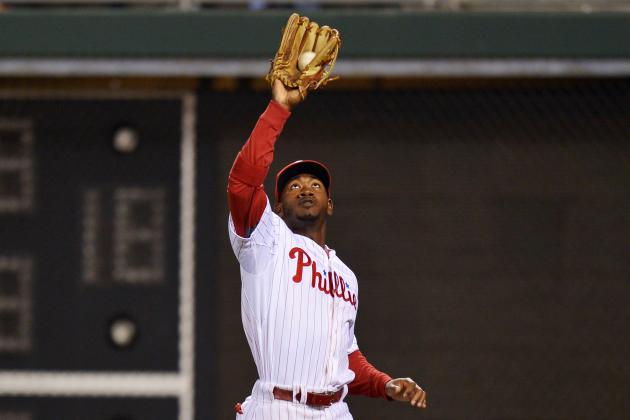 Drew Hallowell/Getty Images

The once highly-touted prospect finally gets his chance and sticks with it.
Domonic Brown has been Exhibit A of how not to handle a top prospect within the organization. Despite the fact that he was hitting .327 with an OPS approaching 1.000 and had 20 home runs on the year by the second half of the 2010 season, he should not have been promoted at that time.
Nevertheless, he was, and ever since it's been a shuffle between the majors and minors for Brown. He got hurt in spring training of 2011 and lost out the Opening Day job as a result, yet didn't do well with his opportunity after returning from injury, which led the Phillies to acquire Hunter Pence.
Then 2012 came around and as the season became a lost cause, Brown got his chance once again after Hunter Pence was traded away as soon as he was traded for. He still wasn't superb in his time with the Phillies in 2012, but it really didn't matter at that point.
Come spring training 2013, Brown will really have to prove that he can handle his natural position of right field on a daily basis and hit for a high enough average to support that. The potential still lies within Brown. But can he harness it? That remains to be seen.
I think that 2013 still will be more of a learning opportunity for Brown than one to prove his worth. But if he gets his shot in 2014, I see him potentially breaking out to become the player we all originally thought he'd be: an All-Star.