Michigan State vs. Michigan: Coaches, Players Have Done Little to Squelch Feud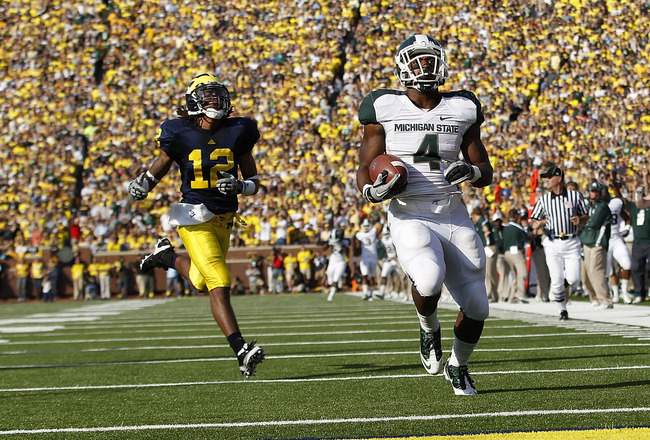 Leon Halip/Getty Images
The Michigan-Michigan State rivalry has always been cyclical in nature. The Spartans have won the last four straight, while Michigan won the previous six.
But thanks to second-year coach Brady Hoke, the Wolverines have slowly rebounded from the Rich Rodriguez regime, which sent the program to new lows.
Hoke has already out-recruited Spartan head coach Mark Dantonio in Michigan, and he has the Wolverines installed as 11-point favorites to win Saturday's matchup in the Big House.
There's never been any love lost between the two teams in the series, which dates back to 1892. Michigan holds a commanding 67-32-5 edge.
Let's take a look at some of the tales that have kept the rivalry churning.
Taylor Lewan vs. Will Gholson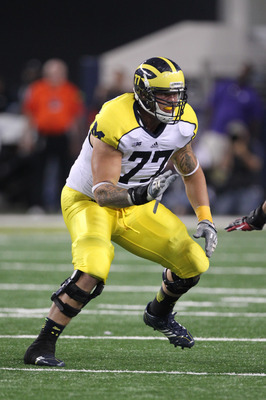 Taylor Lewan (77)
Matthew Emmons-US PRESSWIRE
While Taylor Lewan recalls the unfortunate incident between him and MSU's Will Gholson, the important thing is that Michigan State has won the war four years in a row and has dominated both lines of scrimmage in doing so.
During last year's 28-14 Spartan victory, Taylor shoved Gholson's head into the turf before being on the receiving end of a Gholson punch.
The pair will certainly have several opportunities to face off Saturday. In fact, they'll get one more shot at each other in 2013, since they're both juniors.
Lewan, a gifted left tackle, and Gholson, a talented defensive end, will probably see each other down the road in the National Football League.
"Will's a good player," Lewan told annarbor.com. "He's been very successful since he's been at Michigan State, and it's going to be exciting to play against him."
Gholson has 28 tackles on the year, including five tackles for loss and one sack.
Michael Hart vs. Mark Dantonio
Michael Hart (20)
Kevin C. Cox/Getty Images
As Michigan's head coach, Lloyd Carr always had Michigan State's number.
No matter what the Spartans tried, they couldn't stop Michigan from piling up the victories, and they couldn't stop the arrogance coming from Ann Arbor.
Michigan State was always known as the land-grant, agricultural college, and Michigan as the sophisticated educational institution.
Michigan was again feeling its oats in 2007, when the Wolverines came from behind to beat the Spartans for the sixth straight time. Michael Hart found the perfect moment to rub it in.
Hart voiced his take on the victory: "Sometimes you get your little brother excited when you're playing basketball and stuff, let them take the lead, and then you just come back and take it back."
Somehow the quote reached new Spartan coach Mark Dantonio, who was just a bit miffed: "I'm very proud of the way our football team handled themselves after the game. You don't have to disrespect people. If they want to make a mockery of it, so be it." He added, "Their time will come."
Darryl Rogers vs. the University of Michigan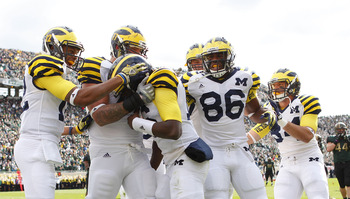 Leon Halip/Getty Images
Back in 1978, the Michigan-Michigan State rivalry had hit bottom. The Spartans had lost eight in a row to Michigan, while the Big Ten title was always being decided between the Buckeyes and the Wolverines.
In an effort to stir things up, Spartan head coach Darryl Rogers had two words for the Wolverines, and they weren't Merry Christmas.
Speaking to a banquet just days before the Michigan game, Rogers promised his followers that the Spartans had a surprise for those "arrogant asses."
And he was precisely correct. The Spartans won 24-15, ending that dreadful losing streak.
The comment, of course, created quite a stir. Other schools, especially Ohio State, added "arrogant" to their other childish descriptions of Michigan alumni and fans. The Michigan faithful could care less, as they simply remind Spartans, or Buckeyes, or Hawkeyes, that arrogance is bliss.
A year later, Michigan radio icon Bob Ufer took it a step further. In one of his often repeated poems, he read the following:
"Today, October 6, 1979 is the day

that 22 Michigan arrogant asses

put on the gloves of green,

and as Richter played the Victors,

they picked Darryl Rogers clean."
Walmart Wolverines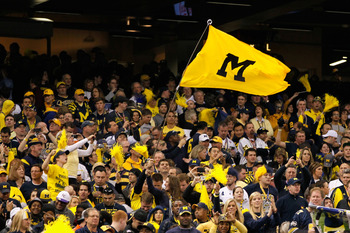 Kevin C. Cox/Getty Images
As if the Spartan Nation wasn't satisfied with just calling students at Michigan "arrogant asses," they had to come up with a term for Wolverines fans who didn't actually attend the prestigious university.
Spartans always wondered why Michigan would attract more than 110,000 on a weekly basis, while East Lansing would rarely host more than 80,000.
So some adventurous Spartans fan came up with the term "Walmart Wolverine" in an obvious attempt to level the IQ of the respective fanbases.
So what is a Walmart Wolverine? According to the Urban Dictionary, it's a Michigan fan who attends the games attired in Walmart-purchased gear, who has never attended the school and definitely doesn't have the grades to do so.
They are the ultimate frontrunners, who can always find a team to embrace that never loses.
The term "arrogant asses" has never affected the mindset of true Michigan supporters. There is also no question that Michigan State has its own group of non-student supporters, even if they may be few and far between.
Burt Smith vs. Bo Schembechler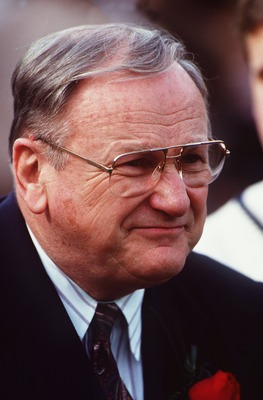 Bo Schembechler
Mike Powell/Getty Images
Another 'Michigan Man' who rankled the Wolverines was athletic director Burt Smith, the Spartan athletics director from 1972-75.
A Michigan grad, Smith saw a great opportunity to insult the Wolverines late in 1973.
Michigan and Ohio State had just played to a 10-10 tie in the game that would determine the Rose Bowl berth. Since the two teams had identical (7-0-1) conference records, the representative would be decided by a vote of the school athletic directors.
It's common knowledge that Smith cast the deciding vote, sending Ohio State to the Rose Bowl and forcing Bo Schembechler's Wolverines to stay home.
Problem is, both Michigan and Michigan State are state-supported schools. Funds arrive at the two universities from the legislature, which prefers that both teams do well.
By stomping on Michigan, Smith may have shot himself in the foot. You see, Michigan State was lobbying the legislature for funds to start a new law school, as reported by the Detroit News.
State eventually got its law school. but not until 1995, when it became affiliated with the Detroit College of Law.
Biggie Munn vs. Fritz Crisler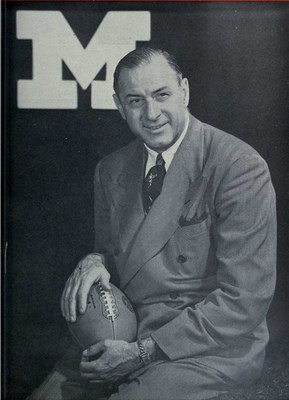 Fritz Crisler (Michiganensian, 1948)
Fritz Crisler was not only a great football coach, he was also influential in several aspects of the game.
Crisler brought along the iconic winged helmet when he was hired from Princeton in 1938. While at Michigan, Crisler introduced two-platoon football, where players specialized in either offense or defense. He also created a slight-of-hand offensive unit that was later called the "Mad Magicians."
Crisler coached the Wolverines for 10 seasons, compiling a 91-16-3 record, including a national title in 1947.
Despite his achievements on the field, Crisler was reputed to be a villain of sorts, as reported by National Public Radio.
He was often accused of keeping both Notre Dame and Michigan State from joining the Big Ten.
Crisler may have met his match when a "Michigan Man" was hired to coach the Spartans before his final year as coach in 1947. Biggie Munn, who was both a player and assistant under Crisler, was hired to turn the Spartan program around.
It took some time, but Munn defeated the Wolverines for the first time in 1950. From that date through 1967, Michigan State went 13-3-2 against the Wolverines.
Keep Reading

Michigan Wolverines Football: Like this team?