5 Best Situational Lineups for the Minnesota Timberwolves in 2012-13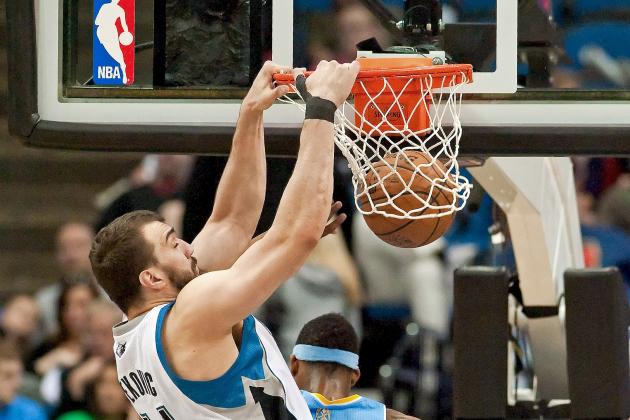 Greg Smith-US PRESSWIRE

The roster that the Minnesota Timberwolves start each game with will inevitably not be the same five players throughout the game, as rotations are set in place to make sure that the team is moving as efficiently as possible. Different scenarios call for different players, and each rotation has a specific purpose in mind.
The Timberwolves absolutely have the talent to make the most out of every challenge that they are faced with, whether it be defense, rebounding or just quick points.
Head coach Rick Adelman has undoubtedly gone over every possible scenario with his given roster, which turns each player's unique abilities into a function for the entire team.
Listed are just five of the most likely situational lineups that we're going to see more of as the season progresses.
Begin Slideshow

»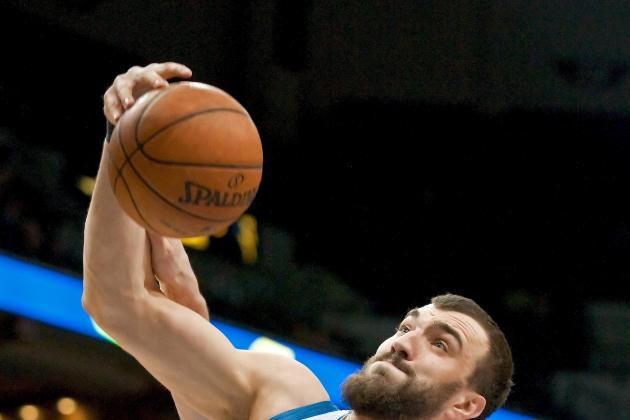 Greg Smith-US PRESSWIRE

The Timberwolves were ranked fifth in the league with an average of 43.7 rebounds per game (RPG) last season (courtesy of ESPN.com).
The reason for that extremely elite stat? They have two of the best rebounders in the league with Kevin Love and Nikola Pekovic.
When going up against bigger opponents and needing a size advantage, the Timberwolves have an elite team of rebounders in their starting lineup. Based on each starting players latest season in the NBA, the starting lineup alone is projected to grab 32.8 RPG.
Center: Nikola Pekovic (6'11")
2011-12 RPG: 7.4
Nikola Pekovic is perhaps the next great big man in the NBA. His size and strength are a huge advantage for the Timberwolves.
His stats have been steadily climbing over his two seasons in the NBA. Expect his rebounding numbers to increase as well.
Power Forward: Kevin Love (6'10")
2011-12 RPG: 13.3 (Ranked second in NBA)
There's nothing anyone could say about Kevin Love's game that hasn't already been established by the dominance that Love has shown over his career.
His hustle play is the largest reason that he gets so many rebounds, and you can't ignore the production that he provides as a result.
Small Forward: Andrei Kirilenko (6'9")
2010-11 RPG: 5.1
Andrei Kirilenko isn't going to wow anybody by any one stat, but that's because he's a stat-stuffer. His rebounding is just as big a part of his game as his defense is, he's another hustle player that is going to largely benefit the organization.
Shooting Guard: Brandon Roy (6'6")
2010-11 RPG: 4.3
As if Brandon Roy's offensive game wasn't enough, he grabs quite a bit of rebounds for a guard. That kind of play by a guard causes major headaches for other teams, especially teams that are already outsized by him.
Point Guard: Luke Ridnour (6'2")
2011-12 RPG: 2.7
Luke Ridnour isn't really a rebounder, but 2.7 boards a game is still a good amount for a point guard.
Brace Hemmelgarn-US PRESSWIRE

The Minnesota Timberwolves have seemingly no end to players that can shoot the ball well. Three-point shooting could very well be the Timberwolves greatest asset—in fact, this lineup may be the deadliest in the league.
With these guys on the floor, there won't be a single weak spot from beyond the arc. Look for this lineup to make their entrance when the team needs a shot to win the game.
Out of these five, only two played for the Wolves last season.
Center: Kevin Love (2012 NBA Three-Point Contest winner)
2011-12 field goal percentage (FG%): 0.448
2011-12 three-point percentage (3P%): 0.372
Even if his stats don't loudly show the respect that Kevin Love has earned as a shooter, the results speak for themselves.
He won multiple games last season with buzzer-beaters, and his unique ability to shoot the ball from anywhere has formed him into a multi-dimensional threat for defenses. He's going to continue to be that threat this season, which in turn makes the offense run that much better.
Power Forward: Derrick Williams
2011-12 FG%: 0.412
2011-12 3P%: 0.268
Derrick Williams doesn't have a bad shot. Stats don't lie, but if Williams could figure out how to be more consistent, his numbers would look a lot better.
His offensive game is set to take off this season, look out for his numbers to rise.
Small Forward: Chase Budinger
2011-12 FG%: 0.442
2011-12 3P%: 0.402
Chase Budinger currently has the best shot on the team. Forty two percent from three-point land is nothing to sneeze at and he's going to make a big threat for teams with his ability to create offense from anywhere on the court.
Shooting Guard: Brandon Roy
2010-11 FG%: 0.460
2010-11 3P%: 0.333
Despite his 2010-11 numbers being a bit low, Brandon Roy has always been know as one of the best pure shooters in the League. Combined with his ability to get to his basket, his shot makes him impossible for opposing defenses to cover.
Now that his knees are better, his shooting percentages should start rising big time.
Point Guard: Alexey Shved
2012 Preseason FG%: 0.412
2012 Preseason 3P%: 0.375
Technically, Alexey Shved is a combo-guard. So basically, not only is he an accomplished pass-first point guard, but he shot 49 percent from three point range last year in Russia.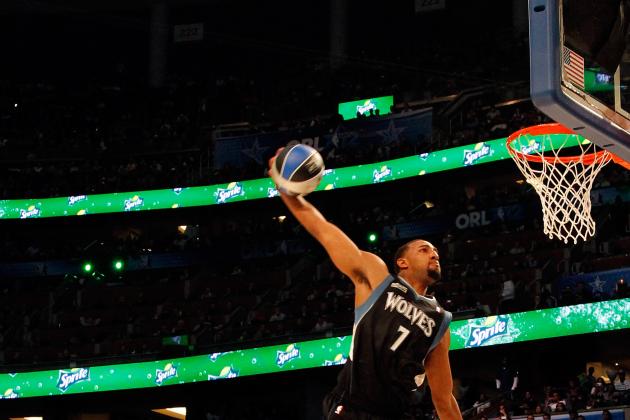 Mike Ehrmann/Getty Images

This is a fun one. Despite having a great shooting team, the Wolves are also in possession of some of the most powerful dunkers in the league. In fact, they currently have two of the three contestants in the 2012 NBA Slam Dunk Contest.
Once they all get comfortable in the offense, the team is going to start making some highlight reels.
Center: Kevin Love
Kevin Love is a surprisingly powerful player. He's not going to mesmerize the crowd with his dunks, but he will make his presence known.
He contributes to this scenario with not only his power moves, but also by keeping defenders out of the paint.
Power Forward: Dante Cunningham
Dante Cunningham makes his presence known, and then some. He does a lot of things well, crashes the board, blocks shots—but above all things, he makes defenders pay.
He's shown his power early and often so far in the preseason. If he's ends up being the No. 2 power forward behind Kevin Love, we'll see a lot of this guy.
Small Forward: Derrick Williams
Derrick Williams was a powerful guy last season, and he lost 15 pounds in preparation of this season. That means extra quickness, and that means even sweeter dunks.
He was a participant in the 2012 NBA Slam Dunk Contest and he proved during his rookie season that he's a high-flyer. I'm looking forward to the inevitable highlights coming this season.
Shooting Guard: Chase Budinger
It kinda blows my mind that the Timberwolves have two guys from last year's dunk contest on hand. Combined with his athleticism and fantastic shooting, Budinger is one of the best dunkers on roster.
He and Ricky Rubio are going to have some fun when Rubio returns.
Point Guard: J.J. Barea
I know what you're thinking, and no—I have never seen J.J. Barea dunk. That doesn't mean he can't, but he's not in this lineup for his dunking skills.
Barea loves causing excitement by feeding the big guys. He's going to have a great time with this team, because the Timberwolves have some serious hops this year.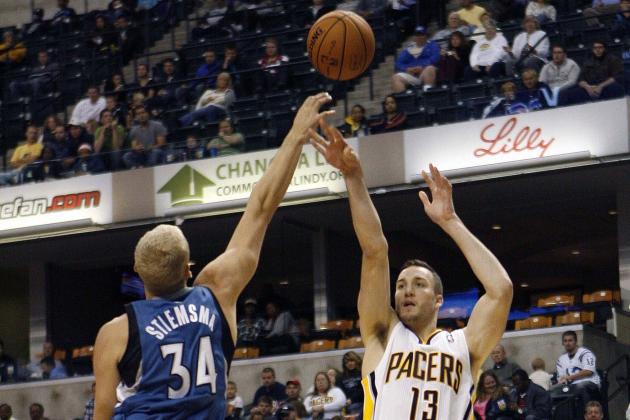 Brian Spurlock-US PRESSWIRE

The Timberwolves were ranked 25th in the league last season with 100.1 points allowed per game. Put simply, that is not an acceptable ranking.
They brought Andrei Kirilenko in to solidify the overall defense of the team, and we already know that Ricky Rubio is going to continue being an elite defender when he returns.
It['s likely that the defense isn't going to be elite this season, but we're going to see major improvements from last year.
Center: Greg Stiemsma
2011-12 steals per game (SPG): 0.7
2011-12 blocks per game (BPG): 1.6
Let me make something clear: 1.6 blocks per game isn't a spectacular number. What makes Greg Stiemsma a spectacular defender is that he earned his 1.6 BPG in just 13.9 minutes per game.
Greg Stiemsma is only going into his second year in the NBA, but he averaged the third-highest blocks per minute rate in the entire NBA. That is a spectacular number.
He'll see minutes when the Timberwolves need lockdown defense; he's going to be an absolutely massive asset for the Wolves.
Power Forward: Dante Cunningham
2011-12 SPG: 0.7
2011-12 BPG: 0.5
2012 Preseason BPG: 2.3
Dante Cunningham has seen limited minutes so far in his three-year career but he's always been known as a defensive player.
Against the Indiana Pacers in the second preseason game, Cunningham shut the down the opposing big men, finishing the night with a total of six blocks.
That type of defense will be huge for the team when they're trying to defend a lead.
Small Forward: Andrei Kirilenko
2010-11 BPG: 1.2
2010-11 SPG: 1.3
Andrei Kirilenko built his career around his defense. He was brought in by the T-Wolves to make a difference on the defensive side of the ball, and that is exactly what he's going to do.
Shooting Guard: Brandon Roy
2010-11 BPG: 0.3
2010-11 SPG: 1.0
Brandon Roy isn't an elite defender yet, but he's definitely not going to be a weak link on defense.
With his knees healthy again, he's going to be quicker and much more capable of keeping up with his opponents than he was in his last year with the NBA. He'll add to the overall improvement that the Wolves have made on the defensive side of the ball.
Point Guard: Luke Ridnour
2011-12 BPG: 0.3
2011-12 SPG: 1.1
Luke Ridnour is a solid enough defender for the Timberwolves. He showed last season that he's not a weak defender, although his size does present problems for him.
At the very least, he is capable of holding down the fort at the point guard position until Rubio comes back.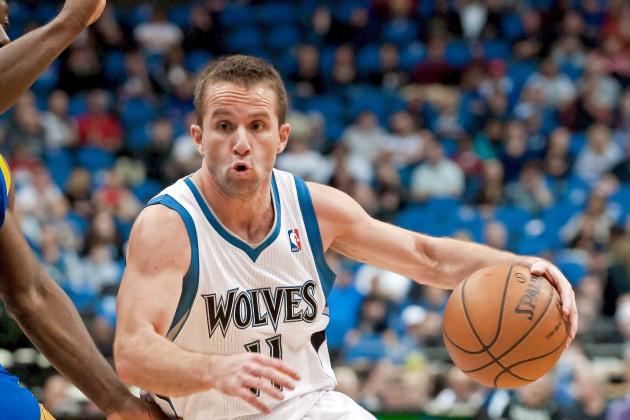 Greg Smith-US PRESSWIRE

Energy is a major part of the game of basketball. Basketball is a game of momentum, with the winner usually being the team that was able to ride their momentum for the longest.
For that reason, having a lineup that can instantly inject energy into a game plays an extremely critical role in making the season a success for the Timberwolves.
Center: Kevin Love
Kevin Love is an energy player. He grabs rebounds, nails big shots, and just does all of the little things that pumps up the crowd and the team.
He also is a huge factor in any success that the Timberwolves enjoy, his energy makes the rest of the team play harder.
Power Forward: Lou Amundson
Thought I forgot about this guy, didn't you? It's a big mistake to forget about Lou Amundson, because he'll find a way to make you pay if you do.
Amundson isn't overly athletic. He doesn't have a great offensive game, and his defense isn't spectacular.
What he does possess is a rare hustle factor that every team needs. He's going to fight for every loose ball, make plays that the team needs to keep moving, and make sure that the opposing team stays on their heels.
Small Forward: Derrick Williams
Derrick Williams is the type of player that you don't see much of until he burns you. The Clippers found that out first hand last February, when he burned them for 27 points and carried the Timberwolves to win the game.
His electrifying dunks and ability to change the tide of a game with a single play is what makes Williams a great energy player for the Wolves.
If his offensive arsenal has truly improved after his rookie season, then I can't wait to see what he has in store for us.
Shooting Guard: Chase Budinger
It's been stated before, but Chase Budinger is a huge offensive threat because of his ability to make plays from anywhere on the court.
He has one of the best shots on the team and he's very capable of taking the ball to the rim. He makes big plays.
Point guard: J.J. Barea
What J.J. Barea lacks in size, he makes up for in energy. He can paralyze defenses with his quickness and desire to make moves to the basket. He has a very stellar outside shot, and he makes big time passes.
Opposing defenses are on the lookout for Barea, because he has been known to change games.