As soon as Alabama was announced as the top team in the first BCS standings, the inevitable was destined to come. Fans from every major conference and every nationally ranked program as well as every columnist, broadcaster and pundit had to pitch in their two cents on the quality of the Alabama schedule.
This kind of thing seems to happen with regularity when you are at the top of your field. The Alabama family has been guilty of it in previous years themselves. Anything that can be done to diminish the quality of work put together by a higher-rated competitor is worth a shot.
There has been a lot of talk in recent weeks about the quality of opponents Alabama has faced so far this season. So to see if this envious water-cooler nonsense holds true, some research had to be done.
Currently, there are 10 undefeated teams in the national title hunt. Ohio State was not considered in this brief study as the Buckeyes are ineligible for postseason play. The undefeated Ohio Bobcats were not included either because of their small stature on the national scale.
First, we need to compare the cumulative records of the opponents that each team has faced. While the hearsay is that the Crimson Tide have played an insanely weak schedule, the truth is that Alabama opponents have accumulated the fourth-best winning percentage of the 10 teams in question.
Notre Dame, based on this schematic, has played the toughest schedule. Their opponents have posted a winning percentage of .578. Oregon State is second (.558). These two are followed by Florida (.538), Alabama (.512), Cincinnati (.484), Oregon (.461), Kansas State (.432), Rutgers (.394), Mississippi State (.315) and finally Louisville (.250).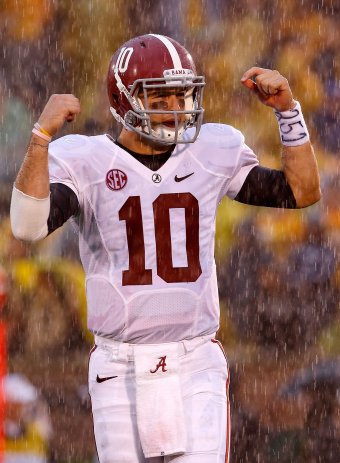 Jamie Squire/Getty Images
Notice that two of the top four are from the SEC, including Alabama.
If we take a look at who has played the most games away from home, Alabama joins Florida, Rutgers and Louisville as the only teams who have played three games outside of their home field. Cincinnati has played no road games as of yet. Of note, Notre Dame and Oregon have each played just one game away from home this season.
In comparing games against ranked opponents, we looked at where the teams were ranked when they played, as opposed to where they are now. Notre Dame has played and beaten three teams ranked in the Top 25, but none in the Top 10. Florida, Oregon and Oregon State have each beaten two ranked teams. Alabama has beaten just one, Michigan.
According to TeamRankings.com, Kansas State has played the toughest schedule of the undefeated teams (second overall). The Florida schedule is 16th in the nation and Alabama comes in next with the 24th most difficult schedule thus far, just ahead of Oregon State (25th). Also among the top-ranked undefeated teams, Notre Dame has the 33rd-ranked schedule and Oregon is way down at 56th right now.
Based on the data covered above, Alabama clearly has not played the weakest schedule.
Yes, Arkansas has been a disappointment this year. Michigan, however, may not be as bad as Alabama made them appear to be after their season opening tussle in Dallas. The Wolverines are now 4-2 with their only losses coming to Top Five teams.
The Tide will face a road trip to Tennessee this weekend. Following that is a home date with undefeated Mississippi State, a road trip to Baton Rouge against LSU and then another home game against a ranked Texas A&M club. After Tennessee, all of these teams are currently ranked and have combined for just two losses on the year.
Kevin C. Cox/Getty Images
If Alabama runs through this gauntlet without losing, it's reward will be a trip to Atlanta to face what will likely be another Top Five team from the SEC East.
Alabama has nothing to apologize for when it comes to scheduling. The Tide plays the teams that are put before them, as all do. In the case of the Tide, Michigan is a more than qualified non-conference opponent and having to run through an eight-game conference slate, especially in the conference that has produced the last six national title winners, is more than any team from any other conference can boast.
The SEC currently has seven teams in the Top 25. The Big Ten has none.
Maybe the schedule has not been the toughest in the nation through the first six games. But maybe some of the reason that the schedule looks as light as it does is that Alabama is beating everyone it faces so badly that what remains is the illusion that those teams are not worthy of respect.
This argument will continue to play itself out over the course of the next two months. When all is said and done and all of the games have been played, Alabama will have worked through one of the toughest schedules in the nation, one that is practically impossible to fight through unscathed.
With any luck, the Tide will emerge undefeated and be thrust into yet another BCS title game against a well-deserving opponent. Once that happens, well, the rest just doesn't matter.