Baltimore Orioles Top 10 Prospects, and When We'll See Them in the Majors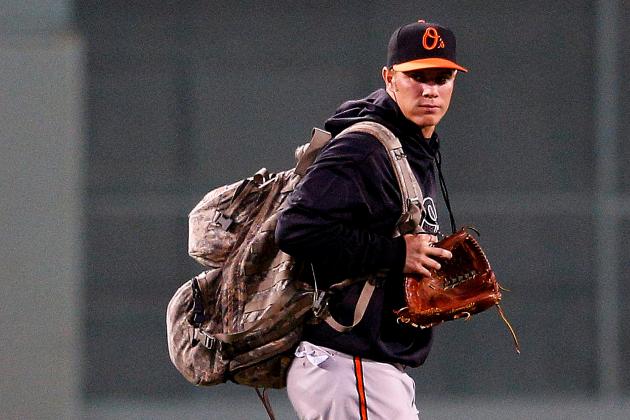 Jim Rogash/Getty Images
Dylan Bundy made a meteoric rise from Low-A to the Majors in just one full-season
2012 was a sensational year for the Baltimore Orioles. In fact, it was a year of "not only."
Not only did they break a streak of 15 consecutive losing seasons...
Not only did they challenge for a division crown into the final week of the season...
Not only did they produce the team's first playoff appearance since the days of Cal Ripken and Brady Anderson...
Not only did they restore pride to the city of Baltimore through winning baseball...
Another thing the Orioles managed to do was a have a great year developmentally. Down on the farm, they turned Dylan Bundy from a phenom into one of the most successful pitching prospects in the past 25 years.
Based off of instructional league play and his brief regular-season debut, they appear to have hit another home run with this year's first-round pick, Kevin Gausman.
Oh, and don't forget Manny Machado, who went from struggling down in Double-A to slugging two homers in only his second big-league contest.
Bundy, Gausman and Machado weren't the only O's farm-hands to put together fine campaigns, however. Several players had career years, and many of them make appearances on the Orioles' top 10 prospect list.
Begin Slideshow

»
The O's managed to secure the rights to Marin, and persuaded him away from a commitment to the University of Miami, where he likely would have followed in the footsteps of many a Miami native en route to All-American honors and a big-league career.
Marin offers multiple tools, each of which was on display during his debut. He showed great speed, legging out three triples and swiping eight bases. He also showed good pop, rapping seven doubles. In the field, he showed immense ability as well, showcasing a cannon for an arm and quick instincts.
In a six-game cameo with Delmarva, Marin hit .286 with two steals and two RBI, proving he was at least capable of hitting off of older pitchers.
He could be challenged with even more of that in 2013, in the form of an aggressive promotion back to Low-A.
Marin needs to improve his on-base skills, and his ceiling could be as a top-of-the-order presence.
ETA: Late 2016
Hailing from Humble, Texas, Schrader possesses skills that should make him anything but, and after another incredibly successful season, he could be on the cusp of reaching Baltimore once and for all.
A year after breaking onto the scene with a season in which he struck out 73 batters in 46 innings and held down a 1.57 ERA, splitting time between Low- and High-A, Schrader returned to Frederick to start the 2012 campaign. He spent half the season there, and produced the same dominating results, getting 51 punchouts in a mere 35 innings.
A promotion to Double-A Bowie couldn't slow him down, although he did look much more human there. He walked 24 batters in 23 innings, but managed to hold down a 2.74 ERA in 19 appearances.
If he can regain command over his fastball, Schrader could rocket through Double- and Triple-A and could give the Orioles another strong candidate for the set-up man position.
ETA: Late 2013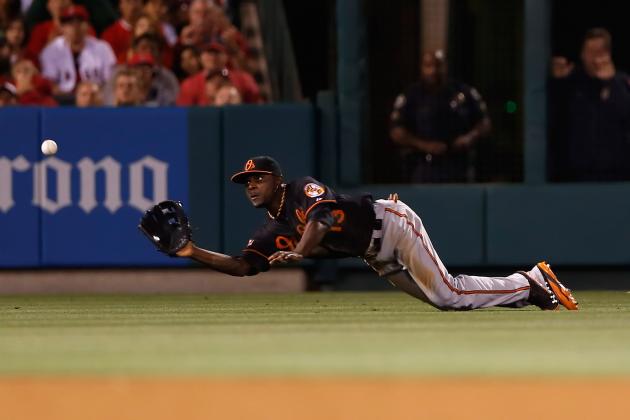 Jeff Gross/Getty Images

Avery was called upon by Baltimore early in the season to try to add some pep to the top of the team's lineup.
His paltry batting average (.223) doesn't do justice to the effect he had. He added some much-needed speed, stealing six bases in 32 games, and showed much improved plate discipline, drawing 11 walks.
Down at Triple-A Norfolk, he showed even more promise, slugging a career-high eight homers in just 102 games.
Combined with 22 steals and some sensational defense, Avery proved to be the prototypical lead-off hitter, and one that the Orioles could sorely use should they enter into another season without Brian Roberts.
Without a strong spring, he likely won't make the Opening Day roster, but Avery could play an integral role in the team's 2013 plans.
ETA: Late 2013
Dylan Bundy aside, it was a rough year for Orioles' pitching prospects.
Parker Bridwell, Bobby Bundy and Tim Berry all suffered extreme lows, but Berry, in particular, showed incredible growth during his second full season.
He made 24 starts for Delmarva, Frederick and Bowie and set career highs in innings (128.2) and strikeouts (109). He cut his walk-rate nearly in half and for the second season in a row, proved to be incredibly stingy with the homer (nine allowed).
All of which makes one wonder how he racked up 13 losses and finished with a 5.04 ERA.
Berry has a quality fastball, a decent curveball and a developing changeup, but he needs to get better at commanding all of his pitches, especially his fastball. He might have cut down on his walks, but he still hit 10 batters and threw eight wild pitches.
Berry could be a serviceable mid-rotation starter, but only if he continues to improve in all areas.
ETA: Mid-2015
Kline could be a fantastic find for the Orioles, who plucked the Maryland native in the second round of this past June's draft.
Kline established himself as one of the finest relievers in the country during his sophomore campaign, saving 18 games, striking out 56 batters in 43 innings, and posting a 1.88 ERA in 32 games. He single-handedly at times kept the Virginia Cavaliers' bullpen alive during their run to the College World Series.
In 2012, he made the jump to the rotation, where he won seven games, posted a 3.56 ERA and struck out 94 in 93.2 innings.
The Orioles value him not only for his versatility, but also for his stuff. His fastball-curveball combination is one of the best in the system, and could be a lethal combination should the organization decide to keep him in a relief role.
Should they start him, and the indication is that they'll give him every chance to do just that, Kline would need to bring along his changeup, a pitch that didn't get much use at UVA, but one that is essential to the organization's development plan.
ETA: Late 2014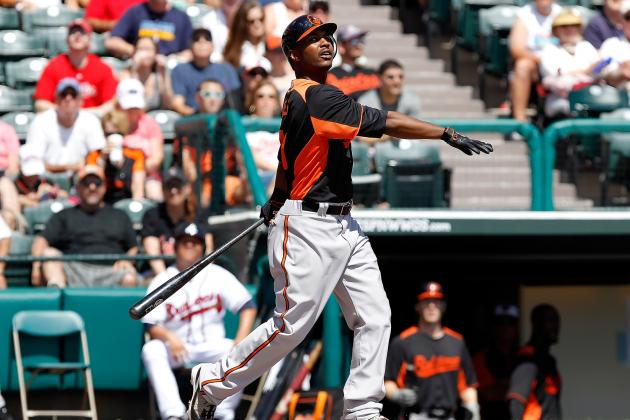 J. Meric/Getty Images

Hoes got his first taste of the big leagues in 2012, after a phenomenal season capped by a sensational run in the International League.
He hit .300/.374/.397 with 21 extra-base hits and 54 runs in 82 games with Norfolk as one of the league's youngest players. That performance came on the heels of a strong start with Double-A Bowie, where Hoes accumulated another 14 extra-base hits and 25 runs in 51 games.
In all, he stole 20 bases for the Orioles minor-league squads this season and he put together one of the finest BB:K ratios (65:76) of any Baltimore farm-hand.
Hoes has long been valued by the Orioles for his knack for getting on base, but over the past two years, he has shown a little more pop than they expected. He's averaged 24 doubles over the past three years and slugged a career-high nine homers in 2011.
Hoes could be exactly the top-of-the-order bat the Orioles have been searching for, and his legs could inject some much-needed speed to a lineup that stole the second-fewest amount of bases in the American League in 2012.
ETA: Mid-2013
Delmonico comes from baseball genes (his father is a long-time coach and his brother is a fellow minor leaguer), but he very well could turn out to be the best.
After a sensational high-school career in Tennessee, highlighted by a game-winning two-run HR in the state championship game his junior year, Delmonico turned pro and signed a lucrative deal with Baltimore, who cherished his pure hitting ability, raw power and great baseball instincts.
He showed all three of those traits in his debut. He more than held his own in Low-A ball, hitting .249/.351/.411 with 22 doubles, 11 homers and 54 RBI. More impressively, he maintained solid plate discipline (47:73 BB:K), playing the majority of the season at age 19.
His line could have looked even more impressive had he not missed large chunks of time with a knee injury.
The O's have high hopes for Delmonico, who they figure will be an above-average defender at first base given time.
He is several years away from even sniffing the big leagues, however.
ETA: Late 2015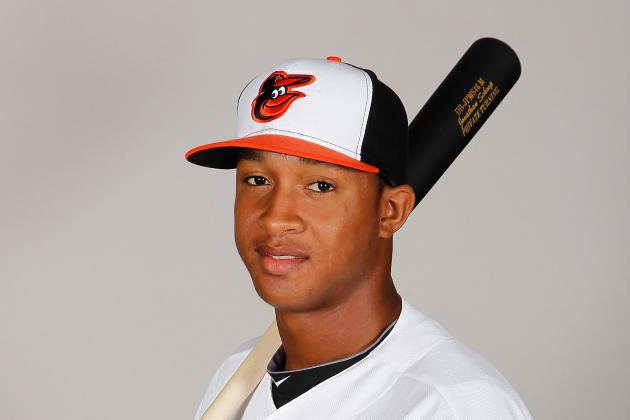 J. Meric/Getty Images

With Manny Machado in Baltimore for good, the title of "best infield prospect" falls to Schoop.
Fortunately, with Machado out of the way, Schoop was able to return to his natural position, shortstop, where many scouts view him as a better defender than the man in his way. And with Machado looking like a seasoned Gold Glover at the hot corner, he might have a chance to stick there long-term.
After taking a major leap forward with his bat in 2011 (.290, 13 HR, 71 RBI), Schoop took a bit of a step backward in 2012. He average (.245) was as low as it's been since his stint in the Dominican Summer League in 2009 and he set a career high with 103 strikeouts.
Still, hitting 14 homers and driving in 56 runs as a 20-year-old in Double-A is quite an accomplishment.
The Orioles turned down a midseason trade offer that would have sent him to Philadelphia in exchange for Joe Blanton, and held out for Joe Saunders and a deal with Arizona that didn't include Schoop.
He'll head to Triple-A to start the 2013 season, and from the looks of it, he'll have plenty of momentum. He's hitting .308 in five Arizona Fall League contests.
He is, however, playing third base.
ETA: Late 2014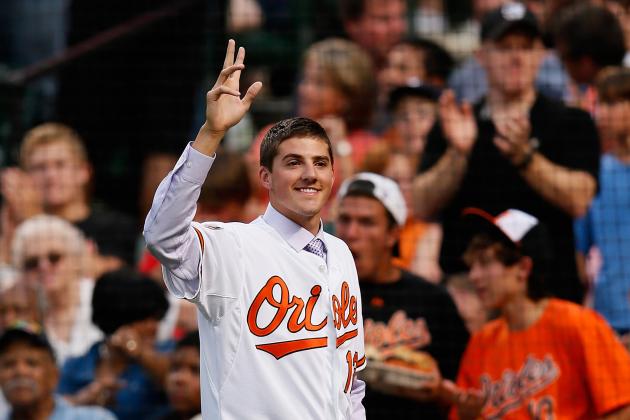 Rob Carr/Getty Images

Gausman was the team's first-round pick in this past June's draft, and although negotiations came down to the final minute, both sides seem to be happy and ready to start the development that will hopefully end with the former LSU ace in the majors.
After signing, Gausman made five appearances, each lasting three innings, and for the most part looked sharp. He struck out 13 batters in 15 innings before tiring during his three-start cameo with High-A Frederick.
Gausman could start as high as Double-A Bowie in 2013, and there's a good chance that he and Bundy could be on the same squad come the halfway point of the season. Don't discount the likelihood that he joins the team when rosters expand in September.
He should join the big-league squad for good at some point during the 2014 season.
ETA: Late 2013/Early 2014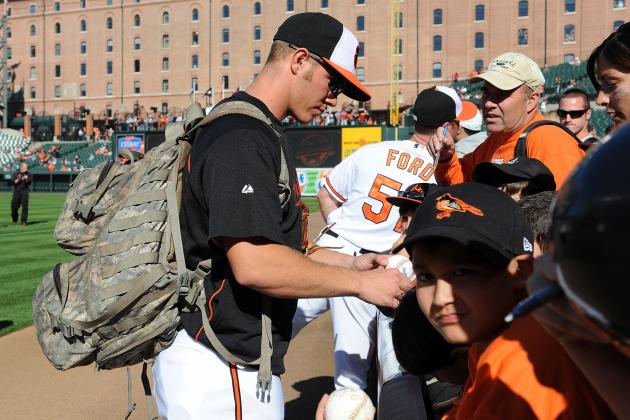 Greg Fiume/Getty Images

Bundy failed to blow away any hitters in his brief big-league cameo, but the fact that he reached the majors at all at the tail end of his first professional season was quite impressive.
Like many a top prospect before him, Bundy entered the season with the grandest of expectations. The O's tried to temper them by sending him to Low-A Delmarva to start his career. All he did there was toss 30 consecutive innings without an earned run, striking out 40 while walking just two batters and five base-hits.
A quick promotion to Frederick didn't offer much more of a challenge: 66 strikeouts in 57 innings and a 2.84 ERA.
Finally the O's sent the 19-year old to Double-A Bowie, where he faced his stiffest test yet. In three starts, he surrendered six earned runs and walked eight.
For the season, Bundy held down a 2.08 ERA, struck out 119 batters in 103.2 innings and walked just 28.
Just think how good Bundy will be when the O's let him start throwing his cutter, arguably his best pitch that has been shelved since the team drafted him.
Bundy got a taste of the the majors this past season, and it won't be long before he's back for good. He should join the Orioles' Triple-A roster at Norfolk to start the 2013 season, and if he performs like he did in 2012, he should be ready to join the big-league rotation sometime after the All-Star break.
ETA: Mid-2013