What Last Year's Player Grades Tell Us About Returning New York Knicks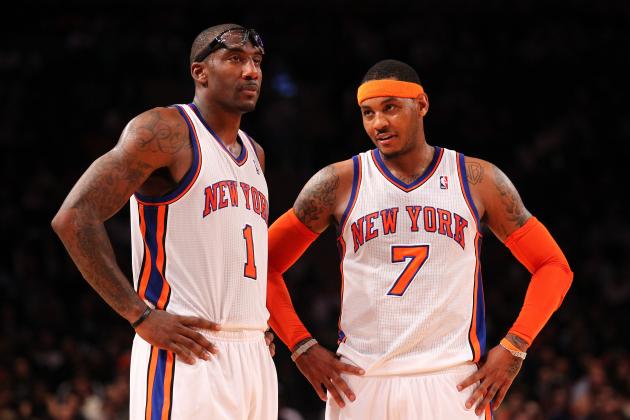 Al Bello/Getty Images
Amar'e Stoudemire (left) and Carmelo Anthony
In order to get a sense of what the New York Knicks will be in 2012-13, we have to go back and look at who is left over from last season's squad.
The good news for New York is that the Knicks come into this season with some continuity. Though only six Knicks return from the 2011-12 campaign, that includes four starters and the two leading bench scorers. Considering the concerted effort to strengthen the Knicks' bench this offseason, it's good that there is already big-minute talent in place.
On the other hand, the returning Knicks did play some dysfunctional ball together. These carryovers have had well-documented issues sharing the ball and expending effort on the defensive end. Hopefully the new personnel will help solve those problems, but it is not a given.
Let's look back at how the returning Knicks fared last season in order to predict how they'll play in 2012-13.
Begin Slideshow

»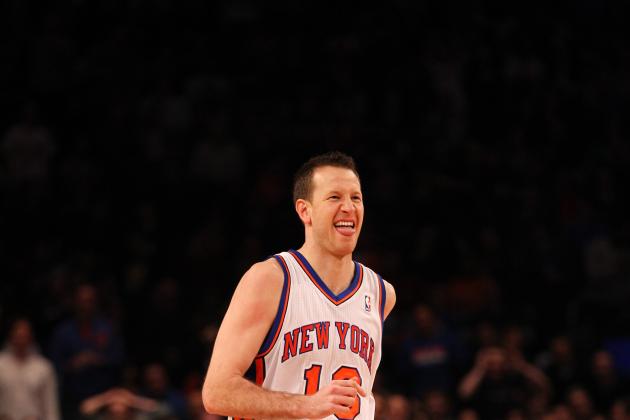 Al Bello/Getty Images
Steve Novak
2011-12 Grade: B-
Projected 2012-13 Grade: C+
Steve Novak is a virtuoso from three-point range, but he's also a player with only one real tool to his game. He's not a threat from inside the arc, and though he can defend both forward positions, he can't cover either particularly well. You can argue for his free throw shooting ability, but he doesn't get to the line often enough to make an impact that way.
Had he not led the league in three-point percentage last season, it would be difficult to call Novak an above-average player. Unfortunately, he is unlikely to shoot at quite that level again next year.
Jason Kapono was the last NBA player to lead the league in three-point percentage in consecutive years, holding the crown in 2006-07 and 2007-08. However, he is one of just two players since 2000 to even make the top 10 in the category the year after leading the league. Outside of Kapono and Anthony Morrow, no one else has been able to consistently shoot from range at such an elite level.
Novak should continue to be a terror from downtown this season, but if history is a reliable indicator, expect some drop-off in his production as well.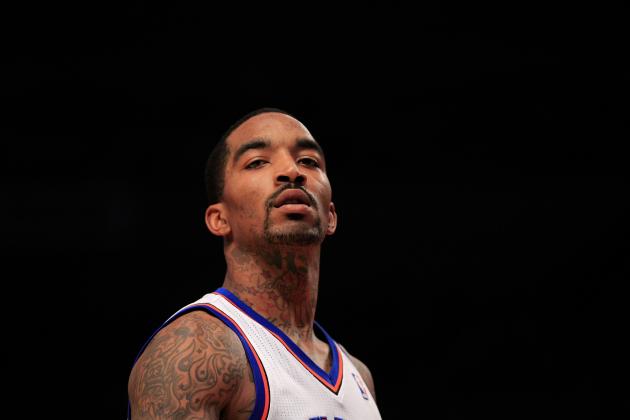 Chris Trotman/Getty Images
J.R. Smith
2011-12 Grade: C+
Projected 2012-13 Grade: C+
Between what we saw on the court and in the box score, it seemed like New York got the same old J.R. Smith last season.
He would occasionally deliver an explosive performance, lighting it up at the offensive end and playing high-energy defense. However, for every great game he'd also deliver a putrid performance, clanging shots and exhibiting poor effort and judgment. It fit the past perception of Smith: he's talented, but his erratic play leads to merely average play.
Now let's compare Smith's stats last year to his career numbers. While his shooting percentages were a tick below his usual rate, his rebounding, assists and steals were a touch better than usual. Fittingly, he averaged 12.5 points per game in 2011-12, right on par with his career rate.
Many have bet before that Smith was about to break out, but after eight years in the league, it just doesn't seem like it's going to happen. He's a decent player and he'll play decent ball in 2012-13, no better or worse than what he's done his whole career.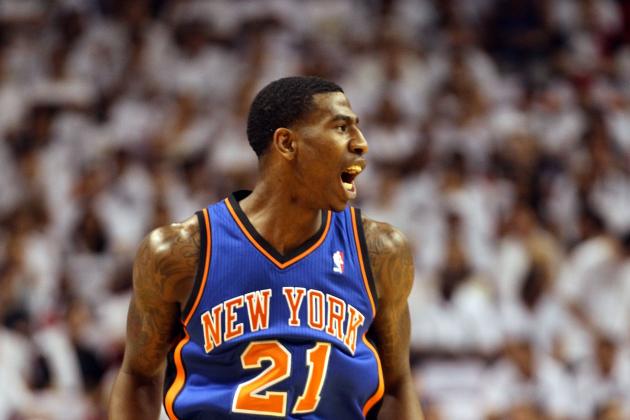 Marc Serota/Getty Images
Iman Shumpert
2011-12 Grade: B-
Projected 2012-13 Grade: Incomplete
Iman Shumpert's rookie season was considered a success more for the flashes of potential than for his substantive play.
The one component of Shumpert's game that was already at an elite level was his defense. He combined instincts worthy of a seasoned pro with his prodigious length and agility to harry opposing guards into turnovers. Amongst rookies, Shumpert's 1.71 steals per game ranked second only to Ricky Rubio last season.
While he showed signs of great slashing ability, Shumpert ultimately played inefficient basketball at the offensive end. His jumper missed more often than not, and he floundered to a mediocre 9.5 points per game on .401 shooting.
Unfortunately, Shumpert's ACL injury prevents us from estimating how close he'll come to reaching his potential next year. Without knowing how agile he'll be when he returns to the court, we have no way of projecting his impact.
Hopefully he'll be able to return to last season's form at the least, but the presence of Smith and Ronnie Brewer on the Knicks roster implies that Mike Woodson has some sort of contingency plan in place.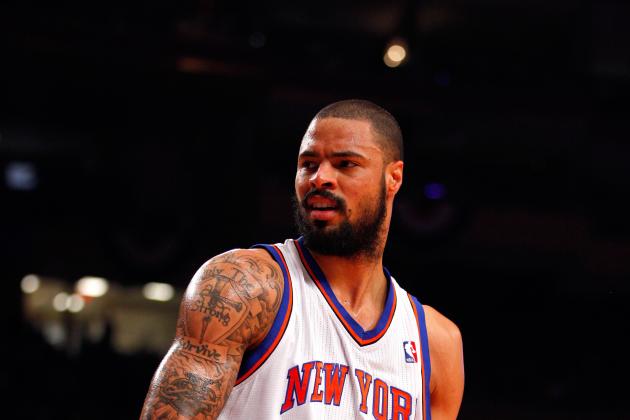 Jeff Zelevansky/Getty Images
Tyson Chandler
2011-12 Grade: A
Projected 2012-13 Grade: A
Tyson Chandler was a revelation for the Knicks at both ends of the floor last year.
How do you knock the year he had? He fully deserved Defensive Player of the Year honors for anchoring a Knicks unit that surprisingly ranked fifth in points allowed per 100 possessions. If that weren't enough, he was the most efficient scorer in the league by a landslide, shooting an unreal .679 from the field.
The only thing keeping Chandler from receiving an A+ is his limited touches on offense. He made the most out of his 5.7 shots per game, but there's only so much impact so few shots can have.
While Chandler will likely be rewarded with some more scoring opportunities this season, the increase in shots will likely cause a dip in his unsustainable field goal percentage. These two stats cancel each other out, though, and Chandler is poised to keep earning his expensive contract in 2012-13.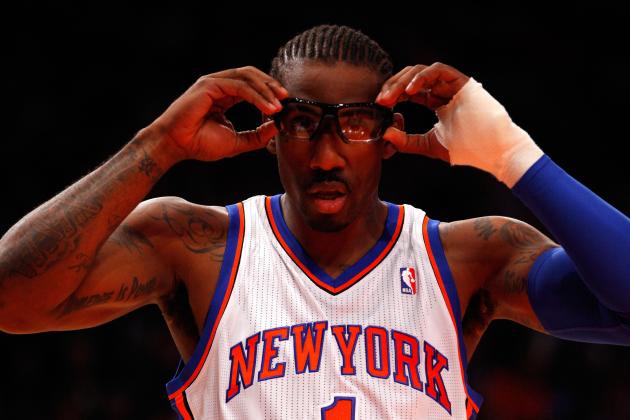 Jeff Zelevansky/Getty Images
Amar'e Stoudemire
2011-12 Grade: B-
Projected 2012-13 Grade: B+
We know the disappointing story of Amar'e Stoudemire's 2011-12 season. Hobbled on the court and haunted off it. A step slow on offense and useless on defense. Even so, his stat line would have been solid for most players in the league. 17.5 points and 7.9 rebounds per game with a .483 shooting percentage is only a letdown for a perennial All-Star.
Expect last season to be the exception rather than the rule. After a summer spent healing up and working on a post game with Hakeem Olajuwon, STAT's numbers should bounce back closer to their previously stellar levels.
At the same time, though, Stoudemire's athleticism is beginning to fade naturally with age. Even if he stays healthy, he'll still be a defensive liability, and he won't be quite the player he once was on offense. Nonetheless, a healthy Amar'e can still produce at a borderline All-Star level, and that would represent a huge improvement coming off of a down year.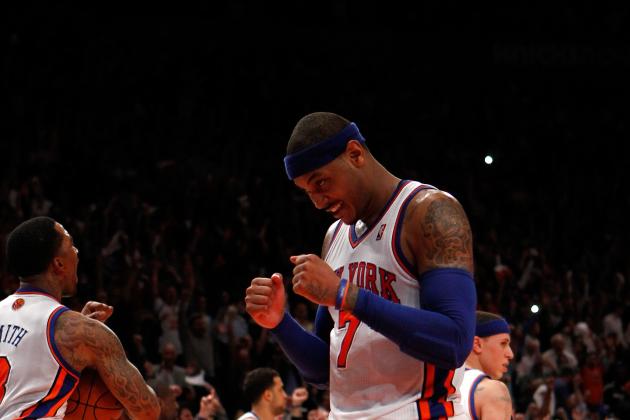 Jeff Zelevansky/Getty Images
Carmelo Anthony
2011-12 Grade: B+
Projected 2012-13 Grade: A
Carmelo Anthony should be neither debased nor deified for his play last season.
In putting up 22.6 points and 6.3 rebounds per game, Melo was one of the best players in the league. In occasionally clogging up New York's offense and playing so-so defense, his impact on the Knicks' season fell short of his stat line.
Anthony played worse than his stats and better than his perception. Arguing whether he should be blamed for last season is not productive, though. What matters is what he can do next season.
Though Melo is still going to take guys one-on-one and demand the ball most in the offense, Woodson's squad should still spread the ball around more this season. This is actually good news for Anthony. A more diverse offense likely means less defensive pressure on him, meaning he should get more open looks.
Additionally, Woodson is going to push Melo to exert himself more on defense. On a veteran team with a no-nonsense coach, he's going to end up working harder on that end whether he likes it or not.
Unencumbered on offense and putting in some effort on defense, Anthony will be put in prime position to dominate. Call it redemption, call it what you want, but Melo is going to win the Knicks even more games next season.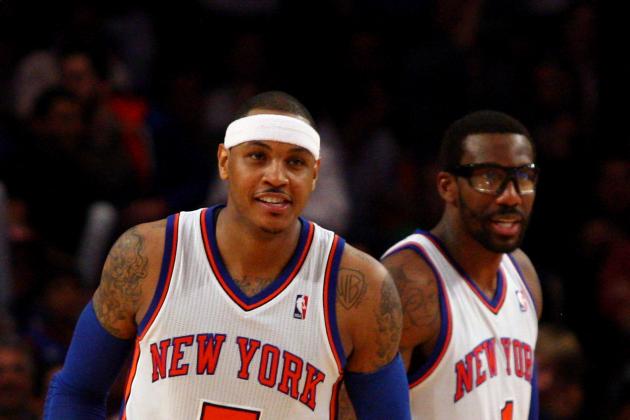 Chris Chambers/Getty Images
Carmelo Anthony (left) and Amar'e Stoudemire
2011-12 Grade: B+
Projected 2012-13 Grade: A-
Let's recap: Chandler is going to remain elite and Anthony will rejoin him at that level. Amar'e will settle somewhere between last year's debacle and his former glory. Novak and Smith will be decent, and we don't know exactly how Shumpert will be for next season.
That amounts to a slight but important improvement for this returning group. Woodson doesn't need these guys to be flawless, but they still will fix some issues in their game for the 2012-13 season. They are very good and they have some star power, but they still need some help if they want to contend.
Fortunately, the new supporting cast that fills out the other half of the Knicks' roster is demonstrably better than the departing players from last year's team. It's their skill and experience that could push New York over the top. Remember, though, the new guys wouldn't have that opportunity if not for the skill of the old guard they're joining.