UFC 153 Results: Power Ranking the UFC's Brazilian Fight Cards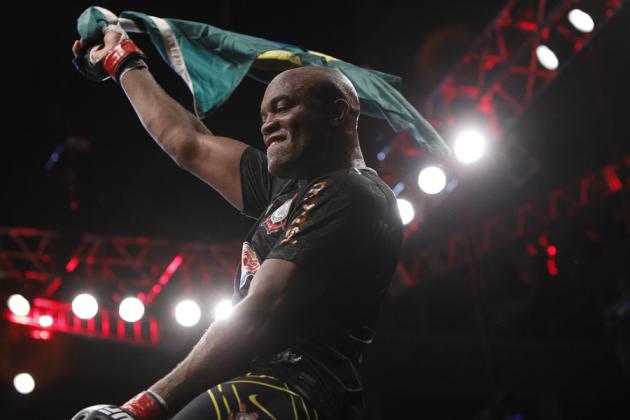 Anderson Silva - MMAFighting
Brazil is simply known as "the land of happiness" to historians, but to UFC fans, it is believed to be the mecca of MMA.
UFC 153 marked the fifth time the promotion has returned to the homeland of all-time greats like Anderson Silva, Antonio Rodrigo Nogueira, Wanderlei Silva, Mauricio "Shogun" Rua, Vitor Belfort and Royce Gracie.
In the main event, Silva put his legacy on the line against MMA journeyman Stephan Bonnar, a man desperately seeking the biggest upset in UFC history. Despite a valiant effort from Bonnar, Silva netted the first round knockout and kept the wheels in motion toward all-time greatness.
The co-main event featured another all-time great in Minotauro Nogueira. At 36 years of age, Nogueira's body has seen plenty of battles, and his scars are displayed vividly for the entire world to see.
Even so, he is still able to press on against some of the best heavyweights in the world. He submitted Dave Herman on Saturday night to extend his career win total to 80.
UFC 153 was often scrutinized for a lackluster main event, but the actual fight card ended up exceeding original expectations.
How does it rank in comparison to the other UFC Brazilian fight cards? The UFC has enjoyed plenty of historical moments in Brazil.
Who could ever forget Belfort blasting "The Axe Murderer" across the cage with multiple jab-straight combos? What about Jose Aldo waving a flag and surfing a crowd of Brazilian fans after his big knockout win over Chad Mendes? How about Nogueira returning from an injury and destroying a major heavyweight prospect in Brendan Schaub?
It's time to take in a little history as Bleacher Report ranks the UFC's best Brazilian fight cards.
Begin Slideshow

»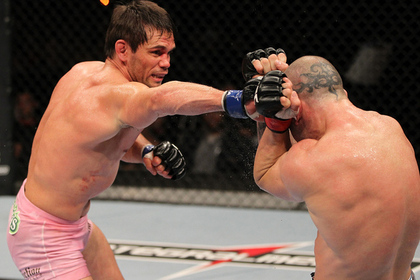 Rich Franklin and Wanderlei Silva - MMAFighting
UFC 147 was easily the least memorable of the fight cards in Brazil.
On paper, the card was relatively weak, but luckily, the main event was able to live up to its end of the deal.
Rich Franklin defeated Wanderlei Silva for a second time in a rematch of their June 2009 bout.
The bout earned honors for "Fight of the Night," but it wasn't nearly enough to save a rather lackluster card.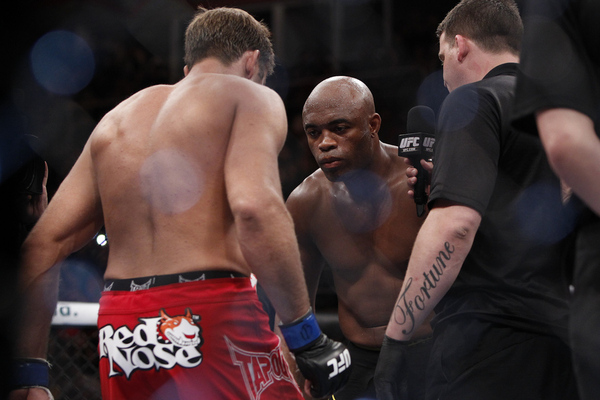 Anderson Silva and Stephan Bonnar - MMAFighting
Following UFC 147, the UFC brought out the big guns for its return to Brazil.
After an injury forced Aldo out of a scheduled title bout with Frankie Edgar, Silva agreed to step up as a late replacement in a featured light heavyweight bout with Bonnar.
The main card was stacked from top to bottom, featuring the likes of Minotauro Nogueira, Glover Teixeira, Jon Fitch, Erick Silva, Demian Maia and Phil Davis.
Those turned off by the main event missed a great fight card. Every fighter delivered in arguably the UFC's best showing in Brazil.
To top it all off, Fitch, who is often scrutinized for having a "boring" fighting style, was awarded "Fight of the Night" honors to go along with his unanimous decision win over Silva.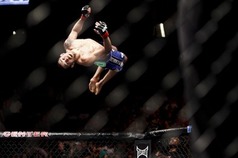 Jose Aldo - Esther Lin/MMAFighting
UFC 142 represented the coming out party for the featherweights.
New eyes were brought to the division that was ruled by Aldo, who has long been considered one of the top pound-for-pound fighters in the world.
Aldo defended his title against Chad Mendes in the UFC's first ever featherweight main event on a pay-per-view card.
After a rocky UFC debut, Aldo delivered in the spotlight with a huge first round knockout to hand Mendes his first loss.
For those familiar with Aldo's story, it was truly a great moment in sports. Aldo went from barely having enough money for food to being hoisted up by thousands as a world champion.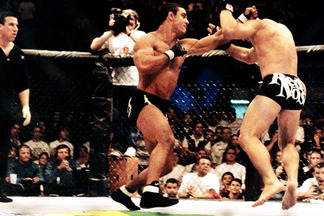 Vitor Belfort and Wanderlei Silva - Marcelo Alonso
UFC Ultimate Brazil may be one of the most important fight cards in UFC history.
Brazilian fighters have been a mainstay in the sport since an undersized Royce Gracie entered the cage and introduced Brazilian jiu-jitsu to the American audience.
Currently, there are four Brazilian UFC champions, including interim bantamweight champ Renan Barao.
The UFC's 1998 event in Brazil holds major historical significance. It marked the first time the largest MMA promotion in the world held an event in the country that is generally considered the holy land of the sport.
Vitor Belfort's highlight reel knockout over Wanderlei Silva also took place here.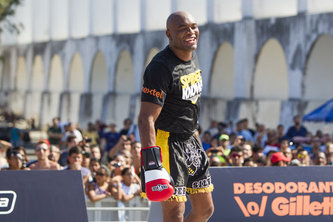 Anderson Silva - MMAFighting
UFC 134 marked the first time the UFC had been to Brazil since the 1998 Ultimate Brazil event.
It was also the first time fighters like Anderson Silva, Mauricio Rua and Antonio Rodrigo Nogueira were able to compete in their home country on a mainstream stage.
The event didn't disappoint, either.
Many mainstream outlets called the event the best fight card in 2011. UFC president Dana White was even jolly enough to hand out $100,000 fight bonuses.
History is on UFC Ultimate Brazil's side, but when it comes to overall excitement, few cards live up to the hype like UFC 134 did.