Heisman Watch 2012: Previewing the Top Contenders Matchups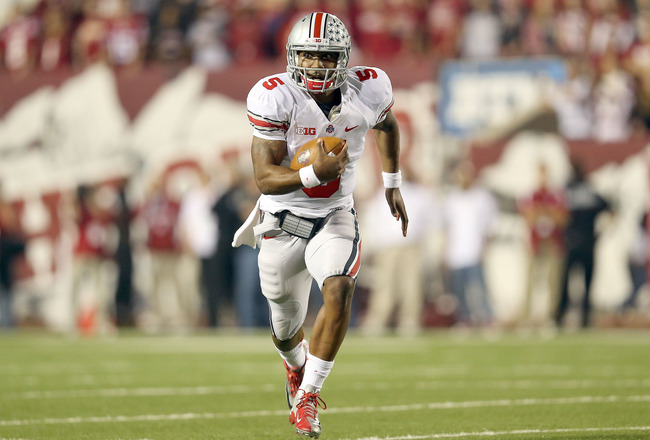 Andy Lyons/Getty Images
Among the numerous aftershocks of West Virginia's unscripted loss to Texas Tech in Week 7 is the fact that the race for the 2012 Heisman is, once again, wide open.
Really, you have to wonder if it was ridiculous to ever argue that Mountaineer QB Geno Smith had the bronze statuette sewed up after only five offensively glittery wins in what is still a 12-game regular season.
Despite of all this, most Heisman prognosticators still have Smith's name solidly atop the top contenders list, but we all know that the guy who wins the prize will play for a team that has no more than three losses (the new bar set last season by RGIII).
With a full seven weeks of games remaining to be played (keep in mind that most of these are now league games), the trophy is truly anyone's to claim making the race indeed, wide open.
The following slideshow previews key matchups for what are, as of this still early date, my top 10 contenders for the 2012 Heisman Trophy.
Not only do we preview Week 8's matchup for each of these hopefuls, but we also look ahead to the biggest hurdles remaining for each to take home the most coveted individual prize in American team sports.
10. Matt Barkley, USC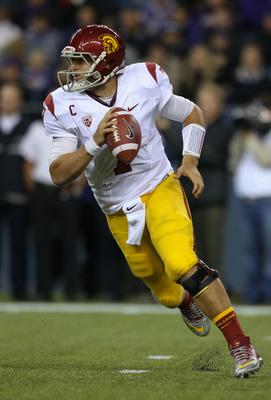 Otto Greule Jr/Getty Images
Week 8 Game: vs. Colorado (1-5)
Though many folks will argue that Matt Barkley's dreams of a Heisman ended with a thud in the Trojans' Week 3 loss to Stanford, the truth of the matter is if USC wins the Pac-12 championship (Nov. 30) he'll be in New York City on Dec. 8.
Yes, USC and Barkley are both flying way underneath the radar, but this is still a Trojan team that is 5-1, ranked No. 10 in the BCS and has a lot of opportunities left on the table to create a buzz.
Barkley is 121-of-193 (62.7 percent) for 1,475 yards with 16 TDs and six INTs thus far in 2012, and though he shouldn't struggle against Colorado this weekend, the game against the Buffs could be a great building block.
Colorado's passing defense is ranked No. 121 nationally, and the Buffs have, on average, allowed a nasty 312.7 passing yards per game. This gives Barkley an excellent stage to really go off and subsequently get the Heisman hype rolling again in earnest.
Looking ahead the next obvious showcase game for Barkley and friends is against. Oregon on Nov. 3, which, other than being a possible preview of the second annual Pac-12 championship game, creates an intriguing matchup between Barkley and the Ducks' pass defense ranked No. 72.
What could really put the "Matt Barkley for Heisman" campaign over the top (other than USC winning out) is the regular season finale vs. Notre Dame in which the Trojans offense will get a shot at what is now the No. 2 scoring defense in the land.
9. A.J. McCarron, Alabama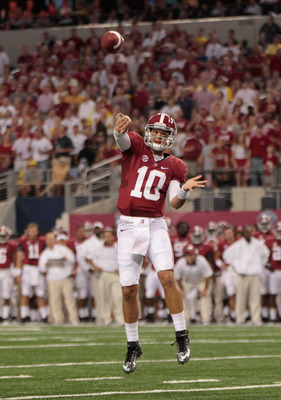 Leon Halip/Getty Images
Week 8 Game: at Tennessee (3-3)
Though many folks may rightly pooh-pooh the mention of Alabama QB A.J. McCarron as a viable Heisman candidate, he may actually be the most logical front-runner of the bunch.
Yes, what if the Tide take their No. 1-ranked defense (No. 1 in scoring, pass defense and against the run) and run the table on the remainder of the regular season, win the SEC title and then punch their ticket for the BCS title game (again)?
And, what if no other team goes unblemished (a completely reasonable scenario at this juncture) and all the "other" contenders fade away as their teams skid through the meat of their seasons?
A.J. McCarron is 89-of-132 for 1,170 yards, 12 TDs and zero picks thus far in 2012, and if this doesn't tickle your fancy, consider the fact that these numbers earn McCarron a passer rating of 171.9.
So what?
Well, that's the sixth-best passer rating in the FBS. Yes, McCarron is No. 6 behind the likes of No. 1 Geno Smith, No. 2 Casey Pachall (TCU's suspended QB), No. 3 Nick Florence (Baylor), No. 4 Taylor Kelly (Arizona State) and No. 5 E.J. Manuel (Florida State).
McCarron's first challenge will put up some big stats against Tennessee this weekend, a team ranked No. 87 in pass defense.
After that, McCarron has a slate of defensive opponents that ought to, if successful managed, scream "Heisman."
First up it's Mississippi State's No. 23-ranked pass defense in Week 9, and then it's on to LSU's No. 2-ranked unit in Week 10 for a signature game in every sense of the word.
If the Tide and their QB can survive those challenges, then they've got a sweet little matchup with Texas A&M's No. 111-ranked pass defense in which McCarron could really rip it up followed by a game vs. FCS Western Carolina and finally the traditional closing number with Auburn.
8. E.J. Manuel, Florida State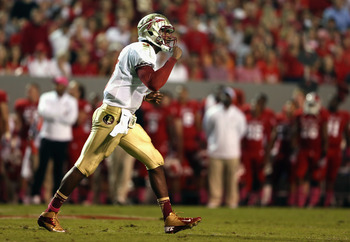 Streeter Lecka/Getty Images
Week 8 Game: at Miami (Fla.) (4-3)
Florida State's QB E.J. Manuel is another guy who may not be on a lot of people's Heisman watch lists after seven weeks of play, but that could be a mistake.
Yes, the Seminoles are one ugly loss to NC State short of perfection, but they still have several factors in their favor to help them boast their first Heisman winner since Chris Weinke won in 2000.
First, you've got the fact that Florida State has what is (arguably) one of the easiest finishes to the 2012 season. Yes, it has a nasty closer against Florida, but who knows what the Gators will look like after completing their own SEC slate, especially with no real offensive firepower.
Secondly, you've got the fact that the Seminoles have one of the most complete teams in the nation. And this is what makes the loss to NC State even more gut-wrenching.
FSU is ranked No. 6 nationally in scoring offense and No. 5 in scoring D. Breaking this down to the next level, the 'Noles are No. 15 in rushing yards per game, No. 23 in passing yards and then an impressive No. 5 against the run and No. 6 vs. the pass.
Wow.
Third, you've got a national landscape that has already featured several upsets, which could mean that two one-loss teams make the BCS title game. At the very least, you can completely see one undefeated BCS squad and a bunch of one- and two-loss squads following behind.
This all sets up E.J. Manuel and his statistical resume of 132-of-184, 1,804 yards, 14 TDs and one pick as a legitimate Heisman candidate.
If FSU wins out, Manuel is in New York.
Week 8's clash with the Hurricanes' No. 90-ranked pass defense should give Manuel a reasonably effective stage on which to perform, and then after that it's really Virginia Tech that causes the most concern.
The upside of the closer vs. Florida is that it's a media-saturated team that can be beat.
7. Stedman Bailey, West Virginia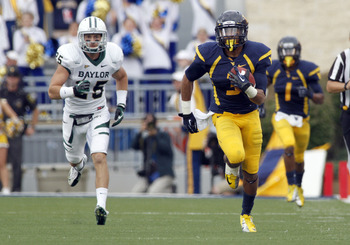 Justin K. Aller/Getty Images
Week 8 Game: vs. Kansas State (6-0)
Though it's difficult to imagine anyone but QB Geno Smith taking home West Virginia's first-ever Heisman trophy, it's impossible not to mention junior WR Stedman Bailey when you list 2012 contenders.
Bailey has racked up 766 yards receiving and 14 TDs on 55 catches through six games, making him the No. 4 nationally ranked receiver in terms of yards and the No. 1 guy in terms of TDs.
As important as Week 8's clash with K-State is for Geno Smith's campaign, it is equally as crucial for Bailey's.
The good news for both guys is that the Wildcats are ranked No. 76 vs. the pass and have given up, on average, 239.3 yards per game through the air, which puts them in the same league with Texas (No. 77).
Yes, if the Mountaineers managed to hang up 460 total yards and 48 points vs. the Longhorns (in Austin), then what can they do vs. K-State in Morgantown?
This game, given even the smallest defensive revival, could be the launch pad for a WVU Big 12 title, the Heisman hopes of both Bailey and Smith, and more.
Looking further ahead for Bailey, the biggest challenge of all might come on Nov. 17 when the Mountaineers will host Oklahoma's No. 11-ranked pass defense, a unit that completely shredded both Texas and Texas Tech.
6. De'Anthony Thomas, Oregon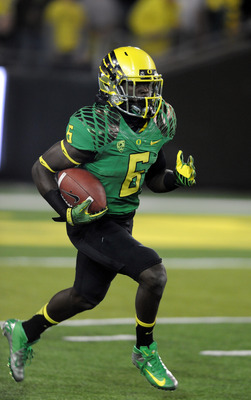 Steve Dykes/Getty Images
Week 8 Game: at Arizona State (5-1)
Frankly, it's surprising to see De'Anthony Thomas' name continuously listed above Kenjon Barner's on legitimate Heisman watch lists.
Seriously, even QB Marcus Mariota has gotten more love of late than Barner, who leads the team in rushing yards and scores.
But, we will trust the Heisman experts to be the Heisman experts, and therefore we'll discuss De'Anthony Thomas and his key matchups to win the trophy.
The first thing to understand about the speedy Thomas' stats is the fact that he just hasn't gotten the touches that Barner has, a statement that is illustrated by Thomas' 41 carries vs. Barner's 116.
Really, Thomas needs more opportunities to carry the ball if he is going to be a serious candidate for the Heisman. His 41 carries for 377 yards and six scores just won't cut it.
And really he's still short even when you tack on 205 yards and three scores as a receiver and 233 of miscellaneous return yards.
Looking ahead for Oregon and Thomas the race begins with an intriguing Week 8 clash at Arizona State, a team that has the No. 9-ranked scoring defense in the FBS but has yet to play a ranked team or a team with a winning record.
The next obvious hurdle is USC, a team that has actually played well against the run (No. 23) but otherwise is wholly unimpressive, especially considering its high billing coming into 2012.
After that looms the real one-two punch of Stanford (currently No. 7 against the run) and Oregon State (No. 4 in rushing D), two games which should decide not only the outcome of a Heisman campaign but also the Ducks' postseason fate.
5. Manti Te'o, Notre Dame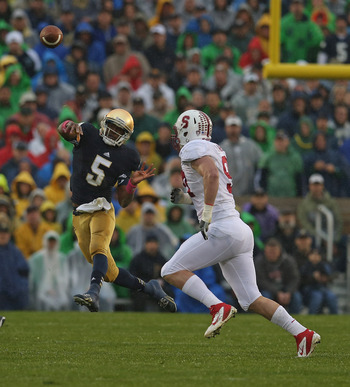 Jonathan Daniel/Getty Images
Week 8 Game: vs. BYU (4-3)
Though it's difficult to buy the concept of a purely defensive player winning the Heisman in the 21st century, senior LB Manti Te'o could get it done.
How so?
Well, first you've got the fact that he is a media friendly individual who may well be pegged as the face of the first Notre Dame team to go undefeated in the regular season since 1988.
And, if you're still worried that this guy plays 100 percent defensively, remember that if the Irish do make it to 12-0, they'll be riding their No. 2-ranked scoring defense to glory, not their No. 69-ranked scoring offense.
Te'o has registered 59 tackles (27 solo) through six games and has a defensive resume that also includes three INTs (28 return yards), one fumble return (eight yards), two tackles for a loss, three broken-up passes and three QB hurries.
The only thing this guy is short of is eight maids a-milking and 10 lords a-leaping…
Te'o and company should be able to effectively shutdown BYU's No. 80-ranked scoring offense in Week 8, which leads to what may be the biggest challenge of the season—Oklahoma in Norman in Week 9.
Beating the Sooners on their home turf won't be easy and neither will be containing a balanced offensive attack that ranks No. 9 in the nation in scoring (43.2).
Though the string of games vs. Pitt, at Boston College and vs. Wake Forest doesn't necessarily ooze with Heisman potential, a win is a win, especially if you are Notre Dame.
Lastly, you've got the finale at USC, a team that has yet to live up to its offensive potential and ranks a mere No. 49 in scoring through six games. But, if the Trojans finally turn the crank and start to cash in on their speed, watch out.
Either way, if Te'o is part of a defense that shuts down the Trojans and if the Irish are undefeated (or are among the growing number of one-lossers) he'll be the most legitimate defensive Heisman candidate to dream of the podium in years.
You just have to wonder if the Notre Dame offense can live up to its part of the bargain.
4. Johnny Manziel, Texas A&M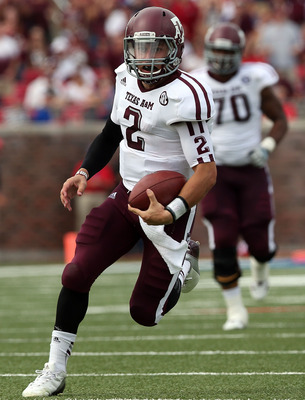 Ronald Martinez/Getty Images
Week 8 Game: vs. LSU (6-1)
In as much as 2012 is the year that a defensive guy could win the Heisman, it's also a year that a freshman could hit pay dirt for the first time in history.
Yes, in a wide-open field in a wide-open race, anything could happen, and if "Johnny Football" wins the Heisman then suddenly "anything" is taken to an entirely new level.
Freshman Aggies QB Johnny Manziel is obviously the team's leading passer and has logged stats that warm even the most Franchione-hardened Ag alum's heart…128-of-190 for 1,680 yards, 14 TDs and three picks.
If that weren't enough, this kid (and he is one) is also A&M's leading rusher as he's racked up 676 yards and 10 scores on 91 carries, making him the No. 18-ranked rusher in the nation.
If anybody's been the MVP for his squad this season, it's Johnny Manziel.
But, before we run out and buy a statue of Manziel high-fiving John David Crow (who won the Heisman at A&M in 1957), let's take a prudent pause and look both forward and backward (before we get hit by a campus bus that has "Manziel for Heisman" painted on it).
First, Manziel's numbers have come via games vs. Florida (No. 5 ranked scoring D), at SMU (No. 64 ranked defense), vs. FCS South Carolina State, vs. Arkansas (No. 90 rated D), at Ole Miss (No. 67) and at Louisiana Tech (No. 117 ranked scoring D).
Looking off into the scary and no-so-distant future we see contests vs. LSU (No. 8 ranked scoring D), at Auburn (No. 66), at Mississippi State (No. 16), at Alabama (No. 1), vs. FCS Sam Houston State and vs. Missouri (No. 59).
You get the picture…it's going to be more difficult moving ahead.
And then you've got to hope that A&M's defense can hang on to the tune of winning, at minimum, four of its last six games.
We're about to find out how good "Johnny Football" really is, and boy won't it be fun to watch the kid from Kerrville, Texas, strut his stuff vs. some of the best defenses in college football?
3. Braxton Miller, Ohio State
Andy Lyons/Getty Images
Week 8 Game: vs. Purdue (3-3)
Though all the talk about whether a guy who plays on a postseason-banned team can win the Heisman is intriguing, really the irony is Ohio State's banned status may make Braxton Miller's Heisman candidacy even more viable.
Seriously?
Yes, all Miller and the Buckeyes need to do to cash in on OSU's eighth Heisman is to win out and hope that the rest of the field (mostly Collin Klein and Geno Smith) fade away into the meat of their schedules.
Really, Ohio State not having to play in a conference title game vs. a quality opponent between the end of the regular season and the Heisman presentation on Dec. 8 is a huge plus. It's one less opportunity to screw it up.
And when you throw in the fact that Ohio State really does have the easiest finishing schedule of any of the current top three Heisman candidates, suddenly Braxton Miller becomes your favorite (at least in terms of who might win).
Miller is 96-of-159 for 1,271 yards, 11 TDs and four picks, and like Klein of K-State and Manziel of A&M, he's also gotten it done on the ground.
In total, Miller has 912 rushing yards and nine TDs on 129 carries, making him the No. 6 ranked rusher in all the FBS.
Again, if this guy isn't the MVP of his team, I don't know who is.
In terms of looking ahead at matchups for Miller and the Bucks, you really have to zero in on which teams can stop the run since this guy (and his team) aren't necessarily pass happy (or even effective throwing the ball).
Week 8's meeting with Purdue should be a great stage for Miller to show off his running talents as the Boilermakers rank a dismal No. 100 vs. the run and have given up nearly 200 yards of rushing per game thus far in 2012.
Really, the rest of the way home is manageable for the Buckeye offense, but you have to seriously wonder if the defense (a unit that has given up 87 points over the last two games) can hang in there well enough to win out.
2. Collin Klein, Kansas State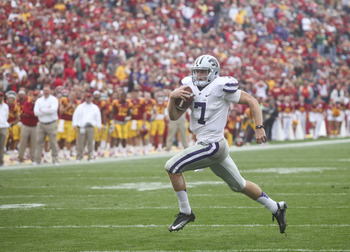 Matthew Holst/Getty Images
Week 8 Game: at West Virginia (5-1)
Really Collin Klein and Kansas State's 6-0 football team present one of the most interesting storylines in the nation coming into Week 8 of the 2012 season.
Yes, we found out about this guy and his team last season when they hooked up for an astonishing 10 wins and finished second in a Big 12 conference stacked with super powers.
Which leads us to wonder how far these Wildcats can streak in 2012…can they really win the Big 12 for the first time since 2003, go undefeated for the first time in history, play in their first national title game ever and walk up to the podium and accept their first Heisman trophy?
Seriously, can they?
Well, we're about to find out the answers to all these questions, and the first big test will be a Week 8 trip to Morgantown to square off with a West Virginia team that simply can't afford another loss (on a bunch of different levels).
Klein is an unimpressive 79-of-113 for 1,074 yards, seven TDs and two picks as a passer this season, and his rushing numbers of 515 yards and 10 scores on 98 carries are solid but not spectacular (especially when you throw Johnny Manziel and Braxton Miller's numbers into the ring).
Klein's path to New York City is pretty simple…win out. It's not one-loss or "almost," it's win every game. Klein simply doesn't have the gaudy stats, nor will he produce them, to succeed with a loss after his name.
Additionally, this is Kansas State and not Ohio State…there is a difference and the voters historically seem to know it.
And for K-State's offense that means it's got to continue to run the ball, because like Ohio State it is not a proficient passing team (No. 11 nationally in rushing yards vs. No. 112 in passing yards).
Step one is knocking off a good West Virginia team that has been far more effective vs. the run (No. 43 nationally) than the pass (No. 122), a task that simply won't be easy.
The road home after that will be bumpy with a home game vs. Texas Tech and its No. 12-ranked rushing defense followed by a road trip to TCU to square off with the Frogs' No. 9-ranked rush D in Week 11.
The Wildcats also have Oklahoma State, Baylor and Texas on the schedule, teams that might not be defensive stalwarts but were all ranked at one point this season and won't just lie down and let Klein and company prance off with a victory.
The good news for Klein and K-State is that they have already taken care of Oklahoma on the road and, even more critically, they tout the No. 19-ranked scoring defense in the land.
What may catch up with the Wildcats and all their wild dreams is a pass defense that ranks No. 76 (vs. the rushing D that is No. 16) and still has to face the meat of a pass-happy Big 12 slate.
1. Geno Smith, West Virginia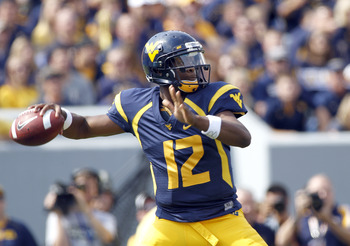 Justin K. Aller/Getty Images
Week 8 Game: vs. Kansas State (6-0)
Despite the catastrophic loss to Texas Tech in Week 7, Geno Smith still tops the Heisman charts coming into Week 8, a fact that's easier to digest when you take a gander at his ever-growing numbers.
Smith is a sizzling 195-of-259 for 2,271 yards, 25 TDs and zero picks, giving him rights to the No. 1 passer rating in the country.
Yes, there is no doubt that this fellow is very good, but with one-loss in his pocket and six games left to play (four vs. ranked teams) it's time to, with all due respect, put up or shut up.
The big questions are fairly elementary, can Geno Smith and the West Virginia offense continue to rack up obscene stats against a rough second-half slate, and can the Mountaineer defense hang in there long enough to spit out at least four more wins?
Well, questions begin to morph into answers this Saturday in Morgantown where WVU will stack its No. 3 passing offense (vs. a No. 75 rushing attack) against K-State's No. 76-ranked passing defense.
Then it's on to the following foes; vs. TCU (No. 31 vs. the pass), at Oklahoma State (No. 75 in pass defense), vs. Oklahoma (No. 11 ranked pass D), at Iowa State (No. 47 vs. the pass) and vs. Kansas (No. 71).
Though Smith may well light up each of these opponents and have a zillion TDs and zero INTs before the final whistle sounds, what about a defense that ranks No. 112 in scoring?
Yes, isn't it ironic that one of the most prolific QBs in college football history might have a Heisman candidacy that is ultimately decided by a defense playing its first campaign in the most pass-happy league in modern college football?
Many folks will tell you that Smith has all but bagged the bronze statuette; I'm not saying he won't, but perhaps we should all meet again on Dec. 2 and re-address the question.
Not saying…just saying.
Keep Reading